Relax & Heal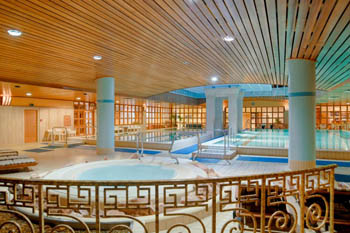 You can choose from numerous Spa and Wellness Hotels and other facilities in Budapest if you want to relax or heal.
Budapest deserves the nicknames such as "Spa City" or "Spa Capital" because the Hungarian capital has the highest number of thermal springs (118) within the city limits in the world.
These springs supply 30,000 cubic metre mineral-rich water daily to Budapest spas, baths and wellness hotels.
The temperature of the water is between 21-76 °C and contains a range of minerals beneficial for different health problems like arthritis, and rheumatic problems.
Table of Contents – Spa Wellness in Budapest
In some baths, like the Gellért, Lukács or Széchenyi Baths, you can have a drink from the medicinal waters in special drink halls.
The thermal baths also offer a range of massages like Harmony Aromatherapy Treatments in the Gellért (45 or 60 minutes) that compliment the benefits of the thermal water
Browse our list of the best spa & wellness hotels in and find also tips on which day spas to go during your visit.
If you're not after a tiring sightseeing you can have an indulging spa vacation in one of the handful spa and wellness hotels, offering all kinds of health and wellness treatments.
The best spa hotels in Budapest belong to the Danubius Hotel Chain. They have top notch spa facilities that are respected and renowned all over the world.
Most luxury spa hotels are in the city centre, on the riverbank or close to it offering fine views and five-star services.
Spa & Wellness Hotels in Budapest – Cream of the Crop
Margaret Island/Margitsziget in the middle of the Danube between Árpád Bridge and Margaret Bridge has two large 4-star medicinal spa hotels.
The beautiful, green location, far from the city noise make them an ideal accommodation for a relaxing holiday. Overlooking the isle there's another superb 4-star Danubius hotel on the bank of the Danube in Pest.
All three hotels are also excellent venues for conferences and business meetings since each has business rooms of various sizes.
One downside of these hotels is though that they're in need of refurbishment: decor and furnishing, air-conditioning are a bit outdated.
None of the three hotels is recommended for families since rooms are not spacious enough and there are no family-friendly services or animation in either establishment.
The island itself, however, offers plenty of entertainment for kids and adults alike.
Margitsziget is a popular recreational spot of Budapest with a lot of outdoor activities:
running,
biking,
yoga or
just plain old walking on the well-tended paths.
TIP: It also has a couple of historic and cultural monuments, a mini zoo, while the open-air theatre hosts the 3-month summer festival each year with classical and light music concerts, opera, and children performances.
Danubius Health Spa Resort Margitsziget **** – One of Europe's Top Spa Hotels
Address: Margitsziget, district XIII., Árpád bridge
Tel: (+36 1) 889 4700, room reservation: (+36 1) 889 4752
Website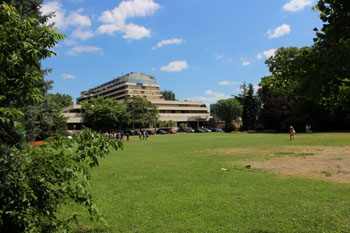 Great location at the northern tip of the green Margitsziget, close to Árpád Bridge.
A large hotel with 240+ rooms and 14 executive rooms. All rooms have balcony overlooking the park on the isle.
Room decor and air-conditioning are a bit outdated, good breakfast (healthy options are available), pleasant piano music in the bar, three thermal pools, a swimming pool and a wide choice of massage treatments.
CHECK RATES & AVAILABILITY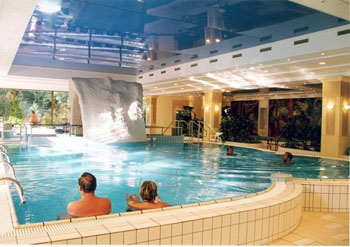 Wifi is free in the entire hotel.
The Spa Area Includes:
indoor and outdoor swim pool (both have 27-28°C water temp.)
a thermal pool (8 x 8 m, water temp.: 37-38 °C)
a traction bath (35-36°C)
a hydro pool (33-34°C)
Finnish sauna, infra sauna, steam cabin, aroma cabin.
The spa is open: Monday-Sunday: 6.30-21.30. [highlight color="yellow"]TIP:[/highlight] Special ladies' hour three times week: Monday, Wednesday, Friday at 12.00-13.00.
The Danubius Premiere Fitness room is quite well-equipped and you can admire the panorama while exercising.
Danubius Hotel Helia **** – spa & wellness in Scandinavian style
Address: Kárpát u. 62-64., district XIII.
Tel: (+36 1) 889 5800
Website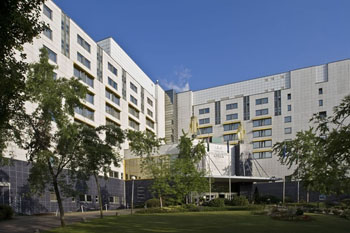 Offers accommodation in 8 suites and more than 250 air-conditioned rooms.
It's not the newest, most modern hotel in the city, a bit of refurbishment is timely. Most rooms offer nice, panoramic views of the river Danube.
WiFi is free everywhere in the hotel. Reviews are mixed on the hotel.
Several people mentioned that air-conditioning is not working properly in rooms.
A bit far from the centre (Margit Bridge is 8-10 min. by walk), but you get serenity and fresher air instead.
The Jupiter restaurant serves international dishes.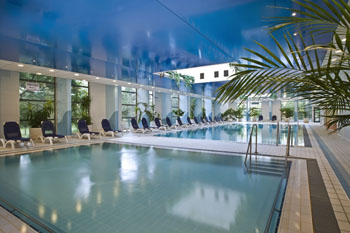 There are two cafes: in the lobby and in the spa area.
Spa & Wellness Facilities
Indoor swimming pool (17.5 x 7.8 m, 26-28°C)
Thermal pools (7.8 x 5.3 m, 32-34°C, 5.3 x 5.3 x 3.1 m, 36-38°C)
Jacuzzi
Steam baths and saunas separate for women and men, infra-sauna, solarium
Sun deck.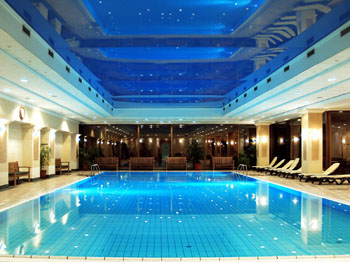 There's also a salt cave where the walls are tiled with Dead Sea salt bricks.
Spending time in the cave and breathing in the salty air help with various allergies and diseases:
Asthma,
Dermatological problems,
Digestive problems,
Stress.
Spa opening hours: Monday – Sunday: 7.00-22.00
Ayurvedic massages are also available and you can book them as a hotel package.
You can also get a stylish hair-cut or a face treatment in the Hair & Beauty Salon.
CHECK RATES & AVAILABILITY
Medical Treatments in Hélia Hotel
Besides balneo and hydrotherapy, a special physiotherapy, the Maitland manual therapy carried out by the hotel's own professional, trained physiotherapists, is also available in the hotel.
The Maitland therapy helps to ease aches in joints even after a few sessions.
Initial check-up is 12 000 HUF (55 minutes), a 25-minute treatment is 6 000 HUF, but you can also get packages at discount prices.
Similarly to the Health Spa Resort Margitsziget the Hélia too has the Danubius Premiere fitness room.
The Hélia is also a superb conference hotel with 9 meeting rooms of various sizes and equipped with modern technology (fast wireless internet, audio-visual equipment).
Danubius Grand Hotel Margitsziget **** – island on an Island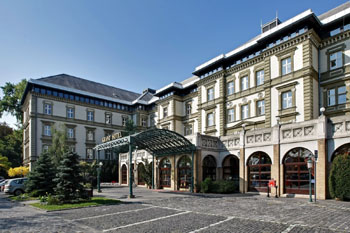 Address: Margitsziget, district XIII.
Tel: (+36 1) 889 4700, room reservation: (+36 1) 889 4752, Website
You'll experience turn-of the 19-20. century atmosphere on the serene and picturesque Margaret Island.
The hotel is located in the north-eastern corner of the island.
It is connected to the neighboring Danubius Health Spa Resort Margitsziget by a heated underground corridor.
This classic hotel has 154 rooms and 10 executive rooms as well as all sorts medical and wellness services including
Laser eye surgery,
Dental treatment,
Cosmetic surgery, and
Kneipp therapy.
The hotel has a beauty salon too.
The Széchenyi Restaurant boasts a lovely garden terrace where you can enjoy your meal, a coffee or cocktail in fine weather.
The menu includes local specialties as well as some healthy and dietary dishes.
CHECK RATES & AVAILABILITY
Spa & Wellness Hotels in the City Centre
Four Seasons Hotel Gresham Palace*****
Location:
Pest, district V., Széchenyi Square, near the Chain Bridge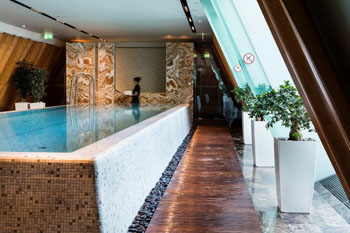 Apart from picturesque setting, impressive architecture, excellent service, the Four Season Hotel Gresham Palace has a top-notch spa and wellness section on the top floor of the palace building.
It has:
7 treatment rooms, including one for couples,
Unisex sauna,
Separate steam bath for men and women,
Infinity swimming pool and
A whirlpool.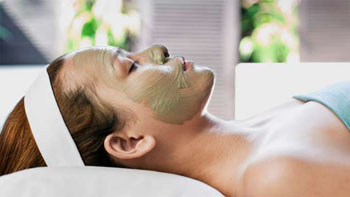 You can really pamper your body at Four Seasons.
All sorts massages, seasonal and signature treatments, body and facial treatments, including treatments specially tailored to men are available.
The luxurious Omorovicza body treatments that utilize the benefits of the local mineral-rich thermal water were recently introduced at the Four Seasons Budapest's spa:
The Gold Sugar Scrub removes dead skin cells rejuvenating the whole body and resulting in a soft, luminous, firm skin.
There's also Classic Hungarian Body Wrap that includes exfoliation with sea salt, followed by a whole-body pack with genuine Hungarian moor mud, and ending with a body refreshing massage.
You can get a series of beauty treatments as well: from waxing to pedi- and manicure so you will feel good and beautiful during your stay.
CHECK RATES & AVAILABILITY
Kempinski Hotel Corvinus Spa – an Asian-inspired spa complex
Address: Erzsébet tér 7-8., M1, M2, or M3 metros, Deák Ferenc tér station
Tel: (+36 1) 429 3375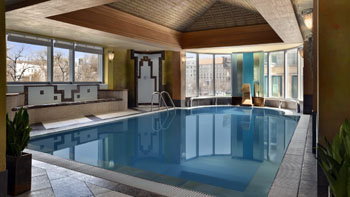 The 5-star Kempinski Hotel Corvinus in the city centre is ideally located within easy reach of Váci utca, Vörösmarty Square, the Danube Promenade and many other landmarks and activities.
It has a luxurious spa (open every day between 7.00-22.00).
The treatments use a holistic approach using the natural power of herbs and essential oils.
CHECK RATES & AVAILABILITY
Iberostar Grand Hotel – Closed
Address: Október 6. utca 26., district V.
The Iberostar Grand Hotel is small luxury boutique hotel in downtown Budapest.
The spa – has a hot tub, saunas – and fitness room are not too big but cozy.
The hotel is very well-located right next to Szabadság Square with the Basilica only a short walk tot he south and the Parliament to the north. It's a great choice for a relaxing city break!
Hotel President Budapest – Best Value
Address: Hold utca 13., district V.
Spa-Wellness opening hours: every day: 7.00-20.00
Hotel President is a good-value 4-star hotel in the centre close to all the sights and shops.
The spa and wellness area is rather small but has all the facilities for guests to unwind and recharge.
There is a 15-m long swimming pool, a well-sized hot tub, as well as saunas. Massage treatments are also available.
TIP: The Belvárosi Piac Market is highly recommended for shopping quality food staff: dairy and meat products, fruits and veggies by local farmers.

Some of the best street food bars on the gallery: Vörös Homár Seafood Bistro, Buja Disznók, Steamboo.
CHECK RATES & AVAILABILITY
Royal Spa in the Corinthia Hotel
Address: Erzsébet körút 43-49, VII. district
Tel: (+36 1) 479 4650
Spa Opening Hours: Mon-Sun: 6.30 – 22.00, treatments: Mon-Sun: 08.00-22.00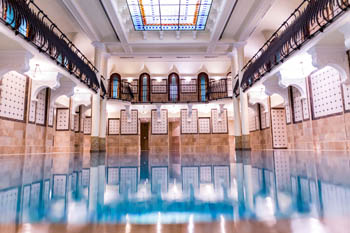 The Royal Spa in Corinthia Hotel Budapest welcomes its guest with state-of-the-art spa facilities and services.
Staying at this historic hotel on the busy Grand Boulevard lets you easily explore the city (trams 4 and 6 connection, M2 metro) after which you can unwind in the upscale spa centre that boasts elegant Art-Deco interior.
It has a 15-m swim pool, steam baths, saunas, jacuzzi and relax areas.
The fitness room is well-equipped but a bit on the small side.
The luxury ESPA body, beauty and therapeutic treatments lend you vitality and help you restore your energy levels.
You can choose from a wide range of massages:
Aromatherapy
Hot stone
Deep muscle
Swedish
Ayurvedic massages
Thai massages
Massages for men
Massage prices range between cc. 75-140 EUR.
There's also yoga. You can get all sorts of beauty services in the Royal Germaine Beauty Parlor in the Atrium next to the bar.
See a list of other 5-star Budapest Hotels.
CHECK RATES & AVAILABILITY
Boscolo Hotel in New York Palace*****
Address: Erzsébet körút 9-11., district VII., trams 4-6, or M2 (red) metro Blaha Lujza tér stop
Tel: (+36 1) 8866 111
The Italian Boscolo Hotel Chain renovated the legendary New York Palace and converted it into a fabulous luxury hotel in the center of Budapest.
Lavishly decorated rooms, the elegant New York Cafe and Salon Restaurant, cigar room and fine a spa & wellness complex provide for all the convenience for the guests.
Read more about Boscolo Budapest Autograph Collection Hotel in the New York Palace.
CHECK RATES & AVAILABILITY
Danubius Hotel Gellért **** – Wellness Within Historic Settings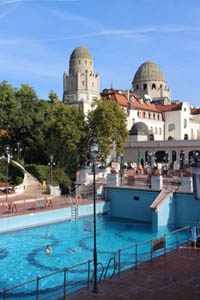 Permanently Closed!
Address: Szt. Gellért tér 1., district XI.
Tel: (+36 1) 889 5500, room reservation: (+36 1) 889 5501
Hotel Gellért is a centrally located historic hotel housed in a beautiful building at the foot of the Gellért Hill.
Take a look at other Hotels in Budapest Centre.
Aronia Spa in the Aquincum Hotel *****
a luxurious wellness experience
Address: Árpád fejedelem útja 94., district III.
Tel: (+36 1) 436 4100
The spa center within the Aquincum Hotel in Budapest has two thermal pools, a Kneipp pool, jacuzzi, saunas and a steam bath.
A wide range of medical services and massage treatments are also offered.
The day spa entry ticket covers use of the swimming pool, thermal pools, jacuzzi, sauna and steam bath, fitness center and the relaxation room.
Spa package prices vary from cc. 11 000 HUF to 21 000 HUF.
CHECK RATES & AVAILABILITY
Holiday Beach Budapest****
Address: Piroska utca 3-5., district III.
Tel: (+36 1) 436 7160
Website
On more than 2,5 acres land the hotel offers a bath house with sun-terrace, swimming pools (there's one for children) sauna, jacuzzi, tennis courts, and a beauty farm.
CHECK RATES & AVAILABILITY
Rácz Hotel and Thermal Spa –
Has Not Opened Yet
Address: Hadnagy utca 8-10, at the Buda end of the Elizabeth bridge, district I., tram 18, bus 5, 8, 78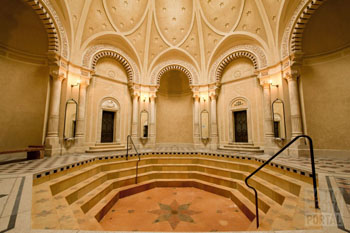 The beautifully restored 16th-century Turkish Rác bath and the adjacent thermal hotel is located in Buda in a relaxing green area.
Building of the luxury hotel was finished in 2010 but due to legal and ownership problems it hasn't opened yet.
The 67-room luxury hotel will offer:
a Turkish bath,
19th century-style thermal pools and
a modern 21st century spa centre with outdoor pool, saunas, and various wellness treatments.
Two Italian-style restaurants will ensure great dining experience. View photos about this stunning hotel and spa.
More on the Rácz Bath.
TIP: Look for special packages offered by the hotels when you arrange your spa and wellness stay in Budapest.
See also our hand-picked list of Best Hotels, most of which has a spa centre.
Day Spas in Budapest – Relaxing Hideaways
If you decide not to stay in a wellness hotel and are deterred by the crowd in public baths, but feel like to be pampered during your visit, pop in one of the following day spas.
An intimate and relaxing atmosphere awaits you in these places offering a range off wellness and beauty treatments.
Although they're not cheap but still charge less for their services than similar facilities in Europe or in the US. Be prepared to pay around 10.000 HUF or more for a special massage treatments.
Where to Buy Beauty & Wellness Products in Budapest
In most day spas you can buy wellness and beauty products as well.
Natural, herb-based cosmetics by Ilcsi, (a beautician who introduced natural cosmetics to Hungarian beauty parlors) are also good buys.
You can buy them only at beauticians.
The chic Omorovicza Boutique at 2., Andrássy Avenue sells natural, high-quality beauty products too.