Alternative Ways to Experience the City, Tailored to Your Needs
By going on one of the Special Budapest Tours listed below you'll experience the city the way locals do.
Knowledgeable and enthusiastic local guides will lead you through the city's most famous and lesser known sights, telling you about history and stories related to them.
If you would like to explore a city on tours tailored to your needs and pace of life then a special tour are your best choice.
The tours are ideal for small groups and families with small children visiting Budapest (1-10 persons).
Table of Contents
Go Local! Tours by the UnderGuide Team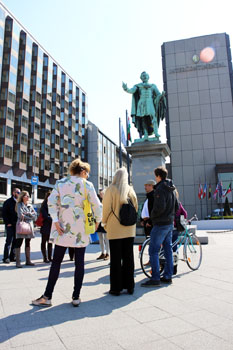 The UnderGuide Team (founded in 2005) was one of the first to offer small-group, unique, tailor-made sightseeing tours guided by locals who know the city inside out.
Go Local! Sightseeing – Foodie – Art Nouveau – For Families with Kids
Go Local! Private Sightseeing Tour
Dates: every day
Unique sightseeing by walk just the way you want it: see Budapest's famous landmarks and hidden secrets with an expert local guide: besides the must-see sights – Royal Palace in Buda Castle, the Jewish District with the synagogues, Andrássy Avenue with the Opera House, Heroes' Square – you will get to explore the lesser-known side of the city: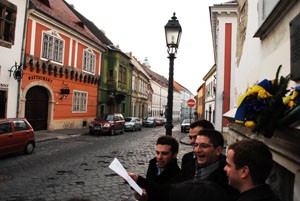 local food markets,
some awesome clubs and bars,
artsy neighbourhoods,
designer shops,
parks, and gems of architecture.
Your guide will also tell you stories, urban legends related to the sights to make your experience of Budapest even more special.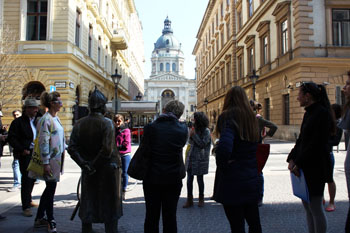 Duration: cc. 4 hrs
Price: 1-2 persons: 99 EUR/tour, +19 EUR/any additional person joining the tour, free for children under 6, 50% for kids under 12.

The Best Gastro Tours in Budapest – Not Just for Foodies
Go Local! Delicatessen Tour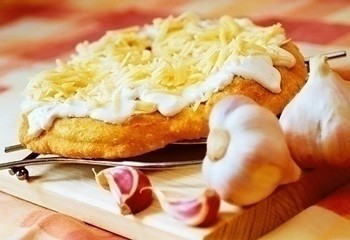 Dates: every day all year round
The best way to get to know a city and a country is to taste local food. Hungarian cuisine offers quite a few dishes and food stuff that might seem strange to foreigners but are worth a taste: túró rudi, kürtös kalács, pacal, or lángos.
During the 4 stops of the tour you'll learn about and most importantly taste Hungary's culinary specialties.
Besides tasting, your guide will tell you all about the place and related sights and stories.
Duration: cc. 4 hrs
Tour Price: 129 EUR/1 person (+35 EUR/person for any additional person joining the tour). Free for kids under 6, 50% discount for children between ages 6-12.

Includes: guiding in English, a little surprise and a drink of your choice during the walk.
Culinary Walk by Taste Hungary
A 4-hour tour (from 10.00 to 14.00) buy Taste Hungary, a company founded by a Carolyn Bánfalvy, an author and journalist specializing in food and travel and living in Budapest for some time now.
The tour is tailored for 2-6 people and includes a thorough exploration of the Central Market Hall, and 4-5 other gastronomy hot spots in the city centre (specialty food shops, a butcher, bakery, a coffee house, artisan chocolatier, and one of the oldest confectionery in town the Auguszt Cukrászda.
The tour ends with a wine tasting (three delightful local wines), and introduction to Hungarian wine regions, varietals, top wine cellars and estates.
Details:
Dates: every day all year round (except on Sundays and public holidays)
Price: 90 USD (cc. 79 EUR)/person
Why Go? You'll get a pretty good impression and details on Hungarian gastronomy, the history of the Market Hall, lots of tips on what else to see and do in Budapest, taste authentic local flavours, get a crash course in Hungarian viticulture, kind, expert guides
This tour is one of the highest rated activity on Tripadvisor, many tourists enjoyed the tour, praising the high level of expertise, and kindness of the guide, the interesting stories
TIP: They also have an in-depth Jewish Budapest tour with home made Jewish dinner in the home of a local family, a Pork Walk where you'll learn about and taste all things pork, a Sweet Walk – a must for those with sweet tooth – where you get a taste of famous Hungarian sweets at around 6-8 shops, cafes, bakeries, patisseries.
Art Nouveau Tour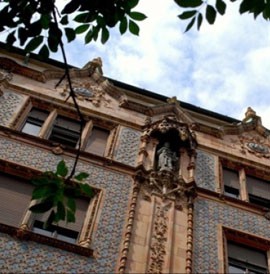 Budapest is a treasure trove of Art Nouveau buildings that you can discover on this tour led by a knowledgeable guide.
You will walk two parts of the city rich in beautiful examples of Art Nouveau: the Lipótváros part and the area of the City Park.
On the more in-depth Art Nouveau Lifestyle tour you will get a glimpse into the colourful kaleidoscope of this unique architectural and design style.
Duration: cc. 4 hrs.
Price: 1-2 persons: 99 EUR/tour, free for children under 6, 50% discount for kids aged 6-12.
Contact us if you wish to book this tour.
TIP: If you visit our city in mid-April and you're into architecture and history go to one of the many programs of the Budapest 100 event celebrating buildings that turn 100 year old each year.
Tour for Families with Kids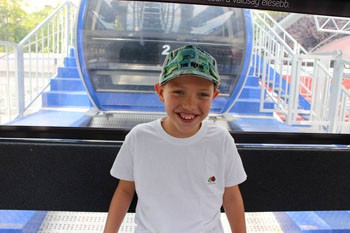 When you go on a holiday with your children it's a challenge to go on a sightseeing that all family members will enjoy.
With our tour designed specifically for families and kids you can achieve this.
Discover the most "kid-friendly" attractions of Budapest: the Zoo, try bringocarting on Margaret Island, see the rolling hills of Buda on the Children Railway.
Exciting little tasks (treasure hunting, animal spotting) are included to make the program fun for everyone.
You'll stop for a drink and cake or other snack at a pastry shop (included are in the price).
Anything you want – tell us your wishes and needs and we try our best to fulfill them! A 2-hour leisurely adventure that kids will love!
Languages: The tour is available in English, German and Italian.
Price: 1 adult + 1 child: 139 EUR/tour, any additional persons: 19 EUR/tour, free for children under 3.
Contact us if you wish to book this tour.
TIP: Find out about other walking tours discovering Budapest's well-known and hidden sights. See also our suggested walk itinerary in Buda castle.
Bike Tours – Various Lengths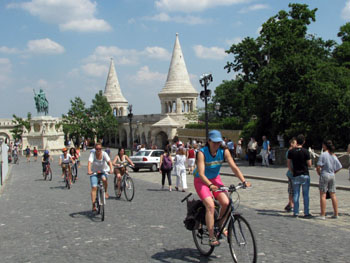 Budapest is slowly becoming a bicycle friendly city and one of the quickest and most fun way to see the sights and experience everyday life is going on a bike tour.
We recommend a dedicated team of two local bike enthusiasts who've been organising and leading cycling tours for several years now and receiving highrates at travel rveiew sites.
The shortest tour is only 2.5 hours long and will take you around central Pest. An effortless ride since there are no hills in the Pest side.
Our favourite is the Wheels & Meals Tour, a 4.5-hour excursion starting in Pest and ending in Buda with a bowl of tasty goulash soup in a garden restaurant.
If you've seen everything of importance in the capital head for Szentendre, a gem of baroque town in the Danube Bend (7-8 hours). You'll return by boat.
Details & Reservation
Related