Local Delicacies For Real Gourmands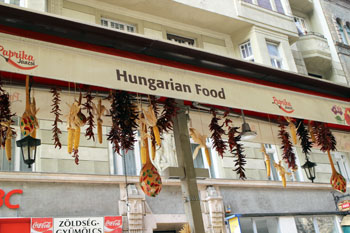 You can purchase Special Hungarian Foods in every grocery store. The food markets of Budapest (Central Market, Downtown Market in Hold utca are good places to buy these items too.
These Hungarian food and beverage specialties have the collective name Hungarikum.
Hungarikum products have to meet certain requirements regulated by Hungarian law to be allowed to use the term.
Here are some of the most popular culinary specialties you should know about when viisting Budapest or other parts of Hungary
Table of Contents – Special Hungarian Foods
Goose Liver Pâté
Goose liver is one of the best known gourmet products of Hungary.
Look for small black and golden cans, the Pick brand is a good choice.
TIP: Taste local food specialties on a guided tour:
Budapest Delicatessen Tour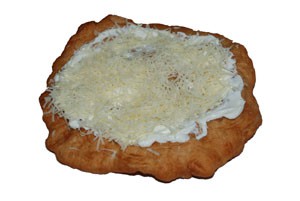 Visit the Great Market Hall on a guided tour and taste Hungarian culinary specialties like lángos (yeast-based dough deep fried in oil topped with sour cream and cheese).
The Delicatessen Tour includes 3 other culinary stops besides the Central Market visit.
See details on the Delicatessen Tour online.
Hungarian Salami and Sausage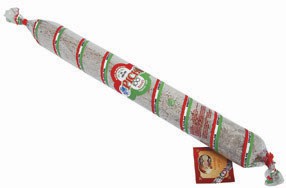 The best brand is Pick. Look for long salami bars, covered with white mould and with red-white-green paper rings (the Hungarian flag) around them.
At the Great Market Hall (and in every Budapest Market) Pick Salamis are nicely hanged at butchers' counters.
There are Pick Brand Shops in Budapest: at 9., Kossuth Lajos tér and in Városház utca at No. 14. Both shops are in the V. district.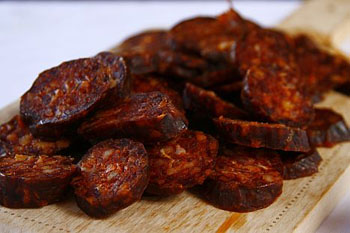 Sausages – especially if made from mangalica pork, an indigenous pig species – are also of a high quality and well-loved by locals.
Big brands are Békési and Gyulai sausages (named after the region/town they are prepared), though you're better of buying sausage at the food markets (Great/Central market Hall, market on Fehérvári út, Hold Street Market, and the farmers' markets organized at various locations in the city. See more below.
TIP: The Mangalica Festival organized usually on the first weekend of February is also a great source of sausages and salamis.
Hungarian Paprika
You can buy this red spice in various packagings and in neat gift boxes.
Make sure you check whether the a paprika you want to buy is sweet (édesnemes) or hot (erős).
TIP: The best places to shop for paprika are the food markets where local people sell the red spice in plastic bags of various sizes (500 g, 250 g), the neck tied nicely with a national tricolor ribbon (red-white-green).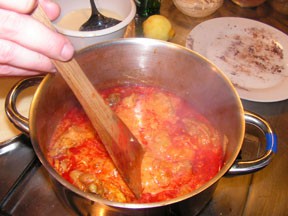 TIP: If you want to learn more about Hungarian gastronomy and food specialties take part in a cooking course organized in a modern cooking school in central Budapest.
Talented young chefs will introduce you to local cuisine and you'll learn to prepare a typical local menu.
You can reserve your a Hungarian Cooking Course in Budapest online.
Hungarian Wines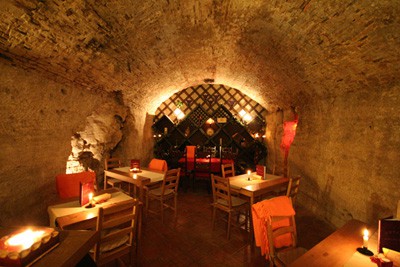 The most famous are Tokaji Aszú, a sweet dessert wine, and Egri Bikavér (Bull's Blood of Eger), a dry red wine. There are other great but lesser known Hungarian wines that you should try.
Wines from the Villány and Szekszárd region are good alternatives to Egri Bikavér.
A Wine Tasting in the Historic Faust Wine Cellar in Buda Castle is a great opportunity to sample wines from Hungary's best wineries.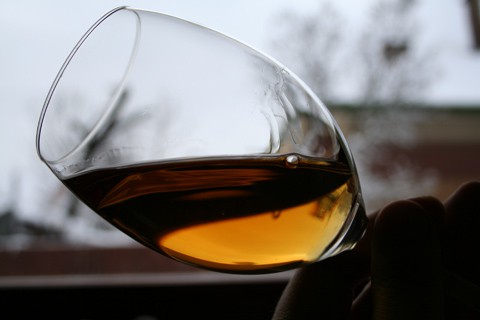 During the wine tasting the sommelier of the cellar will tell you interesting facts and stories about local wines and wine regions
If you don't want to buy pig in a poke visit one of the numerous wine shops in Budapest.
The staff will help you to choose the wine that suits your taste the best.
If you buy wine in a grocery store choose bottles from the mid or upper level shelves, good quality wines are usually placed there.
Most of the time the price also indicates the quality of wine. Price of a quality bottle starts around 3 000 Ft. Of course you can cough up several thousands forints for vintage vines.
Hungarian Pálinka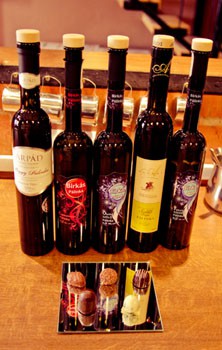 Distilate made from delicious Hungarian fruits: the best brands are Kecskeméti barackpálinka, (apricot brandy), Szatmári szilvapálinka (plum brandy), Zwack Vilmoskörte (William's pear brandy).
Always look for bottles that have a label with "pálinka" written on it, otherwise you'll end up something awful that's made from pure alcohol with artificial colourings and flavourings.
Price of good quality pálinka: starts from around 2 000 – 3 000 HUF.
Zwack Unicum herb liqueur- one of the best known Hungarian spirit brands, made from more than 40 carefully selected herbs and spices.
Have a swig before or after your dinner to help digesting the food.
If you don't like the bitter taste of the original Unicum, go for the Unicum Next, it has more sweetish taste.
A 0,5 l bottle of Unicum or Unicum Next costs around 2 600 – 2 800 HUF.
Hungarian Craft Beers
The local craft beer scene is seeing a boom with more and more micro breweries and brew pubs opening year by year.
Some of the best venues in Budapest where you can drink quality artisan beers are:
Élesztőház (address: Tűzoltó utca 22., district IX.)
Neked Csak Dezső! (address: Dohány utca 7., district VII.)
Léhűtő (address: Holló utca 12-14., district VII.)
Csak a jó sör (Kertész utca 42., district VII.)
Marionett Craft Beer House (inside the Budapest Marriott Hotel: Apáczai Csere J. utca 4., district V., right on the bank of the Danube in Pest, see website)
These are all places where the main focus is on local micro brews.
Some of the specialty beers you should try while in Budapest:
Flying Rabbit IPA by MONYO Brewing Co.
Black Mama Coffee Stout – a 6 % alc. stout with spiced up some Brasilian and Burundi coffees.
Cingulus Porter by Rizmajer Brewery – 6 % alc. and 17° Balling, a strong, flavourful black beer.
Fruit beers by the Szentandrás Brewery (Raspberry Wheat, Sour Cherry, Plum) or the Stari Craft Brewery (Sour Cherry, Plum, Black Currant, Grapefruit Wheat) – refreshing, light beers with low alcohol content (3,3%) and made with real fruit.
Prices: varies, but a 0,33 L bottle artisan beer costs around 600-800 HUF, in a pub expect to pay around 400-500 HUF for 0,3 L and 600-900 HUF a 0,5 L mug.
TIP 1: Budapest gives home to a couple of beer festivals each year:

The Főzdefeszt was Hungary's first craft beer festival in 2010 then held twice each year (the current venue is City Park). It's usually in June and in September. In addition to a 50-60 craft beer offer you can indulge in tasty street food too.
Honey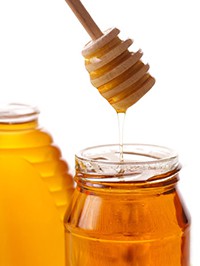 Sweet, Hungarian honey comes in every shades of the golden. The most popular is acacia honey, but I prefer ordinary mixed flowers honey.
It has a richer taste and dark-golden colour. I always buy honey in the market from local, reliable sellers who produce their own honey.
TIP: gastro festivals like the Gourmet Festival at the end of May, or the monthly WAMP fairs are good places to hunt for artisan food products.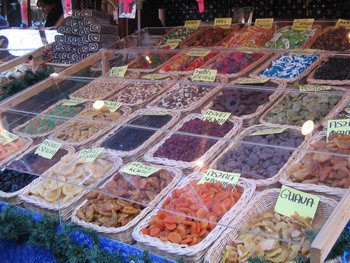 Prunes and other Dried Fruits
Hungarian fruits taste delicious and their dried versions conserve and enhance the flavours of fresh fruits.
They make healthy snacks or you can put them in pastries. Vendors sell them by the kilo in the markets.
Price: 2 500 – 3 500HUF/kg
Fruit Jams, Preserves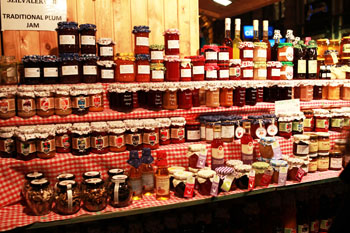 Hungarian fruit jams are also of great quality. Due to the country's favourable climate Hungary produces luscious fruits. We make fine fruit jams of them to preserve their taste and flavor.
Apricot and plum jams are the most popular. Look for bottles where the label says that fruit content is at least 50 – 60 % or above.
Peasant vendors in the markets sell excellent quality homemade jams.
TIP: The Stelázsi Shop sells a great variety of artisan jams and preserves along with other delicacies. Address: Hollán Ernő utca 41., district XIII., tram 4, 6, get off at Jászai Mari stop.

They sell all sorts of homemade jams and preserves: apple, pear, apricot, peach, plum, strawberry, cherry, sour cherry, quince (prices start from 950-1 200 HUF/ 200 g). They also carry unique jams like elderflower, chestnut or rum-sour cherry-chestnut.
Kürtös Kalács/Sekler Cake/Funnel Cake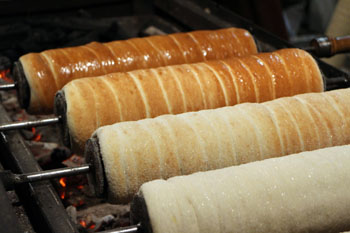 Kürtös kalács is the compulsory element of every fair and market in Hungary.
The cylinder shaped pastry coated with sugar, cinnamon, cocos flakes, walnut or chocolate originates in Transylvania.
A stripe of soft dough is rolled around a wooden rod designed specifically for this prupose then baked over coals.
The brown pastry is then rolled in sugar, cinnamon, ground walnut, almonds or cocos.
We can usually hardly wait for it to cool down before tasting this simple but delicious sweet.
A piece as seen on the photo costs around 1 000 – 1 500 HUF on fairs.
Best Places to Try Sekler Cake in Budapest
Molnár's Kürtöskalács in Váci Street
Address: Váci utca 31., district V.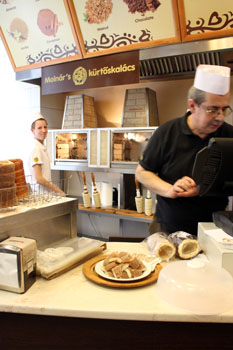 A small cafe, packed mainly with tourists coming in from busy Váci Street.
Kürtös cake comes in 8 flavours here:
almonds,
cocoa,
vanilla
cinnamon,
coconut,
walnut,
poppy seed and
chocolate
The fairs and festivals taking place all year round in Budapest are also good places to have some kürtös cake.
The major events include:
TIP: If you're happen to be in our city in October (around the 1st weekend) do visit the Sekler Cake Festival in City Park, Vajdahunyad Castle.
Besides offering a wide choice in this traditional delicacy you can make your own kürtöskalács too.
Strudel (Rétes)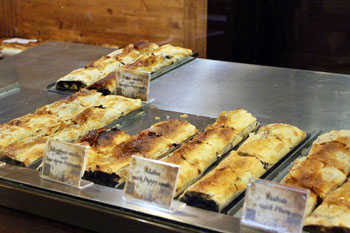 Strudel, rétes in Hungarian, is mostly a sweet pastry: paper-thin dough with various fillings baked in oven:
sweet cottage cheese,
apple,
sour cherry,
poppy-seed,
apricot.
A popular savoury variation is strudel filled with braised cabbage.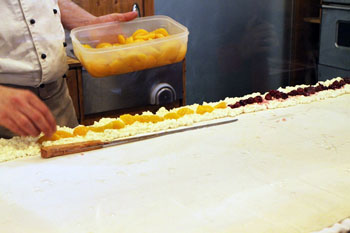 The best, flakiest strudel is handmade but because making the dough requires a great deal of expertise, patience and time most people use store-bought phyllo pastry.
Our favourite place to taste strudel in Budapest is the First Strudel House of Pest in Október 6. utca, not far from St. Stephen's Basilica.
Strudel is made right in front of you and you can choose a wide variety of fillings.
My family loves these ones the most: cottage cheese with raisins, raspberry-cottage cheese, apricot, squash-poppy seed.
A piece costs 340 HUF.
You can also take away in cardboard boxes (6 or 20 pieces) with a cup of coffee.
Pickles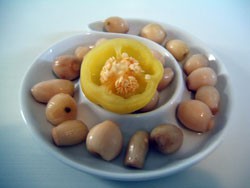 Hungarians are real experts in making savoury pickles.
Gherkins, onions, sweet and chilli peppers, tomatoes, cauliflowers and so on, jammed in spicy, pickled juice.
They're perfect appetizers, but we eat them with meat dishes as a kind of salad. The best places to buy Hungarian pickles are the markets.
Vendors sell them by the kilo. You can also get them in bottles in any grocery.
Túró Rudi
A typical Hungarian sweet: a cottage cheese bar covered with chocolate. The best-known brand is the Pöttyös (because of the polka-dotted wrapper).
The tastiest one is though the Cserpes Trudi made by an artisan cheese and dairy producer located in Kapuvár town.
Trudi doesn't have any additives (only cottage cheese, lemon oil, sugar and chocolate) and is not too sweet.
You can buy it at dairy shops in the food markets along with their yogurts and other products.
They also have milk bars in Budapest called Cserpes Tejívó (currnently at 4 venues, the most central is the one in Sütő utca, near Erzsébet Square and Deák Square, distr. V.) where you can have tasty breakfast or a light lunch at a reasonable price.
Pastries (cocoa snail, cottage cheese square, scone, croissant), coffee, tea, milk shakes and sandwiches and salads are on the menu.
Christmas Bonbon – Szaloncukor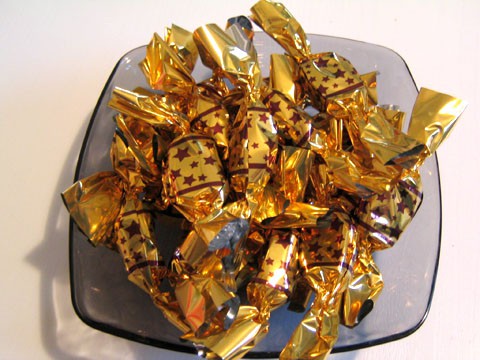 It's something you won't find anywhere else in the world or if you do, than it's for sure that Hungarians brought with them. It is a chocolate-covered candy, wrapped in colourful foils that we hang on the Christmas tree as decoration.
Of course, we eat them one buy one, and by the end of the holiday only empty papers hang on the tree.
You can buy szaloncukor only around Christmas time. Every grocery store sells it.
These special Christmas sweets come in nice boxes, or in simple plastic bags. You can choose from a wide range of flavours, from rum raisin to butter-scotch and fruit jelly ones.
Szamos Gourmet Palace, Delightful Marzipan Bonbons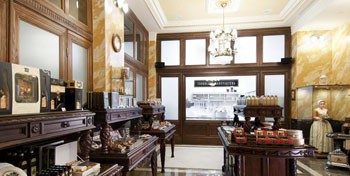 The famous Szamos Confectionery, a family run business, makes chocolate covered marzipan delights.
They live and run the business in Szentendre, where there's a museum about these marzipan bonbons and their production.
They used be among the best confectioneries in Hungary, nowadays their cakes and pastries taste a bit bland.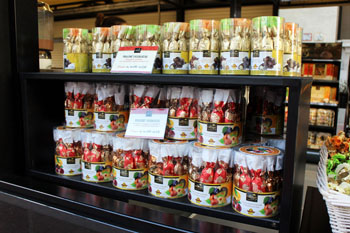 Today there are far better cake shops in Budapest both from the old days and new ones (Daubner, Auguszt, Cake Shop, Asztalka, Zazzi).
They have several shops in Budapest. The most impressive is the Szamos Gourmet Palace at Vörösmarty Square housed in the finely restored former Exchange Palace (Tőzsdepalota).
Besides breakfast, coffee and pastries, it also organizes chocolate making courses. The main menu includes seasonal bistro dishes.
They also have shops in several shopping centres and are regular participants of the Christmas fair on Vörösmarty Sqaure:
the West End City Center
Árkád Shopping Mall, and
the Mammut Shopping Mall.[
TIP: Visit one of the Farmers' Markets organized weekly in Budapest: the Közös Piac in Király utca on Saturdays, the Szimpla Kert Market on Sundays or the Belvárosi Piac in Hold utca on weekdays or on Fridays at Szabadság Square.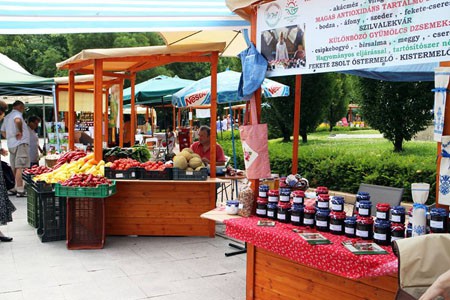 Visit our Hungarian Dishes page for introduction to mouth watering national meals.
Related:
Shopping Malls – Budapest Markets – Gerbeaud Coffee House – Hungarian Christmas Dishes – Hungarian Easter Dishes