Where to Drink Freshly Roasted, Gourmet Coffee in the City?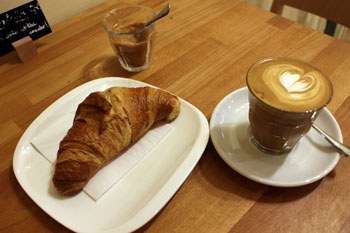 If you're picky about coffee and you always look up the best coffee shops in a city before your visit then you're lucky if you plan to visit Budapest.
Specialty coffee bars in Budapest (also referred to as new wave or third wave cafes) pop up at almost every corner.
You'll have no trouble finding a quality place to have espresso-based or alternative coffee drinks (AeroPress, French Press, Chemex, Vario 60, cold brew methods) prepared form freshly roasted, single origin beans.
Cafes on this page also offer
freshly baked pastries and cakes,
healthy snacks,
cater for people with lactose, cow milk, gluten intolerance, diabetes or
those who just want to eat and drink healthier stuff.
Freshly pressed orange and other fruit juices are also available at these places.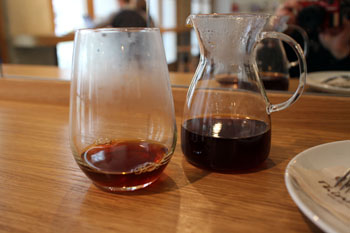 The interior is always
modern with shiny, top-of-the-line espresso machines (La Marzocco), and grinder (Mahlkönig),
tools for alternative coffee preparation and
relaxed atmosphere.
Some are spacious with plenty room to work, read or just chat by a cup coffee. Others are small places (like Fekete on Múzeum krt. which is basically a hole in the wall).
Free WiFi at (almost) each place (Tamp & Pull in Czuczor utca has no WiFi).
Table of Contents
TIP: Budapest also boasts a couple of historic/literary coffee houses, the most famous being the New York Cafe in the New York Palace (currently the Boscolo Budapest Autograph Collection luxury hotel).
These places are however more about architecture, art and history than quality coffee. With the exception of the Salon Restaurant of the New York Palace Boscolo Hotel that uses Casino Mocca beans, though you pay around 1 600 HUF/5 EUR for 1 dl filter coffee. So do visit them for their history and look but don't expect a memorable coffee experience).
New Wave/Specialty Cafes in Pest
Espresso Embassy-Superb Coffee, Laid-Back Atmosphere
Address: Arany János utca 15., district V., Basilica neighbourhood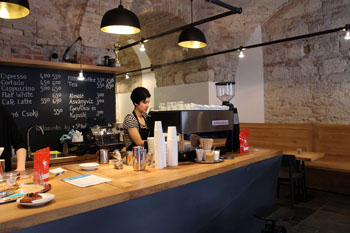 Opening Hours:
Mon – Fri: 07.30 – 19.00,
Sat: 09.00 – 18.00
Sun: 09.00 – 17.00]
Espresso Embassy by Tibor Várady from Printa (a concept shop, gallery, silkscreen studio and a café in Rumbach Str, Jewish Quarter) was the pioneer, along with Tamp & Pull, on the scene of new wave cafes in Budapest.
The cafe is right in the centre, next to the Embassy of Montenegro, just a short walk from the Chain Bridge, the Danube and other major attractions of the city.
The cozy, vaulted, minimalist interior is quite spacious with several tables with chairs and two counters with stools.
In good weather you can sip your coffee on the small terrace.
There's a water tap with glassess next to it should you get thirsty or just wish to clean your palate in between coffees.
Coffee in EE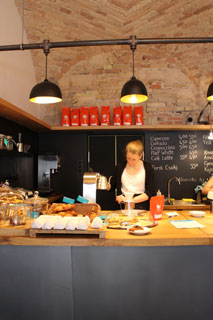 Coffee is made
by expert and friendly baristas (many of whom won or ranked highly at various championships: barista, latte art, AeroPress) and
with top-quality equipment (Victoria Arduino Black Eagle Espresso Machine, Mahlkonig EK43, AeroPress, Vario V60) from
locally roasted (Casino Mocca micro roastery) or
guest coffees supplied by high-quality European roasteries (Square Mile, Double Shot, Drop Coffee, Has Bean)
The flat white is one of the best in Budapest in EE but brewed coffee is also exceptionally good.
The place is usually very busy with locals and tourists hunching over laptops or mobiles while nursing a cup of coffee.
You can get
delicious, locally baked pastries (croissant, cocoa snail by Pékműhely, one of the best bakeries in Budapest),
fruitcake and other cakes,
biscuits, and
sandwiches too.
Prices
espresso: 400-650 (depending on coffee bean),
flat white: 650 HUF,
cappuccino: 500-650 HUF,
filter coffee: 500-950 HUF,
pastries-cakes: 400-600 HUF.
On hot summer days when you don't feel like having a hot drink you can chill with an ice coffee prepared with creamy almond milk.
Find out more about Espresso Embassy.
Mantra – The Coffee Sanctuary, Wide Choice of Cold Brews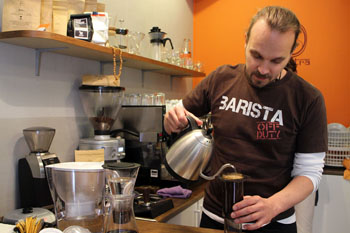 Address: Veres Pálné utca 17., district V.
Opening Hours:
Mon – Fri: 07.30 – 20.00,
Sat: 09.00 – 20.00,
Sun: 09.00 – 17.00
This small specialty cafe managed by two coffee fanatic guys, Krisztián and Gábor, opened in 2014 in a street that runs parallel with the
Coffee in Mantra
Alternative coffee and espresso/milky coffee drinks are both available along with a specialty, a cold brew made with a Japanese gadget, Iwaki (640 HUF).
It's higher in caffeine than coffees prepared with other traditional methods.
TIP: Among all the new wave cafes, Mantra offers the most varied selection of chilled brews. besides the Iwaki method they brew coffee with Hario Mizudashi pot as well (milk based drinks are also available in chilled version, really appreciated in the summer heat.
Espresso (420 HUF) in Mantra is extracted from a Gardelli Coffee, roasted to a slightly darker shade than beans used in other new wave cafes.
Lighter roasts by Gardelli and Casino Mocca are used for brewed coffee made with
Chemex,
Aeropress or
Clever Dripper (all three cost 640 HUF).
Cappuccino, flat white, latte machiato and other white offers are also on the menu.
Besides the Iwaki, other chilled coffee options, a welcome option in the sweltering summer months, inlclude:
iced Aeropress (640 HUF),
Mizudashi (640-890 HUF),
V60 Fretta (890 HUF).
Pastries & Teas
Fresh local bakery goods, cakes are available. The tiramisu with a sip of cold brewed coffee is a must!
Teas in Mantra are also worth a try: cascara (tea made from the coffee cherry), matcha, but there's pu erh and green tea too.
The chai latte is prepared with almond milk (640 HUF).
On cold days you can try the super-creamy hot chocolate from a local chocolatier, Tibor Szántó's products (Caribbean, Madagascar or 70% Fair Trade).
The cafe also hosts public cuppings where you can taste newly arrived coffees.
Kontakt – Cafe & Design Shop, Famous for the Roket: a Cold Brew on Tap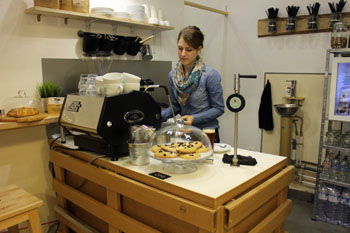 Address: Károly krt. 22., district V.
Opening Hours:
Mon – Fri: 08.00 – 19.00,
Sat: 10.00 – 17.00
Kontakt is a smallish cafe in the Roser Courtyard in the Jewish District (just off Károly krt. and near the Great Synagogue in Dohány Str..
They realized the need for refreshing cold coffee drink other than frappe or ice latte, so they came out with a delicious brew called Roket prepared from a Casino Mocca light Roast (a Kenyan when I was there)
The coffee grounds are soaked in clean, cold water for 14 hrs extracting only the very best of the grounds and resulting in a sweet, fruity drink.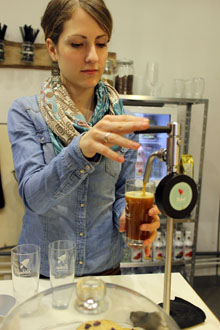 The concoction is filtered, bottled and served freshly drawn with the help of nitrogen gas. Roket has a higher caffeine content so beware how much you drink.
I absolutely enjoyed mine: fresh, chilled, energizing drink with lovely fruity notes and and gentle spiciness.
Kontakt also serves hot coffees made with alternative, pour-over methods:
Chemex,
Kalita, but
espresso and the usual white drinks (flat white, latte) are also made with lots of care from the highest quality beans (sourced mainly from Drop Coffee, Koppi – both Swedish artisan roasters – and the local roaster hero: Casino Mocca.
There's a small terrace to nurse your cup or glass.
Snacks & Bags
The granola bars, cookies are made by the young owner Anna (she opened the place with his husband Péter a couple of years ago), and they are delicious.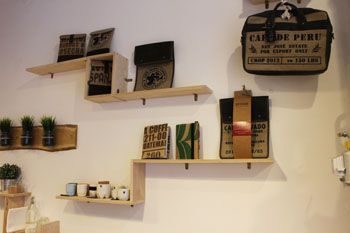 The handcrafted design bags, iPad and iPhone cases, wallets are the other draw of the place.
I especially liked the items made from jute coffee sacks by Presso Design, a local craft business of a brother and sister team.
Prices:
Roket: 550 HUF/2 dl, 750 HUF/3 dl,
espresso: 400 HUF,
flat white: 650 HUF,
cappuccino: 500 HUF,
a sandwich & cappuccino: 800 HUF.
My Little Melbourne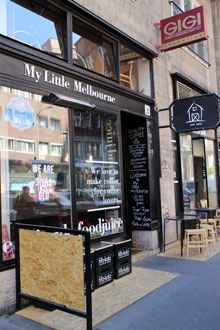 Address: Madách Imre út 3., district VII., a short walk from Deák F. tér metro hub (M1, M2, M3 lines), or trams 47, 49
Opening Hours:
Mon – Fri: 07.00 – 19.00,
Sat – Sun: 08.30 – 19.00
Along with Espresso Embassy, and Tamp & Pull, My Little Melbourne in the heart of the eclectic Jewish Quarter of Budapest (not far from Kontakt actually), was the ambassadors of quality coffee in Budapest.
The young couple running the cafe were inspired by the thriving coffee culture of Australia they discovered during a trip to visit relatives.
The love of all things Aussie is reflected in the design: knick-knacks, flags, posters on two levels (there's a second floor area – not too large either but has a homey alcove with a cushioned bench).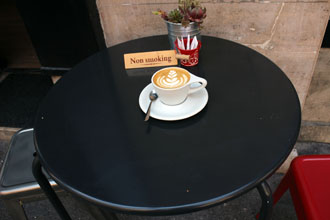 They started off with a traditional Italian coffee, Danesi then added new-wave, lighter roasts, as the third wave coffee revolution caught up with them.
Today they brew from Workshop Coffee, Sweet Cup and artisan roasts of other European roasters.
Nicely done and tasteful flat white, espresso, latte and cappuccino. If you prefer filter coffee pop in the My Little Brew Bar next door.
They also stock all sorts Australian goodies Byron Bay cookies for example, but you can have Fritz Kola – German soft drinks with high caffeine content – if coffee is too slow to crank you up.
What to eat?
Healthy snacks,
muesli with yogurt,
croissant,
chocolate snails – your choice what you have with your cuppa.
They have a Synesso espresso machine hand-built in Seattle, instead of the La Marzoccos you can see at almost every other place.
The cafe itself is small but cozy with friendly, chatty staff.
I prefer the terrace facing the renewed Madách Square when I visit My Little Melbourne though I find sitting on the crates a bit uncomfortable: they look stylish but a bit hard to sit on.
Try the affogato: a single espresso with a scoop of vanilla ice cream: a heavenly, chilled dessert to enjoy in summer time.
Prices:
espresso: 400 HUF,
cappuccino,
flat white and latte 500-750 HUF.
My Little Brew Bar-Discover the World of Filter Coffee!
Address: Madách Imre út 3., district VII., a short walk from Deák F. tér metro hub (M1, M2, M3 lines), or trams 47, 49
Opening Hours: Mon – Sun: 10.00 – 19.00
My Little Brew Bar opened at the beginning of 2015 right next to My Little Melbourne and offers only pour-over, filter coffee drinks, the first and so far the only of its kind in Budapest.
You have 8 options to choose from ( two of them are available only here within the city) to get your brew prepared:[checklist]
Aeropress
French press – comes in various sizes and designs, coffee tends to be a it gritty though
Gino Dripper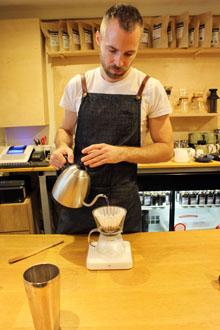 Espro – similar to french press but with a finer mesh filter for less grit, and double wall stainless steel flask
Coffeega – a slow drip Korean-made brewing tool,
Chemex – designed by a chemist, a manual, pour-over, glass jug coffee maker with a wood collar.
Hario V60,
Syphon – a vacuum brewing equipment
Eva Solo – a stylish Danish glass coffee maker with a convex rubber and stainless steel filter funnel, and insulating neoprene zip cover.[/checklist]
Coffee is made from the single-origin, farm-selected and hand roasted beans of the Workshop Coffee & Co. (London, UK), the Sweet Cup Roastery (Amsterdam) and the Stooker Roasting Company.
The My Little Brew Bar is the place for you to go if you love the almost tea-like quality of slowly prepared, pour-over coffees that bring out best the terroir characteristic of the beans.
Tamp & Pull – The First New Wave Cafe in Budapest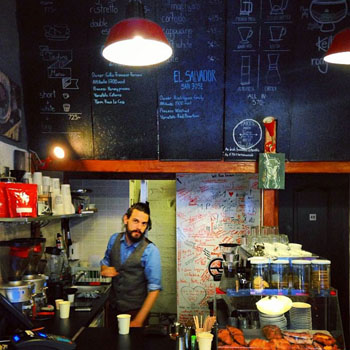 TP1 Address: Czuczor utca 3., district IX., tram 2 , Fővám tér or Zsil utca st., M4 Fővám tér st., Opening Hours: Mon – Fri: 07.00 – 19.00, Sat: 09.00 – 17.00, Sun: 12.00 – 16.00
TP2 Address: Váci út 85. district XIII., Opening Hours: Mon – Thurs: 07.00 – 19.00, Fri: 07.00 – 18.00
Established in 2012 Tamp & Pull was the forerunner of third wave coffee culture in Budapest.
They have two venues now across town but the smallest one in the vicinity of the Central Market Hall and the Whale/Bálna Shopping Centre is where it all started.
The Corvinus University Campus is next to the cafe so lots of students get their caffeine intake and Tamp & Pull (they are also the reason that there's no free WiFi in Czuczor Street).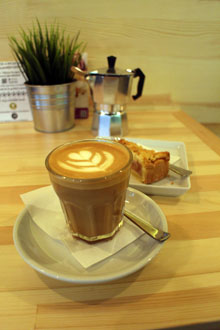 In fine weather you can enjoy your coffee on the tiny terrace in front of the cafe.
The interior is amazing: it's fun and everything reflects the love of coffee:
assorted coffee machine parts,
white board with grafittis by patrons,
blond wood tables, benches and chairs.
A bit crowded mainly in the mornings.
They work with Has Bean coffees from the UK, both single origins and the well-loved Jabberwocky, Blake and Philter blends.
Coffee in Tamp & Pull
Both
espresso (370 HUF) and
filter drinks (Kalita, Chemex, AeroPress, French Press-each costs 570 HUF) are available-the professional baristas will happily tell you facts about the coffee they have in the grinder.
One of the most delicious flat whites and for a great price (520 HUF) I had in the Czuczor utca shop.
They also serve excellent naked espresso. The signature drinks also worth a try: Liby: double ristretto, cream, cane sugar and milk froth served with roasted pecan nut (520 HUF).
All drinks are prepared with lots of expertise and care.
Food options include the usual cafe selection but everything is top-quality supplied by the best sources in town: cookies, croissant, yogurt with muesli, sandwiches.
The best thing about Tamp & Pull is the very knowledgable and friendly staff and perhaps the great value for money (prices are perhaps the lowest in Tamp & Pull compared to the other cafes listed on this page).
The Bank Center location Arany János utca is more spacious has a more sophisticated decor and vibe due to the bank and business environment.
Coffee, food and service are also top-notch there, so if you prefer a less crowded location choose Tamp & Pull Bank Center.
Warm Cup Espresso & Brew Bar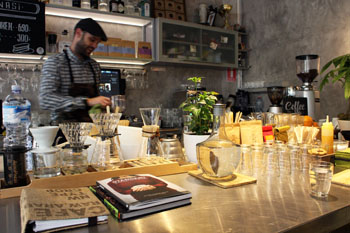 Address: Kertész utca 39., district VII.
Opening Hours: Mon – Fri: 10.00-18.00
Warm Cup is one of the newest speciality cafes in Budapest, located also in the centre of the historic ghetto, district VII., lead by two young coffee enthusiast guys who are professional baristas, coffee experts, keeping up with new brewing methods, searching for new, high quality single origin beans to serve the best possible espresso or filter coffee.
They also put great emphasis on serving fresh bakery goods (from Panificio il Basilico: curd cheese bags (túrós táska), chocolate snails and other pastries.
Light, savoury snacks– sandwiches and wraps made from quality, fresh ingredients – are also available if you feel like having a light lunch or dinner.
In the grinders you'll find beans from Casino Mocca and Red Baggies, another Hungarian start-up micro roaster. Relaxed ambience, friendly, dedicated staff, good food – a must-try place if you happen to be wandering in the middle of the Jewish district.
Madal Espresso & Brew Bar
A Spiritual Place, with Heavenly Coffee, at 3 Locations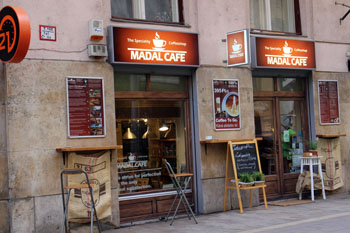 Hollán Ernő utca 3., district XIII., close to Margaret Bridge in Pest, Opening Hours: Mon-Fri: 7.30-19.30, Sat-Sun: 8.30-19.30
Ferenciek tere 3., district V., city centre, Opening Hours: Mon – Fri: 07.30-19.30, Sat-Sun: 08.30-19.30
Alkotmány u 4., district V. (near the Parliament & Kossuth tér), Opening Hours: Mon – Fri: 07.30-19.30, Sat-Sun: 08.30-19.30
Madal opened its 2nd cafe in downtown Budapest at busy Ferenciek tere (M3/blue metro) in August 2015, and the 3rd place in the vicinity of the Parliaent in 2017.
The two-storey place at Ferenciek tere is much larger than most other 3rd wave coffee bars in the city.
It too works with the quality beans of the London-based Square Mile Roasters as well as other guest coffees.
Madal also started its own roaster, called Beyond Within and uses the coffee roasted there at both its locations. [/box]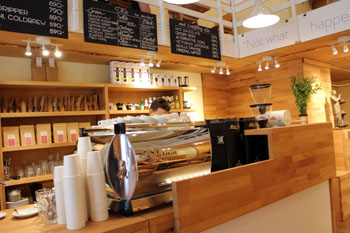 The first Madal Espresso & Brew Bar is located is in a pedestrian street, Hollán Ernő utca, between Nyugati Train Station and Margaret Bridge.
The cafe is a tribute to Sri Chinmoy – there's a corner with his statue, photos and other memorabilia-, the famous spiritual teacher, whose nickname was Madal.
Read more about Madal Espresso & Brew Bar.
A Tranysylvanian-born dentist Dr. Sándor Fülöp owns the place, a devoted follower of Sri Chinmoy's teachings and a spiritual and meditation teacher himself.
The old classics, espresso, cortado, cappuccino, flat white and latte are the favourites here made from
their own roasts (Beyond Within Roaster) or
guest coffees from around the world (you can try new beans each month): Square Miles from London, Blue Bottle, Intelligentsia Coffee etc. You can buy the beans too.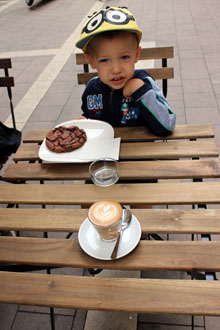 The Alternative, Filter Drink Offer Includes
Aeropress (690 HUF),
Hario V60,
Clever Dripper,
Kalita (790 HUF) and
a cold brew, Mizudashi (590 HUF).
The fruity, winey and floral beans of Kenya and Ethiopia are perfect for fans of new wave coffee drinks.
The baristas are well-trained, regularly participate on barista championships with good results; it's clear that they love and know all things about coffee.
Cascara and all sorts of fine teas (white, green, rooibos, herbal, black) are also on offer ( 590-690 HUF/4 dl).
On colder days you can sip hot chocolate (from quality stuff by Tibor Szántó, one of the best chocolatiers in Budapest, 590 HUF).
The first time (soon after their opening) I had a very nice flat white from a special blend, with croissant, the second (or third?) I've opted for a cortado from a Colombian coffee.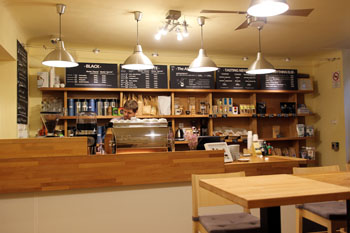 Both were very nice.
Croissants (plain white flour or whole wheat), chocolate chip cookies, some cakes to go with your drink.
Simple, rather spacious interior.
Light-colored tables and bar stools along the windows facing the street as well as right outside the entrance.
There's also a terrace shared with he Hummus Bar next door.
The shiny La Marzoco GB5 machine,
high-quality, freshly roasted coffees, and
helpful, expert baristas guarantee that you can't go wrong in Madal.
Budapest Baristas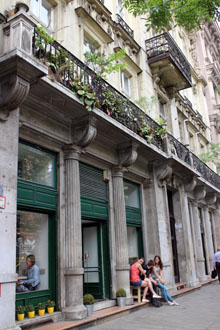 Address: Múzeum krt. 15., district VIII.
Opening Hours:
Mon – Fri: 07.30 – 19.00,
Sat – Sun: 09.00 – 19.00
Budapest Baristas opened in spring 2015 in a former antiquarian and used book shop on Múzeum krt.,. It isn't far from Fekete (see below).
Dedicated and enthusiastic baristas prepare espresso and the other favorites on La Marzocco GB5. Of course you can have slow coffee made with Kalita.
Casino Mocca is the main supplier of high-quality, farm-selected beans.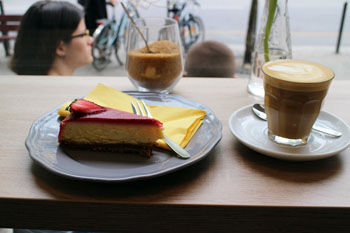 The desserts – there are healthier, dairy and gluten free options – are heavenly:
croissants
cheese cakes,
cake pops,
cupcakes,
biscuits,
savoury treats (spinach-ricotta tartlet when I was there) – the offer is changing constantly.
Very attentive staff. They really love the versatile world of coffee and will tell you about the coffee you'll drink.
The main area is quite spacious facing the busy street.
Take your seat up on the gallery if you want to take your time nursing your drink.
Prices:
espresso: 450 HUF,
cappuccino: 550 HUF,
latte: 600 HUF,
flat white: 700 HUF,
filter coffee: 650 HUF,
cascara: 550 HUF,
alternative milk (soy or other non-dairy): +150 HUF.
Fekete Espresso Bar & Fekete Brew & Food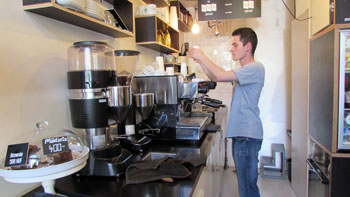 Address: Múzeum krt. 5., district VIII.
Opening Hours:
Fekete Espresso Bar: Mon – Fri: 07.30 – 16.00,
Brew & Food Bar: Mon – Sun: 08.30 – 18.00
Fekete – translates to black – is the tiniest of the all cafes listed here – though they have really grown in 2015 with the new inner courtyard and the Brew & Food Bar opening from it – so it's really more for take away than sitting down and chatting with friends.
The decor aptly reflects the name black and white walls and floor with black shelves and bar.
With the inner courtyard sitting area they increased the space though that can be enjoyed only in good weather.
Coffee & Food
Espresso drinks are the staple here though they also make Hario V60 and other filter coffee, as well as cascara tea.
Flat white is very popular here too.
Alchemy,
White Label,
Drop Coffee and
other international coffees, as well as
the local roastery success, Casino Mocca's beans are used.
You can also grab
granola bars,
handcrafted candies made by Cukorka shop next door (same owner as Fekete),
artisan fruit syrups and teas with your coffee.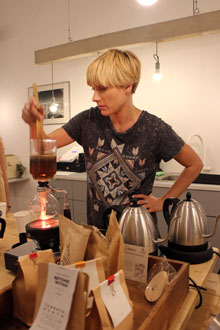 Prices – a bit on the higher side considering the limited interior space: espresso: 450 HUF, filter: 600-700 HUF, cascara tea: 700 HUF.
It opens from the courtyard and offers
filter coffees (Hario v60, Syphon, Aeropress, Chemex) as well as
sandwiches and other simple food (soups, salad, pasta and quiche), and
yummy cakes.
The range of coffees used has also grown: Koppi, The Barn (Berlin), Man Versus Machine from Munchen (mvsmcoffee) and others.
A nice and welcoming feature are the children toys in the courtyard: not many but enough to keep the little ones occupied while you're sipping your coffee.
Specialty Cafes in Buda
Although Pest has way more specialty cafes, Buda is catching up quickly.
The first two are near the Gellért Hill and the Gellért Thermal Bath (M4 metro), on the up-and-coming Bartók Béla Boulevard.
Kelet Kávézó & Art Gallery
Address: Bartók Béla út 29., district XI.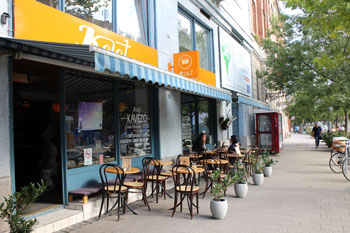 Opening Hours:
Mon – Fri: 07.30 – 23.00,
Sat – Sun: 09.00 – 23.00
Kelet Cafe is just a short walk from the Gellért Hill on a nice and developing boulevard-style road named after the famous Hungarian composer, Béla Bartók.
It evokes more of the atmosphere of literary cafes Budapest was once famous for (New York Cafe, Művész, Centrál, Hadik, Royal, Pilvax)
Lots of books (it's a book swapping place: you can leave one and take one) and
magazines (local and international) to browse while you savor your choice of beverage.
The freshly roasted beans are supplied by Casino Mocca.
Drinks & Food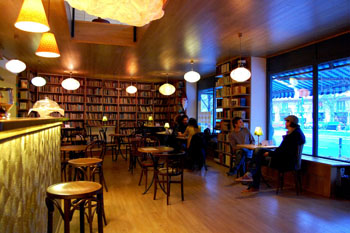 True to its name – Kelet means East – the cafe has Turkish coffee on the menu along with
pour-over options and of course
espresso and the likes, as well as
quality loose leaf teas,
homemade lemonade, and
freshly pressed juices.
Czech beer on tap, fine wines and pálinka – Hungarian fruit distillate – are also available if you long for something stronger.
You can have a light lunch or dinner of grilled sandwiches and salad.
The art gallery features exhibitions of contemporary paintings with new display every 3-4 weeks, and book launches literary discussions.
Prices: espresso: 420 HUF, cappuccino, hot chocolate: 480 HUF, Turkish coffee: 550 HUF, filter: 650 HUF, tea: 450 HUF,sandwiches: cc. 750 HUF, salads: cc. 1 250 HUF, lemonade: 350-550 HUF, beer: cc. 300 – 550 HUF.
Related:
Our Favourite Cafes in Budapest – Strudel Tasting – Taste Budapest – Hungarian Food Specialities – Best Restaurants in Budapest – Top Places for Wine Tasting – Favourite Ice Cream Shops