5-Star Boutique Hotel in Buda Castle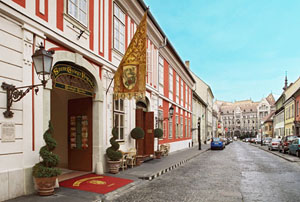 Address: Fortuna utca 4., Castle District, Buda
Why Stay?
Location-wise St. George Residence Hotel is a perfect choice if you wish to stay in a central but less buzzing part of the city, surrounded with mementos from Buda's turbulent past.
It is an ideal hotel for families, or couples spending a few days in Budapest.
The hotel is housed in a restored mansion in Buda Castle, the oldest part of the city under the protection of the UNESCO's World Heritage program. The area is packed with sights, great restaurants and cafes and you can enjoy the most scenic views from Fishermen's Bastion or the walkway winding round the hill.
The hotel, as well as the historic neighbourhood, exudes old-world charm perfect for a romantic getaway.
Elegant rooms and luxury suites with classic turn-of-the 20th century furnishings as well as 21st century amenities.
Kind, professional staff will help in everything to make your stay perfect.
Table of Contents – St. George Residence Hotel
On Map
Public Transportation Tips: use the Castle Bus (bus No. 16) to get to the city center in Pest (ticket from the driver costs 450 HUF), try also the Funicular near the Royal Palace to get down the hill –
Highlights of the St. George Residence Hotel
Tastefully furnished rooms (paintings, wood flooring) have antique yet modern atmosphere,
Huge bathrooms with large bathtubs and fine toiletries
Blue Bird Restaurant & Cafe is run by an Oscar prize winner chef, traditional Hungarian music during dinners
Lovely inner courtyard
Peaceful, relaxing neighbourhood
Rooms & Amenities – Luxury at Reasonable Price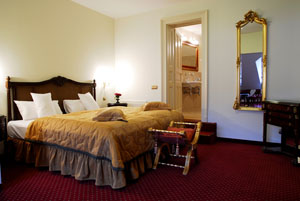 Children up to 12 years of age can stay free of charge in all rooms. Pets are also welcome for USD35 per night.
Rates are discount rates available when you book online.
It is also worth checking their website for special discounts, sometimes they have a 2 3 for 2 or 4 for 4 nights offer.
Room Price Includes:
welcome drink
20% off in the hotel's restaurant on the day of arrival
a bottle of wine or fruits prepared in the suite
fast internet in all rooms
Parking: You can park in front of the hotel for free in spaces allotted for guests of the hotel. There's also an underground garage which you can use for EUR27/day.
The hotel has for types of suites:
Diamond
Gold,
Silver, and
Bronze
All rooms have:
internet access at no extra charge
fully equipped kitchen (cooking area, pots, pans, cutlery, microvawe, fridge etc.)
LCD TV with 20 channels
Safe – has space for a laptop.
Diamond Suites
The most sumptuous are the Diamond category suites: with very large living area and bathroom, two bedrooms and a kitchen. It is a perfect choice for families with kids.
Rooms size varies between 60 and 100 sqm. Some Diamond suites have a jacuzzi in the bathroom for your ultimate indulgement. Rates: between USD335 – USD505

Gold Suites
With 50-60 sqm size these rooms are also ideal for a family of 4. Fully equipped kitchen, large living room, bathroom are the highlights of Gold Suites. Rates: from USD150 to USD260
Silver Suites
A Silver Suite is also spacious enough for 2 adults and 2 children (size: 40-50 sqm.). Rates: from around USD140 to USD230 depending on booking site and season.
Bronze Suites
These rooms are the smallest but measuring 45-50 sqm they are still provide very comfortable living and sleeping rea for 2-3 people.
Rates: from USD125 up to USD210 depending on season.
Eating in the St. George Residence Hotel
Breakfast is available for USD20 per day which is quite good according to most tarvellers who slept at the hotel. There is also a restaurant/cafe and bar and a smaller dining area in the hotel's wine cellar.
What Traveller Say About the Hotel?
The St. George Residence Luxury Boutique Hotel is among the top rated Budapest accommodations on most hotel review sites.
On the Plus Side:
luxurious, beautifully furnished, spacious rooms with bathroom
fast internet connection
charming, historic area
helpful, English speaking staff
quite at night (also not much nightlife in the vicinity)
Some Negatives Mentioned in Reviews
no lift, no barrier along the marble staircase – ask for room on the groundfloor if you have trouble climbing the steps
no coffee maker in the kitchenette
no proper shower in the bathroom (there's a hand held nozzle), no shower curtain either
Summary
The St. George Hotel is a prestigious place offering comfortable, luxury accommodation in a historic-romantic setting. Great choice if you want to enjoy a bit of serenity, but also being able to get to the hustle and bustle of downtown Budapest in a short time.
Similar Hotels:
Baltazar Hotel in Buda Castle – Hilton Budapest Castle District – Aria Hotel Budapest 5-star Boutique Hotel at the Basilcia – Four Seasons Hotel Gresham Palace – Sofitel Budapest Chain Bridge – Prestige Hotel in Downtown Budapest – The Ritz Carlton Budapest – Iberostar Grand Hotel Budapest – Buddha Bar Hotel Klotild Palaces – Corinthia Hotel Budapest – More Luxury Budapest Hotels – Hotels for a Romantic Stay in Budapest