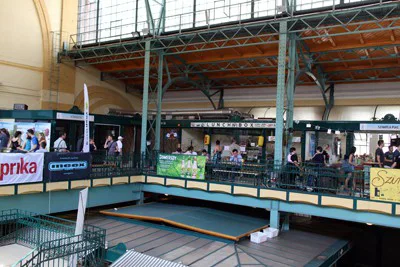 The Főzdefeszt Craft Beer Festival is a unique beer festival where you can see and taste what the top new-wave beer makers and street food bars have to offer:
more than 50 types of craft beer on tap, wines, coffee
gourmet hamburger,
hot-dog, gyros,
grilled sausages, goulash, and other soups, fish dishes, desserts,
The iconic craft beer fest of Hungary – first organized in 2011 – returns with renewed energy in 2022 summer. The venue is City Park (Városliget), Napozórét/Great Meadow next to Petőfi Stadium, the largest leisure park in the city near Heroes' Square, (M1/yellow line).
Great beers and food at a scenic location!
Table of Contents
Information About the 2022 Főzdefeszt Beer Festival
Venue
City Park (Városliget) – Napozórét/Great Meadow next to Petőfi Stadium
Getting there: trolley buses No. 70, 75, 79
Admission:
You can buy tickets with or without a tasting glass. But to taste beers you do need a festival glass. You can bring a glass from a previous Főzdefeszt or buy the new one. If you don't want to drink beers you can enter the event for free.
Ticket + Tasting Glass: 3 490 HUF
Ticket Without A Glass: 2 490 HUF
The ticket price – tasting glass combo includes a Stöltzle crystal glass with the logo of the festival, in size 0.5 L but with markings of 0.2 L, 0,3 L, 0,4 L and 0,5 L. You can return the glass at the end of the day/festival and you get 500 HUF refund.
Opening Hours
Friday: 14.00 – 02.00,
Saturday: 12.00 – 02.00,
Sunday: 12.00 – 00.00
Getting There
M1 underground (yellow line) from Oktogon (tram 4, 6) Vörösmarty Square or Deák Square
Event Facebook Page
Payment On The festival:
You can buy your ticket with cash or bank card on the premises but for beers and food you can pay only with HelloPay card and paypass bank cards. Cash will not be accepted.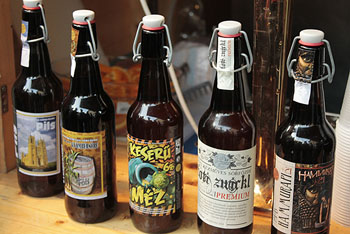 TIP:If you cannot visit the Festival try our Craft Beer Cruise Budapest program where you'll sample 5 of the best local specialty beers (Keserű Méz, Fóti Zwickl by the Fóti Craft Brewery, Rizmajer Wheat Beer, Flying Rabbit IPA by Monyo, Horizont Flamand Porter OR Stari Blackcurrant).
Each sample is 150 ml. At the end you can choose one to have a full pint for FREE.
A 2-hour river tour + snacks + live Gypsy music for 33 EUR!
Book online!
Street Food Offer
The most popular participants of previous events will be present again along with new stars of Budapest's street food scene.
20 of the best food trucks snd street food bars will offer gourmet fast food over the three days:
Zing Burger – The truck's main location at Király utca 60., and their food truck is in Gozsdu Court. The juiciest burgers packed with goodies: Cheddar cheese, braised onion, Philadelphia cream cheese, bacon, chilly. Try the Guitar Hero, or the Phily Burger.
Kanálgép Food Truck,
Piknik Utczabár – bistro food, premium quality wines, homemade fruit syrups, smoothies.
Kobe Sausages,
PolaPola – Serbian grilled meats
Babuska Food Truck
Che Che Bistro – grilled sandwiches
Mexkitchen
Twist & Chips
Mangalica BBQ Show
Tésztafeszítő Kisiparos – lángos, Hungarians favourite deep-fried bread
Lekker Stroopwaffel
Waffel Land
Vespresso Coffees – the green retro Vespa offers quality coffee made from relatively freshly roasted beans supplied by the British Has Bean. When not on a festival they can been found in the Karaván Street Food Court at Kazinczy utca 18., district VII.
TIP: The Gourmet Festival  (17-20. May 2018.) is also a great place to try local food. The cream-of-the-crop of restaurants from Budapest and other parts of Hungary will be present and offer a taste of their cuisine over the 4-day event in Millenáris Park, Buda.
Főzdefeszt Craft Beer Festival
You can sample more than 100 beers in 50 stalls made by the cream-of-the-crop artisan Hungarian breweries. Lighter ales and lagers are becoming more and more popular, while Indian Pale Ales are still well loved at any beer event.
The curiosity of the season will be the hopped ciders: you can compare two: the Fusion Cider of OK Brewery and The Infusion by Hopfanatic.
Other exciting beers you can sample at the festival:
Black Mamma by Élesztő – a coffeed stout
Budapest Lager by Hara Punk
Will Scarlett saison, the French harvest beer, by Bors Brewery
Zip will tap Black IPA, East India Pale Ale, and saison.
Summer Pale Ale – by Ogre and Armando from Békésszentandrás.
Hableány – a light, 4,5 % summer beer by Legenda
Bretania – Hungary's first sour ale also by Legenda.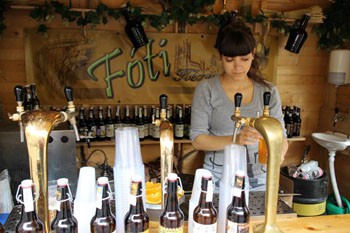 Well-known craft breweries that are longtime participants of Főzdefeszt that will be in the City Park.
Fót,
Gyertyános: they'll have a new fruit beer made with litchi
Stari,
Rizmajer
You can also sip brews made in Transylvania. The guerilla beer makers will surely bring some exciting beers too.
TIP: Don't miss the Belgian Beer Festival in Budapest Whale/Bálna in mid-May: nearly 200 beers, 50 on tap. The Czech Beer Festival is held in June on the roof terrace of WestEnd in downtown.
See information on other beer festivals in Budapest.
See our Facebook Photo Album on the Street Food Show
Sights, Attractions Near the Venue

City Park – The city's most spacious green area with lots of attractions for the whole family: the Budapest Zoo & Botanical Garden with the Holnemvolt Leisure park right next to it, and the Széchenyi Bath,
Andrássy Avenue – grand palaces, museums, glitzy shops, restaurants, cafes line this Parisian boulevard in the city centre.
Opera House – an imposing building on Andrássy  Blvd. built in the second half of the 19. century.
St. Stephen's Basilica – home to King St. Stephen's Holy Right hand, organ concerts and a superb view form the cupola.
Miniversum – large model layout of railways, cities, countryside, attractions of Hungary, Austria and Germany.
Related:
More June Festivals and Things to Do in Budapest –  Wine Festival in Budapest Castle – Budapest in September: Events, Programs  – Pálinka and Sausage Festival Buda Castle – National Gallop Equestrian Festival Budapest – Sweet Days Chocolate Festival in Buda Castle – Cultural Heritage Days in Budapest