Date: August 18 -20, 2023
Location: Castle Bazaar & Garden, Lánchíd u. 15, Budapest1013
The Street of Hungarian Flavours/Magyar Ízek Utcája festival offers a taste of local gastronomy for 3 days, 18 – 20. August:
Friday,
Saturday, and
Sunday.
The event is part of the August 20/St Stephen's day festivities.
The Upper Bank of the Danube between the Chain Bridge and Elizabeth Bridge, in front of the Várkert Bazár/Castle Bazaar exhibition halls.
Entry is free.
Visitors can sample traditional local delicacies including
the Nation's Cake (Tippsy Fig Respect/spicces Füge Respektus), and the
3 winners of the Bread Baking Contest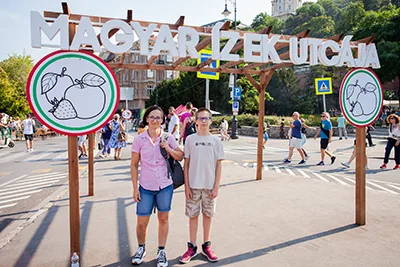 Venue
Castle Bazaar/Várkert, between Elizabeth Bridge and the Chain Bridge on the Danube bank in Buda, (View on Google Map)
Entry: free (you have to pay for food and drinks)
Getting There
By walk only. No public transport due to the programs and the fireworks on 20. August.
The newly refurbished Chain Bridge is open to pedestrians only between August 18 – 20. (closed off for car and bus traffic).

Walking over the bridge is the best way to travel between Buda and Pest and to get to the Street Of Hungarian Flavours festival.
Opening Hours
18. August, Friday, 10.00 – 24.00
19. August, Saturday: 10.00 – 24.00
20. August, Sunday: 10.00 – 24.00
Highlights Of The Street of Hungarian Flavours: Why Go?
The festival is the biggest gastronomy event in Budapest – apart from the Christmas Fairs at Vörösmarty tér and the Basilica.
A perfect place to sample local food and drinks:
Goulash
Mutton stew Karcag style
Stuffed cabbage Szatmár style
Sausage flavoured with ginger
The new bread – 20th August is also the day when bread made from the first grains of the year is blessed
The Hungary's Cake and sugar-free cake in 2023:
Traditional pastries and cakes: Sekler Cake (Kürtös Kalács), strudel
Wine and craft beer
The location, Várkert Bazaar is one of the most pictureque a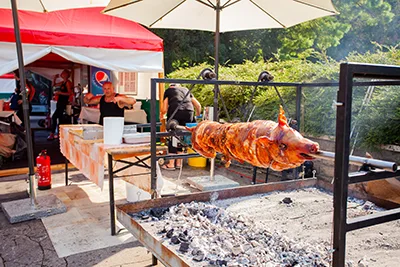 ttractions of Budapest: a series of ornate, 19. century palace buildings with a lush neo-Renaissance garden.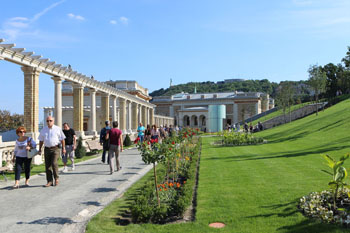 Várkert Bazár Is Home To
Exhibitions,
Concerts,
Dance performances,
Holiday fairs (Christmas, Easter) all year round.
The scenic view of the Danube and the landmarks lining the Pest bank is just amazing from here.
Hungary's Birthday Cake – Fig, Honey, Tokaji Aszu Wine
Note: Hungary's cake is sold in the southern palace of Várkert Bazaar. There's a long queue inside where the cake – a rather thin slice – is sold behind counters. We didn't wait it out, since the dessert is available in most cake shops in Budapest and Hungary.
The Street of Hungarian Flavours has been part of the August 20/St Stpehen's day festivities for many years now.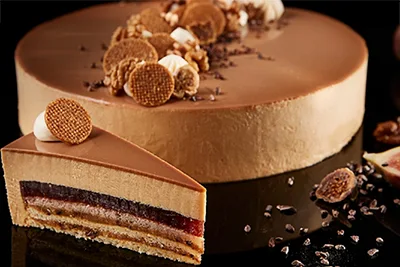 The festival is also the venue where you can first taste Hungary's Birthday Cake.
Each year the guild of Hungarian Confectioners announces a contest to make a special cake from traditional local ingredients.
A jury then chooses one over 2 rounds and the winner torte is first sliced on the Street of Hungarian Flavours.
This year the Tippsy Fig Respect/Spicces füge respektus cake won.
It's made without wheat flour and consists of the follwoing layers:
Almond flour butter joconde sponge,
Soft salted-caramel mousse cream, and
Walnut-caramel brittle, which also includes
Cocoa nibs.
The Tokaj aszú (sweet wine) and sour cherry fig jelly, combined with the acacia honey milk chocolate mirror glaze, result in truly unique flavour profile.
This gorgeous, elegant cake is crowned with acacia honey white chocolate ganache and walnut shortbread disks.
Sugar-Free Cake For The Health Conscious
For those who watch their weight or avoid sugar in their diet can have a slice from the sugar-free Cake named Kikelet/Spring.
This healthy dessert option was designed around a drop of black tea with
Blueberries and a hint of
Lavender, complemented by
Vanilla white chocolate mousse and an
Almond and lemon sponge cake made without wheat flour.
A slice of this delicacy contains only 236.8 kcal and 11,8 g carbohydrate.
Street of Hungarian Flavours: St. Stephen Day's Bread
Besides the Nation's Cake you can also savour the wineers of the St. Stephen's Day Bread Contest: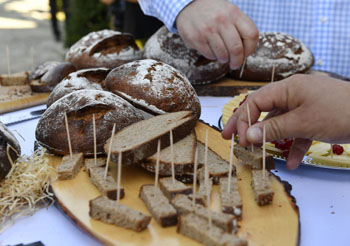 A white sourdough bread called Várhegyi Deres made by the Kurdy Family Bakery. It is a crunchy white wheat bread with a dash of corn and leavened for 12 hours with fesh sourdough.
The 2nd bread is a honey apple rye bread with 70% rye flour and 24-h sourdough and seasoned with apple chips and honey.
The 3rd you can taste on the festival is a whole sourdough bread made from spelt flour, rye flour and oat flour but the baker also added sunflower seeds, oat flakes and pumpkin seeds.
Other Programs Nearby Street of Hungarian Flavours
Air Parade by the Hunagarian Defense Forces (Danube banks between the renewed Chain Bridge and Margaret Bridge) – from 09.00 till 10.00 on August 20.
Csárdafesztivál At Vörösmarty Square – The country's best inns will be cooking plus there will be dancing and folk music too – so you can dine and wine to your heart's content there!
Folk Craft & Art Festival in Buda Castle, 18 – 20. August
Fireworks at 21.00, August 20th – At a 4 km section of the Danube river, between Petőfi and Margaret bridges
See also our Facebook page for upcoming events and program tips!
TIP: Budapest hosts The World Athletics Championship in 2023 between August 19 – 27. If you happen to be in our city at this time drop by to watch a final in the new Athletic Stadium on the Danube bank in Pest.

Browse also our other program recommendations in August!