Top 10 Activities for Summer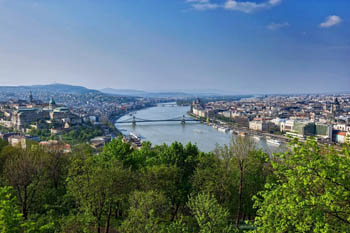 We compiled the top 10 summer things to do in Budapest to help you plan your visit. Summer is the hottest season in the Hungarian capital both in terms of the weather, as well as events.
The following program recommendations will help you get to know various aspects of the city, and some Hungarian traditions while making your stay in Budapest memorable.
The summer season officially starts in June, but there are plenty of activities, and festivals from May.
The beaches also open usually in mid-May, and stay open till end of August.
Budapest also has a a three-month summer festival with concerts, and other cultural programs.
Table of Contents
#1 Baths, Beaches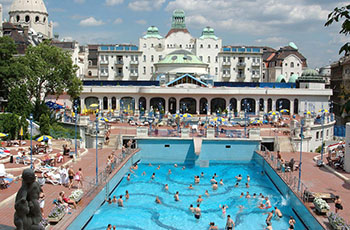 What can be more refreshing on a hot day than splashing in a pool?
Budapest is famous for its medicinal thermal baths that you can enjoy in winter (Gellért, Széchenyi, Lukács).
The buildings are great work of architecture so even if you don't want to get wet visit the buildings themselves.
These baths also have open-air pools that are open from May till end of August.
The Turkish baths (Király and Rudas) originate in medieval times, from the era when Hungary was under Ottoman rule (15th-17th centuries).
The seasonal beaches (Palatinus, Római Part) usually welcome bathers from 1st May till end of August or September, depending on the weather.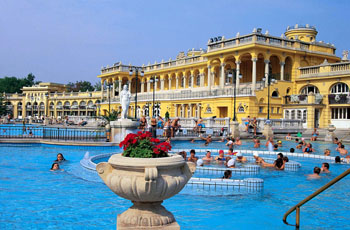 Tickets for adults are around 1700-5 500 HUF (Gellért, Széchenyi and Palatinus are the most expensive).
Palatinus on Margaret Island is our favourite when we take the kids with us: lots of green, children pools, play area, wonderful panorama.
The Széchenyi baths come as second best: grand architecture, a variety of pools, close to other attractions in City Park: the Zoo, Vajdahunyad Castle, Heroes' Square.
Tickets to the Széchenyi and Gellért Baths
(No Need to Queue, Just Show Your printed Confirmation E-mail!)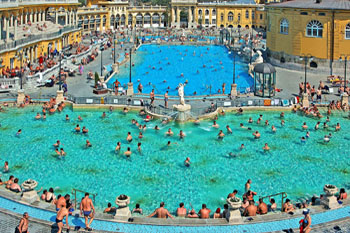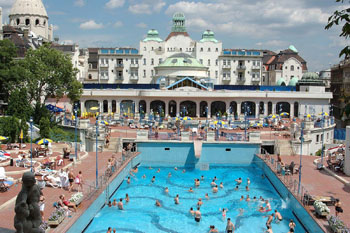 #2 Summer Thing to Do in Budapest – A Cruise on The Danube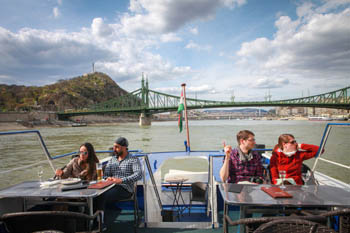 To enjoy the beautiful panorama of Buda and Pest on the two riversides go for a boat trip with
lunch (starts 0t 14.00) or dinner (at 19.00 or 22.00),
coffee,
beer/cocktail or
wine tasting (4 times a day).
Boats are air-conditioned: no need to walk in the sultry heat, just relax on the cool boat, eat good and see the top sights protected by the UNESCO's World Heritage program.
During the 1.5 hour boat tour you'll see some of the best known landmarks of the city:
The lunch time tour departs at 14.00 and includes a buffet meal with drinks.
The evening boat tour with buffet dinner starting at 19.00 is accompanied by live music.
TIP: If you prefer the coolness of the night on a hot summer day, opt for the night cruise with dinner departing at 22.00 (available also with drinks only).
Find more boat tours on the Danube (with coffee, craft beer, cocktails, or wines).
TIP:

Weekend Festivals on Liberty Bridge 2019

Following previous years' popularity of the ad-hoc picnics, concerts, yoga, and other programs on the Liberty Bridge closed down from traffic on weekends pedestrians can take over the green bridge summer 2019 too.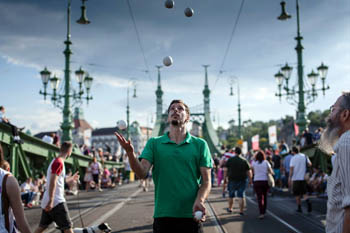 Szabadság híd – located next to the Great Market Hall – will turn into a festival venue on 4 weekends in July from 00.00 am Saturday till 24.00 pm on Sunday.
Dates are:
06 – 07. July, 2019
13 – 14. July, 2019,
20 – 21. July 2019, and
27 -28. July, 2019
See also the official Facebook page of the event.
#3 Summer Thing to Do – Explore the City on a Special Walk Tour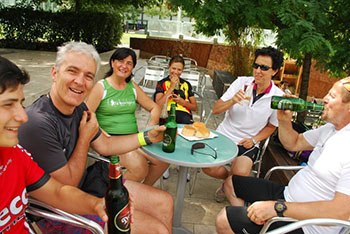 If you want to see the most important sights, as well as learn about some hidden landmarks and stories related to them, go on one of the special Budapest tours.
The tours are best suited to small groups and families.
Friendly local guides, who are well versed in all things Budapest, will introduce you to Budapest's secrets.
There's a tour for everyone: if you're a foodie person then pick a gastro tour, or if you're into architecture then the Art Nouveau Tour is for you.
TIP: The Budapest Card – the city's official tourist card available for 4 durations + one for juniors – comes with 2 FREE walk tours (2 – 2,5 hrs long):
one is in Buda departing from Szentháromság tér near Matthias Church every day at 14.00,
the other explores the Pest side and departs from Molnár's Kürtös Kalács Cafe at 10.00 ever day (address: Váci utca 31.)
See more tips on exploring the city on walking tours.
#4 Go On a Bike Tour
Budapest is becoming more and more bike friendly and the city offers some scenic routes for cycling enthusiasts.
You can do a short 2.5-hour long ride exploring the centre of Pest (no hills, so it's a fairly easy ride),
take a longer tour with meal that explores both Pest and Buda (4.5-hour long), or
if you've had enough of the capital city head for Szentendre a lovely artsy town in the Danube bend, 22 km north of Bp.
See Prices and Reservation
TIP: The summer season is also ideal for running tours: nice weather, great exercise, talented, enthusiastic guides.
#5 Boat Parties, Crazy Bath Parties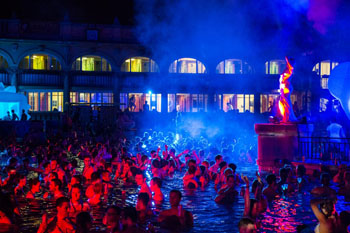 The boats plying the Danube are not only for scenic cruises but host fantastic parties at night with lots of drinks, music, dance and friendly people for all over the world.
The stately, historic baths also turn into wild party places on Saturday nights: the Széchenyi in City Park gives home to the Summer Sparties between April-November while the Lukács Baths in Buda hosts parties in the autumn-winter season, 01. November – 20. December.
The thermal water and drinks keep you warm even on the chilliest night!
Light and laser show, plenty of booze, nice girls and lads and a grand setting guarantee an unforgettable night!
Sparty Prices: early bird: 35 EUR/person, express entry with 2 drinks: 60 EUR/person.
#6 Wine Tasting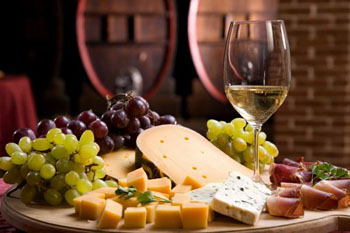 Sipping fine wines in a cool stone cellar is an ideal summer program.
The historic cellar is located in Buda Castle (within the Hilton Hotel) and they offer various wine tasting packages that include some great wines from Hungary's best wineries (Szekszárd, Villány, Eger).
After exploring the Castle area you can relax with a glass of wine and learn about wine making in Hungary.
TIP: If you wish to see some of the Hungarian countryside go on a wine tour in Etyek village, around 30 km west of Budapest (transfer to and back is included).
#7 Summer Thing to Do in Budapest – Folk Dance Show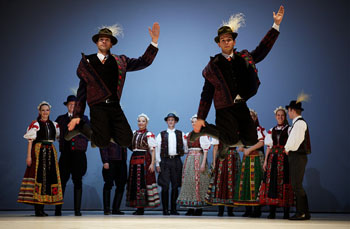 A spectacular folk dance show by talented Hungarian folk dance groups:
Hungarian State Folk Ensemble,
the Danube Folk Ensemble, and
the Hungaria Folk Orchestra
lets you have a glimpse into Hungary's rich folk traditions.
The dance performances are held in the Duna Palota (at 5., Zrínyi utca, district V.) starting at 20.00.
#8 Ice Cream, Frozen Yogurt, Sorbet – The Best Places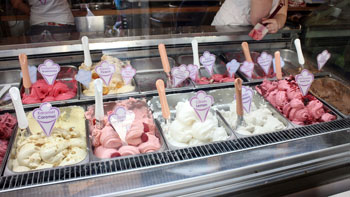 A summer holiday is not perfect without ice cream. Budapest has more and more quality ice cream shops where you can treat yourself to a cool summer dessert.
Gelateria Pomo D'oro is our No. 1 place where you can have real Italian gelato (the owner is from Italy, also has a great Italian restaurant across the gelateria in Arany J. Str.).
Other favourite gelaterias are:
MAMO in Ráday Str. – fine Italian gelato, cakes and coffee
Gelarto Rosa – rose-shaped delicious ice cream at the Basilica, at 3 places: the original shop is at Szt. István tér 3., open: Mon – Sun: 10.00 – 22.00
New: Gelarto Bistro, Sas utca 11, open: Mon – Sun: 08.00 – 22.00 – unique flavours (paprika, pesto, mint and green peas), breakfast dishes, pleasant terrace
Gelarto in Hercegprímás utca 3. open: Mon-Fri: 15.00-20.00, Sat-Sun: 12.00-20.00 – a bigger place in a street right next to the Basilica with the same great and attractive ice creams
Dolce Intervallo (in Szív Str. off Andrássy Av.),
Erdős és Fiai (Etele tér Buda, M4 metro, Kelenföldi Pályaudvar or Bikás park station).
#9 A Ride On the Eye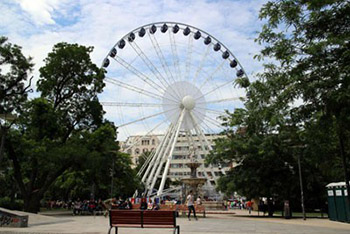 Take a ride on the giant ferris wheel on Erzsébet Square and enjoy the stunning vista from 65 m height.
Open every day all year round.
Learn more about ticket prices for the Budapest Eye.
#10 Summer Thing to Do – Open-Air Concerts
Budapest deserves to be called "The City of Music" since a wide range of concerts, from classical, jazz, to pop-rock welcome music lovers all through summer.
Mini Concerts, 16 Venues, till August 18, 2019 – FREE
15-20 minute concerts take place at 16 famous locations till mid-August.
Jazz, folk, clarinet, flute, bell music will entertain people at
Vörösmarty Square,
Gerbaud Cafe's terrace,
the Várkert Bazaar,
at St. Stephen Basilica, and some prominent places.
The performances are free.
Vajdahunyad Castle Summer Concert Series, 01. July – 01. August, 2019
The romantic castle in City Park is a fitting venue for concerts in summer.
On Monday and Thursday evenings in July and August classical, jazz, gypsy and klezmer music will be performed.
Tickets: 3 500 – 5 500 HUF.
Evening Concerts in the Zoo, from 03. July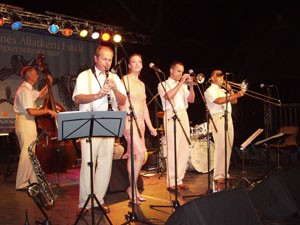 Dates in 2019: Wednesdays at 20.30, between 03. July – 14. August
You can also enjoy a superb evening concert in the Zoo and Botanical Garden in City Park.
After a hot day when the animals are preparing for the night, the lush green park provides an ideal cool venue for an outdoor concert.
Jazz and other light music pieces every Wednesday from 05th June till 23rd August, at 20.30 (you can enter the Zoo and take a look around from 19.00 with your ticket).
Tickets: with a seat. 3 500 HUF, standing: 1 900 HUF (both types can be bought at the Zoo's cashier).
See the program of the concerts in the Zoo.
Concerts on Kossuth Square – Parliament, FREE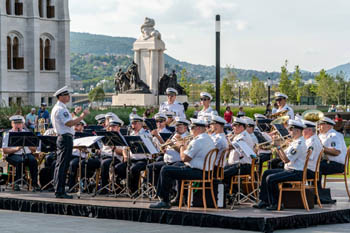 The prestigious square and park at the Hungarian Parliament building also gives home to outdoor concerts till September.
Performances that range from
lassical pieces,
romantic melodies, to
musicals and film music – are held biweekly, usually on Thursdays at 17.00 next to the Visitor Center.
TIP: Browse also our Tips on How to Survive the Heat in Budapest.
#11 Picnic at the Várkert Bazaar's Garden (Weekends)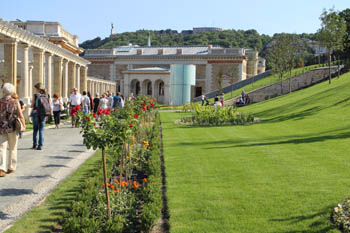 Have a romantic picnic complete with a checuered blanket and a basket at one of the most scenic spots of the city, the neo-Renaissance garden in the Várkert Bazaar in Buda.
Alternatively, you can rent a blanket + picnic basket for 1 000 HUF (+ 5 000 HUF deposit).
Food is provided by the best street food trucks of Hungary!
Major Events & Festivals in Summer
Főzdefeszt Craft Beer Festival
F1 Hungarian Grand Prix
Festival of Folk Arts
Jewish Summer Festival