Date: September 22-24, 2023
Location: Szent István Square, in front of the Basilica, and Zrínyi Street
If you love cakes, pastries, and all things chocolate then definitely visit the Sweet Days Budapest Festival in September 2023.
The venue of the event – the square in front of St. Stephen's Basilica – cannot be more central so you won't have trouble getting there.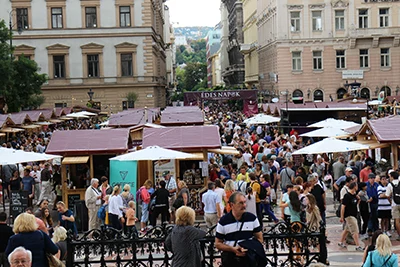 Table of Contents – Sweet Days Budapest Festival
Getting To The Sweet Days Budapest Festival
Opening Hours:
30. Sept- 01. Oct, Friday and Saturday: 10.00 – 22.00,
02. Oct, Sunday: 10.00 – 21.00
Admission:
FREE – You pay for the sweet treats, food, drinks.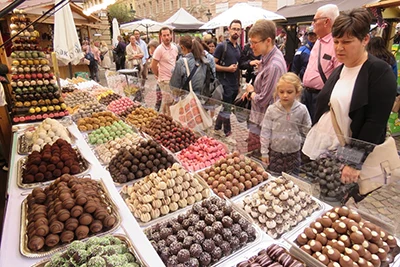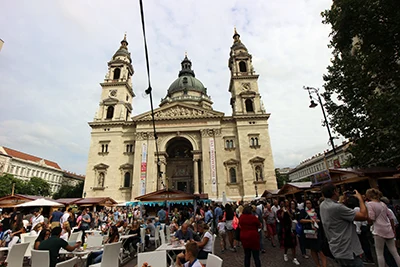 A great family program not just for lovers of sweets.
The venue in itself is impressive, the largest church of the city overlooks the event on the sprawling square of Szent István tér.
Zrínyi Street connecting the Basilica with the Danube bank
More Than Chocolates & Cakes…
The Sweet Days Festival (Édes Napok in Hungarian) is not exclusively about artisan chocolates and chocolatiers anymore.
Don't have sweet tooth? Don't worry… you'll find plenty other tasty things to savour, like burgers, pizza and other street food.
Say Cheese Budapest – cheese cakes (Dráva utca 10., district XIII.)
Hideg Nyalat – paleo, vegan, artisan ice creams
Hisztéria Cremeria Ice Cream parlor
Cocó7 Chocolatier
Cakes and desserts (Marangona, Desszert.Neked, Rachel's Flódni),
Donuts – The Box Donut shop (Teréz krt. 62., on Nagykörút/Grand Blvd.)
Kürtöskalács (Sekler Cake – Vitéz Kürtös will make this traditional local pastry),
Wines – look for the VinCE Borsarok fro some splendid wines from Tokaj, the Garamvári Wine Estate or Italain wines.
Pálinka – distillates made from 100 % fruit
Coffee – Pellini makes espressos, cappuccinos etc. from beans roasted Italian style, as well as invites you to thematic coffee tasting sessions at their stall at No. 17. Nespresso also will be there.
Even some street food bars (Piknik Utcabár, Kolbice, Paneer, Vega Bistro, Paleo & Belgian Waffles) will be present.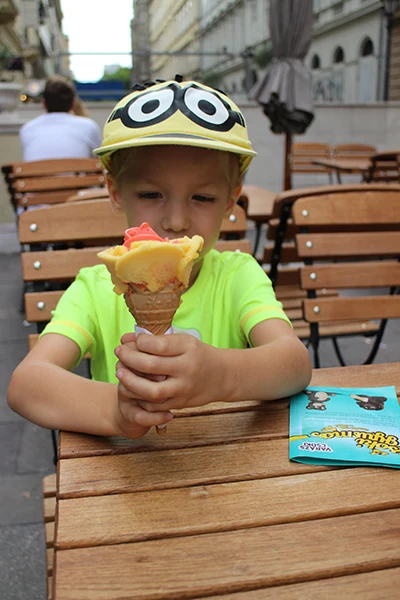 So, even if you don't like sweets you can still have a wonderful time over the three days:

Sip wine, pálinka, or whiskey,
Have burgers or other quality fast food, or
If you're health conscious you can drink fresh fruit smoothies by the Veggie Raw Vegan Bistro (Veggie Nyers Vegán Bisztró they offer free tastings each day at 18.00, look for stand No. 30).
A Few Of My Personal Favorites:
Marangona (Bimbó utca 2., Buda, district II.) – a spacious, romantic dessert shop in Buda (tram 4, 6, Széna tér stop) with delicious cakes, desserts, biscuits, ice cream in summer.
Desszert. Neked (Paulay Ede u. 17., district VI.) – another great cake shop, this one is in Pest in a street running parallel with Andrássy Avenue. French-style cakes and desserts are their specialties.
Pataki Confectionery from Érd town south of Budapest – marvellous traditional as well as more new wave cakes, and ice cream.
Sugar! Design Confectionery – Paulay Ede utca 48., district VI. – cakes, tartes, cupcakes, lollipops, candies, ice cream – a must for everyone with a sweet tooth!
Zangio – handcrafted bonbons, their shop is opposite the Great Synagogue at 6., Wesselényi utca.
Chocolatiers, Bonbon Makers on the Festival
Quite a few chocolate makers will be present so you will have a wide spectrum of sweets to choose from
Sokkoládé – handmade bonbons from Belgian chocolate.
chocoMe – award winner pralines and chocolates
Csokicsel Artisan chocolates – makes various tools and utensils and other funny objects from chocolate (screwdriver, pinchers, key, scissors)
Levande Design Chocolate
Passionate & elit chocolate
Bolka Chocolates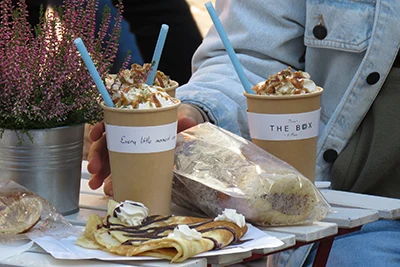 Some of The Programs – Sweet Days Budapest Festival
Programs, workshops are in Hungarian but you can still enjoy the visual experience even if you don't understand what's said.
Friday:
15.00 – Secret of the Macaron made by Bolka Chocolates
16.00 – A plate dessert made by the Kempinski Corvinus Hotel's confectioner
15.00-16.00 – Anikó Csáreczki, chef of Société – The world of French desserts
19.00 – Concerts by Hungarian bands (nági Acoustic, Kamilka and Pesti Sikk)
Saturday:
11.00 – Barista show by Mantaro Café
12.00 – Árpád Szűcs from the Four Seasons Hotel Gresham Palace makes almond pana cotta with strawberries and granola, as well as classic Dobos cake
16.00 – Almond tarte with pear simmered in red wine – by Desszert.Neked Cake Shop
18.00-19.00 – Chocolate and alcohol – by Whiskynet – 3 whiskey and 3 chocolates
19.00-21.30 Concerts by Hungarian bands: Fanni Mayer Acoustic, Klára hajdú and Krisztián Oláh Duett, Abigél Cserpes Acoustic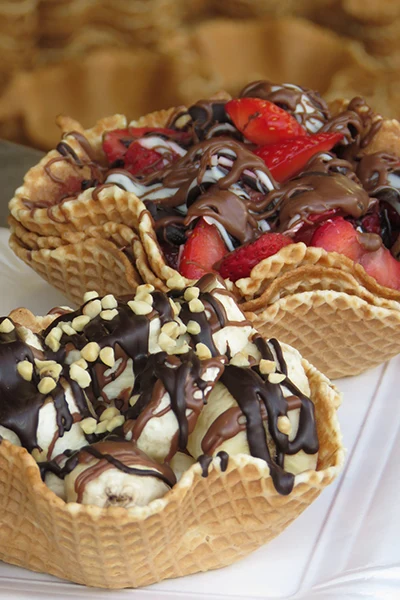 Sunday
12.00 – Rocket Ice Cream – made with nitrogen gas from fresh ingredients, the star of this summer (they can be found in Karaván Street Food courts in Kazinczy Street)
13.00 – Rawnie by Naspolya Nassolda: raw brownie made without flour, sugar, dairy products and even baking.
14.00 – Cake design show with Rachel Raj cake designer
15.00 – Péter László from KIOSK (Március 15. Square) makes a traditional Hungarian pastry: Darázsfészek with custard and ice cream
16.00 – Hungary's Cake 2022: Balatoni Habos Mogyoró (Hazelnut Mousse Torte)
17.00 – Spectacular decorations from caramel by Vilmos Farkas
18.00 – Steve Sam & Nagy Kristóf Bozont concert
19.00 – Concert by the Monarchia String Quartet
See also the official Facebook event page.
Related
Budapest Events in September – Jewish Sumer Festival – Budapest Wine Festival – National Gallop Heroes' Square