Best for a Family Day Out in the City Park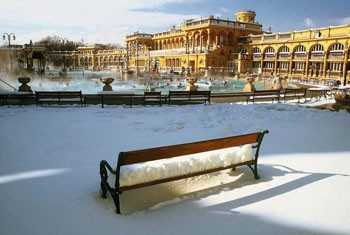 The Szécheniy Bath is one of the the grandest baths in Budapest.
Located at the edge of the city's a largest park, the Városliget, you will find plenty to do in the area besides enjoying the healing waters of the spa.
Great choice for families with kids since beside having a water fun they can do and see other fun things in City Park:
visit the Zoo or
ice skating in winter on the frozen-over lake.
Quick Links:
Location – Opening Hours – Ticket Purchase – Map of the Bath – Dress Code – Massages – Facilities, services – Restaurants Nearby
25 – 29. March 2019: thermal pool
01 – 05. April 2019: swimming pool
08 – 12. April 2019: adventure pool
Location:
Állatkerti Körút 11., City Park, district XIV.,
Tel: (+36 1) 363 3210
Getting There:
By trolley bus 72 or the M1 metro (Millennium Underground) Széchenyi Fürdő stop
Tickets
TIP: Buy your ticket online to avoid queuing! You'll be entering the bath through a special entrance, our Help Desk – open between 09.00 -18.00 – where the hostesses will tell you everything you need to know about using the bath.
Tickets (includes the use of a cabin): 20 EUR/person
Entry with Aroma massage (20 minutes): 40 EUR/prs
with thermal massage (20 minutes): 41 EUR/prs
with 45-min Royal Thermal Massage: single: 72 EUR/prs, couples: 136 EUR.
See more massage options through the "Ticket" link below!
Opening Hours:
The bath is open all year round, even on public holidays like Christmas, New Year, or Easter.
Thermal & Steam departments: 06.00 – 19.00 every day
Outdoor swimming pools: 06.00 – 22.00 every day
Christmas/New Year Opening Hours 2019
24 December/Monday: Help Desk: 09.00 – 13.00, bath: 06.00 – 14.00
25 December/Tuesday: Help Desk and Bath: 10.00 – 18.00
26 December/Wednesday: Help Desk: 09.00 – 18.00, Széchenyi bath: 06:00 – 22.00,
31 December/Monday: Help Desk: 09.00 – 17.00, baths: 06.00 – 18.00
01 January/Tuesday: Help Desk and bath: 10.00 – 18.00
Budapest card holders get 10% off the entrance fee when buying tickets on the spot.
Map of the Bath
1. Entrance
2. Tickets
3. Information terminals
4. Cabins
5. Lockers
6. Showers
7. Entrance to the men's changing-room
8. Entrance to the women's changing-room
9. Passage among the swimming pool and the thermal pools
10. Exit to the outdoor pools
11. Pools, 12. Aquafitness, 13. VIP massage, 14. Massage, 15. Steam chambers, 16. Sauna, 17. Buffet, 18. Restaurant, 19. Safety lockers, 20. Stairs, 21. Marble room (event hall)
Massages in the Széchenyi Bath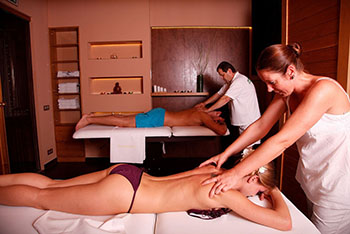 You can choose from various massage treatments and reserve online.
The price includes the entry fee to the Széchenyi Bath. Treatments are 20 – 70 minutes long
After reservation, you will receive a confirmation in e-mail.
You can enter the bath with the printed confirmation e-mail between 9.00 – 18.00 hours, and you can stay till closing time (20.00 – 22.00 hours).
If you reserved a massage with your ticket, our colleagues will contact you via e-mail about the time of the massage (in between 09.00 – 18.00 hours).
Aroma Relax Massage – 20′ and 45′ minutes
The whole body gets a revitalizing massage to help you regain correct body posture, ease the ache in tired muscles and joints.
Aromatic oils used in this treatment will stimulate blood circulation and the respiratory system. The massage is is especially good for the immune system but your skin will get more smoother and firmer as well.
Prices (includes bath entry)
20-minute aroma massage: 40 EUR/person
45-minute aroma massage: 58 EUR/person
Book a Massage with VIP Bath Entry
The Széchenyi Bath is the one of the largest spa complexes in Europe.
The neo-baroque building was established in 1913, it recalls the atmosphere of the Habsburg Monarchy. The water supply comes from 1250 m depth.
The bath has a vast outdoor swimming area for both sexes, and separate steam baths for men and women. It offers various services and treatments like sludge, or carbonated bathing.
The bath is perfect for a family afternoon splashing because everybody can find something to do and enjoy here.
Thermal Massage (20′ and 45′ Minutes)
A Swedish-type treatment to ease the ache in muscles and joints.
The experienced and well-trained massage therapist assesses the condition of your locomotive system then creates a tailor-made treatment plan.
Recommended for those who prefer a more dynamic, energetic massage.
It's ideal
during a period of increased physical activity
if you have non-inflammatory joint and muscle pains
for regeneration and muscle relaxation
Prices:
20-min thermal massage: 41 EUR/prs (entry ticket + cabin use are incl.)
45-min thermal massage: 60 EUR/prs (entry ticket + cabin use are incl.)
Royal Thermal Massage – 20′ & 45′ Minutes
Can be booked for couples!
It's the same as the thermal massage. The masseur thoroughly kneads and massges the body using firm, kneading movements after assessing the problematic areas and creating a tailor-made treatment.
At the end of the massage a the masseur will apply a medicinal cream of 56 herbs to the most painful and streesed body parts.
You will that the tension in your muscles have eased and you will feel renewed after the massage.
Prices:
20-minute Royal Thermal Massage: single: 47 EUR, couples: 86 EUR, (entry ticket + cabin use are incl.)
45-minute Royal Thermal Massage: single: 72 EUR, couples: 136 EUR, (entry ticket + cabin use are incl.)
Outdoor Pools – Enjoy in all Seasons!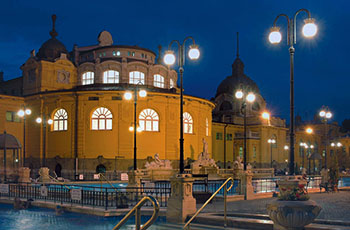 Statues of dolphins and water gods surround the three open-air pools:
the middle one is for swimming
a thermal pool with jet massaging
a thermal bath for just soaking
I never skip the neck and back massaging showers in the outdoor pool when I came to relax in Széchenyi.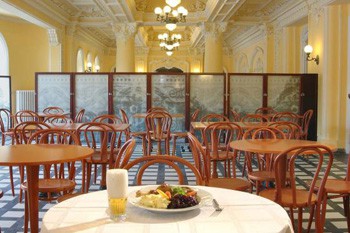 The thermal pools operate throughout the year, so you can soak your body in the melting hot water in winter (if you're not afraid of coming out to the chilly air).
Still peep in a cold day and you'll see some local bathing fanatics sitting around a floating chess table in the steaming water playing and chatting.
The bath has a quite good restaurant/buffet (Szechenyi Kertvendéglő) should you get hungry during bathing.
Services in the Széchenyi Bath
A unique Cascade Sauna, a cross between traditional sauna and steambath was added to the services at the end of 2015.
You can try and experience the different temperatures at the various levels. Thermal water provides the steam and humidity of the cabin filling the air with the fragrance and minerals of the special thermal springs.
You can replace fluid lost through sweating from the drinking fountain located inside the sauna. the new unit combines the advantegous properties of various sauna types ensuring a gentler sauna process that puts less strain on the body.
Recommended use: 10-15 minutes, 2-3 times, cool down your body with cool showers between sessions.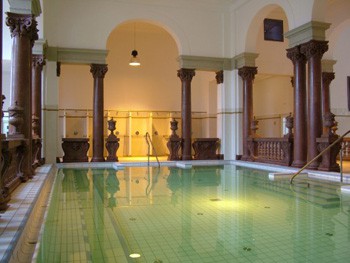 15 indoor and 3 outdoor pools with thermal water (on weekdays 15, on weekends 18 of them are available)
Outdoor swimming pool
Outdoor amusement pool with jacuzzi and whirlpool
Steam cabins
Saunas
Various Massages
Pedicure
Cellulite treatment
SPA detoxification
Aquafitness
Medical services:
Balneotherapy
Private tub-bath
Drink therapy
Mud treatment (available only on medical prescription
Weight bath (available only on medical prescription)
Carbon-dioxide bath (available only on medical prescription)
Medical massage (available only on medical prescription)
Underwater jet massage (available only on medical prescription)
Other Services:
Sundeck
Safety lockers
Bathing suit rental
Towels and sheets rental
Fat-burning gymnastics
Body shaping gymnastics
Fitness centre
Restaurant and Buffet
TIP: since the Széchenyi Bath lies in the City Park do combine bathing with a visit to the Budapest Zoo, or just walking around the lake.
Visit also our main page about Budapest Baths.
See more services and prices at the official site of the city's Thermal Baths.
Restaurants in the Vicinity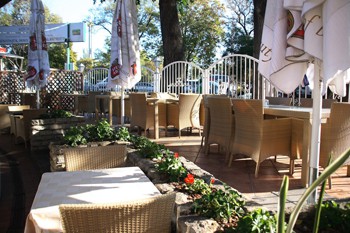 The kids always get extremely hungry after splashing about in the water so they nibble a giant pretzel bought from one of the street vendors in City Park.
If you want to have more substantial food do reserve a table in advance in one of the following restaurants:
Széchenyi Kertvendéglő – within the bath complex
the most obvious choice
They have Hungarian soups (goulash, chicken soup Újházy style) and main dishes.
Prices: soups: 950 – 1 700 HUF, mains: cc. 1 100 – 4 000 HUF, fish and pasta dishes: cc. 1 500 – 2 500 HUF, desserts: 750 – 950 HUF).
Gundel – Upscale Hungarian Restaurant
Address: Állatkerti körút 2., district XIV.
Tel: +36 1 321 3550
Bagolyvár – a more homey version of Gundel
Address: Állatkerti körút 3., district XIV.
Tel: + 36 1 468 3110
Robinson's – A Nice Garden Restaurant
Address: Állatkerti körút, on a small island on the lake
Tel: +36 1 343 3776
See more eateries on our Hungarian Restaurants in Budapest or Best Restaurants in Budapest pages.
Related
Gellért Spa – one of the most popular historic spa in the city within a 4-star hotel.
Turkish Baths in Budapest – history, fine architecture, bathing ritual, all in all a bit of mystic Oriental in Central Europe: find information on the Király Bath, the Rudas, and the Veli Bej Spa.
Outdoor Baths – the most popular seasonal open air pools and baths.