Programs in the Last Month of Autumn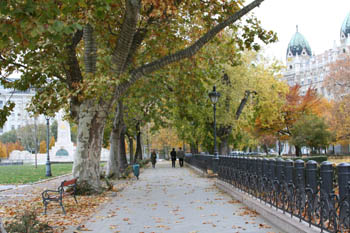 You can choose from many things to do in Budapest in November: one of the most important days this month is 11th, St. Martin's Day when we celebrate the new wine and everything goose.
A couple of festivals, gastronomy programs take place on this day.
Most restaurants prepare with special goose menu for St. Martin's Day and often for the week preceeding it.
Table of Contents – Things To Do in Budapest November
Christmas Is Around The Corner …
The two most popular Christmas Markets of the city start mid-November:
The oldest and most famous one is at Vörösmarty Square, located downtown begins on 18. November (see more details below).
St. Stephen's Square at the Basilica gives home to a charming festive market too that also kick off on 18. November.
Other Christmas Markets and Advent Festivals (usually in Városháza Park, in the Palace Quarter, Erzsébet Square, Castle Bazaar & Garden, Óbuda/distr. III.) begin around the last weekend of November.
If the weather allows you can admire autumn colours in the parks, and gardens.
TIP: For rainy days we recommend a visit to one of the thermal baths, going on a cruise on the Danube, and a classical music concert for the evening. The many museums also offer great shelter and cultural entertainment in nasty weather.
Practical Information
Popular Activities To Experience The City In November
Christmas Fair At Vörösmarty Square, 18. November – 31. December 2022
Venue:
Vörösmarty tér, district V.
M1, M2, M3 metro lines, tram 2 Vigadó tér stop (a couple of minutes walk form there)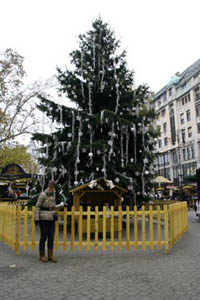 The official Christmas Fair of Budapest launches in mid-November. The holiday fair offers a wide range of
Cultural programs (around 200 concerts in various genres from folk to jazz, children activities, craft workshops) on the central stage and
A taste of Hungary's culinary delights (goulash, stuffed cabbage, roasted and grilled meats, cheeses, Sekler cake, strudels, artisan chocolates, gingerbread, beigli).
You can browse among hand-crafted products offered in around 120 stalls, a great opportunity to get unique, quality Christmas presents for your loved ones.
You can also learn about Hungarian folk traditions and craft from wood carving, blue dyeing, to pottery and leather crafting.
Learn more details about the Christmas Market at Vörösmarty Square.
TIP: Budapest has some other Christmas Markets that you might want to check out. The Advent Fair and Festival in front of St. Stephen's Basilica starts alos on 18 November and lasts till 01. January 2023.
WAMP Design & Gastro Fair, 06. November, 2022
Opening Hours: 06. November/Sunday, 10.00 – 18.00
Location: Bálna/Whale Building, 1st floor
Entry: FREE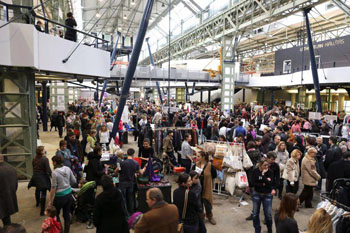 The popular market showcasing the work of Hungarian designers as well as artisan gastro products kicks off the Advent season in the Whale (Bálna) Shopping Centre.
A great place to get some one-of-a-kind presents, handcrafted ornaments, accessories or toys for the kids.
A varied program makes the event even more worthwhile:
cake and cookie workshops organized by famous food bloggers, 14.00-18.00
stamp making with Arti Stamp between 10.00 and 14.00
necklace making
crafting candle holders and wooden ornaments.
If you bring your kids they can play in the Story Box/Mesedoboz play area throughout the day.
Concerts, Classical Music in November
Organ Concerts in St. Stephen's Basilica
Venue: St. Stephen's Basilica, M3 metro Arany János utca stop
Dates in November: 08. 15. 22., 39.
Dates in December: 06. 13. 20. 27.
Enjoy an enchanting organ concert in the Basilica of Budapest.
The neoclassical church has outstanding acoustics providing an ideal venue for classical music concerts.
A flute performance is included in the program ensuring a memorable evening in Budapest.
Learn more about the organ concerts in the Basilica.
Organ & Choir in St. Michael Church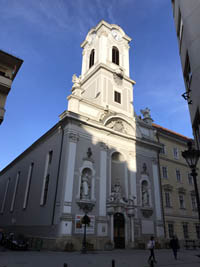 Address: Váci utca 47/B., (Belvárosi Szent Mihály Templom)
Dates in November: 04., 11., 18.., 25.
Tickets: ful price: 18 EUR, student: 16 EUR (can be bought in the church on Tuesdays , Wednesdays, Fridays and Saturdays from 10.00)
This lovely church in the busy Váci Street hosts organ and choir performances on Saturday evenings strating at 19.00. with the professional ETUNAM Chamber Choir.
Program Includes:
Bach: Toccata and Fugue in D Minor,
Mozart: Lacrymosa,
Händel: Halleluja, etc.
Top Pick: Folk Dance Programs
Dates in November: 03, 10, 17, 24
Dates in December: 01, 08, 15, 22, 26, 28, 29
Hungary has a rich folk traditions and folk dancing is still actively practiced today at various dance houses.
Folk songs, music, dances and traditional folk costumes look back to long history and numerous musicians and other artists had travelled the countryside to collect and preserve them.
Here's the chance to watch three of the country's most talented folk ensembles (the Hungarian State Folk Ensemble, the Danube Folk Ensemble and the Hungaria Folk Ensemble & Orchestra) in a live show.
Folk Dance With Hungarian Dinner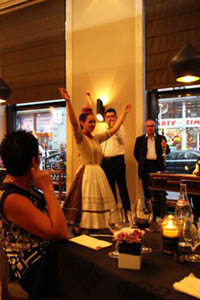 Date & Time: Fridays at 19.00
You can enjoy a classic Hungarian dinner of 4 courses, accompanied by 3 glasses of local wines matching the dishes.
A live folk music and dance show starts at 20.00 showcasing authentic Hungarian folk dances to the tune of a string orchestra and dulcimer (cimbalom).
Find out more about the Hungarian Folk Night with Dinner program.
Classical Music Evenings in Matthias Church
Date: 17. November, Saturday at 20.00
Address: Szentháromság tér 2., Buda Castle, district I.
Tickets: in 6 categories: between 3 900 – 23 900 HUF
The Zsolnay-tiled famous church in the castle regulary gives home to concerts. In the Classical Music Evenings program
The Solti Chamber Orchestra performs with
Ildikó Szakácssoprano opera singer,
László Jekl bass singer,
Bertalan Hock organist, and
Ferenc Bangó violinist.
The program features works by famous composers such as Vivaldi, Bach, Albinoni, Mozart, Sibelius, Bizet etc.
Sightseeing in November
TIP:

Boat Excursions On The Danube

The best and most convenient way to admire the World Heritage-listed vista of the two riversides is a boat trip on the Danube.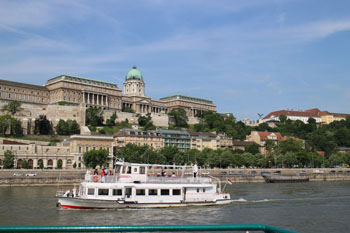 The Danube sigthseeing programs are available

> During the day – November is ideal for an early afternoon tour starting at 14.00 or

>You can go in the evening (at 19.00) the night tour (at 22.00).
You can plan ahead and choose one that best suits your schedule and most importantly the weather in November.
Some days are really nice with plenty of sunshine, but on most days it's cold, rainy, foggy and windy not too mention the shorter days.
You can have good quality four-course buffet meal at the Lunch, Evening and Night Cruises.
The air-conditioned boat will take you on a 1.5 or 2 hour tour during which you'll the most famous monuments of our city
The Parliament,
Buda Castle with the Royal Palace,
Gellért Hill with the Citadel perched on its top,
The Chain Bridge (Széchennyi Lánchíd) and
Other bridges (Margaret, Elizabeth, Liberty, Petőfi Rákóczi).
Jewish Walk Tours – History & Culture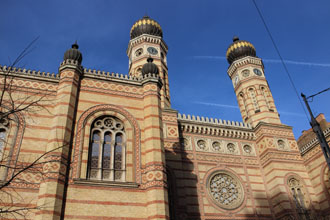 Explore Budapest's rich Jewish Heritage on a guided tour.
Discover the main synagogues and other monuments, sights in the historic Jewish Quarter
Dates in November:
English-language tours: every Friday, Sunday at 10.00.
Castle Hill
The Castle District with the Royal Palace, Matthias Church and the Fishermen's Bastion is a must-see sight for everyone visiting Budapest.
The district has a range of good restaurants, and cafes and should you want to discover the world of Hungarian wines you can go for a wine tasting in a historic cellar.
TIP: Do visit the newly renovated Bell & Lookout Tower of Matthias Church to enjoy the fantastic view. The tower can be visited between 10.00-17.00 every day, hourly.

Tickets: full price: 1 400 HUF, students/retirees: 1 000 HUF. 197 steps lead up to the lower lookout terrace that is at 47 m height.
A Walk on Margaret Island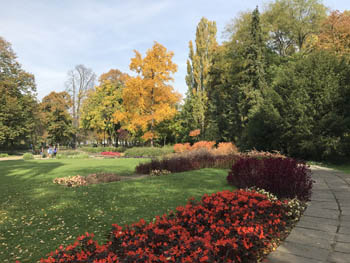 Despite late autumn, you can catch great sunny days in Budapest in November that are ideal for a walk in the green parts of the city.
Margaret Island (Margitsziget) is the local's number one spot for long walks and jogging.
The Water Tower hosts exhibitions, and other cultural events and the cupola offers a fine panoramic view.
The island boasts some historical sights as well – remains of medieval monastery.
The other favored green spot is the City Park, where you also find the Budapest Zoo & Botanical Gardens.
Excursion To The Gellért Hill Or The Buda Hills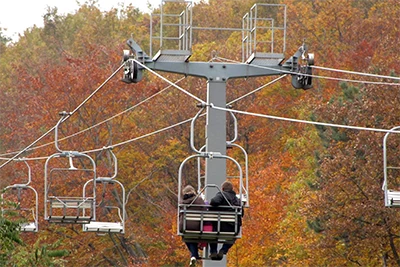 To admire the coloruful late autumn city scap head for the hills!
For some light hiking Gellért Hill (Gellért-hegy) is the best and closest destination to the city center. Although the Citadel, a stone fortress and its immediate surroundings are under construction in 2022
For more greenery, and cleaner air head for the Buda Hills.
Normafa is a highly favored place among locals (can be reached by bus No. 21 or 21A from Széll Kálmán tér (M2 metro or tram 4).
János Hill (János-hegy), the highest point of Budapest, is also close by offering a wonderful view from the top of the Erzsébet lookout tower.
For a unique experience descend from János Hegy by the Chairlift (Libegő).
The Chairlift operates from 10.00 till 15.30 throughout November.
Tickets:
One-way: adults (from ages 19): 1 000 HUF, children – between ages 3 and 19: 600 HUF,
Return ticket: adults: 1 400 HUF, children: 800 HUF).
See detailed timetable of the Chairlift (Libegő) here.
A journey on the Children's Railway (Gyermekvasút) is an ideal way to discover the Hills of Buda.
Each of the seven stops of the rail track are favored recreational areas:
Széchenyi Hill (Széchenyi-hegy),
Normafa,
Csillebérc,
János Hill,
Vadaspark,
Hűvösvölgy.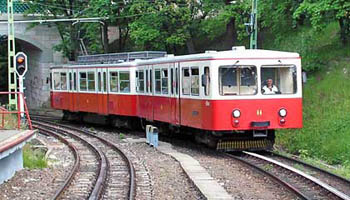 The Fogaskerekű (Cogwheel tram, it is in fact tram No. 60) (see timetable here) is another peculiar means of transportation to get you to and back from hilly Buda.
Some stops have buffets offering some simple, quick meals, snacks and drinks.
Buffet at Szépjuhászné station: open from Tue-Fri: 10.00-22.00, Sat: 8.00-22.00, Sun: 8.00-20.00 all the year round, there is a buffet at Széchenyi Hill called Kőbüfé offering meals a la carte, it is open from 9.00 to 21.00 every day).
See more activities for children in Budapest.
Thermal Baths – Perfect Program For A Cold Day In November
Visiting at least one of the world-famous thermal baths of Budapest is a must, especially in a cold month like November.
The Turkish Baths (Király, Rudas and the recently opened Veli Bej Baths) date from the Ottoman era in the 16th-17th centuries, the Gellért, Széchenyi, and the Lukács Baths were built more recently, at the turn of the 19th-20th centuries.
Buy Tickets Online and Skip Queuing at the Bath Entrance
TIP: Do drop by the renewed Rudas Bath that has a great wellness department with 4 thermal pools, and an awesome jacuzzi on the rooftop where you can enjoy a fantastic panorama of the city while soaking in the hot water.
Museum Exhibitions in November
Exhibitions in the Várkert Bazár
The Castle Bazaar and Royal Gardens at the southern foot of Buda Castle regularly gives home to unique exhibitions.
Read more on museums in Budapest!
Other Activities
TIP: Cooking Course + Market Tour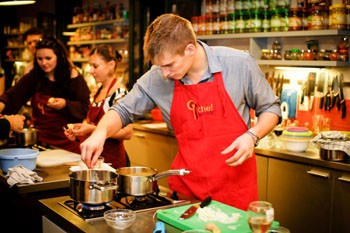 You can explore
the Great Market Hall on a guided tour (optional), followed by
a cooking class when you learn to make typical Hungarian dishes in a modern cooking school.
You'll be preparing a 3-course meal with the expert aid of an English speaking chef.

At the end you'll eat what you cooked.

Fun, exciting program for all ages!

Learn more and book your cooking class with or without a market visit!
Related
September Programs – October in Budapest – Halloween in Budapes – December Things To Do