By and large, when people are asked about Budapest, the first things that come to their mind are usually the Parliament, the symbol of the capital or maybe the Chain Bridge with its unique look, not to mention the meticulously designed St. Stephen's Basilica.
However, if you'd like to scratch beneath the surface and seek for intriguing and thrilling activities, Budapest also has a tremendous amount of exciting opportunities to try.
Without any further ado, let me show you the more vigorous part of the Hungarian capital.
Table of Contents – Things To Do in Budapest for Young Adults
Quick Links
RedJet On The Danube – Night Vampire & Dark History Tour Buda Castle – Segway Tour – WakeBoarding At Lake Lupa – Ruin Bars – Pinball Museum – Escape Rooms
RedJet – Get An Adrenaline Splash!
Address/Departure: Kopaszi Dam-Budapart Dock) (Kopaszi gát)
Date & Time:
You can choose date, time and book the tour through the Redjet website.
Price:
9 000 HUF/person (cc. 22.5 EUR)
Good To Kow: Minimum height of 150 cm is required to be allowed to take the tour. Please arrive at least 20 minutes prior the tour starts.

The program lasts cc. 30 minutes. Children under the age of 16 must be in the company of an adult to do the program.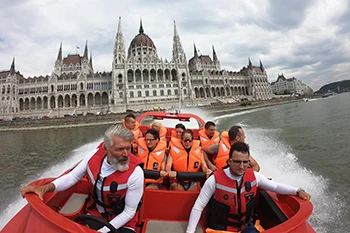 Redjet is without any doubt one of the most extreme and extra-ordinary ways of sightseeing.
In this 30 minute tour you are going to be shown the attractions of both the Buda and Pest side while rushing on the River Danube with a 440 horsepower boat.
You will experience the breathtaking view of Gellért Hill and Buda Castle while speeding through the pillars of Budapest's spectacular bridges.
Bear in mind that chances are you are going to get wet after this tour so I recommend packing change of clothes or do the tour in swimsuits.
Night-Time Vampire & Dark History Tour In Buda Castle
Address/Departure:
Clark Adam tér 1., at the Buda end of the Chain Bridge
Date & Time/Duration Of Tour
Every day at 20.15
Duration: 1 h 45 min

Ticket Prices
Full price: 20 EUR
Students: 17 EUR
Children: Free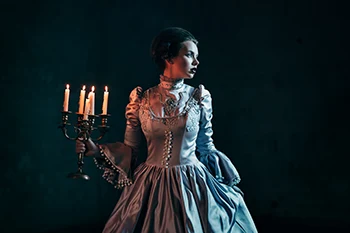 This spine-tingling tour gives an insight into the mysterious history of Hungary between the 15th and 17th centuries in a really peculiar way.
The Buda Castle District provides a perfect venue for this particular tour with its branching streets and hidden corners.
After the sun set, you'll be led by a storyteller dressed in period costume and with a lantern in his hands on the dark streets, presenting the grim and dark tales of local historical figures.
The chilling, hair-raising atmosphere is granted – but don't worry there won't be any jump scares or such.. Last but not least, you'll also get to see the astonishing night-time panorama of Budapest from the Fisherman's Bastion.
Segway Tour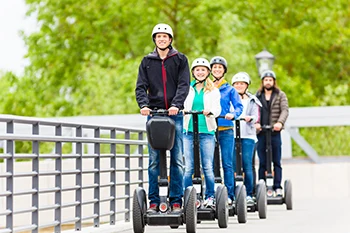 Riding around with a Segway is truly an entertaining way of exploring Budapest's popular sights.
You can pick from a dozen of possible tours with different routes.
This way you'll be able to cover more of the city's remarkable buildings and spots in a shorter amount of time.
Of course, every cruise starts with a quick demonstration and training session on a silent street to get the hang of it and after everybody feels safe and comfortable, you are ready to go.
Note: You can choose from a couple of Segway Tour operators, all provide very good tours and are reliable. We recommend the following tours to take
Wakeboarding at Lake Lupa
Address: Budakalász, Tó utca 1., 2011
Getting There: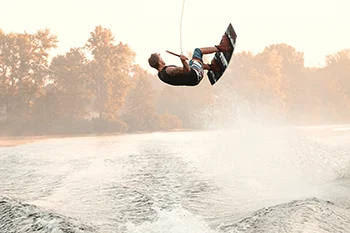 By direct bus service from Nyugati Train Station – it takes around 25 min to get to the lake. See time table here. Bus ticket costs: 1 000 HUF (full price), 500 HUF (children 7-15 yrs)
Take Suburban Railway (HÉV) No. 5 from Batthyány Square in Buda or the Buda end of Margaret Bridge get off at Budakalász station (the trip takes cc. 20-25 min), from there a 20-min walk or take the Lupa mini bus
By car – parking is 200 HUF/hour, maximum 1 500 HUF/visit

Opening Hours
Every day (during summer time): 10.00 – 20.00
Entry Ticket To Lupa Wakeboarding
Adult wakeboarding ticket on weekdays: 2 800 HUF
You need to buy a sport ticket if you want to do other sporst too besides wakeboarding and don't want to go to the beach area of Lupa Lake. Sport tikcet costs: adult: 2 850 HUF, children: 2 000 HUF, Sunset ticket after 16.00: adult: 1 400 HUF, children: 1 000 HUF
Note: Prices are a bit higher on Saturday and Sunday
Free entry after 19.00 every day
Wakeboarding Tower Prices
System 2.0 Beginner Cable: 30-minute: 8 900 HUF, 1 hour: 17 800 HUF
5 – 6 tower beginner cable: 1 hour: 6 900 HUF, 2 hours: 8 900 HUF
Wakeboard Rental Prices
Beginner: 1 hour: 3 800 HUF, 2 hours: 5 800 HUF
Advanced: 1 hour: 4 800 HUF, 2 hours: 7 900 HUF
Pro: 1 hour: 5 900 HUF, 2 hours: 8 900 HUF
Here you can find the detailed price list.
If you've had enough sightseeing and want to freshen up a little bit, you should definitely check out Lupa beach.
The lake with its sandcovered shores lies on the city's outskirts, but it is also accessible by public transportation or by Lupa's own bus line.
Either way, you should keep in mind that it's at least an hour away from the city centre.
It is also one of the pricier activities but if you love wakeboarding and want to enjoy this exciting sport while in Budapest then it definitely worth the money.
On the other hand, the beach truly evokes that authentical tropical atmosphere – especially during summer time -with its palm trees and sandy shores.
There are also numerous sport facilities, such as wakeboarding, for those who seek some extremity with advanced, learner and beginner tracks.
TIP: You can spend a whole day at Lake Lupa. The lake exudes a tropical beach ambience with its white sandy beaches. Adult beach entry ticket is 4 400 HUF/adult on weekdays, from 16.00 you get50% discount (2 200 HUF/adult).

Several cafes, bars, street food joints are scattered around the shore you won't stay hungry or ythirsty during your stay.
Sziget Festival & Concerts

If you happen to be travelling to Budapest in the beginning of August, Sziget Festival is a must-visit event.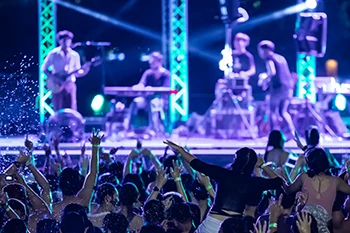 It takes place on Hajógyári Island, only twenty minutes away from the city centre.
It is one of Europe's biggest music festivals with world famous artists like:
Arctic Monkeys,
Foo Fighters,
Twenty One Pilots or
Dua Lipa.
Other than Sziget, there are also other concert venues you can visit.

If you're a fan of electronic music, check out the A38 ship or if rock and metal genres are closer to your heart there's Barba Negra Track or Dürer Kert.
Ruin Bars – Quirky Pubs In the Heart of The City
TIP: Even if you aren't a party goer or don't drink alcohol you should pay a visit to one or two of these bars, becuse they really are an intrinsic part of Budapest's city and party life with their own peculiarity.
Ruin pubs are neglected, mainly pre-war, buildings transformed into popular drinking places.
Most of these party spots are in the Jewish Quarter which is District VII. The area is easily accessible by walk or public transport.
Every pub has its own unique atmosphere with their decrepit furniture and cool, colourful design.
Another important perk is that the prices aren't really that high at these spots compared to other clubs.
With no claim of being exhaustive, here are some of the most beloved ruin bars:
Szimpla Kert
Address: Kazinczy u. 14., Bp.1075,
Opening Hours:
Mon – Thurs: 15.00 – 04.00 am,
Fri – Sat:: 12.00 – 04.00 am,
Sun: 09.00 am – 04.00 am
Szimpla is the ultimate of Budapest ruin pubs. It is the mother of all other similar establishments because it's the oldest – opened in 2004 – so obviously you must drop by.
Besides being a pub and party place Szimpla offers a wide range of programs all year round:
Concerts
Bike rental
Farmers' Market
Flea Market
Programs for elderly people
Instant & Fogas Ház
Address: Akácfa u. 51., Bp. 1073,
Opening Hours: every day: 17.00 – 06.00 am
Rácskert
Address: Dob u. 40., Bp. 1072
Opening Hours:
Mon – Thurs: 15.30 – 02.00 am
Fri – Sat: 15.30 – 03.00 am
Sun: 15.30 – 00.00
Ellátó Kert
Address: Kazinczy u. 52., Bp. 1075
Opening Hours:
Mon – Thurs: 17.00 – 01.00 am
Fri: 17.00 – 04.00
Sun: closed
Pinball Museum
Address: Radnóti Miklós utca 18. Budapest, 1137 District XIII.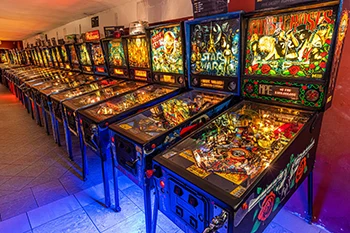 Getting There: Take tram 4 or 6 to Jászai mari tér, from there it's 5-7 min walk (600 m)
Opening Hours:
Wednesday – Friday: 16.00 – 23.00
Saturday: 14.00 – 23.00
Sunday: 10.00 – 22.00
Monday – tuesday: Closed
Ticket Prices:
Dailiy ticket (full price: 4 200 HUF
Discount tickets: students (under 26 yrs) /seniors (over 62 yrs): 3 000 HUF

No matter how old you are, the Pinball Museum is undeniably a fun programme for everybody.
In this interactive museum you can choose from over 130 pinball machines to kill the time with.
You can find machines from every decade since 1947 and even pinball's predecessors dating back to the 1880s.
This is an absolutely immersive experience where you can relive the true arcade room feeling, not to mention that it also takes place in a basement just like arcade rooms back in the days.
Escape Rooms – Exciting Yet Relaxing Team Games, Great For Bachelor(ette)/Stag Night/Hen Night

At last, Budapest is a top spot for escape rooms, given that the city gives home to a batch of sterling and genuine rooms to discover.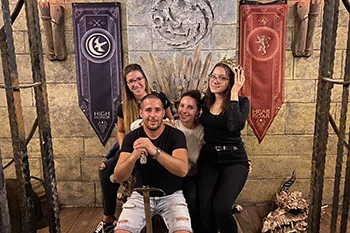 You'll find yourself in a precisely designed room representing places from the Maya Empire or Roxfort to even The Game of Thrones, the list is endless.
The point is to find hidden clues to work your way out of the room, using your logic and co-operation.
There is a time limit of usually 60 minutes to find all the clues and escape from the room.
Staff in speaks good English in the places listed below, and if there are written instructions they are available in Englsih too.
TIP: Exit/Escape room games fit very well into a hen or stag night program /bachelor(ette) party/, since it requires a few people to play and really enjoy these games.
Some of the well-known rooms we recommend to try:
Mystique Room – Rooms For English Speaking Visitors, Family-Friendly
Address: Szent István krt. 9., Bp.1055, District V.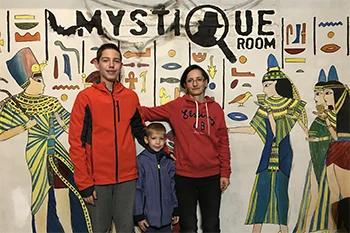 Getting There: trams 4, 6, Jászai Mér stop, 1 minute by walk
Opening Hours: every day: 09.00 – 22.00
Tickets
The more of you are participating in the game the chaper will be the ticket for a person.
Between 6 995 HUF/ 2 persons – 3 690/ 8 persons
You can pay with bank/credit card and cash.
Mystique Room is one of our favourite Exit Room place in the city.
It's conveniently located on Grand Boulevard not far from Nyugati Square, so you can get there easily by public transport – tram 4 or 6 are the simplest way to get there.
Another huge plus of Mystique Room is the long opening hours and that they are open every day of the week.
Not to mention that the rooms are air-conditioned so you don't have to sweat through a 1-hour game.
You can choose from 11 games if various diffiulty levels. 2 – 8 players are required to play the escape games.
Some Of The Most Populars Games:
The Iron Throne, difficulty level: 6/10
The Pharaoh's Burial Chamber, difficulty level: 7/10
The Cathedral, difficulty level: 8/10
Time Machine, difficulty level: 9/10
If you are interested you can find out more on Mystique Room's website.
Other rooms we recomemnd you to try while in Budapest are:
Paniq-Room – 3 Locations, 2-Hour Games, In English
Address: They have 3 locations in Budapest.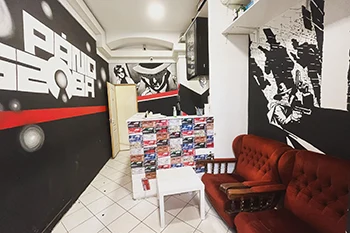 Mária u. 29., 19., Bp.1085, District VIII. – tram 4, 6 32-esek tere stop, cc. 2-min walk from there
Mária utca 19., Bp.1085, District VIII. – tram 4, 6 32-esek tere, stop, cc. 2-min walk from there
Paulay Ede u. 20, Bp.1061. District VI. – tram 4, 6, Király utca stop, 10-min walk
Tickets
Normal ticket (60-min play): If you pay in cash: 3 700 HUF/person, with credit card or bank transfer: 3 950 HUF/person
120-min long games: withcash: 6 660 HUF/person, credit card or bank transfer: 7 110 HUF/personn
Opening Hours:
Paniq Room is one of the oldest escape game providers, they started in 2012. They have three venues in Budapest's city centre offering 13 games.
Extra-long options of 120-min games are available if you would like to realyl imerse yourself in all-things escaping.
Instructions in the rooms are in English and Hungarian.
TIP: They also offer another wild experience, axe throwing. It's an excellent stress relieving activity. It's in Dohány utca at 30/A, in the Jewish District. Entrance via BAZ Beer Bar. Price: 12 EUR/3 990 HUF for 1-4 persons, less if more people play.
TRAP Escape Rooms
Address: Mária utca 19., Bp.1085, District VIII. –
Getting There: tram 4, 6 32-esek tere, stop, cc. 2-min walk from there
Opening Hours:
Tickets
2 players: 6000 HUF, 20 EUR/ prs
3 players: 4500 HUF, 15 EUR/ prs
4 players: 4000 HUF, 13 EUR/ prs
5 players: 3500 HUF, 11 EUR/ prs
6 players: 3000 HUF, 10 EUR/ prs
They accept cash only!
Note: Kids under the age of 14 cannot play the games, ages between 14 – 18 have to have an adult accompany them to play.
Minimum 2, max. 6 people can play the games available in TRAP, you will have 60 or 75 minutes to solve the puzzles and escape.
Related:
Things To Do In Budapest (Main Page) – Activity tips For Hot Summer Days – Popular Children Things To Do