One of the Best Pedestrian Streets in the World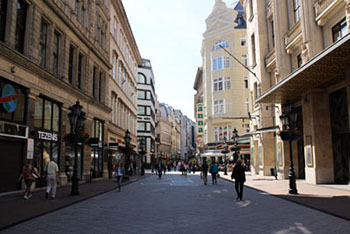 Váci Street in downtown Budapest is one of the world's most attractive pedestrian shopping streets not only according to Hungarians.
Pest's famous Váci utca reached the 7th spot among 16 pedestrian shopping streets in a contest, the aim of which was to rank the streets by comparing several factors including:
atmosphere,
attractiveness,
cleanliness,
customer service in shops.
The street received 76 points out of 100, outrunning well-known pedestrian streets of Paris, Amsterdam, and Milan. So if you visit Budapest do take a walk along this famous downtown street.
Table of Contents
On Map
[googlemap src="https://mapsengine.google.com/map/embed?mid=zkh-1NQANSjE.koM9JKPdd-HQ" width="1200″ height="400″ align=""]
Getting to Váci Street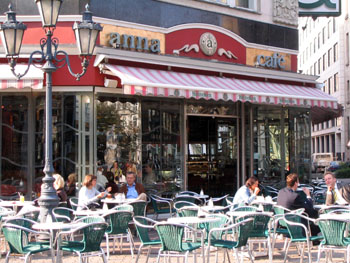 The street starts at Vörösmarty Square and ends opposite the Central Market Hall at the Pest end of Liberty Bridge.
You have several options to access the street, especially if you stay at one of the city center hotels.
Since Váci stretches parallel with the Danube, you can reach the river side through small side streets.
At Vörösmarty square there's
the M1 underground (yellow line) station, but
the street is not far from Deák tér (M1 M2 M3 metros) or
from Ferenciek tere (M3 blue metro line) either.
The tram 2 line along the Danube is also a good way of getting there if you stay a bit far from downtown Budapest.
TIP: Taste Wines in CultiVini Wine Gallery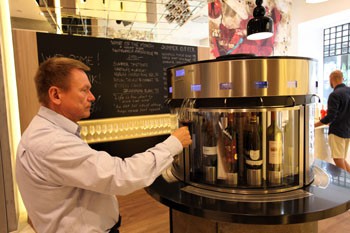 A new, stylishly decorated place located in a small street just off Váci utca showcasing the finest wines from Hungary's 22 wine regions.
The kind sommeliers tell you all you want to know about the wines, vineyards, and tasting notes while you pour wines from the sleek wine dispensing machines placed around the room.
Some really excellent bottles can only be tasted here, at CultiVini (Villa Sandahl Capuccino Oil 2011).
Tasting programs with sommelier guiding and snacks (ham, cheese) for individuals or gropus can be reserved online.
See details about CultiVini's wine tasting packages and reservation.
A Bit of History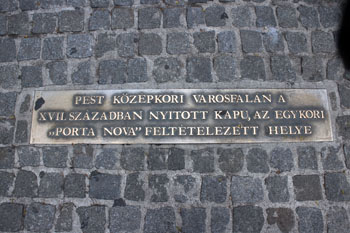 In the medieval era the boundary of the city stretched there, along Deák Ferenc utca was the city wall.
The predecessor of today's Váci street lead the Váci gate which stood on today's Vörösmarty Square.
You can still see the remains of the gate at the beginning of the street, a few steps from Vörösmarty Square.
White stones line the outline of the original gate bastion and a tablet on the wall shows what the edifice looked like.
The street became a main thoroughfare of Pest in the 18th century.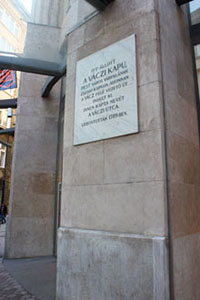 You'll find beautiful mansions from this era.
Until the 1880-ies the main Promenade of Pest (Korzó) was the walkway lining the Danube between Eötvös Square and the Vigadó Square.
By the turn of the 19th-20th centuries Váci utca took over the role of shopping street from Király utca, and the role of promenade from the Korzó on the Danube embankment.
Most of the protected buildings date from this period.
A marble plaque saying: the northern gate of Pest's city wall, the Vaczi kapu stood here, demolished in 1789. The street was named after it.
TIP: Besides window shopping, try to glance upwards occasionally to admire the artistic facades of the buildings.
For example, the building at at No. 9 was an inn that József Hild, the renowned architect of the era, rebuilt, and where the 11-year old Mozart gave a concert.
How to Explore Váci Street?
The esplanade is a bit long from end to end but it's broken up by tiny squares (Kristóf tér, Szervita tér), and small passages.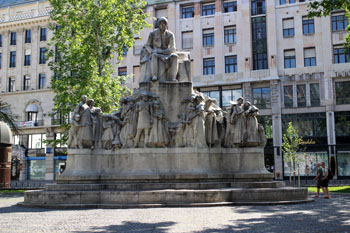 The northern part of the street is the more touristy part which is teeming with people during summer, and before Christmas during the Christmas fair on Vörösmarty Square.
In early spring or late autumn the street is more peaceful.
I recommend to start from Vörösmarty tér, and walk down to the Central Market Hall.
Before starting your exploration you can have a cup of cafe with a slice of cake in the famous Gerbeaud Confectionery on Vörösmarty tér.
Just a few steps from the white marble statue of poet Mihály Vörösmarty you'll be among promenading tourists on Váci utca.
Terraced cafes line both sides of the street.
The neighbourhood is geared towards tourists, so the shops, and cafes are a bit overpriced.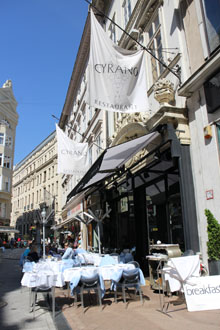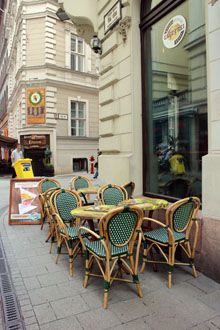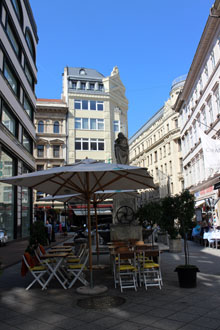 The palette of shops is varied.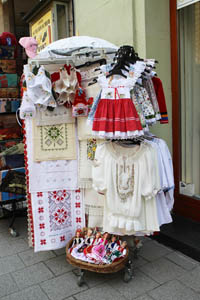 Besides souvenir shops, you'll find
olklore items,
vintage home decor
charming flower shops
quality handmade shoes: Vass Shoes (Haris köz 2. and 6.), Rozsnyai Shoes, Buday Shoes (Haris köz 2.)
wine shops, and
exclusive designer shops like Furla, Zara, La Nerella, ICONS by bizanc
There's a Marks & Spencer too at 29., Váci utca.
The building where the Pesti Színház operates today was once an inn.
Historic Buildings, Fine Architecture
The Philanthia flower shop that has been operating since 1906, boasts a beautiful sculpted facade. The enhcanted, slightly quirky interior is mostly original.
The Thonet house next to it is a fine example of Art-Nouveau/secession architecture adorned with Zsolnay ceramics and designed by Ödön Lechner. It dates back to 1890. It was the first modern urban retail shop of the city managed by the successful Thonet family.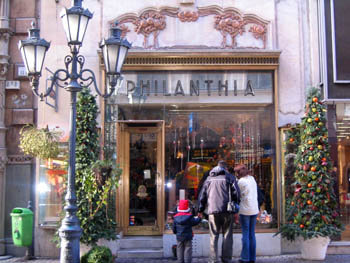 Charming Squares, Statues
A couple of romantic squares with statues add to the charm of Váci utca like
the Fountain of the Fishmonger Girls (Halárus lány kútja) on Kristóf Square opposite Cyrano Restaurant:
The Hermes Fountain in Régiposta utca – a copy of Giovanni de Bologna's Mercurius statue or
the Nude Boy at the junction of Kígyó utca.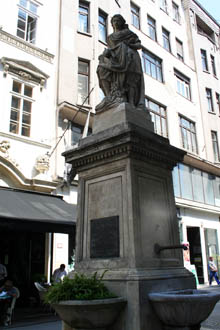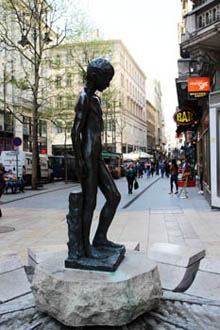 The oldest building of Budapest stands at the corner of Régiposta utca, a small side street at the Hermes Fountain (see photo above).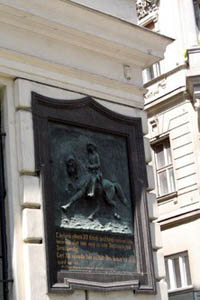 One of the first McDonalds and McCafe-s in the city operates in Régiposta street too.
There's a nice ceramic plaquette by the famous artist, Margit Kovács depicting the old post coach.
At the former Taverna Hotel you reach the southern part of Vaci utca which has a more relaxed atmosphere and less crowd.
At the corner building at Váci utca 43, a bronze plaque commemorates that Charles XII king of Sweden took a rest there during its 14-day trip from Turkey to his home country.
Church of St. Michael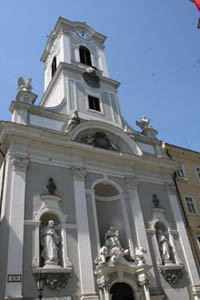 On the corner of Nyári Pál utca stands the Church of Saint Michael (Belvárosi Szent Mihály templom) a Baroque temple from the middle of the 18. century.
The church hosts the Baroque Music Festival in autumn as well as organ recitals on Wednesday and Saturday.
Hotels
Due to its central location and fame you can find a good number of hotels both in the street and in its close vicinity.
Here some hotels that are situated directly in the pedestrian street:
The newest hotel in the street is the Promenade Hotel at No. 20 a friendly 3-star boutique hotel.
Hotel Boutique Zara is a fairly new contemporary hotel in a side street of Váci utca.
A new luxury spa hotel, the Buddha Bar opened in the northern part of the street, in the Klotild Palaces in 2012.
Hotel Mercure Budapest City Centre (the former Taverna Hotel) at No. 20. is a 3-star budget hotel
The hotel has its own restaurant and confectionery with an open terrace during warm weather welcoming non-hotel guests.
See other budget hotels in downtown.
TIP: There are a couple of good hostels in and around Vaci Street like the Animation City Hostel.
Restaurants, Cafes
The street is packed with restaurants, cafes and bars though most of them are overpriced which is not justified by the quality of meal or services.
Here are some good places to try with quality food and reliable service.
Hard Rock Cafe
Address: Deák Ferenc utca 3-5., district V.
The famous American cafe chain with burgers, cheese cake, cobbler, shakes and other classics. There's a menu for kids.
The Rock Shop is on the ground floor if you're interested in music memorabilia.
Baalbek Lebanese Restaurant
Address: Váci utca 34., district V.
Entrance from Kígyó utca
Open: every day: 12.00 – 23.00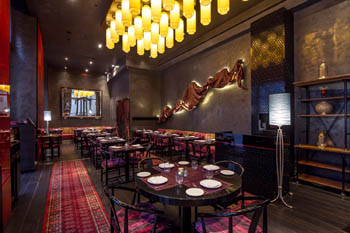 An outstanding restaurant with real Middle East cuisine and hospitality inside the Buddha Bar Hotel.
Fresh grilled dishes,
lamb soup
homemade piza bread and
a variety of mezzes await guests.
Nice terrace even in winter.
Fruccola
Belgian Waffel Bar
Address: Váci utca 51.
Open: 10.00-20.00
Stop by this excellent waffle bar for a late breakfast or pre-lunch snack.
A basic waffel is 550 HUF to which you can add various toppings for 200 HUF/topping:
chocolate sauce (from original Belgian dark or milk chovolate chips),
banana and seasonal fruits,
whipped cream,
Nutella,
vanilla ice cream or
marshmallows.
The waffle was a bit too sweet to my taste but the kids wolfed it down. The Nespresso coffee drinks are quite good.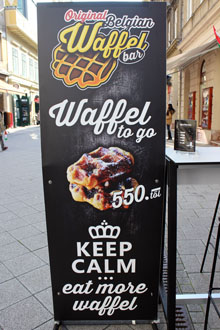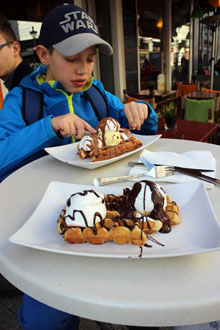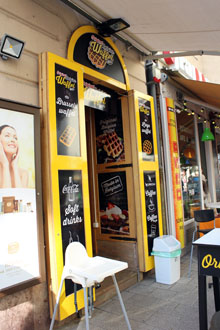 Cafe Frei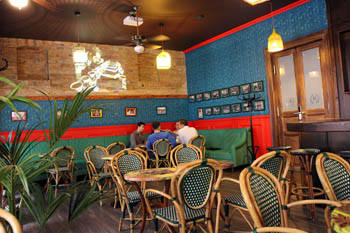 Address: Váci utca 74, closer to the Great market Hall end of the street
Opening Hours: Mon-Fri: 08.00 – 20.00, ice cream: Mon-Sat: 11.30 – 20.00, 11.30 – 19.00
A local cafe chain owned by a former TV reporter (now a thrilelr writer) Tamás Frei. Coffee is good, comes from their own roaster.
Cozy, Caribbean-style interior with lots of space.
An great selection of coffee drinks inspired by various countries or cities: Italian, French, African and Arabic. There's
Milanese Espresso,
Tuscan Ristretto,
Spanish Cinnamon Cortado,
Zanzibar Clove Latte,
Parisian Café Au Lait,
Viennese Kaputziner,
Aztec Chili Espresso,
Armenian Orange Coffee and so on.
They also have hot chocolate, delicious cakes and artisan ice cream in exciting flavours. Terrace on the street in fine weather. Prices are friendly.
Other spots where you can find a Cafe Frei in Budapest include: Allee Shopping Centre, Aréna Plaza, Corvin Plaza, Eiffel Square (Nyugati Train St), Mammut Shopping Centre
Molnár's Kürtöskalács Cafe & Bakery
Address: Váci utca 31., district V.
Opening Hours: every day: 09.00 – 22.00
Their signature product is the kürtöskalács/Sekler cake/Chimney Cake – the cylinder shape pastry baked over coal to crispy brown then coated with
walnut,
cocos,
cinnamon,
poppy seed or
chocolate.
You can get this delicacy at every fair, market, and festival the main ones being:
Christmas Fairs (on Vörösmarty Sqr, at the Basilic)
Spring Fair,
Wine Festivals,
Street Food Events
The cafe is a bit touristy to my taste but the cakes are good, the coffee is decent. Not too spacious inside. A piece of Kürtös cake is 990 HUF (it's quite big), cappuccino is 450 HUF.
The free Budapest tour with the city card exploring the Pest side departs from the cafe, every day at 10.00
Kuglóf Cafe
Address: Piarista köz 1., district 5.
Opening Hours: Mon-Fri: 08.00 – 19.00, Sat-Sun: 09.00 – 19.00, breakfast: Mon-Fri: 08.00 – 12.00, Sat-Sun: 09.00 – 12.00
This charming cafe is located in the vaulted passage connecting Váci Streeet with Március 15. Square.
Gorgeous view from the terrace to Erzsébet bridge and the Danube.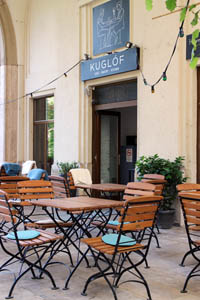 Fresh, locally made
pastries (croissant – 490 HUF,kuglóf/Guglhupf – yeast based marble cake – 450 HUF, poppy seed and chocolate snails)
sandwiches and egg dishes (cc. 1 300 – 1 700 HUF)
coffee from freshly roasted beanns (espresso: 450 HUF, small cappuccino: 550 HUF)
lunch menu, light dishes, salads, fresh homemade pasta, goulash soup.
Note: Some of the worst restaurants of Budapest are in Váci utca:
rude service,
horrible bills await you in the following places:
Restaurants to Avoid in the Street
Monarchia Old Restaurant (formerly Galilei Restaurant)
Address: Váci utca 79.
Overpriced place with a run-down interior. Food is average.
Related:
Andrássy Avenue – New Main Street (Új Fő Utca) – Kazinczy Street – Budapest City Centre – Buda Castle – Our Facebook page