We recommend the following wine tasting options instead:
9-Tier Wine Tasting With Salami & Cheese Plate In Downtown Budapest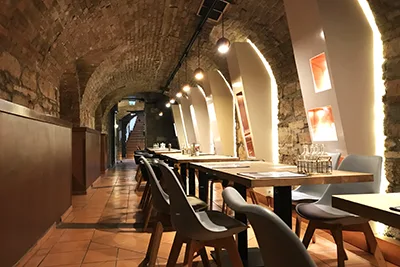 The Wine Tasting Experience in Palinka Museum
Savor the complexity and heritage of Hungarian wines as you explore a curated selection, ranging from the renowned Tokaj to the robust Kadarkas of Villány, guided by our knowledgeable specialists.
9 different wines for tasting / 9 different charcuteries
Duration: 120 min. – Price €57
Find out more details about the Hungarian Wine tasting in Budapest city centre!
Taste wonderful Hungarian wines in a historic wine cellar in Buda castle.
You can sample wines from Hungary's 22 wine regions including
The best known wine growing areas of Szekszárd and Villány in southern Hungary,
Eger and Tokaj in North Hungary, and
Badacsony north of Lake Balaton.
Wine Tasting in Faust Cellar is Currently Unavailable! Please Consider the Following Programs Instead!
Opening Hours & Tasting Times: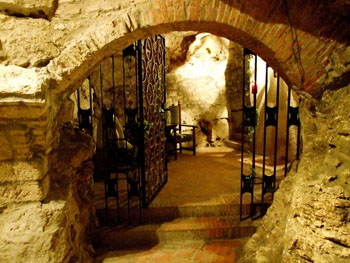 Note: The cellar is open on 31. December/New Year's Eve.
Open on Monday, Thursday, Friday, Saturday and Sunday: from 14.00 till 21.00, Tastings start at 14.00. and 17.00
CLOSED: Tuesday and Wednesday.
TIP: On Closed Days book a Wine Cruise on the Danube with 7 Wine Samples and a 1,5- or 2-hour tour on the river.
The tasting lists (see below) include some wonderful wines from Hungary's top wineries.
About Faust Wine Cellar
Location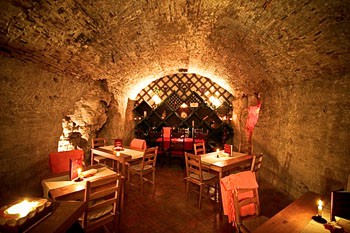 Address: Hess András tér 1-3, Budapest 1014, in Castle District within the Hilton Hotel
Entrance: Turn left in the Hall of the Hilton Hotel, walk till the Dominican Monastery Cloister, 54 steps lead down the cellar
The Wine Cellar offers a wide selection of Hungarian wines from the country's best wine growing regions as well as traditional fruit distillates called pálinka in Hungarian.
The stone cellar is part of the vast labyrinth system winding underneath Buda castle.
The inhabitants of the castle carved the labyrinth out of the chalk stone to provide escape during a siege in the middle ages.
On the way to the cellar you can view the restored remains of a 13th century Dominican cloister and monastery.
The cellar exudes quaint, relaxed atmosphere: a perfect and romantic setting for wine tasting.
Kind and knowledgeable, English-speaking wine experts will introduce you to the wines and wine regions of Hungary.
You'll learn about and sample the best local wines in a private cellar.
Combine Sightseeing with Wine Tasting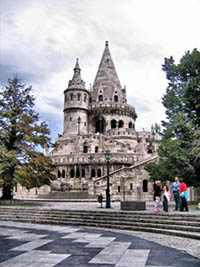 The whole Castle District with its ample historic sights and wonderful panorama of the Danube, and Pest are part of UNESCO's World Heritage Site.
Wine was always an essential part of Hungarians' life, and the Buda Hills used to were covered with grapevines and well-known for wines.
By tasting some of the country's best wines and pálinkás in the vaulted stone cellar, you'll get a more complete impression about Hungary, and the Hungarians.
Wine Tasting Menus
The cellar offers three main tasting packages:
Red Wine Menu (from the longer list that includes 8 wines):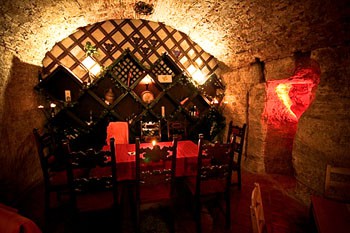 Villányi Cabernet Franc Rose 2008 (Zsófia Iványi's winery),
Szekszárdi Kadarka 2011 (by János Németh), ( a unique Hungarian variety),
a Kékfrankos Selection 2009 (Blaufrankisch) (from Eger, Ferenc Tóth),
Soproni Electus Zweigelt 2008 (Ráspy Winery)
two types of Bikavér (Bull's Blood) one form Szekszárd (Sygno Bikavér 2011 by János Németh's winery) the other from Eger (year 2009 by Ferenc Tóth,
a Merlot from Villány (year 2008 by Zsófi Iványi), and
Szekszárdi János Áldás (John's Blessing/Johannestrunk, János Hetényi Winery) 2006: – a red madeira-type dessert wine: high alcohol content paired with creamy cocoa mouthfeel, with notes and aromas of dark chocolate and prunes.
A shorter tasting menu of 5 fine reds is also available
White Wine Menu (from the longer menu of 8 wines):
Balatoni Tramini (Brazsil Winery) 2012: a nice light white from the lake Balaton region (northern shore, Balatonfüred-Csopak area) with notes of peaches and a creamy mouthfeel.
Somlói Juhfark (Winery of Bálint Barcza) 2011: vivid with notes of herbs, nuts and lemon pith.
Nadapi "A" cuvée 2012 by the Szentesi Winery a dry, white fruity white from the Etyek-Buda wine region.
John's Blessing (János Áldás/Johannestrunk) 2012 by Bene Winery Tokaj – a crispy dry selected furmint. According to local belief John's wine has medical qualities, it keeps away malign spirits, protects from lightning, helps maintain beauty, health and keep up good marriage.
Tokaji Szamorodni Dry 2005 (Bene Winery): – and exciting dry white specialty from the famous Tokaj region: walnut, almond, and hazelnut notes are in nice harmony with the fine acidity.
Balatoni Irsai Olivér (Brazsil Winery) 2012: a fruity white by a small-scale wine estate in the northern shore of the Lake Balaton.
Tokaji Édes Kettes "Sweet Harmony" 2011 (Bene Winery: – a sweet furmint blend form Tokaj.
Móri Ezerjó "Aszu" (Bozóky Winery) 2006: – and finally a lesser-known unique, dessert wine from the Mór wine region: a rich golden yellow sweet wine with scents of honey.
A shorter menu of 5 fine whites is also available.
Curiosities of Hungary
A package that includes tasting of wines (both reds and whites) from all of the country's major wine producing regions: Szekszárd, Eger, Tokaj.
Each package offers a choice of a longer (consisting of 8 items) and a shorter (5-6 items) tasting list.
The longer tasting lists include:
tasting of 8 wines
a bottle of soda water (250 ml),
6 pieces of pogácsa (savoury scones), and
a call back from of one the tasted drinks at the end
The shorter tasting lists include
tasting of 5 wines,
a bottle of soda water (250 ml),
3 pieces of scones and
a call back from of one the tasted drinks at the end
Reserve Your Wine Tasting
You can reserve a wine tasting in the cellar online through PayPal, with Debit or Credit card
No need to create a PayPal account!
Note: Please check your spam folder because sometimes confirmation letters land there.
Terms of Cancellation & Refund Policy
If something comes up and you decide not to do the wine tasting please cancel it at least 7 business days prior to the date of the tasting to get a partial refund.
Note:max 80% will be refunded
Late arrival: Please note that seats are re-allocated after 20 min of late arrival, and no refund will be given
No Show Policy: If you don't cancel and don't show up for the tasting you are not entitled to any refund.
Contact us to cancel the tasting.
TIP: If the cellar in the castle is fully booked you can taste wines in the CultiVini Wine Gallery & Shop in Pest city centre.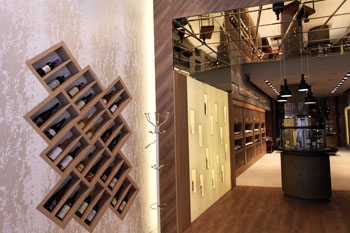 Wide selection of Hungarian wines from the 22 wine regions, from common to rare bottles, unique items to sample from state-of-the-art tasting and preservation machines! You can also buy wines with delivery to your home.
Sommelier guiding (reservation is required), mobile and tablet apps with extensive information on the wines, wine makers, varieties, with tasting notes. A one-of-a-kind experience!
Browse also our list of the top wine bars in Buda and Pest!
Related
Wine Tour to Etyek – Hungarian Cooking Classes – Buda Castle Walk with Map (Self-Guided) – Hungarian Dishes – Folk Dance Performances