Sip Delightful Hungarian Wines, Paired with Salami & Cheese Plate In A Downtown Cellar!
Enjoy an exclusive wine tasting in Budapest city centre, located in an atmospheric cellar near the Basilica. You will taste 9 Hungarian wines – including recent award-winners – from both well-known, large and smaller boutiqe wineries.
The tasting includes
4 reds, and
4 whites, plus
1 dessert wine from the famous Tokaj region.
To make the experience even more complete, tasty nibbles of Hungarian salami, cheese, sausages, nuts and dried fruits acompany the served wines along with a short but immersive introduction to Hungarian wine making and each wine you taste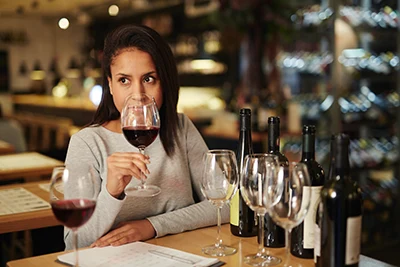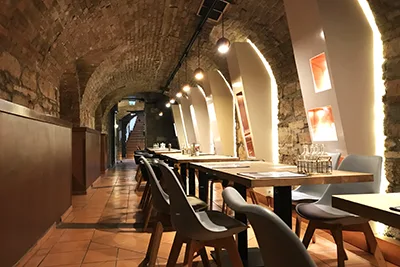 Wine Tasting Experience in Palinka Museum
Savor the complexity and heritage of Hungarian wines as you explore a curated selection, ranging from the renowned Tokaj to the robust Kadarkas of Villány, guided by our knowledgeable specialists.
9 different wines for tasting / 9 different charcuteries
Duration: 120 min. – Price €57
Details – Wine Tasting In Budapest City Centre
Location – Getting There
The Pálinka Museum in Király utca, in the heart of Budapest's Old Jewish Quarter, near Gozsdu Courtyard hosts the Hungarian wine tasting program.
Dates & Staring Time:
Duration:
Price Of Hungarian Wine Tasting Experience
What's Included?
9 wines from various wine regions of Hungary (4 reds, 4 whites, 1 dessert wine) – View list of wines below!
9 charcuteries (cold cuts, salamis, sausage, ham, Hungarian cheeses, walnut, dried fruits, cucumber, honey) – See full list below!
Guiding and introduction to the wines you'll taste, Hungarian wine regions as well as a glimpse into local viticulture
Why Go? – Highlights Of The Wine Tasting Program
You'll get an expert introduction to local wine through an exclusive 9-tier wine tasting that covers the most important aspects of Hungarian wine making and history.
For each wine sample we serve you tasty bites, small chaurcuterie of Hungarian paprika salami, goat cheese (soft and hard), cured ham of Hungarian grey cattle, nuts, dried fruits etc. (see the list below) that perfectly complement the wines.
What's more, a charming urban cellar and museum hosts the 2-hour event providing pleasant and fitting setting.
The venue is in Budapest's centre, easily accessible by public transport and close to major attractions.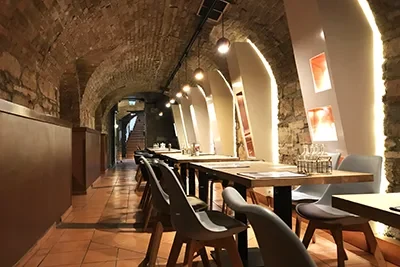 Wines You'll Taste – Wine Tasting In Budapest City Centre
Tokaj Nobilis – Furmint 2021 (White) – 13,5%
A fresh, fruity Furmint with lower alcohol content due to the slightly earlier harvest. Following 50 % fermentation in steel tanks and 50 % fermentation in barrels the two parts were blended.
The aroma of this wine evokes crisp fruitiness (think pear and chamolime)
It is an elegant, high-structured wine, with a touch of residual sugar that makes it round. In taste, it is rich in minerals and oak barrel aging, with a long-lasting finish.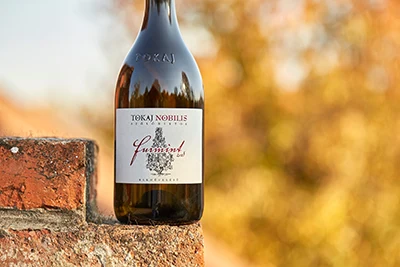 Heimann & Fiai – Kadarka 2021, Szekszárd (Red) – 12%
A true Kadarka from the home of this classic Hungarian red. This fine, spicey red is a result of wild-fermentation with minimal handling, spontaneous fermentation in whole bunches, and 10 days of skin contact.
After gentle pressing, it was returned for 3 months of aging to the same concrete tank where the fermentation took place.
Elegant, light red with notes of berries, dry autumn leaves and fresh bell peppers.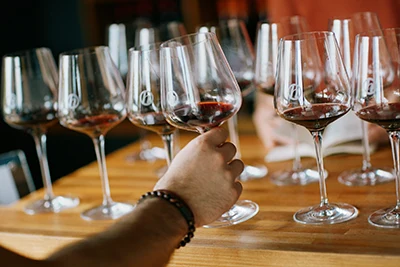 Ipacs Szabó – Nászút Helyett (Instead of Honeymoon) 2019 , Villány (Red) – 14%
Made from the Cabernet Franc grape variety, this red wine got its name from a family story. Literally, it originated from the fact that the estate was established with the money that the young couple initially wanted to spend on their honeymoon.
As wine aficinados, we can say it was worth it, because it's truly special, a unique wine to be proud of – something the family can cherish.
According to the wine maker: "A multifaceted wine with compact fruitiness and delicate barrel spices, slightly more 'southern,' softer, warmer, and 'sweeter' than the 2019 vintage.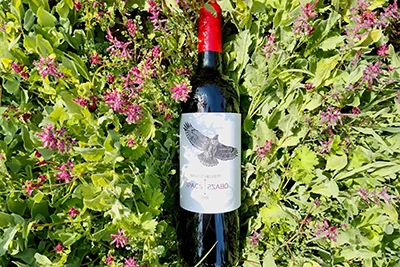 After an intense aroma, ripe, fleshy fruits (black berries, cherries) roll onto the palate with lively acidity, while the sweet sensation of barrel spices (cappuccino, caramel) extends gracefully into a long-lasting finish, harmonizing with the mature, almost velvety tannins."
Villa Tolnay – Névtelen Cuvée 2019, Badacsony (Red) – 13,5%
This exquisite red blend from the Lake Balaton's northern slopes, the Badacsony Hill, is a result of organic grape cultivation, hand-harvested Merlot and Cabernet Sauvignon from the Csobánc Hill, fermented in oak barrels.
It was aged for 10 months in oval large and French barrels.
You'll be treated to notes of sour cherry, black currant, elegant spiciness, delicate acidity, excellent balance.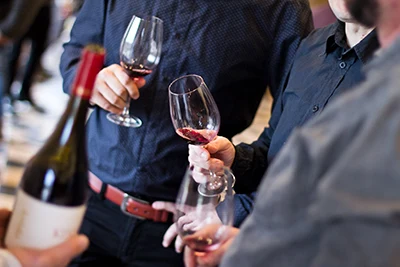 Balla Géza – Kolna Kadarka, Erdély 2020 (Red) – 14%
This is another Kadarka, but a more fully bodied one from the Ménes wine estate in Transylvania.
It was made through spontaneous fermentation and aged in oak barrels. Even from its color, it's evident that this Kadarka has a fuller, deeper character.
Rich aromas of spices, flowers, and red berry fruits, a long and substantial wine.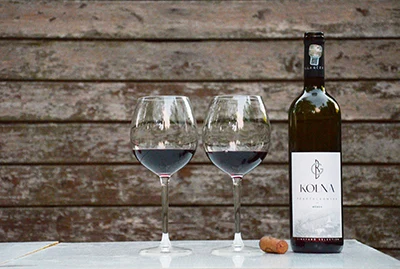 Etyeki Kúria – Irsai 2022, Etyek-Buda (White) – 12%
A Modern Irsai Olivér for the second time from Etyek. The typical fragrance and freshness of the variety with the expected elegance from the winery characterizes this lovely white.
A dynamic sip, good acidity, notes of white flowers, grapefruit, tropical fruits, citrus, and sweet fruit aromas.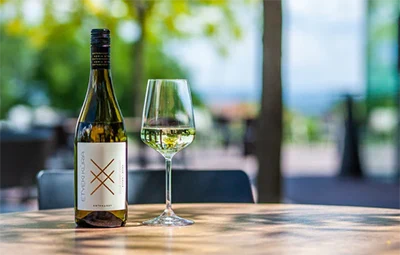 Miklóscsabi – "Nem férünk a bőröndbe" Chardonnay 2021, Mór (White) – 13,5%
This is highly exciting Chardonnay by a small boutique winery from Mór region.
The apple-citrus aromas are complemented by sweet spicy notes. Volcanic salinity adds piquancy even to the aroma.
In taste, the salinity reigns supreme and rolls the creamy fruit flavors on the palate for a long finish. We recommend it as an accompaniment to white meats, smoked fish and meats, and risotto.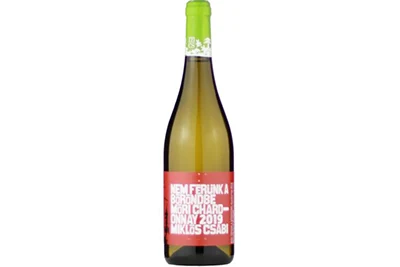 Folly Arboretum – Cedrus Cuvée 2020, (Italian Riesling + Pinot Gris), Badacsony (White) – 13% – Won Gold Medal on the Berliner Wine Trophy in August 2023
Grape cultivation spans over 7 hectares on the estate near the Folly Arboretum – northern shore of Lake Balaton -, much like the love and care given to the arboretum itself, it is a multi-generational legacy within the Folly family.
The Kisörsi Hill provides the ideal terroir for our leading grape varieties:
Pinot Gris,
Muscat Ottonel,
Kéknyelű,
Riesling,
Budai Zöld, and
Italian Riesling."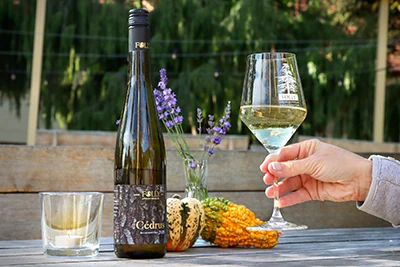 "We fermented and aged a portion of the batch in barrels, using fine lees contact, while for the other part, we employed tank fermentation and aging.

Our goal was to characterize our wine with rich fruitiness and a hint of woody, vanilla finish." said Leopold Nagy wine maker.
Oremus – Édes Szamorodni 2017, Tokaj, Dessert Wine – 12%
This fine sweet wine from the world-renowned Tokaj wine region is the crown on your wine tasting experience.
One thing is sure, it will leave a lastin impression on you and you will want to take a bottle with you.
This szamordoni is light yellow in color, with lively silver reflections. 75 grams of residual sugar, is combined with incredible spiciness. Its true excitement lies in the flawless balance between acidity and sugar, along with long, creamy, citrusy, honeyed flavors."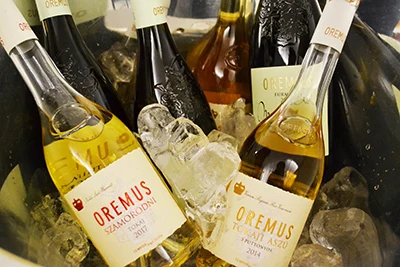 Charcuterie – List of Snacks
Mangalica liver paté
Csabai paprika salami
Smoked beef tongue
Dried grey beef ham
Mangalica salami
Gomolya cheese
Pannonia cheese
Soft goat cheese
Hard goat cheese
Pickled cucumbers
Dried peaches
Walnut
Fruits
Honey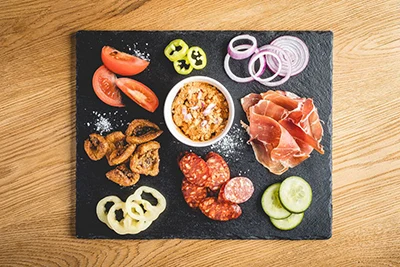 Related – Wine Tasting In Budapest City Centre
Hungarian wine regions – Wine Festival In Buda Castle – Budapest city centre