Wine Tours To Discover The Excellent Hungarian Wines
Your visit to Hungary's capital would not be complete without tasting the nation's great wines.
Although Budapest does not have vineyards, you can taste and buy wines from all the country's wine regions in the city's many tasting places and specialty wine shops.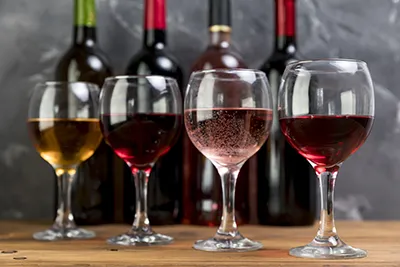 Places For Wine Tasting In Budapest and the Countryside
Budapest offers many places to taste local wines from historic cellars to cozy bars, and wine restaurants.
Here are some of our favourite spots to sample Hungarian wines.
Cruise & Wine Tasting
Date & Time In 2023:
Evening cruise with dinner & folk show & live music at 19.00 – 21.00 every day
Night Cruise at 22.00 – 23.30 between 01. May – 31. October, every Friday, Saturday
Combine sightseeing on a Danube boat tour with sampling of 7 fine local wines!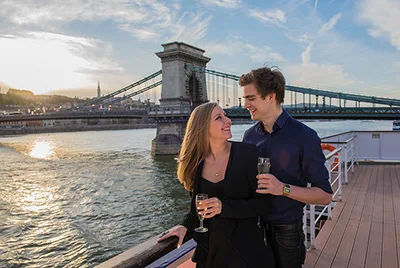 On the 2- or 1.5-hour Wine & Cruise you will see
The city's most notable sights lying on the two banks of the river Danube (protected by the UNESCO within the World Heritage project) while
Tasting 7 quality local wines (80 ml each) from various wine regions of Hungary, including Szekszárd, Villány and Tokaj.
You can also choose a Tokaj wine & cruise – you will sip a glass of fine Tokaji aszú, the famous dessert wine of Hungary, during the river excursion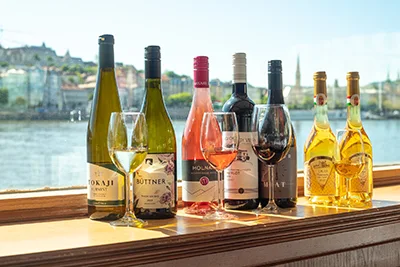 An ideal program to start a memorable afternoon or evening in Budapest.
Prices:
Full price: 7-tier wine tasting: 45 EUR, 1-glass of Tokaj wine cruise: 27 EUR
Students: 7-tier wine tasting: 42 EUR, 1-glass of Tokaj wine cruise: 25 EUR
Book Wine Tasting On A Cruise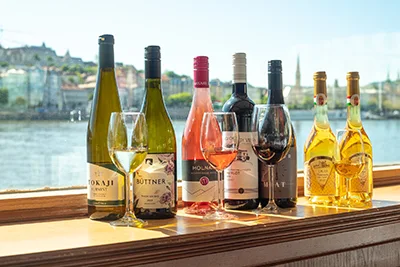 Cruise With 7 Local Wines or Tokaji & Folk Show
Departure: 18:30 or 21:30 / Duration: 120 min. – From €27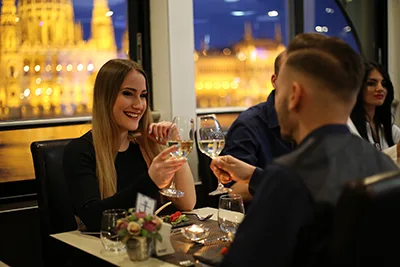 Wine & Dine – Cruise with 5 Local Wines & Hungarian Appetizer/Cheese Plate
Departure: 19:00 / Duration: 80 min. – From €49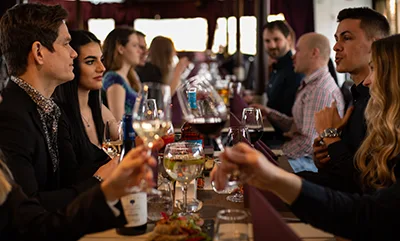 Wine & Dine – Cruise with 5 Local Wines & Hungarian Appetizer/Cheese Plate
Departure: 20:30 / Duration: 80 min. – From €49
TIP: See more details on the Budapest cruise with wine tasting program, including the list of wines you will sample!
Wine Tastings In Budapest's City Centre – Cheese/Salami Platter
Join an annotated wine and cheese tasting Tour in Budapest to sample some of the finest Hungarian wines in a stylish, centrally-located wine bar and shop.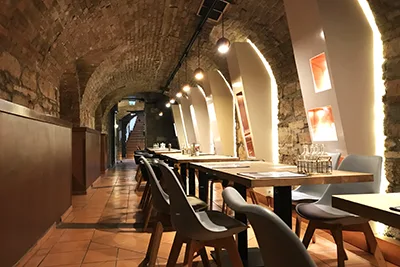 The Wine Tasting Experience in Palinka Museum
Savor the complexity and heritage of Hungarian wines as you explore a curated selection, ranging from the renowned Tokaj to the robust Kadarkas of Villány, guided by our knowledgeable specialists.
9 different wines for tasting / 9 different charcuteries
Duration: 120 min. – Price €57
What Will You Get?
Indulge in nine exquisite Hungarian wines paired with artisanal cheese and charcuterie, all sourced directly from local producers.
Led by a knowledgeable sommelier, the tasting will showcase a carefully selected line-up of Hungary's best wines, providing an in-depth overview of the country's wine history, regions, varieties, and unique styles.
You'll even get a glimpse into the most promising trends in the Hungarian wine scene.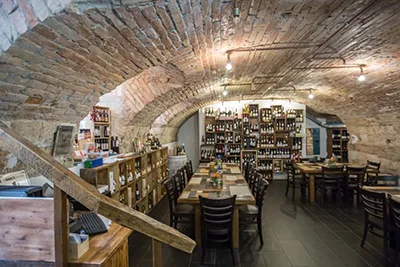 The tour culminates with a glass of the world-renowned sweet wine from the Tokaj region, an Oremus Szamorodni 2017, an essential part of Hungary's wine story.
As the focus is on indigenous Hungarian grape varieties and local styles, you'll have the opportunity to sample wines that you may not have heard of before and may not easily find elsewhere.
Read more about this exclusive wine tasting in Budapest city centre!
Alternative: Book A Wine & Cheese/Salami Tasting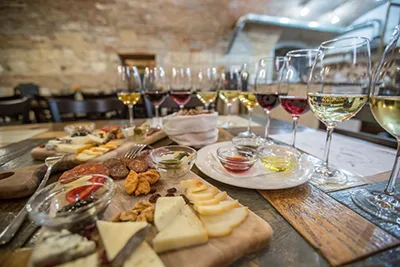 The cheese and salami selection features mouth-watering options such as:
Mangalica pork sausages,
Free-range water buffalo salami, smoked duck breast, grey beef sausage, and a variety of cheeses
All sourced directly from proud local producers.
Wine Tour In Etyek With Transfer, West Of Budapest
If you want to move out from the city to the Hungarian countryside and experience
the warm hospitality of the family cellars within only a half day program, go on a wine tasting tour
with meal to Etyek village.
This charming village lies west of the capital city in the Etyek-Buda wine region of Hungary.
A direct transfer takes you to the village from the centre of Budapest and back.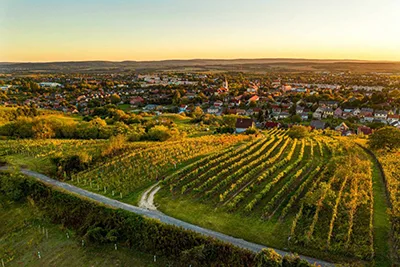 Book A Wine Tour In Etyek With Dinner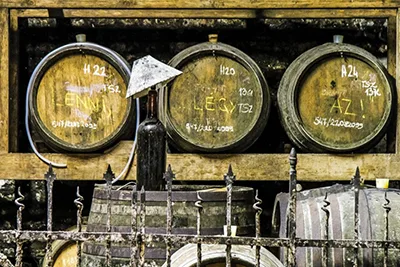 You'll explore the local wine cellars, talk to the wine makers about wine making in Etyek, taste wines, and end the trip with a traditional dinner Hungarian style.
Small group, relaxed ambience!
Find out more about the Wine tour to Etyek village.
TIP: Find out more about Hungarian wines and wine regions!
Wine Tasting In Buda Castle – Faust Cellar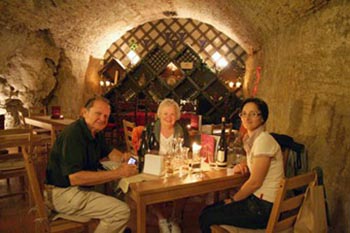 It is located in one of the city's most popular tourist areas, the Buda Castle in district I., offering plenty important landmarks to see, including the
the Royal Palace with the Castle History Museum and the National Gallery,
the Fishermen's Bastion (one of the best spots to see a scenic view of the city),
lovely cafes, and some great restaurants (21 Magyar Hungarian Restaurant).
The cellar is part of the historic cave labyrinth under the ground in the castle district.
Sipping wines in the cool stone cellar is a perfect way to end a long day of sightseeing in the area. You can choose from several wine tasting menus that include some of the best wines of the country: Tokaj, Szekszárd, Eger.
Learn more about wine tasting in Buda Castle.
Wine Bars – 30+ Places In Buda & Pest
The city has more than 30 bars, bistros, cafes that carry a wide selection of wines, both local and international.
Wine Shops In Budapest
Bortársaság- Main Shop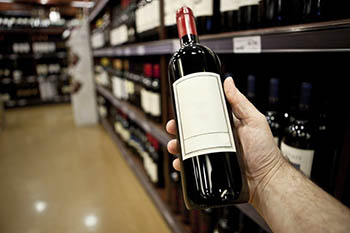 Address: Batthyány utca 59., Buda, district I., M2 (red) metro Tel: (+36 1) 326 4984 Open: Mon-Fri: 10.00-20.00, Sat: 10.00-18.00
Bortársaság is one of the biggest wine distributors in Hungary.
They have several shops within the city with the main outlet in Batthyány utca.
Other Bortársaság Wine Shops:
Parlament
Address: Vécsey utca 5., Pest, district V. near the Hungarian Parliament building,
Opening hours: Mon-Fri:10.00-20.00, Sat: 10.00 – 19.00
Lánchíd (Chain Bridge)
Address: Lánchíd utca 5., Buda, district I.
Opening hours: Mon-Fri: 12.00 – 21.00, Sat: 10.00 – 19.00
Ráday
Address: Ráday utca 7., Pest, district IX.
Opening hours: Mon – Fri: 12.00 – 20.00, Sat: 10.00 – 15.00 Bortársaság also has outlets in some shopping centres in Budapest: the Árkád, Rózsakert, MOM Park, Hegyvidék, and Budagyöngye malls.
TIP: You can taste nearly 50 wines by the Bortársaság in the Klassz Bistro (Andrássy út 41., district VI.), one of the best restaurants in Budapest. You can also by wines in the bistro's shop.
Borháló Wine Shops
Borháló operates a network of shops mainly out of the city centre. The most centrally located ones are on Grand Boulevard/Nagykörút and in Páva utca in district IX.
Kind, expert service, affordable prices.
Borháló Shop on Grand Boulevard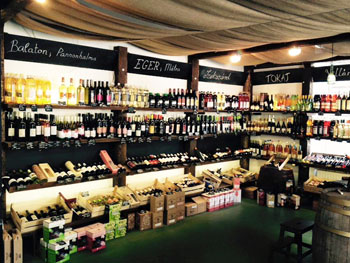 Address: József körút 2., district VIII., tram 4, 6 or M4 metro (green line), Rákóczi tér station
Opening hours: Mon-Sat: 12.00-21.00
A large shop with a wide selection of wines from the country's 22 wine regions.
They regularly host tastings, wine dinners and other wine events.
Borháló Shop in Páva Street
Address: Páva utca 2., district IX.
Opening hours: Mon: 13.00-20.00, Tue – Fri: 12.00-20.00, Sat: 09.00-15.00
More Wine Shops – City Centre
Wines n' Roses – a Cute Combination
Address: Arany János utca ., district V.
Opening Hours: Tue-Sat: 10.00 – 20.00, Sun-Mon: closed
Wines n' Roses is a fairly new shop opposite the Pommo D'oro Italian restaurant that specializes in fairtrade flowers and wines from the Mór region Hungary's smallest wine producing area located cc. 90 km west of the capital.
Tasting is not available here but you can buy quite nice wines by Csabi Miklós wine maker at fair price.
The selection – mostly whites – includes local varietals like
ezerjó,
zöld veltelini,
királyleányka and
cuvées. [/tie_list]
Prices: 2 200-3 000 HUF/bottle.
Domus Vinorum – in the Vicinity of the Basilica
Address: Bajcsy-Zsilinszky út 18., V. district, M3 Arany János utca
Open:
Tel: (+36 1) 301 0699
The cellar system incorporates
a wine shop, and
a wine museum with more than ten thousand bottles of Hungarian vintage wines.
In the shop you can select from around 200 types of excellent quality wines. Advanced booking is required.
Enoteca Montalcino – Hungarian and Italian Wines
Address: Bajcsy-Zsilinszky út 56., district V.
Open: Mon-Fri: 11.00 – 19.00 (closed on Saturday and Sunday)
A great variety of wines from Hungary and Italy tasting for either smaller or larger groups is available.
Wine Shops In Buda
Bor és Kézműves/Wine & Craft Shop, Bartók Béla Blvd., Buda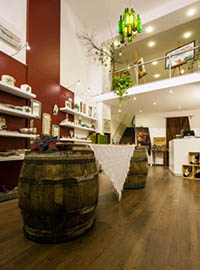 Address: Bartók Béla út 8., district XI.
Opening hours:
Mon – Fri: 10.00 – 19.00,
in December: Mon – Fri 10.00 – 19 and Sat-Sun: 10.00 – 14.00
This charming shop on up-and-coming Bartók Béla Boulevard in Buda near Gellért Hill sells local wines and ceramics.
As the owners state on their website the four elements – earth, fire (sun), air and water – can be found in both wine and pottery (clay) that's why the two complement each other perfectly.
Apart from wine, you can also get here various wine accessories:
glasses,
coasters,
decanters,
cork-screw,
gift boxes and bags.
More Wine Shops In Budapest
Vino Castillo – Hungary's 1st wine store

Address: Damjanich utca 47., district VII., near the City Park (Városliget) , M1 underground Városliget stop
Open: Mon – Fri: 11.00 – 19.00, Sat – Sun: closed
Tel: (+36 1) 215 7484
A real Mecca for wine lovers: around 1 000 types of wines from
Hungarian,
Spanish,
Italian,
French and
other foreign producers.
Törley Champagne Factory
Address: Budafok, Nagytétényi út 64., XXII. district
Tel: (+36 1) 424 7955
Open:
You can
see the world's biggest wooden barrel here that is still in use;
learn about the secrets of making champagne while
strolling through the more than 100-year old and several hundreds kilometer long cellar complex.
Advanced booking is necessary.
Wine Festivals, Events In Budapest
A couple of 2-3 day festivals welcome wine lovers from all over the world every year.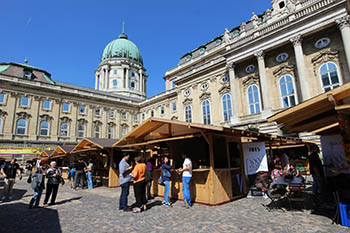 The good thing is that these events offer entertainment not only for wine connoisseurs but a series of
dance shows,
concerts,
food and cheese stalls,
children programs ensure that everybody finds something interesting to do.
The Budapest International Wine Festival is usually on the 2nd weekend of each September: Sept. 06 – 09. in 2018.
Both Hungarian and international wine makers introduce their best wines.
This festival is rather crowded due to its premise which is one of the most popular tourist areas in the Hungarian capital without the wine festival.
Admission: approx. 7 000 HUF/adult: a wine tasting glass and usually a couple of tasting coupons are included.
Wine Tasting In Wine Restaurants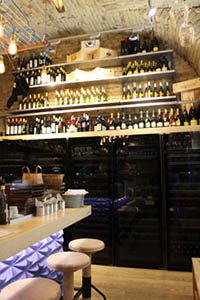 Perhaps the best way to find out which wines appeal to your taste is to taste some in a good wine restaurant, and then buy the ones you like in a wine shop.
This way you avoid buying pig in a poke.
Here are a few wine restaurants in Budapest where you pamper your taste buds with delicious Hungarian dishes that you can rinse with Hungarian wines from the best producers:
Bock Bistro
Address: Erzsébet körút 43-49. 1073, (within the Corinthia Grand Hotel Royal) district VII. , tram 4,6 Király utca
Open: Mon – Sat: 12.00 – 24.00
Tel: (+36 1) 321 0340
Bock Bistro is one of the best restaurants in Budapest that is among the couple of nominees expected to get a Michelin star.
Owned by one of Hungary's most famous and talented wine maker, József Bock from Villány Wine Region, the Bistro has the best wines to offer.
The food is of exceptional quality too. Staff is kind and attentive.
Table reservation is highly recommended because this lively restaurant in the city center tends to be busy.
Bock Bistro is a first class place and it is reflected in the prices, but it also provides good value for the money (two can dine for about 60-80 EUR incl. starters + main dishes + a bottle of wine).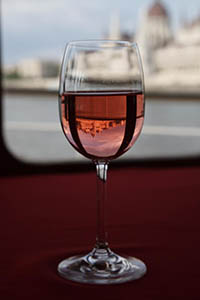 Borbíróság Restaurant
Address: Csarnok tér 5. district IX., next to the Great Market Hall
Open: Mon – Sat: 12.00 – 23.30
Tel: (+36 1) 219 0902
Nearly 100 Hungarian wines are offered by the glass,
a selection of tasty Hungarian fare,
central location (5 min. from Váci Street) and homey atmosphere make Borbíróság an excellent choice if you want to have a taste of local wines and food.
L'enoteca Wine Bar & Terrace
Address: Belgrád rakpart 13., district V., Tram 2.
Open: 12.00 – 23.00 every day
Some great Italian wines and food.
While sipping a glass of wine on the terrace you can admire the fine view of the Gellért Hill on the Buda side of the Danube.
TIP: Try also our Craft Beer Cruise program while in Budapest!

Hungary's evolving artisan beer scene offers some exciting brews to taste.
You'll sample 5 x 150 ml local craft brews + get 1 pint for FREE.
A 2-hour river excursion, snacks, live music by a Gypsy orchestra for 27 EUR!
Wine Tasting Outside Budapest
If you come to Budapest for more than just a couple of days do visit the nearby wine regions to get a first hand impression about the country's wines and viticulture.
The best way to get to these places is by car, if you came by air you need to rent a car.
Although there's a fairly good train service in Hungary, for first time visitors and foreigners it is a bit difficult to know your way around train timetables.
Moreover, driving is more flexible than train travel, you can stop when and where you wish to.
Etyek-Buda Wine Region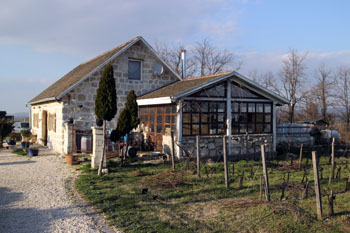 Lying about 40 km far from Budapest this wine region is the nearest to the capital city.
The climate and the soil provide good conditions for producing quality whites.
This region produces the base wines for champagne making too.
Major grape varieties:
Chardonnay,
Italian Riesling,
Királyleányka,
Sauvignon Blanc
Eger Wine Region
Location: 130 kilometers north-east of Budapest, at the foot of Bükk Hills.
It's worth visiting Eger not only for the famous Egri bikavér (Bull's Blood) red wine, but for the town's rich history and sights.
Eger is one of my favourite towns.
I love the
charming, Baroque city center,
the crooked streets,
great restaurants and cafés.
The Szépasszony-völgy (literally Beautiful Lady's Valley) has many old wine cellars carved into the hill.
You can taste and buy wines from the local producers.
The more than 200-years old National Wine Museum and the István Cellar of the Hotel Korona besides wines from the Eger region introduces you to other Hungarian wines and history of wine making.
Address: Hotel Korona, Tündérpart 5., Eger Tel: (+36 36) 313 670 Web: Hotel Korona
Major grape varieties:
reds: Kékfrankos, Cabernet Sauvignon, Merlot, Kékoportó,
whites: Leányka, traminer, Italian riesling, Muscat Ottonel
Other Recommended Wineries in Eger:
Pók-Polányi Cellar
Address: Eger, Verő-szala utca 66.
Tel: +36(36)436 021
Istenes Pince
Address: Eger, Szépasszony-völgy Tulipánkert út 40.
Tel: +36(36)522 222
Kőporos Winery
Address: Eger, Nagykőporos út 11.
Tel: +36(30)945 0327, +36(36)516 241