A Leisurely Wine Tasting with Dinner/Lunch in the Etyek-Buda Wine Region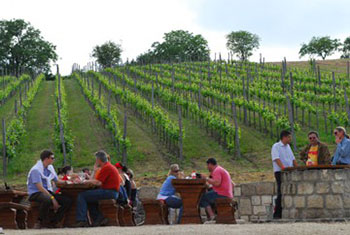 A Wine Tour in Etyek can be a nice addition to your Budapest vacation program if you want to learn more about Hungarian wines, wine making, and life in the countryside.
A direct transfer takes you to Etyek village, which is a part of the Etyek-Buda wine region of Hungary located cc. 30 km souththwest of Budapest.
The journey takes 40-45 min. from the city centre.
TIP: The whole tour with tasting, lunch/dinner and transfer to Etyek and back to Budapest is about 4-5 hours long (depending on traffic). A perfect half-day trip after or before you still have time for other programs.
What Will You Do On The Tours & Why Go?
You will take a leisurely stroll among the wine cellars of the village. Your professional, English-speaking guide will tell you all about the
Traditions of wine making in the area,
A brief history about the Etyek-Budai wine region,
Culture and way of countryside life
You will of course sample the local wines and have a fine Hungarian homemade lunch or dinner. If you love cheese you can choose the program with cheese manufacture visit and tasting.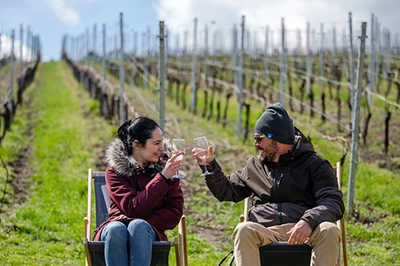 The program is really a one-of-a-kind experience that makes your Budapest vacation more well-rounded and helps you understand Hungarian people, wines, gastonomy and culture more.
Choose from two tours – in the morning with lunch, or in the afternoon with dinner – to discover the wonders of Hungarian wines and gastronomy, as well as the beauty and hospitality of this hilly countryside.
1. Wine Tour in the Afternoon
Date & Time: every day from 16.00 to 21.00 (15.00 – 20.00 in winter: November – March)
Program Details:
Departure:
16.00 (15.00 in winter from November till March), direct transfer to Etyek with air-conditioned minibus with pick up at your Budapest hotel, or at an agreed Budapest meeting point (14:45)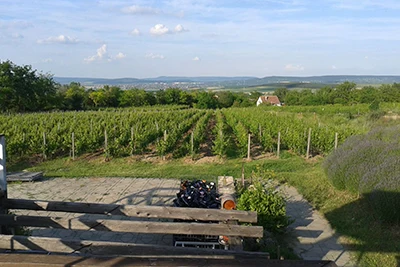 What Will You Do During The Tour?
Together with your expert guide you will
Explore the hills of Etyek village by walk,
Visit 3 wine cellars and taste the wines,
Have a traditional Hungarian dinner (homemade two-course meal of main dish and dessert) at a wine estate, (Vegetarian options can be arranged!)
Transfer back to your hotel in Budapest.
How Long Is The Wine Tour To Etyek?
cc. 4 – 5 hours (depending on traffic arrival back to the capital is: cc. 21.00-21.30)
Price – Afternoon Wine Tour With Dinner:
105 EUR/person.
Can be booked from minimum 2 persons.
2. Wine Tour In The Morning With Lunch
Date & Time: every day from 10.00 to 14.00
If you'd rather visit the countryside and cellars before noon to leave more time to explore Budapest in the afternoon, (perhaps you want to go clubbing at night) then take our Wine Tour Program including a visit to 2 Etyek cellars starting at 10.00.
Book In Advance – Places Are Limited To Wine Tour In Etyek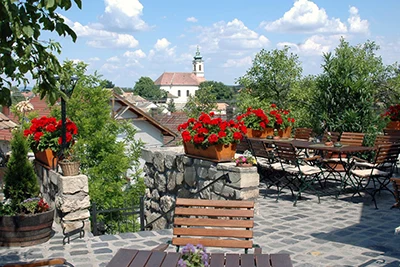 What Will You Do On The Tour?
You and your guide will depart from your pick up point at 10.00
You will visit 2 wine cellars and taste 4 wines in each
The tour ends with a homemade 2-course lunch at one of the cellars (Vegetarian options can be arranged!)
Transfer back to Budapest: arrival cc. 14.00 – 14.30
How Long is The Morning Wine Tour?
It lasts cc. 4 -5 hours, depending on traffic to Etyek and back to Budapest.
Price – Morning Wine Tour With Lunch: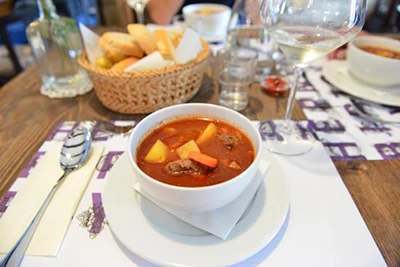 3. Wine Tour with Cheese Tasting – Currently Not Available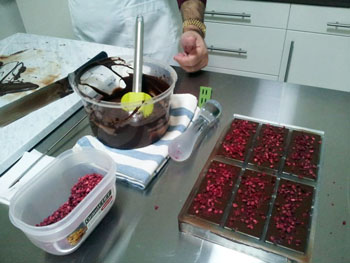 Heighten the experience of wine by tasting artisan cheese made in a local manufacture!
Date & Time:
Every day from 10.00 or 16.00 (15.00 in winter)
Departure from your hotel: at 10.00 or 16.00 (15.00 in winter)
What Will You Get?
Visit to the cheese manufacture and learning about local cheese making, tasting.
Visiting 2 cellars, tasting wines in the scenic vineyards
Traditional Hungarian lunch/dinner at a wine estate with wine tasting.
Transfer back to your hotel. estimated arrival between 14.00-14.30 or 21.00 – 21.30
Price:
100 EUR/person
Can be booked from minimum 2 persons.
Book Wine Tours From Budapest – Memorable Daytrips To The Hungarain Countryside
These daytrips to the Hungarian countryside offer unforgettable experiences. Visit the charming Baroque town of Eger known for its Bull's Blood red wine.
Go on an excursion to Kesztölc a small village in the Neszmély wine region known for its exceptional organic wines. You walk around the vineyard, explor ethe cellar while sampling 6 wines.
After the wine tour you travel to Esztergom, a lovely historic town with picturesque views of the Danube Bend.
Learn about the country's largest church, the Basilica of Esztergom, eat a hearty dish in a traditional 300-year old restaurant with a medieaval cellar and close the meal with 2 different flavours of pálinkás (typical Hungarian fruit distilate) then
All of the following tours include transportation from Budapest and back to your hotel, expert guiding and sampling of wonderful local wines and of course a lovely time.
A Brief History of the Etyek Wine Region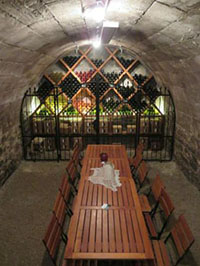 Etyek village is part of the Etyek-Buda wine region of Hungary where mainly white grape varieties are grown, with more and more experiements with red varieties.
Viticulture in the area dates back to the Romans, but roots of current wine making can be traced back tot he early 1700s. German families settled down in the area between 1720-1770 who started cultivating vineyards and making wine.
By the second half of the 19. century Etyek became the vineyard of the Hungarian capital. At the time hundreds of stone cellars were built out of which many still stand and are thriving.
You can see and experience their historic, romantic atmosphere on the tour.
Wines made from grapes of the Etyek region provide very good base for making champagne. After the II. WW the wine region went to decline due to the large-scale socialization of wine making during the Communist era.
Luckily viticulture started to revive in the late 1990ies early 2000ies and the trend is continuing, making Etyek a very popular wine and culinary centre in the vicinity of Budapest.
About Etyek Wines, Grape Varieties
Chardonnay – Dry White Wine
The chalky soil and microclimate of the gently rolling countryside provides the perfect conditions to produce splendid, fruity Chardonay.
Best with: lean white meats, poultry and seafood, at 13-15 °C.
Sauvignon Blanc
Királyleányka (native Hungarian variety)
Pinot Gris
Welschriesling/Italian Riesling (Olaszrizling)
Zenit
Cserszegi Fűszeres (native variety)
Zöldveltelini (Grüner Veltliner)
Rhine riesling.
Buying Wines On The Tour
You can buy wines at the cellars: a bottle costs cc. 2 800 -5 500 HUF.
What Have Our Guests Said? – Reviews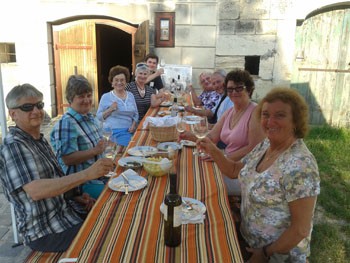 Karyn & Ian, New Zealand
Our wine tour with you & Edina was one of the main highlights on our Europe trip and lived up to all our expectations.
It was great to get out into the countryside and see places away from the normal tourist traps. It was also great to meet the other members of the group and talk with them regarding life in Hungary.
We would definitely recommend your Etyek tour to anyone who is travelling to Budapest. It was great. And thanks for your your help in translating for us and sharing your knowledge and enthusiasm.
All the best for your business in the future.
Regards,

Karyn & Ian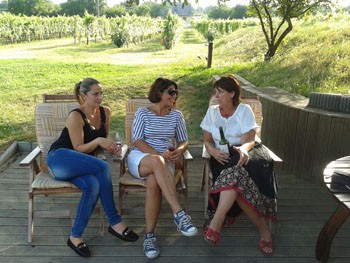 Erik, USA
Tamas,
Thank you so much for an entertaining evening. We are still talking about it! And thank you so much to our companions for the evening!
You helped make it truly special! We value all of you as our new friends.
My best,
Erik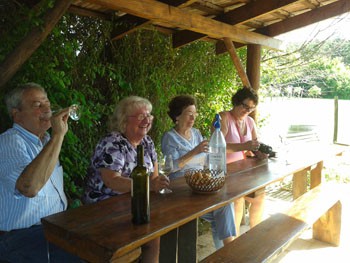 Andrea, USA
"Tamas,
Thank you much for the great time. You really helped to make it such a wonderful experience. If I ever find my way back I will definitely come see you again.
The best to you.
Eggeshana(cheers)!
Andrea and Kim"
TIP: If you don't have time to gon an Etyek wine tour, we have a wine tasting program in Budapest's city centre that takes only 2 hours of your time. A charming cellar restaurant with a small exhibition hosts the vent every Saturday at 20.00/8 pm.
Related – Wine Tour In Etyek
Wine Tasting and Wine Shops – CultiVini Wine Gallery – Hungarian Wine Regions – Faust Cellar in Buda Castle – See also our Facebook page