A Unique Collection of Treasures – Closed as of 2014
Unfortunately the museum closed down due to various reasons in autumn 2014.
The museum, housed in an elegant villa on Andrássy Avenue, gives home to a collection of gold and silver artifacts unique in the world.
The exquisite artworks show the unbelievable richness of South East Asian art and culture as well as the 45 years of passion and knowledge of the collector: István Zelnik.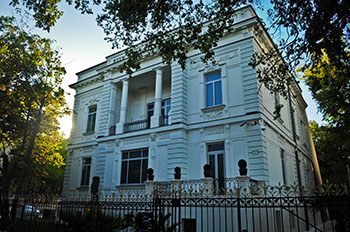 In the Zelnik István Southeast Asian Gold Museum visitors can see close to thousand artifacts from eleven countries of Southeast Asia.
Most of of these objects are of gold and date from prehistoric times to the 20th century.
The display demonstrates the wide spectrum of fine arts in Southeast Asia over the past two thousand years.
In addition to the rare exhibition, visitors can enjoy a cup of delicious tea and snacks in the museum's exotic teahouse situated within a tropical sculpture garden.
General Information About the Museum
Address: Andrássy út 110. Budapest, Hungary, M3 metro (Millennium line), Bajza utca station
Opening Hours: closed permanently
Admission:
adults: 3 350 HUF (3 000 HUF if purchased online through the museum's website)
Children: 1700 HUF, senior citizens: 2 300 HUF
FREE for children under 6, people over 70 and for disabled people and one aid,
Group ticket (min. 10 people): 3 000 HUF
Guided tours for groups must be booked in advance and can be provided in the following languages : English / French / German / Italian / Russian
About The Collection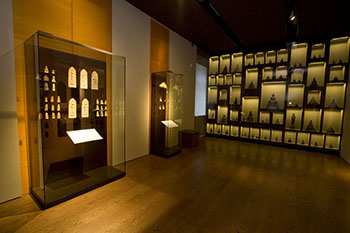 The finely restored Rausch villa gives home two the rare collection of artifacts that are displayed in nine halls in the two-storey building.
The exhibition is based on the vast collection of István Zelnik a former diplomat.
Viewing the display hall by hall, visitors get a glimpse into the rich culture and art of Southeast Asia encompassing a history of more than two thousand years.
The highlights of the collection are the gold and silver treasures from
Cham,
Khmer
Javanese as well as
tribal cultures.
Religious Artifacts
Buddha statuettes, stupa-shaped-reliquaries, votive plates, ritual vessels – form a large part of the collection.
The tribal relics include some unparalleled rarities like the ritual objects related to death cults.
A separate exhibition hall is dedicated to Southeast Asia's own trade network the Maritime Silk Road.
It features
Gemstones,
Precious metal objects,
Silk and other goods traded along the route.
A tea or coffee in the exotic Sövény Aladár Teahouse is a worthy conclusion to a visit to this unique museum in Budapest.
TIP: Visit the Zwack Museum & Unicum Fcatory on a guided tour. Includes
Professional guiding,
Tasting 3 types of the famous herb liqueur, and
Exploring parts of the cellar filled with oak barrels.
More Museums in Budapest
Related:
Railway Museum – Miniversum – Natural History Museum – Andrassy Avenue – Opera House