If you love Hungarian food and want to learn how to make traditional Hungarian dishes like
goulash
chicken paprikás,
stuffed cabbage, or
palacsinta, attend a cooking class in Budapest city centre.
Talented, friendly chefs tell you all you need and want to know about Hungarian cuisine.
You'll learn about
the basic ingredients, and
spices used in Hungarian cooking, like paprika, along with
the best cooking practices, and tricks so that you'll be able to treat your family and friends to a fantastic Hungarian dinner in your home country.
Program of the Cooking Class:
Dates:
Any day up to your choice, See Reservation below. Note: reservation must be made at least 2 business days prior to the date you wish to take the course. Please also note that the market is closed on Sundays and Public Holidays.
Schedule: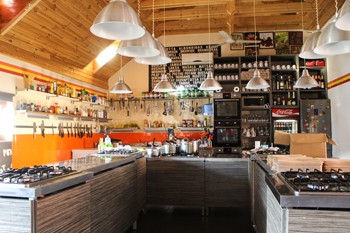 8:30 (optional) real Hungarian breakfast at the Central Market Hall at Fővám tér (meeting point is in front of the Burger King opposite the Market)
9:00 (optional) guided tour of the Central Market Hall (meeting in front of the Market Hall)
10.00-arrival at the cooking school, short introduction about the school, dishes and recipes
10:30-12:30 cooking 3-4 dishes or pastries, or desserts – tasting, eating and drinking
13:00- eating YOUR LUNCH
Menu – A Short Trip to the Hungarian Culinary World
3 or 4 course menu up to your choice
Soups: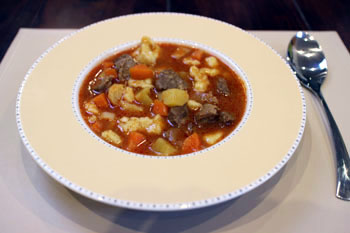 Borsóleves – Traditional Hungarian green pea soup
Tejfölös krumplileves – Potato soup with sour cream
Meggyleves – Sour cherry soup
Tárkonyos csirkeraguleves Chicken ragout soup with tarragon
Jókai bablves – Bean soup Jókai style
Gulyásleves -Goulash soup
Main Course: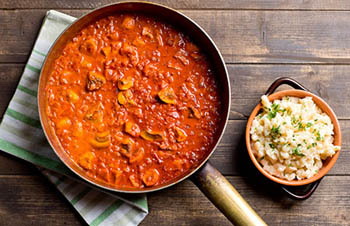 Tojásos lecsó – Paprika, tomato & sausage stew
Paprikáskrumpli – Paprika potato
Fasírozott és főzelékek – Deep fried meet loaf, potato or green pea stew
Csirke vagy gombapaprikás nokedlivel
Paprika chicken or mushroom with noodles
Töltött paprika – Stuffe4d paprika
Rakott káposzta – Cabbage casserole
Hortobágyi palacsinta – Pancakes "Hortobágy" style
Sweets: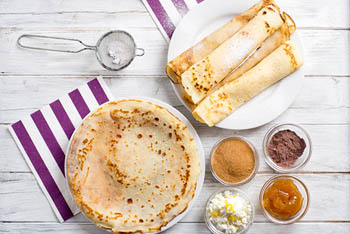 Almás, meggyes vagy mákos pite – Apple, cherry or poppy seeds pie
Palacsinta Hungarian style pancake
Somlói galuska – Chocolate sponge cake with vanilla sauce
Madártej – Floating island
Includes:
Standard package: cooking ingredients, instructions, recipes that you receive in e-mail, chef's help, kitchenware and utensils, use of aprons, refreshment (soft drinks), and lunch (what you cooked).
Premium extension: Standard package + one bottle fine Hungarian wine, one Culinaria Hungary cookbook, one Chefparade apron, taxi ride from Hotel to Chefparade Cooking School OR Market.
The "Get to know Hungarian Cuisine" Cooking Course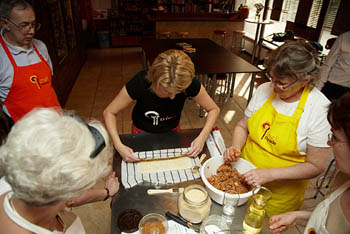 You'll learn about the history and basics of Hungarian cuisine in small groups lead by 1 or 2 chefs.
Courses are in English.
It has an easygoing atmosphere where you learn to cook Hungarian dishes in an interactive way.
If you wish, you can visit the famous Great Market Hall where you get to know the
main Hungarian fruits,
vegetables,
meat and the most important thing,
the Hungarian pickles (not only the cucumber).
All will be shown by your tour guide/chef who tells you the history of the Great Market Hall and during the tour you get a rich insight into the local dining culture.
If you wish you'll also be treated to a traditional Hungarian breakfast after which you go to the cooking school to prepare an authentic Hungarian menu that you eat at the end of the class (lunch or dinner).
Details About Chefparade Cooking School
In Chefparade's modern cooking studio (13., Páva utca, IX. disrict) equipped with top quality kitchen utensils you can acquire basics of Hungarian cooking in a warm, laid-back atmosphere.
You'll learn to prepare dishes side-by-side experienced chefs who tell and show you the proper cooking techniques you can use in everyday cooking.
For bigger groups ( from 6 up to 100 people): please contact us for a special offer.
Price includes all the cooking ingredients, instructions, recipes that you receive in e-mail. You can taste and eat the meals you've prepared.
If you're interested in taking a Hungarian cooking course please reserve a course by paying 10 % in advance through Paypal.
Terms of Cancellation & Refund Policy
If something comes up, and you decide not to do the cooking course please cancel it at least 2 days prior to the date of the course to get a refund on the 10 % you paid.
Note: transaction fee ( 4%) is deducted from the refund.
If you cancel the course within less than 2 buisness days you are not entitled to the refund. Contact us to cancel the cooking course.
Related:
TIP: You might also be interested in a 4-course Hungarian Dinner with a Folk Dance & Music Performance in a city centre restaurant, every Friday at 19.00: