Essential Information To Plan Your Trip to Budapest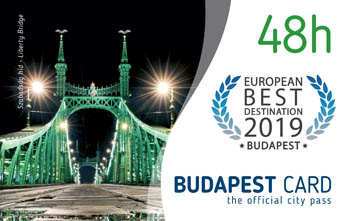 Use our travel basics guide to plan your visit to Budapest well.
We gathered all you need for a carefree vacation: from choosing the best time to visit, and best way to get here to easily getting around the city and other essential tourist information about Hungary's capital.
Let's get started on planning your visit!
Passport and Visa Information
Visitors form the U. S. and Canada need a valid passport to enter Hungary.
Visitors from the European Economic Area can enter with valid personal identification card (no passport is required) and can stay for 90 days without visa.
These countries are Austria, Belgium, Bulgaria, Cyprus, Czech Republic, Estonia, Finland, France, Greece, Netherlands, Poland, Liechtenstein, Lithuania, Luxemburg, Malta, Germany, Italy, Portugal, Rumania, Slovakia, Slovenia, Spain.
Swiss travellers, though Switzerland is not member of the ECA (European Economic Area), but member of the Schengen zone, can also enter with a personal ID card.
Denmark, the United Kingdom, Iceland, Ireland, Latvia, and Norway don't issue personal identification cards, so people from these countries can visit Hungary and Budapest with a valid passport.
Swedish citizens can enter Hungary either with a valid passport or a personal ID card issued after 1. October 2005. For up to date information on entry and visa requirements to Hungary please visit the official site on the
Best Ways to Get Here – By Air, Train, Ship or Bus
Flights, Cheap Airlines
Budapest can be easily accessed from most European cities : Paris, London, Dublin, Edinburgh, Barcelona, Moscow, Kiev, Brussels, Warsaw, Vienna, Prague, Rome, Amsterdam, Helsinki, Zurich, Lisboa, Istanbul by air, within around 2 hours.
The national airline, Malév, ceased operations in 2012.
Direct flights to Budapest are available from two cities of the US:
Airlines from North America fly via major European capitals (American Airlines via London or Helsinki, Delta via Paris or Amsterdam).
The choice of low cost airlines operating flights to the Hungarian capital is wide:
Ryanair,
Wizzair,
easyJet (Berlin, London, Paris),
Jet2 (from Edinburgh and Manchester),
germanwings (Cologne-Bonn and Stuttgart).
Flights land at and depart from the Terminal 2 of the city's main airport (Liszt Ferenc Airport) which is some 16 kms from the city centre.
Train Travel
The city has three main train stations:
Déli Pályaudvar = Southern TS,
Nyugati Pályaudvar = Western TS, and
Keleti Pályaudvar = Eastern TS).
Trains are available to Hungary's countryside and other countries on intercity and express railway lines. You can reserve tickets online or buy them at the ticket offices at the stations.
See more on the National Railway Company's (MÁV) website.
More Information to Help You Plan Your Travel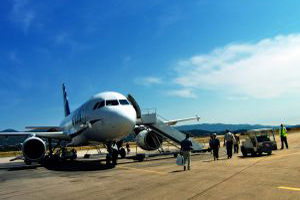 Information on how to get here: by plane, by train, by coach, ship or car. The first step of enjoying your trip to Budapest is choosing the best way to get here.