Budapest is a fascinating city that offers visitors a mix of history, architecture, culture, and food. If you're planning a 3-day trip to Budapest, you'll have enough time to explore some of the city's highlights.
In this article, we've put together for you the best Budapest itinerary for a 3-day trip.
Quick TIP: Choose maximum 2 museums to peruse House Of Terror and and walk around during the rest of your 3-day trip.
Buy Budapest Card: Public Transport, 30+ Top Attractions & Tours
For a 3 day stay you may want to consider buying a Budapest Card.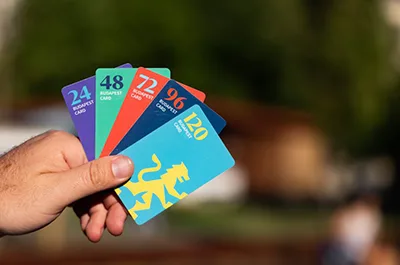 24-Hour Card: 33 EUR
48-Hour Card: 49 EUR
72-Hour Card: 63 EUR
72-Hour Plus Card: 96 EUR
96-Hour Card: 77 EUR
120-Hour Card: 92 EUR
Budapest Itinerary Day 1
Morning – Day 1: Buda Castle
What to See on Buda Castle Hill?
Buda Castle – part of the UNESCO World Heritage Program – is home to several iconic landmarks that are must-see attractions for any visitor to Budapest. The following are some of the most notable sights on the hill.
Getting There By Public Transport:
Each of the following bus services will take you right up to the castle area. The Dísz tér stop is right in front of the Royal Palace of Buda.
Bus No. 16: Deák Ferenc tér (Pest, M1, M2, M3) – Széll Kálmán tér (Buda, M2 metro, Trams 4, 6). Will take you up to Buda Castle from Pest's centre.
Bus No. 16A: Szél Kálmán tér (Buda side, M2 metro, Trams 4, 6) – Dísz tér
Bus No. 216: Deák Ferenc tér (Pest, M1, M2, M3) – Dísz tér. A new "Castle Bus Service" with larger capacity vehicles than buses No.16.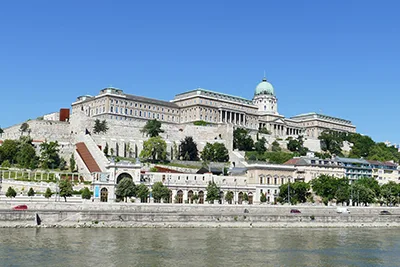 Getting There By the Funicular – A Bit Expensive But Romantic Way
The funicular (Budavári Sikló) will transpport you up to near the Royal Palace on Dísz tér. It departs from Clark Adam Square at the Buda end of the Chain Bridge.
Tickets are a bit pricey but you can enjoy the beautiful vista during the ride.
Getting To Clark Adam Square: Buses No. 16, 105 and Trams 19, 41 have a stop there.
Funicular Operating Hours: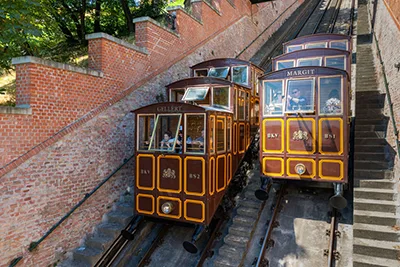 Funicular Tickets:
Return tickets are available only, valid for one upward and one downward ride.
Full price: 4 000 HUF/cc. 11 EUR
Children (ages: 3 – 14): 2 000 HUF/cc. 6.50 EUR
Admission To Buda Castle:
It's FREE to enter the castle area and walk around.
You have to pay entry fee to the individual ttractions located in the area, such as Matthias Church, the National Gallery, Budapest History Museum and other museums.
Getting To Buda Castle By Walk
Walking up to the castle area involves some uphill walk and stairs but it's quite doable. Alternatively you can use the escalator from Várkert Bazaar/Castle Graden Bazaar an attra ctively refurbished series of Neo-Renaissance palaces and other buildings.
TIP: If you plan to walk up to the Castle from Várkert Bazar take a walk in the charming Renaissance-style gardens there. Address: Ybl Miklós tér 2-6., at the southeast foot of Castle Hill.
Start your day by heading to Buda Castle Hill, one of the most popular attractions in Budapest.
Take a walk around the castle and enjoy the panoramic views of the city from the Fishermen's Bastion.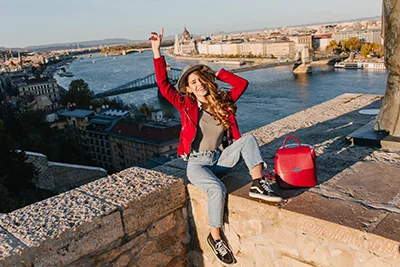 Matthias Church (Mátyás-templom):
Location:
Opening Hours For Tourists:
Mon – Fri: 09.00-17.00,
Sat: 09.00 – 12.00, (on some Saturdays till 17.00)
Sun: 13.00 – 17.00, on religious holidays opening hours vary.
Admission Fees To The Church:
Full price: 2 500 HUF,
Students, retirees: 1 900 HUF,
Children (up to 6 years of age): free,
Family ticket: (2 adults + 1 child): 5 900 HUF
Child ticket (above 6 yrs of age): 500 HUF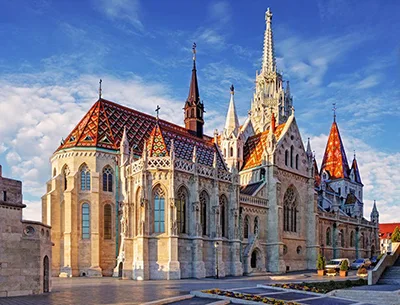 This stunning Gothic-style Matthias church – also known as Church of Our Lady – was built in the 14th century and has been the site of several royal coronations and weddings.
The church is renowned for its beautiful stained glass windows and intricate interior decoration.
Fishermen's Bastion
Opening Hours:
The lower parts of the Fisherman's Bastion and the terraces connected to the smaller towers are always open, while the main tower is closes at 19.00/7 pm, and in summer at 20.00/8 pm.
Admission To Fishermen's Bastion:
From spring to autumn, the main tower can be visited for an admission fee, while the southern terrace can be visited for free.
Main Tower Entry Fees: 700 HUF, students, retirees: 350 HUF (March 16 – Oct. 15)
Free for children under 6 years old.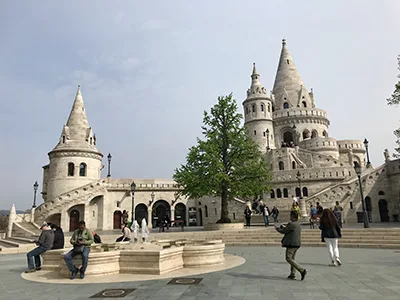 Located next to Matthias Church, Fisherman's Bastion is a series of lookout terraces that offer unparalled panoramic views of the Danube River and the Pest side of the city.
In the Middle Ages, a fish market operated nearby, and this section of the castle wall was traditionally defended by the fishermen's guild during sieges, hence the name Fishermen's Bastion.
Historical Background
The complex was also built in the neo-Romanesque and neo-Gothic styles according to the plans of Frigyes Schulek, during the reconstruction of Matthias Church between 1890 – 1905.
Fishermen's Bastion was built to commemorate the 1000th anniversary of the settling down of the nomadic Hungarian tribes. The bastions symbolize the tents of our ancestors, and the seven towers represent the seven Hungarian tribes that settled in the Carpathian Basin in 896.
Coffee Stop #1 – Starbucks Castle Hilton
Address:
Hess András tér 1-3, Bp 1014, District I.
Opening Hours:
Take a coffee & pastry break at the Starbucks Castle Hilton right next to teh Fishermen's Bastion and enjoy the the historic surroundings and the fine view.
Coffee Stop #2 – 4minutes Cafe (Vegan)
Address:
Országház u. 15, Bp 1014, District I.
Opening Hours: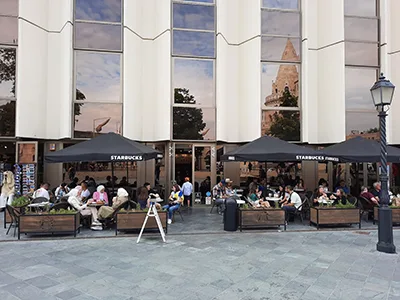 If you prefer specialty cafes over big international chains then we recommend 4minutes cafe in housed in a historic building in Országház Street, at just a 4 minute walk from Fishermen's Bastion.
It's a really cute place that's serves 100% vegan coffe drinks (espresso-based and filter coffee with V60 and AeroPress), pastries and cakes.
Try the raw vegan flódni – a traditional Hungarian Jewish cake reivented using only non-processed, raw ingredients or the kókuszkocka (coconut cube).
Royal Palace
The Royal Palace is the most prominent building on the hill and is home to the
Hungarian National Gallery and the
Budapest History Museum.
The palace encompasses several courtyards and gardens that are open to visitors.
The Savoyai Terrace for example offers the most picturesque panorama of the Castle District in the direction of Pest and the Gellért Hill so include it definitely in your Buda Castle exploration.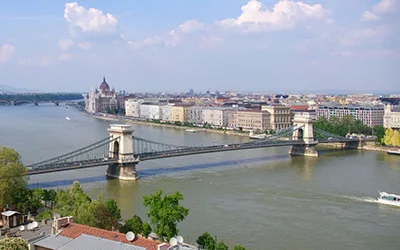 In front of the façade of the Hungarian National Gallery, which also forms the back wall of the terrace, the statue of Jenő of Savoy reminds us of the recapture of Buda from the Turks.
Hungarian National Gallery
Address:
Szent György tér 2., Budapest 1014
Opening Hours:
Tue – Sun: 10.00 – 18.00 (last entry: 17.00)
Admission To The Permanent Exhibits:
Permanent tickets also include a visit to the cupola.
Full price. 4 200 HUF
Discount tickets: 2 100 HUF
Audio guide (English, Hungarian, Italian, German): 1 200 HUF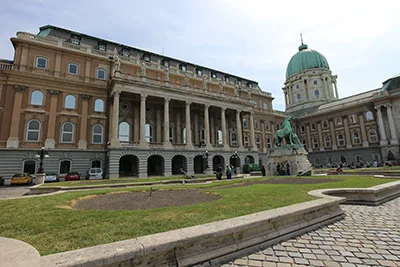 The gallery is located inside the Royal Palace and features a vast collection of Hungarian art from the medieval period to the present day like for example:
Gothic Art In The Hungarian Kingdom 1300-1500
Late Gothic Winged Altarpieces
Nude Sculptures from the Turn of the Century
To view all the permanent exhibits you will need cc. 1.5 -3 hours. This may be too much out of your 3-day visit time, so you either choose one exhibition or just take a quick look around, perhaps go up to the cupola of the building or use the Walks In The Gallery: Masterpieces guide.
TIP: Walks In The Gallery: Masterpieces – A Guide to the Most Outstanding Pieces in the Collection

Discover something new and exciting with the most notable works of Hungarian fine art and international masterpieces. To make the most out of your visit, use the gallery's new guide booklet to explore the captivating altars from medieval times, nineteenth-century paintings that tell the history of the nation, the varied innovations of modernist art, as well as the works of French masters and contemporary art pieces.

The "Masterpieces," guide is the first part of the "Walks in the Gallery" series, and it leads art enthusiasts through fourteen works of art that are part of the Hungarian National Gallery's collection.

Duration: The tour will require cc. 50 minutes of your time. You can buy the guide booklet in the MuseumShop for 300 HUF.
The gallery also hosts temporary exhibitions and special events throughout the year. Check the gallery's website to see what temporary exhibitions will be on during your visit.
Sándor Palace
The Neoclassical building of the Sándor Palace was built in th early 19th century. It housed the office of the prime minister until after World War II. After a thorough restoration the buidling now serves as the Presidential Office of Hungary.
The palace features an impressive baroque facade and a beautiful interior.
TIP: Watch the change of guards in front of the main entrance of the palace. It takes place hourly but the most spectacular one happens at 12.00 every day. This one has a special military coreography carried out to music.

If you happen to visit Budapest between April and September you can witness an even grander change of the guards once every month.
Unique Experiences In Buda Castle
TIP: Choose only one of the attractions listed below! Visiting all of them would be too much for a 3-day visit.
House Of Houdini
Address:
Opening Hours:
Tickets:
Full price: 3 600 HUF
Children under the age of 11: 2 400 HUF

If you're looking for a unique and thrilling experience in Budapest, the House of Houdini is definitely worth a visit.
Located in the historic Buda Castle district, this museum is dedicated to the life and legacy of the world-renowned illusionist and escape artist, Harry Houdini.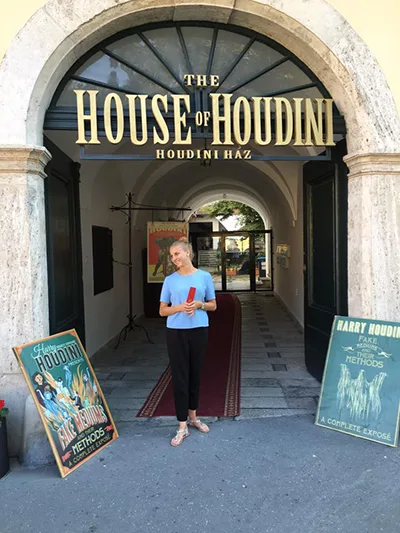 Highlights – Why You Should Add The House of Houdini to Your Budapest Itinerary:
Fascinating Exhibits: The House of Houdini features a wide range of exhibits and artifacts, including rare photos, videos, and personal items that offer a glimpse into Houdini's life and career. You'll learn about his early years as a struggling performer, his rise to fame, and his many death-defying escapes.
Interactive Displays: In addition to the exhibits, the House of Houdini also features a number of interactive displays that allow you to experience Houdini's magic firsthand. You can try your hand at picking locks, solving puzzles, and even escaping from a straitjacket.
A Thrilling Show: No visit to the House of Houdini would be complete without seeing one of the museum's live shows. These performances, which take place in a specially designed theater, feature some of Houdini's most famous illusions, as well as some new tricks created by the museum's resident magician.
In short, if you're a fan of magic, history, or just looking for a unique and exciting experience in Budapest, the House of Houdini is definitely worth a visit.
With cool exhibits, interactive displays, live performances, and a beautiful location, it's sure to be a highlight of your trip to Hungary's capital.
More info here.
Hospital in the Rock
Address:
Getting There
Opposite Matthias Church at Tóth Árpád Promenade you'll find the steps at the castle wall that lead down to Lovas út. There's also an elevator you can use. Once down at Lovas Street, turn right and you'll see the entrance to the museum.
Opening Hours:
Tickets (60-min Guided Tour):
Full price: 24 EUR
Seniors (over the age of 65) and Students (ages 18-26): 17 EUR
Children (ages: 6 – 18): 12 EUR Note: Children under the age of 6 are not allowed to visit the hospital and it's not recommended for kids under 12 either.
This fascinating museum is located in a natural cave system beneath the hill and provides a glimpse into Hungary's wartime history.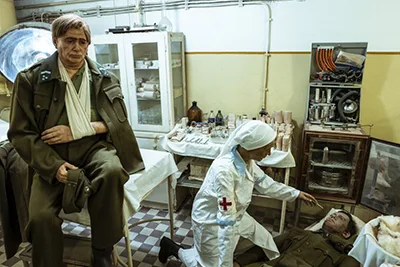 The museum features an extensive collection of medical equipment and artifacts from the Second World War.
Nearly
200 lifelike wax figures,
Original furnishings, and
Hospital equipment help to experience the events and atmosphere of World War II, 1956, and the Cold War.
In the newest section of the exhibition, the current state of military medicine is presented through the life-saving actions of special operations forces.
Guided tours in English start hourly between 10.00 and 18.00, tour lasts 60 minutes.
Highlights – Reasons To Include In Your Itinerary
Great for history buffs who want to learn more about other aspects of World War II and the Cold War era, nuclear warfare than the basic facts.
You're interested in medical technology
Entertaining, informative guides
Unique location in a massive cave system
Where to Eat and Shop on Buda Castle Hill?
Buda Castle Hill provides numerous dining and shopping options that cater to all tastes and budgets.
We have already recommended Starbucks opposite Fishermen's Bastion and the 4minutes Cafe for a coffee stop.
But by noon you will be surely ready to have something more substantial to eat.
The hill is home to numerous cafes, restaurants, cake shops and wine bars that whether you are in the mood to try traditional Hungarian cuisine or prefer to eat international dishes.
Visitors can also shop for souvenirs, gifts, and local crafts at several boutiques and gift shops located on the hill.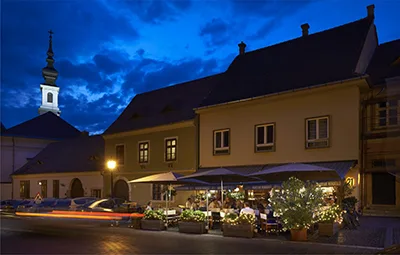 Recommended Places
21 Magyar Vendéglő
Address: Fortuna u. 21, Bp 1014
This is the place if you want to sample classic Hungarian dishes like goulash soup or cottage cheese dumplings and of course local wines. It has a pleasant, spacious terrace over looking the Hungarian National Archives building.
Prepare to pay cc. 10 000 HUF for two courses.
Pest-Buda Bistro
Address: Fortuna u. 3, Bp 1014
This outdoor café-bistro is nestled amidst the picturesque chestnut trees of Hess András Square. Sitting at its terrace you can marvel at the magnificent Matthias Church while enjoying a cup of coffee or a glass of Hungarian wine or indulge in authentic Hungarian cuisine.
Jamie's Italian
Address: Szentháromság u. 9-11, Bp 1014
If you crave Italian fare choose Jamie's Italian where you can enjoy the view of Matthias Church from the large terrace.
Baltazár
Address: 1014 Budapest, Országház utca 31.
The restaurant is part of the charming boutique hotel under the same name. Baltazár offers something for everyone. If you're in Buda Castle in the morning have breakfast or lunch here on the cozy terrace.
It's a lovely place for a dinner too with delicious grilled dishes, burger, salads and other lighter dishes.
Royal Guard & Riding Hall & (Főőrség Palace)
Address: Hunyadi Court, Bp, 1014
The recentyl renovated Royal Guard & Riding Hall is one of the newest gastro spots in Budapest rich in historic vibe.
Ideal for lunch and trying out local cuisine or just sipping coffee with a scrumtious cake.
Ramazuri Bistronomy
Address: 1014 Budapest, Úri utca 30.
For an upbeat yet comfy bistro feeling have a meal in Ramazuri Bistronomy. It's a trendy eatery with a nice combination of contemporary Hungarian cuisine, international dishes, and a selection of imported wines in a stylish setting with an outdoor seating area.
Ruwszwurm Confectionery
Address: Szentháromság u. 7, 1014, Close to Fishermen's Bastion
As one of the oldest cake shops in Budapest Ruwszwurm is a not-to-miss place while wandering around Buda Castle.
The delicious, traditional Hungarian cakes and pastries combined with the quaint atmosphere will make your visit to Buda Castle a complete and memorable adventure.
TIP: Try the Krémes, square shape, creamy delight: fluffy custard cream between two square layers of puff pastry.
Afternoon – Day 1: Hungarian Parliament Building & Shoes On The Danube
After your morning explorations, head to the Hungarian Parliament Building, one of the most iconic buildings in Budapest.
Location & Getting There
Address: Kossuth Lajos tér 1, Bp 1055, District V.
This huge edifice lies on the Pest embankment on Kossuth Lajos Square between the Chain Bridge and Margaret Bridge.
Located right in Pest centre the Parliament is really unmissible and you can easily get there on foot or by publci transport (tram 2 and M2 metro are good options)
You can easily spot the cupola and spires from many points within Budapest.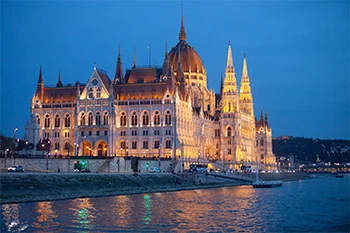 Visiting The Inside Of Budapest Parliament – Is It Worth It?
The Parliament building is a stunning example of Gothic Revival architecture, with its grand facade and intricate details. It is the third largest parliament building in the world and houses the National Assembly of Hungary.
Visitors can take a 45-minute guided tour of the building to see its stunning interior, including the
Main hall with its impressive dome and the
Hungarian Crown Jewels on display in the central hall.
TIP: If you think it would be too much to cram the tour in your Day-1 afternoon sightseeing then just skip it.

Tickets are quite expensive anyway, for such a short tour especially bought through resellers, (between 13 – 26 EUR from the official ticket seller, depending on your nationality) and we think you won't have a less complete experience if you just appreciate the architecture form the outside.
Since the building stands on the bank of the Danube River it promises one of the most picturesque views of the city and a perfect spot for photos.
Just stroll around the nicely landscaped Kossuth Square dotted with statues and memorials and admire the view.
Afterward, take a relaxing cruise along the Danube River and enjoy the views of Budapest from the water. On a river excursion, especially ones that run in the evening or late at night, you can get to see the Parliament from a different, captivating perspective.
Expect to take the best photos at the blue hour, just after sunset or at night when the whole structure is all lit up.
Shoes On The Danube Holocaust Memorial
Location: Id. Antall József rkp., Bp 1054
If you only have time for one landmark to see located in the Parliament neighbourhood then it should be the Shoes On The Danube.
This poignant memorial is right next to the Parliament on the Danube riverbank.
You'll find sixty pairs of iron shoes, representing men, women, and children who were victims of the Arrow Cross fascist regime in 1944-1945.
Thousands of Jews and other persecuted individuals were taken to the banks of the Danube, ordered to remove their shoes, and were then shot, their bodies falling into the river and carried away.
The memorial was created to honor and remember the victims of these senseless killings.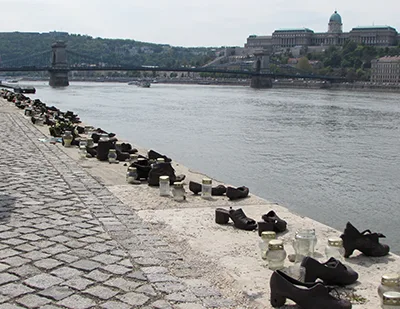 Where To Eat/Have Coffee Break Near The Parliament?
Szamos Cafe
Address: Kossuth Lajos tér 10, Bp 1055
This spacious cafe right across the Parliament offers a good selection of Hungarian cakes and pastries, sandwiches, salads, other light dishes and of course coffee and drinks.
Have a slice of Dobos Cake, a famous local dessert: chocolate cream between layers of sponge and crunchy caramell on top.
TIP: There is a small chocolate museum on the upper level.
Madal Specialty Coffee Shop
Address: Alkotmány u. 4, 1054
Tend to be crowded but their coffee is worth the inconvenience! See more specialty cafes in Budapest!
Hungarikum Bistro
Address: Steindl Imre u. 13, Bp 1051
Cozy, simple bistro where goulash and pork dishes await you accompanied by traditional live music in the evenings.
Tulipano Resturant
Address: Honvéd u. 17, Bp 1055
Very good Hungarian dishes at great price.
Élelem Étterem – Vegan
Address: Garibaldi u. 5, Bp 1054
A vegan, plus gluten and sugarfree place that uses fresh and locally sourced ingredients.
TIP: See more info on visting Hungarian Parliament building and where to eat in the area!
Evening – Day 1: Danube River Cruise and Hungarian Folk Show
End your first day in Budapest with a Danube River Cruise and a Hungarian Folk Show. Enjoy the views of Budapest from the water and experience the lively culture of Hungary with traditional music and dance.
River Tours On The Danube
TIP: One of the best ways to see Budapest is by taking a Danube River cruise. You'll be able to see the city from a different perspective and enjoy really amazing panorama.
We offer boat cruises 2 times a day: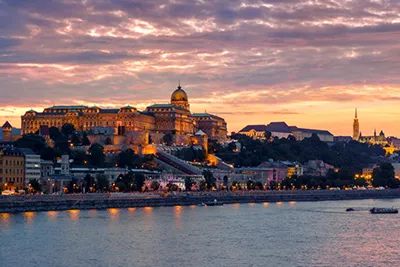 Book Your Cruise
Budapest Itinerary Day 2
Morning – Day 2: Széchenyi Thermal Bath
Start your 2nd day by visiting the Széchenyi Thermal Bath, one of the largest thermal baths in Europe. Enjoy the hot pools, saunas, and steam rooms in this beautiful Neo-Baroque building.
This is truly a must-visit attraction in Budapest, and it's the perfect way to relax and unwind.
Location, Getting There
Address: Állatkerti krt. 9-11, Bp 1146
M1 Undegound (yello line) and Trolley bus No. 72 are the best options
Ticket Prices:
Afternoon ticket after 17.00 (Mon-Thurs) : 9 100 HUF,
Afternoon ticket on weekends (Fri-Sun) valid after 18.00 : 10 600 HUF
The bath is located in City Park – that you will explore in the afternoon – a sprawling recerational area that received a facelift in recent years.
What To Bring With You To Szechenyi Bath?
Wearing slippers is compulsory so do pack them. It's also a good idea to have a towel with you.
Book a Szechenyi Spa Full Day with Optional Pálinka Tour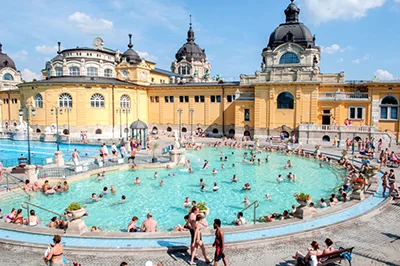 Indulge in a full day of relaxation and rejuvenation at the world-renowned Széchenyi Spa. With over 15 indoor and outdoor thermal baths, saunas, and steam rooms, you'll enjoy the ultimate in relaxation and wellness.
Afternoon – Day 2: Heroes' Square and City Park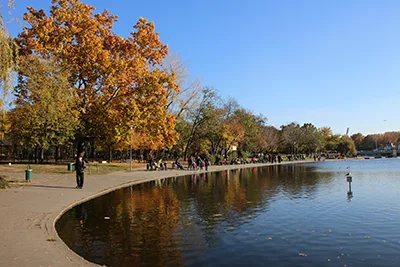 Additional Attractions You Don't Want To Miss In City Park
If you have time you definitely must see two architectural masterpieces nestled in the park. You will probably have time only for a visit from the outside though.
the House of Hungarian Music (Olof Palme stny. 3, Bp 1146, and the
Museum Of Hungarian Ethnography (Dózsa György út 35, Bp 1146)
Just walk around the City Park Lake and you'll will bump into the House of Hungarian Music, designed by Sou Fujimoto Architect, is a remarkable cultural center in City Park that seamlessly integrates music, architecture, and nature.
The distinctive feature of the center is its nearly circular, organically shaped roof, beneath which an impressive facade with expansive glass panels reaches a height of up to twelve meters in certain areas.
You probably won't have time for an interior visit where interactive exhibits howcase the country's musical traditions in an innovative and engaging way.
Museum Of Hungarian Ethnography
The Museum of Ethnography's new striking building blends nature and human creation in perfect harmony. Situated in the former Felvonulási Square, the impressive structure features two wings that ascend in opposite directions, with 60 % of its exhibition space located underground.
On top of the wings, a sprawling 7,300 square meter park and roof garden creates a curved oasis that functions as a vibrant community space and offers breathtaking panoramic views of the City Park. A favoured spot for instagrammable photos!
The 1956 Revolution Memorial stands at the intersection of the two wings, while the metal grid adorning the buildings showcases motifs gathered from ethnographic museums worldwide.
Unique Experiences In City Park
Balloon Ride
Location:
You'll easily spot the red and white striped balloon behind Heroes' Square and Vajdahunyad Castle, right across the Szécheniy Bath.
Operating Hours:
Mon – Thurs: 10.00 – 18.00 (depends also on weather conditions)
Note: The hot air balloon won't fly in strong wind.
If you aren't scared of heights go for a Balloon Ride high up in the air (150 m) to enjoy a stunning aerial view of the city.
It costs 8 500 HUF/23 EUR for adults, 5 000 HUF/13.50 EUR for children (ages 6 – 14), no need to book advance just go there and buy your ticket.
Boating & Water Biking In Summer& Ice Skating In Winter
n summer you can take a pleasant boat or water bike ride on the lake. A nice romantic program for couples, but families with kids will surely have fun too.
Prices:
Boat Ride: 2 500 HUF/30 minutes,
Water Biking: 3 500/30 minutes
In winter the lake turns into a venue for ice skating.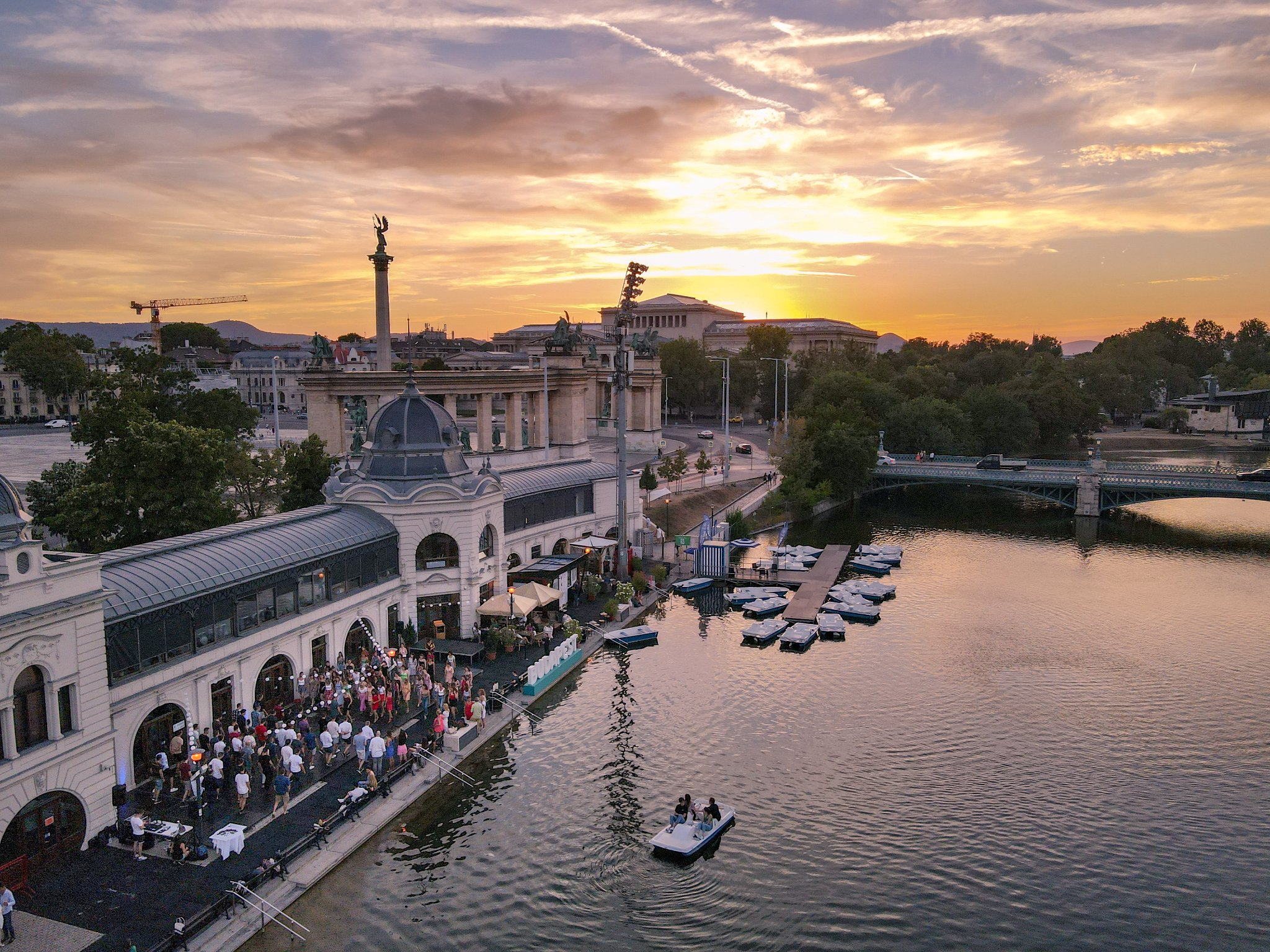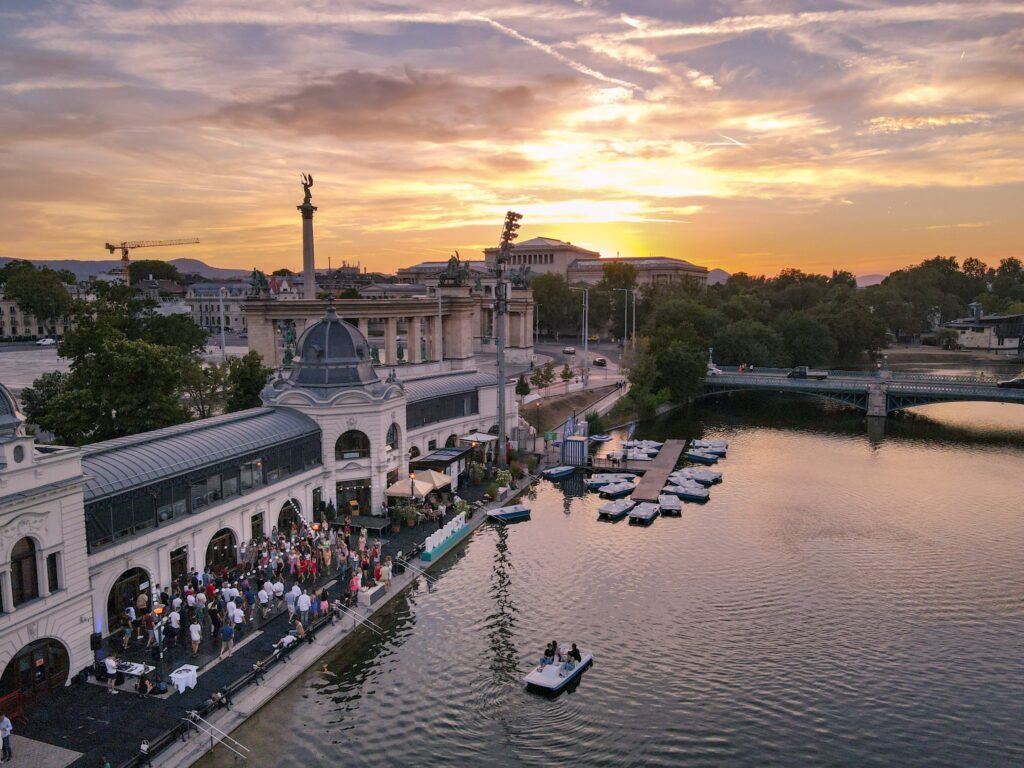 The Zoo & Botanical Garden of Budapest is another attraction in the city park, but we don't recommend including it in a 3-day visit.
Where To Eat In City Park?
Pavilon Kert
Address: Állatkerti krt. 3, Bp 1146
For a great variety of local food offer head for Pavilkon Kert between the Széchenyi Bath and the Zoo. Try the iconic Magyar streetfood at Liget Lángos to
Evening – Day 2: Cocktail in A Rooftop Bar
End your second day in Budapest sipping cocktail in one of the handful of rooftop bars.
Fine drinks and exceptional vista at sunset are what you'll need to relax after strolling the city all day.
Here are our top three rooftop bar choices in Budapest:
1. Duchess Rooftop Bar In Matild Palace Luxury Hotel
Address: Váci u 36, Bp 1056, District V.
Situated atop the stylish building of the Matild Palace Hotel, at the 6th floor, The Duchess provides a wonderful combination of chic atmosphere and breathtaking views of the cityscape.
The perfect spot for indulging in exquisite pre-dinner drinks or enjoying vibrant evenings accompanied by the classic blend of DJ tunes.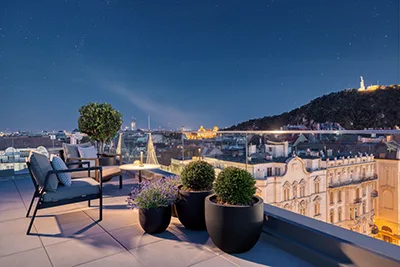 2. High Note SkyBar In The Aria Hotel.
Address: Hercegprímás u. 5, Bp 1051, Basilica Neighbourhood
Experience the epitome of elegance and style at High Note Skybar, a breathtaking rooftop bar at the 9th floor of the equally top-quality luxury lodging, the Aria Hotel Budapest. Highnote was one of the first roof terrace bars in Budapest that has excelled at the art of mixology since its opening.
Besides the great cocktails the ultimate draw of of Sky Note is the unparalleled 360° views of the city.
3. Roxy Rooftop Bar In Hard Rock Hotel Budapest
Address: Nagymező u. 38, Bp 1065, District V. Andrássy Av. Neighbourhood
Perched atop the Hard Rock Hotel, at Roxy Rooftop Bar you will savour not only the superb cocktails – a dazzling choice of Gin Tonics – but the breathtaking panorama of Budapest's skyline. An impressive backdrop for your night out!
The modern and stylish design, combined with the pulsating beats of live music, sets the stage for an electrifying evening.
Budapest Itinerary Day 3
Morning – Day 3: Central Market Hall
Start your final day in Budapest by visiting the Central Market Hall.
This indoor market is filled with stalls selling fresh produce, meats, cheeses, and Hungarian souvenirs.
Try some of the local delicacies, such as langos, a deep-fried dough topped with sour cream and cheese.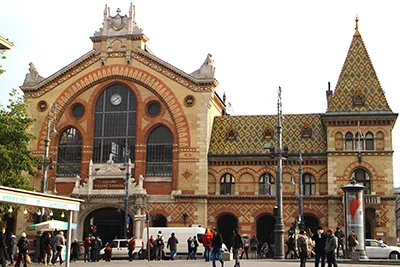 In the morning, the market is filled with vendors selling fresh produce, meats, and cheeses, as well as traditional Hungarian dishes such as lángos, a deep-fried dough topped with sour cream and cheese, and kürtőskalács, a sweet pastry cooked on a spit and coated in sugar and cinnamon.
The market is also a great place to shop for souvenirs and handmade crafts, with a wide variety of items available from local artisans.
But the market isn't just about shopping and eating – it's also an ideal place to immerse yourself in the local culture and get a sense of the daily life in Budapest.
Afternoon – Day 3: St. Stephen's Basilica and Andrássy Avenue – A Stunning Combination of History and Beauty
After your visit to the market, head to St. Stephen's Basilica, one of the most impressive buildings in Budapest.
St. Stephen's Basilica is a stunning example of neoclassical architecture, with its towering dome and intricate facade. It is named after Hungary's first king, St. Stephen, and houses his mummified right hand in a chapel.
Afterward, take a stroll along Andrássy Avenue, one of the most elegant streets in Budapest, lined with beautiful buildings, shops, and restaurants.
Visitors can climb to the top of the cupola for panoramic views of Budapest, or attend a concert in the stunning interior.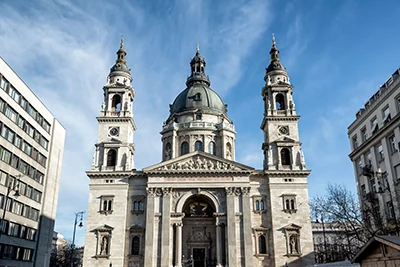 Classical Concerts in Budapest Basilica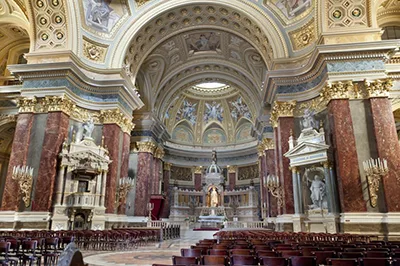 Treat yourself to a concert in St. Stephen's Basilica, one of the most beautiful neo-classical buildings in Budapest. Take your pick from 3 concerts, each with 4 seating classes.
Just a short walk away from the Basilica is Andrássy Avenue, a grand boulevard lined with beautiful buildings and luxury shops. It is a UNESCO World Heritage Site and is often compared to the Champs-Élysées in Paris. Along the avenue, you can see the Opera House, the House of Terror Museum, and the stunning Hungarian State Opera House
St. Stephen's Basilica and Andrássy Avenue are a nice combination of
History,
Beauty, and
Culture.
Whether you are interested in architecture, shopping, or just taking a leisurely stroll, these two destinations should definitely be on your Budapest itinerary.
Evening – Day 3: Ruin Bars – The Perfect Spot for an Evening Out in Budapest
Budapest, the capital city of Hungary, is well-known for its vibrant nightlife scene. Among the city's many entertainment options, the Budapest Ruin Bars stand out as unique and quirky.
These bars are located in the heart of the city and offer a lively ambience that is perfect for an evening out with friends.
As a local, I highly recommend checking out Budapest's Ruin Bars for a fun and memorable night.
What are Budapest Ruin Bars?
Ruin Bars are a collection of bars and clubs located in the city's historic Jewish Quarter. The buildings that house these bars were once abandoned and neglected, but they have since been transformed into unique and lively entertainment venues.
The bars feature an eclectic mix of decor, with mismatched furniture, quirky artwork, and a relaxed atmosphere.
What to Expect at Budapest Ruin Bars
Visitors to the Budapest Ruin Bars can expect a diverse crowd, with locals and tourists mingling together.
The bars offer a wide range of drinks, from
Locally brewed beers to
Cocktails and
Wine.
Many of the bars also serve light snacks and finger food to enjoy while sipping on your drink. One of the highlights of the ruin clubs is the live music and dancing.
Depending on the night, visitors can enjoy everything from
Local DJs spinning electronic music to
Live bands playing indie rock or jazz.
Recommended Budapest Ruin Bars to Visit
There are many spost to choose from, and each one has its own unique atmosphere and vibe.
One of the most popular bars is Szimpla Kert, which is considered the original and most famous ruin bar in Budapest. It features a sprawling outdoor courtyard, a cozy indoor bar, and even an outdoor cinema.
Another beloved ruin bar is Instant, which features multiple rooms with different themes and music genres. It has a vintage feel, with old-fashioned telephones and a photobooth for visitors to take picture with their friends.
For a more laid-back and intimate atmosphere, visitors can check out Mazel Tov. This bar features
A stunning indoor garden, a
Spacious outdoor terrace, and a
Menu of delicious Middle Eastern-inspired cuisine.
Tips for Visiting Budapest Ruin Bars
If you're planning a night out at the Budapest Ruin Bars, here are a few tips to keep in mind:
Arrive early: Many of the bars can get crowded, so it's best to arrive early to ensure you can find a table or spot at the bar.
Dress comfortably: The Budapest Ruin Bars have a relaxed dress code, so wear comfortable shoes and clothing that you can move and dance in.
Bring cash: Some of the bars may only accept cash, so it's best to bring some with you.
Don't be afraid to explore: The Budapest Ruin Bars are spread out over several streets, so don't be afraid to wander and explore to find the perfect spot for you.
FAQ
Q: What is the best time of year to visit Budapest?
A: The best time to visit Budapest is during the spring and fall when the weather is mild and the crowds are smaller.
April and May are ideal for a visit because of the sunny, warm weather, longer daily hours and the start of the festival season.
In fall we recommend September and October when despite the end of the high season you can still enjoy countless festivals, gastronomy and other programs with the added bonus of less crowd and pleasant fall weather.
Q: Is 3 days enough to see Budapest?
A: Yes, it is possible to see the main attractions of Budapest in 3 days, but you may need to plan your itinerary carefully and prioritize the sights that interest you the most.
Make sure you don't cram too many things to do and long, tiring walks from one attraction to other into your 3-day visit with .
TIP: Use public transport whenever possible and make sense. It's affordable with several ticket and travel card options (see next Q & A below).
Include coffee breaks, relaxing activities so that you don't get exhuasted by the end of the trip.
Q: How do I get from the airport to the city center?
A: Budapest has an efficient public transportation system. From the airport, you can take the Airport Express shuttle bus, public bus line 100E, or a taxi – download the Bolt application for a good, reliable Uber-like taxi service – to reach the city center.
Alternatively, you can also use ride-sharing services or arrange private airport transfers.
Q: How do I get around Budapest?
A: Budapest has a well-connected public transportation system consisting of 4 metro lines, an extensive tram, trolley and bus network. a swell suburban trains.
Buying a travel pass or a Budapest Card can be cost-effective if you plan to use public transportation frequently.
Walking is also a great way to explore the city center, as many attractions are within a reasonable distance of each other.
TIP: However, avoid walking too lengthy distances all of the time – cc. more than 800 – 1000 meters – over the 3 days to keep your energy levels up all through the end of your stay.
If you need to tarvel by taxi use the Bolt application it's a reliable and easy to use taxi service, similar to Uber.
Q: What currency is used in Budapest?
A: The currency used in Budapest/Hungary is the Hungarian Forint (HUF).
Q: Is it necessary to exchange currency before visiting Budapest?
A: We recommended that you have some Hungarian Forints (cc. 5 000 HUF in various banknotes as well as some coins) with you for small expenses like public transportation (although you can pay with card at the ticket vending machines), purchasing from local vendors or for toilettes.
Do not exchange currency in your home country before your visit, you'll get much better rates here in Hungary.
A good idea also is to have a Revolut or other similar card. "Revolut offers its customers significant savings when spending abroad by using the interbank exchange rate and cutting out transaction fees of between 2-3% charged by most banks and credit card companies."
You can easily exchange currency at banks (OTP is good), exchange offices (avoid the ones at the Airport and any other Interchange offices in the centre, like the one on Vörösmarty Sqr., or use ATMs in Budapest.
What are some traditional Hungarian foods to try in Budapest?
A: Traditional Hungarian foods you should try during your visit include goulash, a hearty beef soup with vegetables and noodles, chimney cake – cylinder shaped pastry baked over coal then coated with cinnamon sugar, langos, and strudel.