Getting Around the City
Travel in Budapest: Although Budapest's centre can be explored by walk some parts of the city can be reached more efficiently by public transport.
If you like driving, and don't mind traffic jams you can also get to your destination by car.
With more and more cycling paths, the Hungarian capital is becoming quite a biker-friendly city.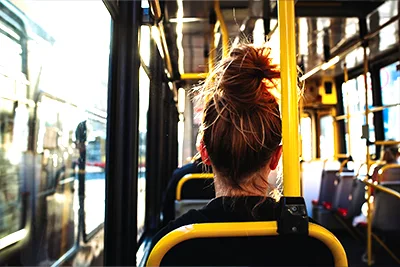 How to Travel in the City? Use public transport services to travel in Budapest, especially if you st…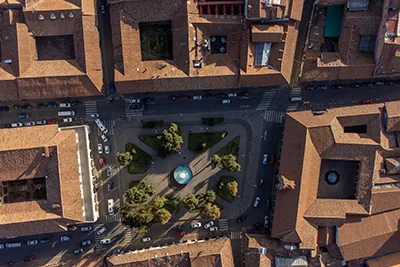 Get Familiar With the City's 23 Districts & Neighbourhoods! The 23 Budapest districts (ker…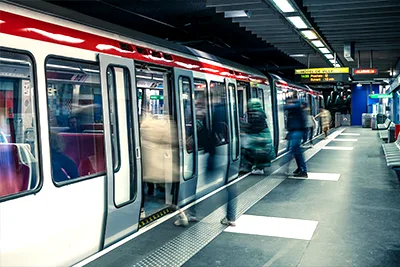 4 Lines Connecting Buda and Pest The city currently has 4 metro lines. The new line, M4/green line s…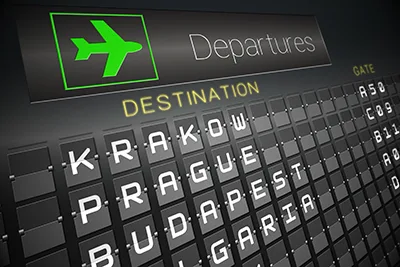 Information, Tips on Transportation to the City Center Many international airlines operate flights t…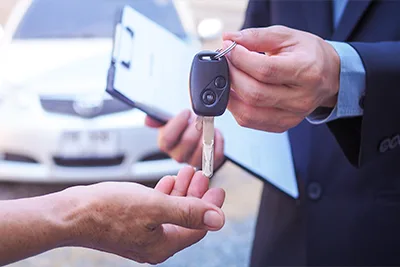 Driving in the City, Car Hire Companies There are many Budapest car rental companies, from big inter…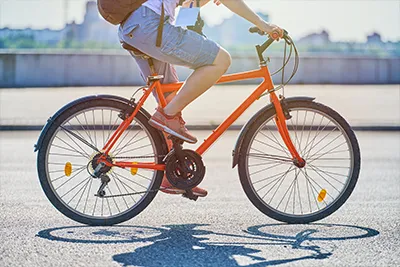 Explore the City by Bike! The number of cycle lanes and bikers have grown in recent years so biking …
Table of Contents

Table of Contents – Travel in Budapest
Getting Around The City: Trams and Tuk-Tuks
Budapest is a city full of history, stunning architecture, and vibrant culture.
One of the best ways to explore this beautiful city is by taking a ride on its iconic trams.
Whether you're a local or a tourist, the tram system in Budapest is a convenient and exciting way to get around.
Budapest has something to offer for everyone.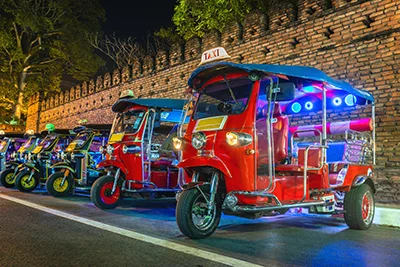 Travel in Budapest: Riding the Trams in Budapest
The tram system in Budapest is extensive, with over 30 tram lines covering the city's different neighborhoods.
These sleek yellow and (mostly) modern vehicles offer a comfortable and affordable means of transportation, and they provide riders with breathtaking views of the surrounding architecture. From the historical buildings in Buda to the bustling city center in Pest, there's so much to see while riding the trams in Budapest.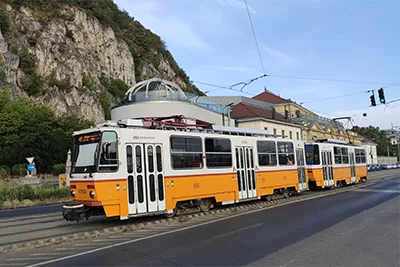 Aside from the stunning views, trams in Budapest are also easy to use. All you need is a valid ticket, which can be purchased at major tram and metro stations from ticket vending machines or online.
TIP: Look for the purple Ticket Vending Machines to buy a single ticket, a collection of 10 tickets at discount price, 24-hour travel card or other tickets or passes. It's easy to use and you can pay with credit card.

You can choose from a variety of tickets, including single ride tickets, daily passes, and weekly passes, depending on your length of stay and transportation needs.
3 Budapest Tram Lines For Cheap Sightseeing
To get the best out of riding a tram in Budapest in terms of sightseeing we recommend to travel on any or all of the following 3 tram services:
Tram 2 & Tram 2B will take you along the Pest riverbank between Közvágóhíd and Jászai Mari terminis. You can admire the bridges and the attractions on the Buda side including Gellért Hill and Buda Castle.
Tram 19 runs in Buda almost parallel with the route of Tram 2 in Pest. So you can view all the sights lining the riverbank in Pest, like the Hungarian Parliament building.
Trams 4, 6 travel along Nagykörút/Grand Boulevard
Must-See Attractions: From The Thermal Baths to the Ruin Bars
No trip to Budapest would be complete without a visit to one of the city's famous thermal baths. With their warm, healing waters and stunning surroundings, these baths are the perfect place to relax and unwind after a day of exploring.
And for those looking for a more lively atmosphere, Budapest's ruin bars are a must-see attraction. These unique and eclectic bars are located in abandoned buildings and feature a mix of live music, art installations, and quirky decor.
Exploring the City on Two Wheels: Bike Rentals and Segway Tours
Travel in Budapest : For those looking for a bit of adventure, renting a bike or taking a Segway tour is a great way to explore the city.
Both of these options will give you the freedom to explore at your own pace while enjoying some fresh air and exercise.
And with so many bike rental options and Segway tours available, you're sure to find one that fits your interests and schedule.
The Best Ways to Get Around: Taxis and Public Transportation
If you're looking for a more traditional way to get around, taxis and public transportation are both great options. And with Budapest's efficient and reliable public transportation system, getting around the city is easy and convenient.
In conclusion, Budapest is a city that truly has something for everyone.
From the grandeur of its historic buildings to the vibrant nightlife and unique attractions, there's always something new to discover.
And with so many different ways to get around, exploring this amazing city has never been easier. So pack your bags and get ready to experience the beauty and excitement of travel in Budapest!
Travel in Budapest : Conclusion
Exploring Budapest is an adventure that you don't want to miss. Whether you prefer the convenience of trams or the excitement of tuk-tuks, there's always something new and exciting to discover in this beautiful city. So the next time you're in Budapest, hop on a tram or a tuk-tuk and let the city take you on an unforgettable journey.
FAQ
What is the best way to get around Budapest?
The best way to get around Budapest depends on your budget, itinerary, and preferences. Public transport is the most efficient and affordable option, while private options offer more comfort and flexibility.
Is Budapest a walkable
Budapest is a walkable city, especially in the central areas. The city has many pedestrian streets and sidewalks, and walking is a great way to explore the city's attractions and neighborhoods. However, some areas, such as the Buda Castle District, are hilly and require more effort to walk.
How do I purchase a Budapest Card?
You can purchase a Budapest Card online, at the airport, or at major tourist centers throughout the city. The card is available in 24-hour, 48-hour, and 72-hour durations, and provides unlimited travel on public transport, as well as discounts at museums, thermal baths, and other attractions.
Are taxis expensive in Budapest?
Taxis in Budapest can be expensive, especially if you're not familiar with the city. Make sure to choose a licensed taxi company and agree on the fare before getting into the car. As an alternative, you can use the Bolt app, which offers ride-hailing services at a more affordable price.
Can I use Euros in Budapest?
The official currency in Budapest is the Hungarian forint (HUF), and euros are not widely accepted. It's best to exchange your currency to forints or use an ATM to withdraw cash. Major credit cards are also widely accepted in most establishments.
See also Our Facebook page fro more tips on getting around Budapest