On A Danube River Cruise
Have a wonderful evening enjoying authentic Hungarian folklore show and delicious four-course dinner while cruising on the Danube.
Dates in 2023:
Evening Cruise With Folk Dance Show & Dinner: every day at 19.00
The cruise departs from a pier near the Chain Bridge. The program ends at 21.00
TIP: You can book the program without dinner, with 7-tier wine tasting/5 local craft beers or 2 cocktails
Prices & Booking – Hungarian Folklore Show With Dinner & Cruise
TIP: Here you will find more details on the cruise with dinner and folk dance show in Budapest!
Why Go?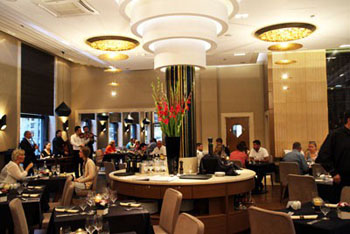 The elegant ship's restaurant's full evening program offers
a glimpse into Hungary's rich and varied folk heritage as well as
you get to taste the fabulous local cuisine and wines.
The award-winner Hungarian Folk Embassy's performance ensures a memorable cultural entertainment.
The show perfectly complements the fine meals – prepared by the talented gourmet chef Áron Barka especially for the occasion – and wines.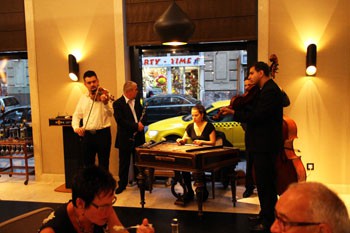 This evening program is a wonderful treat even for Hungarians.
At least, that's what my husband told me after attending the program.
He's not really keen on listening to folk music for extended time but even he was charmed by the talent of the music band especially the dulcimer player.
Not to mention the spectacular dance performance including the authentic bottle dance.
Folk Dance & Music, Dinner Featuring Classic Hungarian Dishes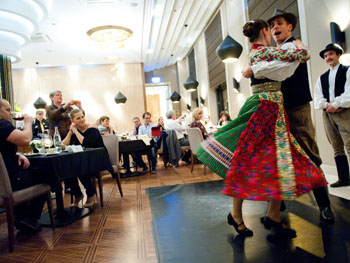 The dinner starts at 19.00 with live folk music playing in the background.
You can warm up to the evening with
a shot of pálinka (fruit distilate) or
a glass of Hungarian sparkling wine.
You can pick as many dishes and have as many servings as you like.
Have your fill of delectable local food!
During the dinner you'll be also served 3 glasses of wine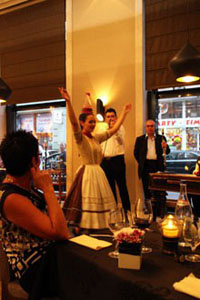 The folk music and dance program begins at 20.00.
During the 20-minute show performed by the Hungarian Folk Embassy band you'll learn about the folk music, dance and costume heritage of certain Hungarian areas:
Kalotaszeg
Mezőség
Szatmár and
Székelyföld in Transylvania
A diverse program giving you a taste of Hungary's colourful culture.
You'll be soon enchanted by the music of the string orchestra and the incredible performance of the dulcimer player (cimbalom).
Not to mention the prowess of the dancers.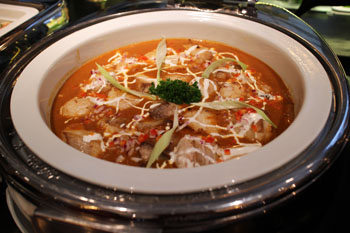 Price: 35 EUR (10 490 HUF) + 10 % service fee, that includes
the folk performance,
unlimited food consumption from the buffet table,
a welcome drink as well as
3 glasses of wine.
Reservation is required due to the popularity of the program and limited places.
After reservation you'll receive a confirmation in e-mail from the restaurant within 2 days.
Full Menu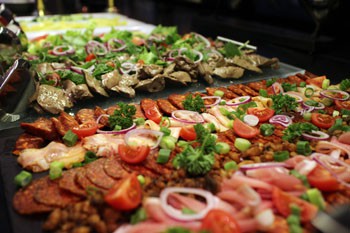 Welcome drink: a shot of Pálinka or a glass of Hungarian sparkling wine
Soup: Goulash Soup from Grey Cattle with homemade Noodles
Starters: an assortment of appetizers including
Fillet of Cold , Roasted Goose Breast
Roasted Duck Liver in its Fat
Cold, Cooked Smoked Porck Knuckle wiht Boiled Eggs and Horse-Raddish Sauce
Homemade Mixed Pickles
Salads with Dressing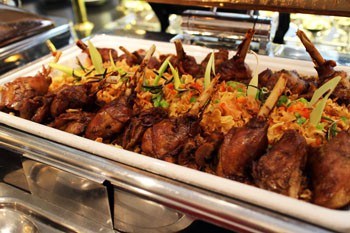 Main dishes:
Catfish Paprikash with Ewe's Cottage-Cheese Pasta
Goose Leg (slowly roasted) with Braised Cabbage and Mashed Potato
Roasted Pork Spare Ribs Csáky style, with Roast Potatoes Seasoned with Rosemary
Chicken Paprika Stew with Homemade Dumplings
Stuffed Cabbage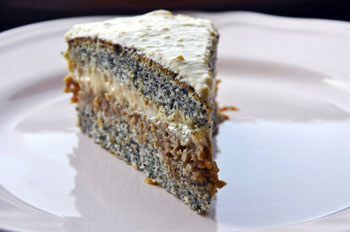 Desserts:
Apple-Poppy Seed Cake Szabolcs-style with Vanilla Sauce
Gundel Pancake with Walnut filling and Chocolate Sauce
Somló-style sponge cake: sponge cake layered with rum raisins, ground walnut, vanilla sauce, chocolate sauce, and whipped cream on top
Included are also 3 glasses of wine:
a rose,
a white Badacsonyi Kéknyelű: a traditional Hungarian variety grown at the Badacsony Hill, north of Lake Balaton. The Kéknyelű has light straw colour, fruity taste, with dry, crisp acidity and spicy aroma.
a red Kadarka from the Szekszárd region: It's a full-bodied red wine with elegant acids and unique bouquet and flavour, with hints of vanilla spiciness.
Related Programs:
1. If you wish to see more Hungarian folk dance and learn about local culture, music and folk costumes attend a 1.5-hour Folk Performance in Duna Palota.
2. Take a look at also our package program offered at discount price (10 % off): Hungarian Folk Show + Night Cruise & Dinner. You'll enjoy two great programs for less.
Related Posts:
Hungarian Cuisine – Popular Local Dishes – Goulash Soup – Budapest Restaurants with Hungarian Cuisine – Wine Tasting in the City Centre