If you're a wine lover looking for a unique and memorable experience, look no further than a Budapest cruise with wine tasting.
Hungary is home to some unique and quality wine producing regions, and our boat excursion will take you on a journey not only on the majestic Danube but through the country's rich wine history.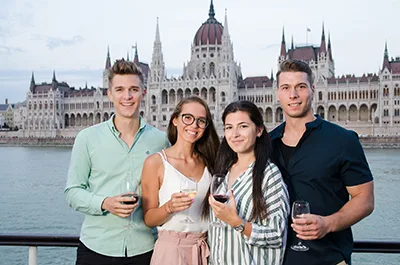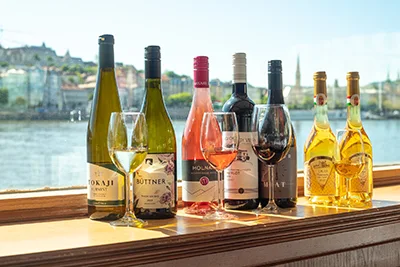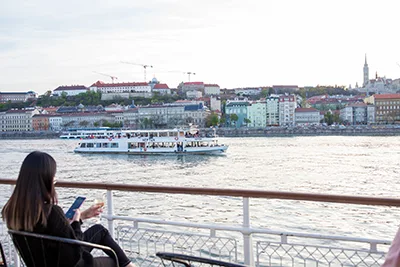 The Excursion Offers You The Best Of Both Worlds:
A scenic excursion 2 times a day: in the evening (19.00-21.00) or at night (22.00-23.30)
On a spacious panorama boat where you will sail under the grand bridges spanning the Danube allowing you a fantastic view of the attractions lying on the riverbanks.
7 high-quality local wines to sip during the trip (80 ml samples) with snacks – pogácsa, a Hungarian savoury scone – served during the tasting. See wine list here.
Tokaji cruise: This is a special, more budget-friendly tour focused on the Tokaj wine region famous for its dessert aszú and szamorodni wines. You will enjoy a glass of Tokaji wine during the 2-hour evening (departs at 19.00 every day) or the 1.5-hour nighttime cruise (departs at 22.00). It costs only 27 EUR (25 EUR for students).
The hostesses will share the most essential things to know about each wine you taste.
Prices:
Full price: 7-tier wine tasting: 45 EUR, 1-glass of Tokaj wine cruise: 27 EUR
Students: 7-tier wine tasting: 42 EUR, 1-glass of Tokaj wine cruise: 25 EUR
Note: The age limit of alcohol consumption in Hungary is 18, you might need to prove your age with a valid ID.
What Will You Get?
7 wine samples (8 cl each) with short background information pprovided by the hostess – see the list and short description of wines below!
Scones (pogácsa: Hungarian savoury pastry usually with cheese sprinkled on top)
2-hour or 1,5 hour (in case of the early afternoon cruise at 14.00 and the night cruise at 22.00) tour on the Danube on air-conditioned/heated panorama ships.
Live music and folklore show on the evening (19.00) and night cruises (22.00)
All in all a wonderful sighseeing program that will make your visit to Budapest a memorable time.
Date & Time Of Wine & Cruises in Budapest 2023
We offer the Budapest cruise with wine tasting program 3 times a day, depending on season:
Evening cruise with wine tasting & folk dance show accompanied by live music at 19.00 – 21.00 (Every day, exc. on 14., Feb, 20. Aug, and 24., 31 Dec)
Early afternoon cruise with wines at 14.00 – 15.30: between 01. May – 31. October: every Friday and Saturday
Night Cruise with Wine Tasting & Live Music at 22.00, – 23.30 between May – 31. October: every Friday and Saturday, exc. on 14., Feb, 20. Aug, and 24., 31 Dec)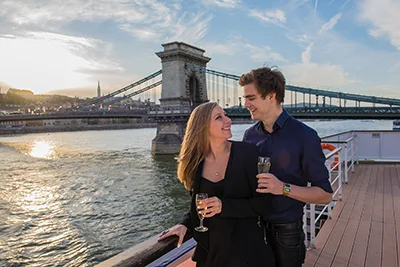 Sights You Will See – Itinerary Of The Wine Cruise
Take our scenic Budapest city cruise with wine tasting on the Danube and see the famous sights in a relaxing way.
In good weather you can enjoy the view and the wines, take photos from the open deck of the ship.
In spring and summer you can catch the sunset on the evening cruise starting at 19.00. A most appropriate time to take amazing photos on the deck of the ship.
The ships are air-conditioned if you happen to be in Budapest during a sweltering period. In cold weather the heating is turned on to ensure your utmost convenience and enjoyment.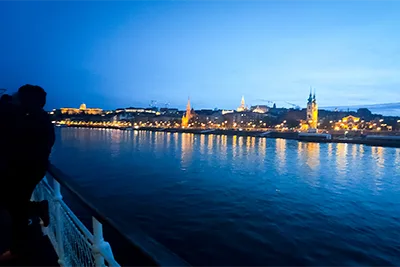 All cruises take the same route on the Danube taking you on a scenic tour that covers many of the must-see attractions of the Hungarian capital, including the:
Chain Bridge – the first permanent crossing over the Danube built in the 19. century
Parliament – dominates the pest side with its domed cupola and impressive size.
Margaret Bridge – takes you to Margaret Island a huge recrational area with landscaped parks, a music fountain, running tack, a small zoo, Japanese Garden, restaurants and street food joints.
Buda Castle with the Royal Palace, museums and quaint, winding streets.
Fishermen's Bastion – the white spires of this panorama lookout next to Mathhias Church overlook the Danube.
Gellért Hill with the Citadel Fortress and the Liberty Statue on its top.
Whale (Bálna) building – a modern steel and glass construction in the shape of a whale that become symbolic of the neighbourhood.
Palace of Arts and the National Theatre – two more contemporay buildings lying on the Pest side. They look most striking illuminated at night.
Why Go On A Wine Cruise Whit Wine Tasting In Budapest?
In conclusion, a wine-tasting experience aboard a Danube cruise in Budapest is truly unforgettable, and a must-try for any wine enthusiast.
From the legendary dessert wine, the Tokaji Aszú to the bold and flavorful reds of the region, you will savor some of the most exceptional wines in the world, and gain a deeper appreciation of Hungarian wine culture.
In addition, a sightseeing boat tour is the best way to see Budapest's World Heritage protected panorama!
So why not reserve your spot today, and discover the world of Hungarian wines for yourself while delighting in the spectacular view of the city?
Book a Wine Tasting Cruise
*Note: Places tend to sell out quickly in late spring, summer, early autumn and during holidays so please book in advance to secure your spot!
Cruise With 7 Local Wines or Tokaji & Folk Show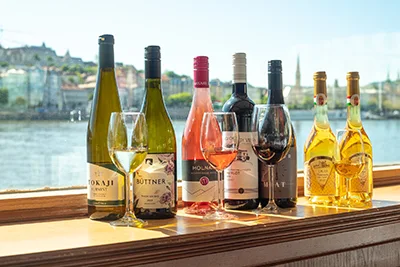 Departure: 18:30 or 21:30 / Duration: 120 min. – From €27
Wine & Dine – Cruise with 5 Local Wines & Hungarian Appetizer/Cheese Plate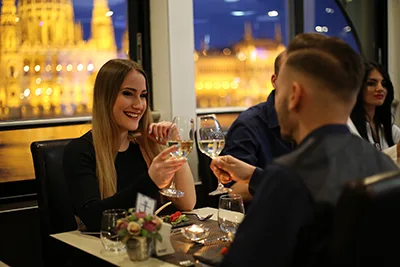 Departure: 19:00 / Duration: 80 min. – From €49
Wine & Dine – Cruise with 5 Local Wines & Hungarian Appetizer/Cheese Plate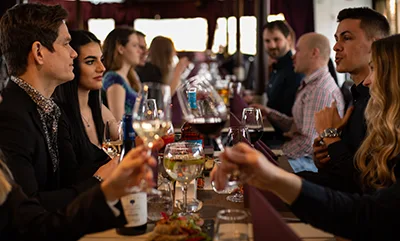 Departure: 20:30 / Duration: 80 min. – From €49
Evening Cruise + Wine Tasting & Folk Show At 19.00
Every day at 19.00 – 21.00 (except on 14. February, 20. August, 24. December, 31. December)
The evening cruise lets you enjoy a 20-minute folk dance performance, a perfect accompanying program for sampling wines.
Authentic folk melodies by a professional band, the Hungaria Folk Ensemble & Orchestra, add to the atmosphere of the program.
You can experience the tunes of a unique Hungarian instrument the cimbalom/hammered dulcimer.
Payment
With Bank Card, Credit Card.
After payment you automatically receive your E-Ticket.
Please present it in print form or on your mobile/tablet to our staff at the meeting place, the Danube Palace.
On the tour you can taste 7 different wines (8 cl from each) from various Hungarian wine regions and wineries including the famous Tokaj region!
You can buy more wines or other drinks from the bar on board the ship. You can also purchase Hungarian wines or other drinks to take home with you.
The Wines You Will Sample:
Tokaji Furmint Grand Selection
A light dry and fruity white with pale yellow-greenish colour and complex notes, and lively acidity.
Its aroma displays a clean, substantial, yet delicate spiciness.
The lively acidity in the wine blends beautifully with the fruity, citrusy aromas of the Furmint grape variety, which is complemented by the minerality of the Tokaj Wine Region's vineyards.
This light wine with a long aftertaste is a perfect start to your wine tasting!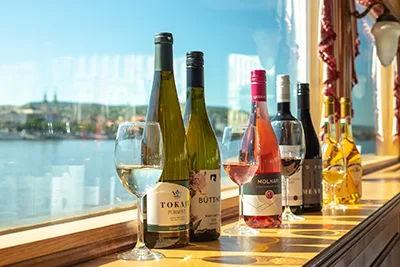 Büttner Pinot Grigio
This lovely white is made from grapes harvested from the volcanic slopes of the Badacsony Hill, in the northern part of Lake Balaton.
Its fresh and rich aroma mainly features pear and peach, complemented by a creamy texture in the mouth.
The refreshing, vibrant acids make this a great light terrace wine! It is a great accompaniment to salads and fish dishes, but it is perfect on its own or even as a spritz.
Molnár Blue Frankish Rosé
This fresh, vibrant rose full of aroma and flavour comes from the Mátra Hills region in Northen Hungary.
Its pleasant acidity bursting with fruity aromas makes this rose wine a real favourite of the ladies.
Merlot By György-Villa Vinery – Villány Region
A red blend produced in the Villány region with medium body, and notes of berries and spices.
It carries a deep, shimmering crimson color. You will be enchanted by its seductive aroma of forest fruits.
In addition to blueberries and wild blackberries, you can also find a hint of dried cherries.
It is full of flavor and velvety caressing, while the lushness of the rich fruitiness will touch your attention.
A clean and harmonious taste that is full of life and energy. Ideal for
Hungarian dishes,
Roasted or grilled games, pheasant or a
Mixed cheese plate.
Pastor Red for Meat – Szekszárd Region
Tibor Juhász (Pastor is a synonym for juhász in Hungarian, meaning sheepherd) is the owner of this small boutique winery in the Szekszárd region.
He was born into a wine maker family with generations of wine growing and wine making experience.
This red cuvée produced from the varieties harvested from the different vineyards of the
winery has complex, full character.
They applied conventional technology for fermentation and then matured the wine in oak barrels
for 12 months .
Recommended for grilled meats and paprika dishes.
Tokaji Szamorodni Sweet
This sweet dessert wine from the Tokaj region is beloved wine by many locals, and a frequent drink on holdays and family occasions.
Its aroma is delicate, elegant, spicy and pleasantly fresh, dominated by citruses. Fruity, honey flavors spiced with a hint of peach will delight your taste buds.
Refinded elegance and rounded acids. It has a beautiful balance, with a long finish.
Tokaji Aszu 5 Puttonyos
Indulge in the legendary Tokaji Aszú wine, one of the highlights of this wine-tasting experience and a worthy drink to end the program.
This sweet wine is created from grapes that have been infected with a specific fungus, which concentrates their sugars and flavors.
The result is a rich and intricate wine with hints of
Apricot,
Honey, and
Caramel, boasting a distinctive character that sets it apart from other dessert wines such as Sauternes from Bordeaux.
TIP #1: If you would like to eat instead of sampling wines please consider booking our evening cruise with Hungarian dinner and folk show or the late night cruise with warm buffet dinner and live music.

For families with kids we recommend the daytime cruise with lunch starting at 14.00.
TIP #2: Try a unique Street Food Cruise while in Budapest! Taste the locals' favorite savoury snack, the Lángos or have Pizza with Unlimited Drinks (Beer, Soft Drinks, Tea, Coffee). Departs in the afternoon/early evening at 16.00, 18.00 and at night at 20.00, 22.00.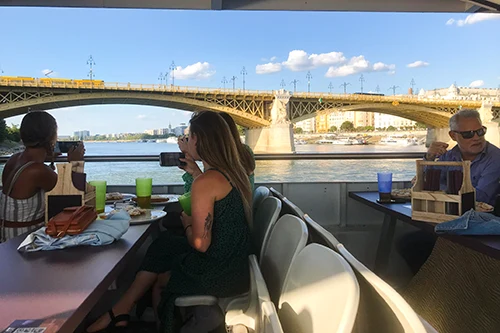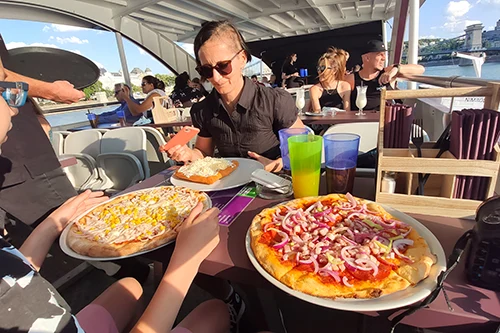 Similar Programs: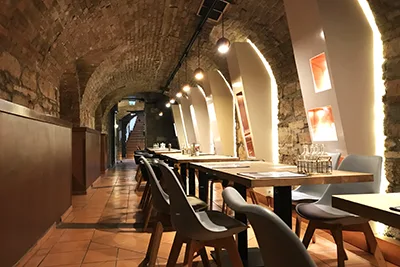 Wine Tasting Experience in Palinka Museum
Savor the complexity and heritage of Hungarian wines as you explore a curated selection, ranging from the renowned Tokaj to the robust Kadarkas of Villány, guided by our knowledgeable specialists.
9 different wines for tasting / 9 different charcuteries
Duration: 120 min. – Price €57
Craft Beer Cruise Budapest – 5 artisan brews on a 2-hour long boat tour, every day at 19.00
Wine Tasting in Budapest – best places to sample local wines.
Top Wine Bars in Buda and Pest – really good venues to try local wines, learn about wine makers and wine growing regions. Food is also good at most of these places.
More Cruises in Budapest – lunch, afternoon, evening and night tours with or without meal.
Danube Cruise with Cocktail/Beer – at 14.00, 16.00 and 19.00 – 2 cocktails of your choice or 3 mugs of local beer (0,5 L).
See also our Facebook page for more photos and tips on what to do in our city!
Terms & Conditions
By booking the program you are agreeing to the terms and conditions.