Spectacular Dance & Music Performances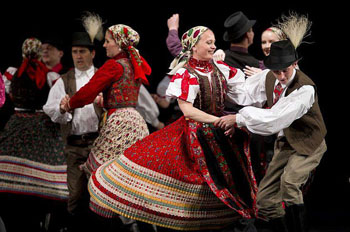 Hungarians are passionate people and their folk dance and music clearly represent their emotions.
The best way to get acquainted with Hungarian culture is to visit some of the best Hungarian folk programs in Budapest performed by the:

Hungarian State Folk Ensemble, the
Danube Folk Ensemble, and the
Rajkó Folk Ensemble.
Each performance starts at 20:00, and consists of two 40-45-minute sessions, with a break in between.
TIP: The program is available in package with a Night Cruise & Dinner
Table of Contents

Table of Contents – – Folklore Show In Budapest
Ticket Prices (2023) – Skip-The-Line Online Booking:
1. category: 41 EUR, students: 38 EUR
2. category: 37 EUR, students: 35 EUR
3. category: 32 EUR, students: 29 EUR
Secure you place for the show by buying your tickets online. This way you avoid worrying about having to stand in queue or tickets selling out (as is often the case during the tourist season).

After payment you will receive an E-Ticket in email. Just present your ticket to the host/hostess either in print form or on your mobile/tablet.
Book Your Place To A Hungarian Folk Dance Show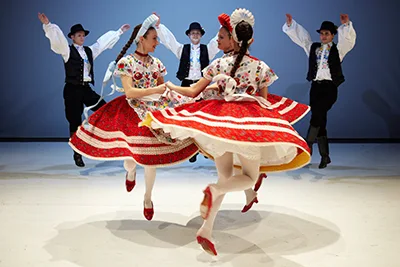 Hungarian Folklore Dance Performance & Concert
Treat yourself to a cultural extravaganza as the famous Rajkó Folk Ensemble puts on a 1.5-hour dynamic and magical show of traditional music, dance, and costumes.
Duration: 90 min. – Price From €32
Venue – Aranytíz Cultural Centre (Aranytíz Kultúrház)
Address: Arany János u. 10, Bp., 1051, district V.
Getting There: Tram 2, get off at Széchenyi István tér (Chain Bridge), a 3-min walk from there (cc. 290 m)
The program is held in a donwtown venue, a popular cultural centre of Budapest. You easily get there either by walk or public transportation.
About the Hungarian Folk Dance Programs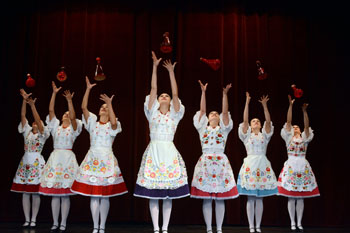 The Hungarian State Folk Ensemble (formed in 1951), the
Danube Folk Ensemble (formed in 1957) and the
Rajkó Folk Ensemble are three of the best local folk ensembles in Hungary with the longest traditions.
They have performances all around the country as well as abroad.
The choreographies of the three dance groups are based on authentic folk dances.
Some of them are very old (a couple of hundreds years) and were collected in villages insulated from the effects of the modern world.
The dance performances let you learn a lot about the
Music,
Dance, and
Costume heritage of Hungary.
Hungarian State Folk Group Performances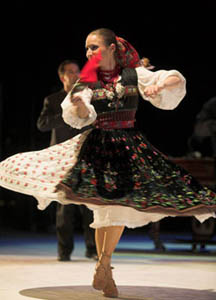 Address: Duna Palota, Zrínyi urca 5., Budapest 1051 – Danube Palace a yellow neo-baroque building on the corner of the Four Seasons Hotel.
At the end of the street you will see the Basilica. There will be a board with the program name outside and a person to greet you.
The Hungarian State Folk Ensemble was founded more than 60 years ago and it is one of the best and most popular folk dance groups in Hungary.
A Glimpse Into Hungarian Folk Culture!
They collect and play authentic folk music to preserve Hungarian folk dances and traditional costumes through spectacular dance shows on the stage.
They have a rich repertoire that you can enjoy in Budapest in the beautifully refurbished Vigadó Hall of Buda at the foot of the Castle Hill.
The Ensemble has 30 dancers, 14 are members of the Gipsy Orchestra and 5 are members of the Hungarian Folk Orchestra.
The choreographies are all based on authentic dances, some of which were collected in small, isolated villages with dance elements dating back hundreds of years.
TIP: Enjoy Two Programs For Less!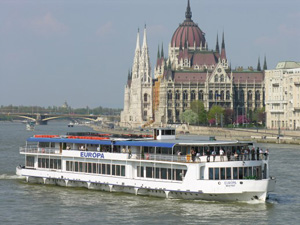 1. Get discount price by booking a Folk Dance Program + Night Boat Tour with Dinner/Drinks package together.
This way you not only have a memorable evening in Budapest packed with interesting programs but you also save money.
After the folk performance the hostesses will accompany you to the ship on the Danube embankment.
It takes about 4-5 minutes by walk.
The cruise ship – a beautiful, spacious historic boat – departs at 22.00. The river cruise lasts 1.5 hours which will fly by while you savour the warm dinner served buffet style and marvel at the night view of the city.
The menu includes Hungarian specialties like stuffed cabbage and goulash soup.
Book Your Place For The Folk Show + Night Cruise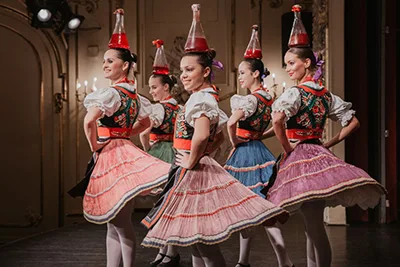 Hungarian Folklore Dance Performance & Dinner Cruise
1.5-hour hungarian dance performance and a dinner cruise with multiple traditional courses and two drinks.
Duration: 210 min. – Price From €101
TIP: Find out more about the late night river cruise with dinner in Budapest, the post includes dinner menu that consists of 3 course.
2. Folk Show + Thermal Bath Entry
You can also get a discount ticket to the Gellért or the Széchenyi Thermal Baths with your Folk Performance booking.
Budapest is well-known for its bath culture and grand baths where the pools are fed by thermal springs whose water is rich in minerals and known for its medicinal and relaxing qualities.
TIP: Read more details about the Danube Cruise & Dinner in Budapest.
Danube Folk Ensemble Performances
Founded in 1957, the Danube Folk Ensemble is one of the most popular professional groups in Hungary. The members of the group are both excellent dancers and musicians.
24 professional dancers and 5 musicians are in the Ensemble.
The Danube Folk Ensemble's repertoire includes some rare Hungarian folk dance traditions, combined with faithful interpretation of Hungarian folk music.
You can enjoy their diverse repertoire on the weekly performances in the Danube Palace located Budapest's city centre.
Rajkó Folk Ensemble Performances
Talented young Gypsy musicians form the Rajkó Folk Ensemble that was founded in 1952.
Their incredible skills and talent originate from traditions of century-old gypsy dynasties
The wide range of their repertoire includes many genres from classical to folk music, and from operettas to Gipsy music.
They toured Europe, North and South America, and Australia spellbinding the audience with their passionate performances that you can enjoy now in Budapest.
Related:
Hungarian Dinner with Folk Show – Folk Festival in May – Classical Music Concerts – Organ Concert in the Basilica – Cultural Centres in Budapest – Our Facebook Page