What & Where To Eat If You're A Vegan In Budapest?
Just like in many other parts of the world, the plant-based food revolution has also reached Budapest.
Keeping up with the global trends, the city now offers a wide range of opportunities for those who follow this particular diet or just simply intrigued by this new phenomenon.
In this article I'll present you the cream of the crop vegan restaurants and bakeries in Budapest, while also mentioning places where you can try out the local cuisine, so as not to be missed out on the traditional Hungarian dishes.
One of the many reasons for this is that gastronomy forms an integral part in every culture's life and you can get a better grasp of Hungary by tasting the dishes of the folklore.
Table of Contents – Vegan Budapest
Bakeries And Breakfast:
Fill Good – Vegan Bakery & Coffee

Address: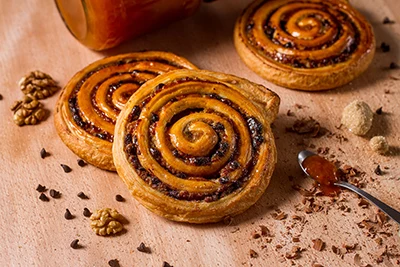 Hollán Ernő u. 3, Budapest 1136, District XIII., near Jászai Mari tér
Getting There: Take tram 4, 6 or 2, get off at Jászai Mari tér, cc. 1 minute walk from there (70 m)
Opening Hours:
Mon: 08:00 – 14:00
Tue – Fri: 07:00 – 19:00

If you ever happen to be around Jászai Mari Square and crave some pastry then pop down to Fill Good, to start your day with freshly cooked vegan bakery goods.
The place is run by a small family business and is completely vegan.
Their specialty is without a doubt the stuffed pastries, but they also sell
Hungarian classics like cocoa snails or
Savoury snacks like pogacha, usually with some twist in the flavours.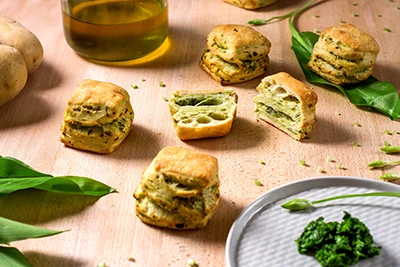 Besides, they also have a pizza section, mixing the essence of both Italy and Hungary.
Note: They use cane sugar as sweetener and there are also numerous gluten free and whole wheat delicacies, free from any additives.
TIP: Fill Good is right next door to Madal Specialty Coffee Bar if you also crave top quality coffee made from freshly roasted beans.
Naspolya Nassolda Cake Shop- Healthy Desserts, Natural, Raw Ingredients
Address:
Káldy Gyula u. 7., Bp., 1061, Distict VI., close to the Basilica, Opera, Andrássy Av.
Getting There: It's about 3-min walk from Deák Ferenc tér Metro station (M1, M2, M3 lines), tram 47, 49 also stops there
Opening Hours:
Tue – Fri: 12:00 – 19:00
Sat – Sun: 10:00 – 19:00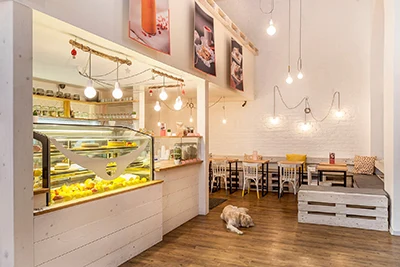 Located centrally in the city's "party-district", in close vicinity to the Budapest's St. Stephen's Basilica and the Opera House on Andrássy Avenue, Naspolya Nassolda truly offers a small island of peace in the hustle and bustle of Budapest.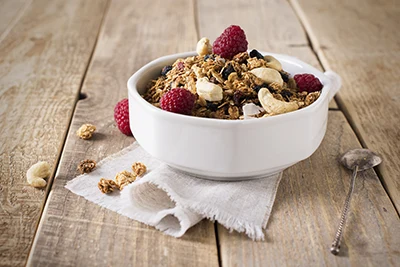 To be as natural as possible, not only are they
Flour-,
Egg- and
Milk-free, but they also
Avoid artificial sweeteners and instead use dried fruits for sweetening.
What's more, they also follow the raw vegan philosophy, which means their products are made without any heat treating, to conserve the ingredients' pure flavour.
Apart from pies and cakes, the bakery also sells delicious snacks and breakfast granolas, let alone the fact that they make their own almond milk every morning.
Prices In Naspolya Nassolda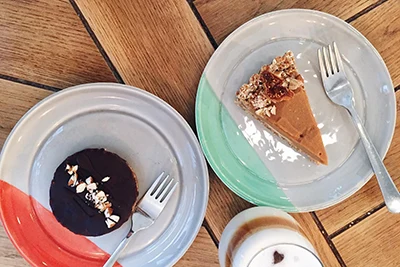 Due to the carefully selected, top quality ingredients and careful preparation, a slice of cake cost cc. 1 000 – 1 500 HUF
TIP: Naspolya is the Hungarian name of medlar, a less known fruit related to apple and quince.
It's edible when the skin turns brown and the inside is soft and mushy. It's rich in vitamin C.
Hungarian Flavours – Re-Created In Vegan Form
Napfényes Restaurant – Affordable Place, Great Daily Menu
Address:
Ferenciek tere 2. Bp, 1053, District V., Downtown
Getting There: Buses 15, 115, M3 metro, Frenciek tere stop, 1 minute by walk, Tram 2 Március 15. tér stop, from there: 5 minute walk
Opening Hours: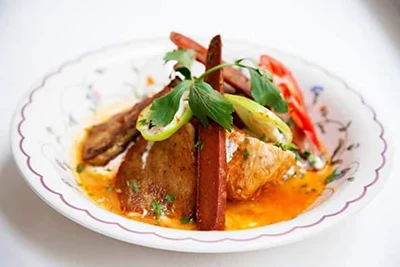 Napfényes Restaurant is a great place to introduce you to the local, traditional gastronomy with dishes like
Goulash,
Stuffed cabbage and
Paprikash.
On the daily menu they usually serve other wonderful, Hungarian treats but there are also appetizing pizzas made from spelt flour and more exotic Asian food.
The décor is really fancy and it's all in all a pleasure place to enjoy your meal at.
You should also bear in mind that the menus aren't extortionate and the prices are affordable despite the fact that it has plentiful vegan, and even gluten-free options.
Daily Menu Prices: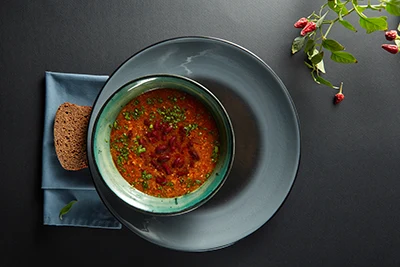 They have a very good daily menu of soup and main dish at moderate price:
Soup is 700 HUF – 900 HUF,
Main dishes are around 1 600 HUF- 1 900/3 300 HUF.
A La Carte Dishes
Bean Goulash Soup (2.5 dl): 990 HUF
Falafel plate with pita bread or french fries: 3 300 HUF
Pad-thai style rice noodles with tofu: 3 700 HUF
Pizzas
If you feel like having pizza you can choose from around half a dozen options – all made from spelt flour, without any meat and dairy.
Pizzas cost 3 300 HUF, with the exception of Margherita that is 3 000 HUF.
Kozmosz Rastaurant – Meatless, Dairy-Free Local Fare
Address: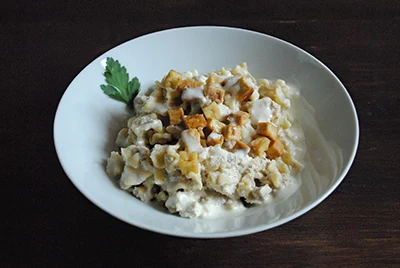 Hunyadi tér 11., Bp., 1067, District VI.
Getting There: Trams 4, 6, Király utca or Oktogon stop, 5-min walk from there (500 m), M1 underground: Vörösmarty utca station, 1-2 minute by walk (cc. 240 m)
Opening Hours:

Another fantastic place where you can try out veganized versions of Hungarian specialties.
The restaurant itself is in a cellar and is not as decorative as Napfényes Restaurant for example, but the food definitely compensates.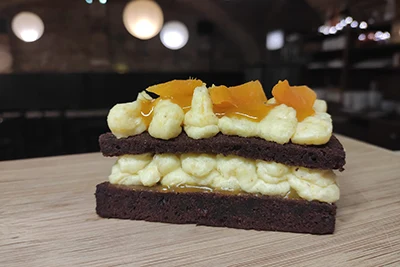 If you are in an experimenting mood, you should try túrós csusza – pasta with cottage cheese – or sejtan stew with dumplings here, but there are also numerous burgers and other mouthwatering dishes like the pancake stack cake.
Lastly, most of the meals on the menu are available in gluten-free and soy-free versions too.
Prices In Kozmosz:
Bean goulash: 1 100 HUF
Weekly soup offer (seasonal): 900 HUF
Cottage cheese pasta: 2 200 HUF
Burgers: 1 750 HUF, with french fries: 2 200 HUF
Seitan stew Hungarian style with "nokedli" dumplings: 2 200 HUF
Burger & Street Food
Jimmy'Z Vegan Burger – Burgers & Breakfast
Address:
Podmaniczky utca 20., Bp. 1065 Ditrict VI.
Getting There:
Opening Hours:

Jimmy'Z Vegan is a great example for representing that veganism isn't all about salads or tofus, but there is a lot more beyond.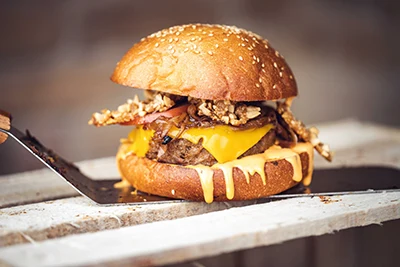 The burgers look phenomenal and appetizing just like, or even more than regular burgers with meat.
One popular sandwich is the Pulledshroom, which is just like pulled beef sandwiches, except they contain oyster mushrooms and vegan cheese melted on the top.
This is also a perfect spot for breakfast, since they sell pancakes, Bundáskenyér (a Hungarian meal really similar to French toast) and a Vietnamese sandwich, called bánh mí.
They are also trying to be as environmentally friendly as possible, so the packaging, the cutlery and the boxes are all from wood or paper.
Besides, they have an other restaurant, which specializes in pizzas on Garay utca 30.
Vegan Love – Burgers, Hot-Dog, Chili, Gyros
Address:
Buda side: Bartók Béla út 9.,
Pest side: Vitkovics Mihály u. 8.,
Opening hours:

If you up to some street food, definitely check out Vegan Love.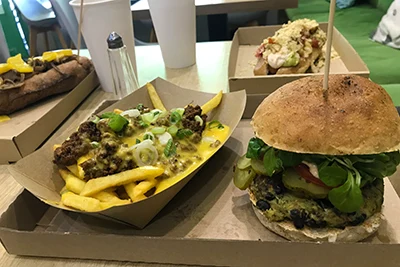 You can now find them at both Pest and Buda side, because they recently opened another place along the original one on Bartók Béla út (Buda, near Gellért Hill and the Gellért Bath), with a larger storefront and a spiced up menu.
Their main line is originally veganized burgers, gyros and hot-dogs, in which they made a really good job transforming these foods and letting us enjoy it without any harm to the environment.
However, the menu has now been broadened with meals like
Buffalo wings,
Lobster Tails and
Smoked BBQ Burgers, which absolutely worth a try.
What We Had When Visited Vegan Love In July 2022:
After splashing in the outdoor pools of the nearby Gellért Bath on hot day we had lunch in Vegan Love on Bartók Béla Blvd.
The place is not too big, just a couple of tables inside to sit down and a similar size terrace overlooking the busy Bartók Béla út.
I had the Juicy Lucy burger:
Bean and zucchini patty in spelt bun with
Vegan cheddar cheese,
Tomatoes, lettuce, pickles, some onions
Topped with burger sauce.
It was quite nice and cost 2 600 HUF. The Mexican burger with black bean patty, cheddar cheese, marinated peppers, guacamole, jalapeno mayo is also delicious (2 600 HUF).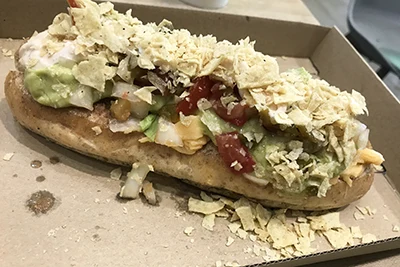 We also ordered the chili cheese fries as a side dish.
It's quite filling and not a small portion so you can have it on its own without a burger (price: 3 000 HUF).
Next time I will definitely try the Mac 'n' Cheeze made from gluten free macaroni pasta, hot cheddar sauce (vegan), Lyonnaise onions, soy sour cream, sprinkled with fresh parsley (1 700 HUF).
There is also seitan gyros in whole wheat pita bread (2 200 HUF or if you feel like having a heartier meal then a gyros platter – seitan, whole wheat pita, mixed salad – is a good choice (2 600 HUF)
You can also have chick 'n' chips (3 000 HUF), chick 'n' nuggets or hot dogs and baguette sandwiches (Prices: of these is between 1 900 – 2 600 HUF).
My older son had the Philly Cheese Steak Sandwich ( 2 950 HUF) which he liked a lot. My younger boy adores Mexican food so he went for the Mexican dog (2 600 HUF) which he raved about.
The gluten free bun option in the burgers adds an extra 850 HUF to the price.
Drinks Include:
Lemonade (800 HUF, 4 dl),
Green smoothie ( 1300 HUF,
Coke and
Cleared water (350 HUF, 4 dl.
Epoch Vegan Burger – Plant-Based Version Of McDonald's
Address:
Királyi Pál u. 20., Budapest 1053, Distric V., at a 3-min walk from the Central Market Hall
Getting There: tram 2 Fővám tér stop, 3-min on foot (250 m), buses 15, 115, get off at Török Pál utca, walk cc. 2 min (150 m)
Opening Hours: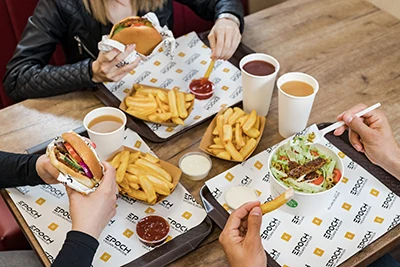 Epoch was the very first place to sell vegan burgers in Budapest, going under the name of Istvánffi Veggie Burger and after a rebranding in 2021 it is still the most popular vegan burger franchise in the city.
Their branding is indeed really similar to McDonalds' or Burger King, except they are focusing on pure, natural, wholly plant-based ingredients, therefore their burgers are free from any additives, colourants and flavour enhancers.
You can choose from three types of patties:
Pea-,
Oat and
Mushroom with all kinds of different sauces.
It's worthy of note that every part of the burgers are made locally at their kitchen, even the buns.
Prices At Epoch Burger
It's one of the most budget friendly places. Burgers cost between 1 500 HUF and 2600 HUF.
There is a choice of small or big menu if you want to add fries and drink to your burger Prices. 2 400 – 2 600 HUF.
Epoch has one option for dessert called meggyes álom (sour cherry dream) – sort of dumpling filled with sour cherry, then breaded and deep fried. Costs 950 HUF.
Cafes & Bistros
Madal Food Bar & Cafe – Italian Pasta & Pizza
Address:
Alkotmány u. 4., tram 2, M2 /red metro, Kossuth lajos tér stop, 3 -minute walk (350 m)
Opening hours:
Don't miss this bistro if you're wandering around the Parliament, since they offer tantalizing pastas, quesadillas and pizzas.
The pasta is freshly made and everyday there's a selection of 4 sauces you can choose from, all served with durum pasta and you can also order a soup from the daily menu.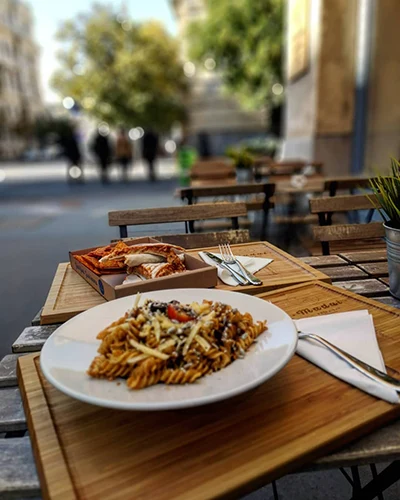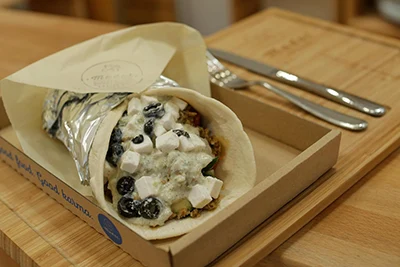 When it comes to the pizza, they use bio wheat flour and one of the best kinds of tomato from Italy.
Perhaps he biggest advantage of the place is that it is located together with Madal Café, where they serve specialty coffee with sandwiches and cakes.
Although they have a lot of vegan cake options, not all of them are vegan, so be cautious.
Flow Specialty Coffee Bar & Bistro
Address:
Opening Hours: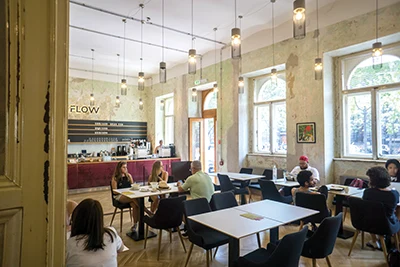 It is another great spot for coffee gurus and for those who want to eat good at the same time.
On weekdays there's a two course daily menu, while on the weekends Flow welcomes us with a three course lunch menu.
There are also various dessert options from the
Hungarian Túrógombóc (sweet cottage cheese dumplings) to the more extraordinary
Matcha Chia Pudding or
Snickers Glass Dessert.
Note: Be prepared that prices are higher compared to commercial coffee bars, but Flow undeniably offers us a premium level in exchange.
Bonus TIP
Anjuna Ice Pops – All-Natural, Plant-Based Ice Cream
Address:
Lövőház u. 24., Bp, 1024, Buda, next to Millenáris Park – Getting there: Tram 4, 6 or M2/red metro: Széna tér stop, 4-min walk (350 m),
Pozsonyi út 5.,
Sas u. 7., Bp 1051, District V., close to the Basilica and Erzsébet Sqr. Park
Opening Hours (All Shops):

Anjuna Ice Pops is a bright patch of colour on the vegan map of Budapest. You can enjoy their refreshing, cool treats at 3 locations in the city.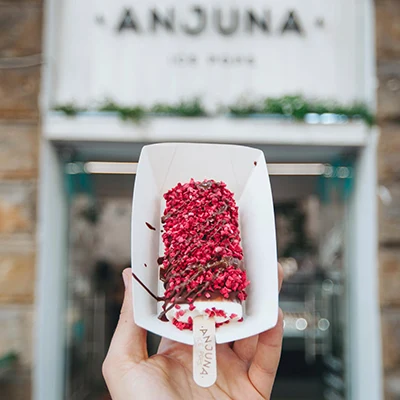 Perhaps the most accessible for tourists is the one near St. Stephen's Basilica, downtown Budapest in Sas utca.
Anjuna grants us with an always fresh and upbeat summer atmosphere straight from India.
Their most popular product is without a doubt the 100% vegan, gluten free ice pops, made from natural ingredients: mostly fruit, plant-based milk (rice cream, coconut milk).
Not all ice pops are sugar-free, but they use natural cane sugar as sweetener.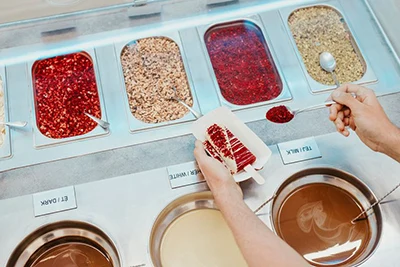 First you can choose from a great many of extravagant ice creams, then you can punch it up with three different chocolate dips – sugrafree dark chocolate, milk and white chocolate , and lastly cover it with a topping of your choice – there are 8 to pick from
Toasted coconut
Roasted hazelnut
Roasted pistachio
Lyophilized raspberry
Lyophilized pineapple
Peanut butter and
Mango-Passion Fruit Coulis
You can also get Anjuna Ice Cream at some larger stores (Spar, Auchan, Tesco) – in attractive paper box packaging.
Price Of An Anjuna Pops
Depending on the flavour of the ice cream, dip and topping you choose these guilt-free delcacies cost between 1 400 – 3 600 HUF.
One really peculiar food they make is called acai bowl.
Acai is a berry from South-America full of antioxidants. This superfood is served in a form of a mashed purée with granola or other additional treats.
They were so kind that they also thought of our four-legged friends and we can buy them a snack, called Pupsicles, made of peanutbutter and banana.
TIP: At just a short walk from Anjuna Ice Pops in Sas utca you will find another iconic ice cream place of Budapest: Gelarto Rosa. It's famous for its delicous, rose-shaped, Italian style gelato.

There is usually a queue in front of the shop which is just opposite the Basilica.

Although not all flavours are suitable for vegans but you will definitely find dairy free, sugar-free options in the daily selection.