Get Familiar With the City's 23 Districts & Neighbourhoods!
The 23 Budapest districts (kerület in Hungarian) are numbered clockwise, in widening circles like Paris' arrondissements. They are marked with Roman numerals (I-XXIII).
Downtown Budapest districts have lower numbers (I., II.), while suburban districts have higher ones (XXI., XXII.).
The middle two numbers in a zip code indicate the district number. For example 1138 is a zip code of an address in the 13th district.
The central districts (V., VI., VII) in Pest offer a wide array of
Sights, landmarks,
Museums,
Shops, as well as
Places to eat and entertain.
These neighbourhoods have undergone major development works in recent years with new pavements, more parks, modern street lamps, and hip street art.
Most of the downtown areas are ideal for exploration on foot (though the city centre is much larger than in Prague) but you will definitely need to use public transport as well, if you want to see the most important attractions.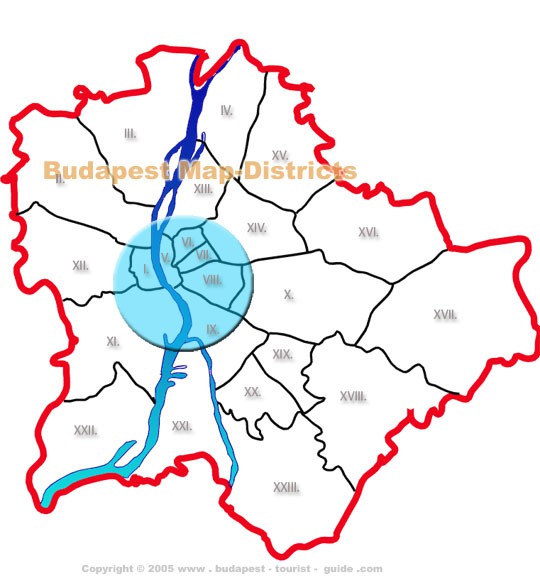 Buy Budapest Card: Public Transport, 30+ Top Attractions & Tours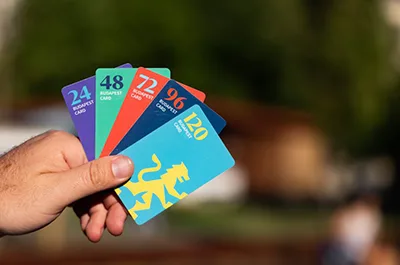 24-Hour Card: 33 EUR
48-Hour Card: 49 EUR
72-Hour Card: 63 EUR
72-Hour Plus Card: 96 EUR
96-Hour Card: 77 EUR
120-Hour Card: 92 EUR
Read more about the Budapest Card!
Inner Budapest Districts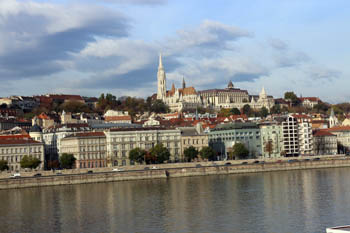 District I. – Buda Castle
Castle District, offers charming, cobbled streets and grand medieval monuments like
the Royal Palace,
the Fishermen's Bastion
The northern part of Gellért Hill is also part of District I.
Other attractions are the thermal baths like Rudas Turkish Bath.
TIP: Budapest Spas are excellent for recreation or certain medication purposes.

Some of them, the Széchenyi in summer, the Lukács during winter months, host the famous Saturday Night Bath Parties.
You can get tickets to the Gellért or the Széchenyi Baths online.
The Danube bank between Castle Hill and Margaret Bridge was once spotted with fishermen's cottages and docks.
That's why this area is called Víziváros (Water-town).
TIP: A pleasant and romantic way to admire the scenic riverfronts is by going on a cruise on the Danube.
The area is easy to approach, and explore.
Two bridges connect it to Pest, and the Buda end of Margaret Bridge is also close by.
The M2 metro line has two stations within the district: the Batthyány tér station is in the center, the Széll Kálmán tér station lies on the district's boundary.
Several bus and tram lines travel through the area.
District II.
Rózsadomb (Rose Hill) is the most notable part in this district.
The rich live here in their exclusive villas. Spectacular views and clean air attracted Budapest's most influential to this area.
The oldest part of the district is northern Víziváros.
You find the northernmost Islamic holy place in Europe, the Tomb of Gül Baba, near the Buda foot of Margaret Bridge, in Gül Baba Street.
The district boasts two Turkish Baths,
District II is a bit out of the city centre, though Széll Kálmán tér, a major public transport hub is also here.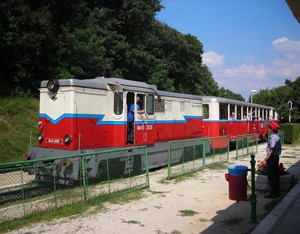 The M1 metro line has a station at Széll Kálmán tér, the terminals of trams No 4 and 6 are also on the square.
You can approach the hills by buses and trams departing from Széll Kálmán tér.
From the terminal of tram No. 56 departs the Children's Railway that takes you up to Széchenyi Hill, where you can enjoy one of the best panoramas of Budapest.
Several tourist routes run through the hills.
If you love great architecture take a walk on Rose Hill.
District V. – Belváros (Inner City) or Downtown Budapest & Lipótváros
Brief History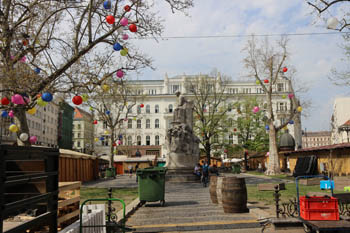 During the Roman era a fortress, Contra Aquincum, stood in the area, the ruins of which can be seen at Márcuius 15. tér.
In medieval times Pest functioned as the outskirts of royal Buda but the settlement quickly developed into a flourishing trade city.
King Matthias made Pest (today's Inner City=Belváros part of district V.) an independent regal city in 1468.
The city wall was built during that time following the line of today's Deák Ferenc utca-Károly körút-Múzeum körút-Kálvin tér-Vámház körút.
The roads leading in and out of Pest city were guarded by gates:
Váci kapu,
Hatvani kapu (at today's Astoria Hotel),
Kecskeméti Kapu (at the corner of Kálvin tér Kecskeméti utca)
Belgrádi kapu (presumably at the site where today's Váci utca meets Vámház körút)
Duna kapu (along the line of Régiposta utca a small side street of Váci Street)
Vízikapu (where today's Sörház utca runs into the Danube embankment).
The development of the city stopped during the Turkish rule.
It started to revive during the 18th century when the city walls prohibited large-scale development works so they were demolished or incorporated into later buildings.
New Main Street – Új Fő Utca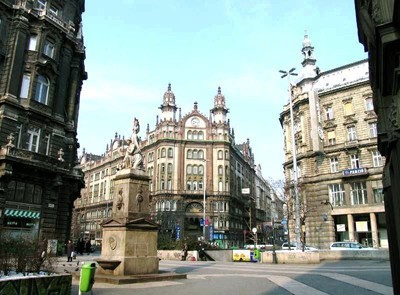 A new, partly pedestrianized area is being constructed between Kálvin tér and Szabadság tér called the New Main Street of Budapest.
The first phase of the project was finished in spring 2010.
The aim of the project is to create a lively, pedestrian-friendly Main Street in the inner city with benches to sit down, terraced cafes and restaurants to stop for cafe or lunch and with much less traffic.
The second part of the project included the refurbishment of Ferenciek tere which was turned into a spacious square at end of 2013.
Other Parts of V. District – Inner City of Budapest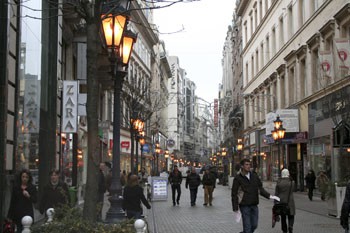 The famous pedestrian shopping area, Váci Street cuts through the district, with the Great Market Hall at its one end, and Vörösmarty tér on the other end, home to the annual Christmas Fair and Winter Festival.
Walk along Dunakorzó (Danube Promenade) and enjoy the beautiful vista of the Danube and the Castle Hill.
District V. has many hotels, most of them are luxury 5 star hotels.
They utilize the great location and the beautiful panorama of the Danube and Castle Hill.
The administrative center of whole Budapest is in District V., in Lipótváros part.
This part of the inner city was formed at towards the end of the 18th century when at the site of the present Szabadság tér the so-called Újépület (translates to New Building) was built.
The area between Újépület and the former inner city was named Lipótváros when II. Lipót was crowned in 1790.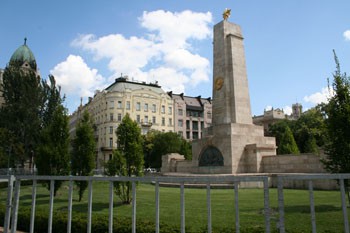 In 1897 Újépület was pulled down and the Szabadság Square was formed.
Kossuth Lajos Square with the Parliament building was also created during these years.
Today Szabadság tér is a lively place with lots of cafés and restaurants. The Soviet War Memorial dominates the northern end.
The square is part of a large-scale project the creation of Budapest's Main Street stretching from Kálvin tér to Szabadság tér and making the area partly free from heavy traffic.
A unique interactive fountain is the highlight of the refurbishment program at the southern end of Szabadság tér, a nice offset to the rigid stone monument.
Lipótváros is also a business quarter with several major banks, government ministries and offices that flank the grandiose Budapest Parliament on Kossuth tér.
Budapest biggest church, St. Stephen's Basilica (Szt. István Bazilika), also stands in this district.
TIP: The plaza called Szent István tér is lined with trendy cafes (Starbucks, California Coffee Shop Co., Costes) and bistros (Akademia Italia, Bestia, 0,75 Wine Bar, DiVino Bazilika, Gelarto Rosa Ice Cream Shop & Cafe).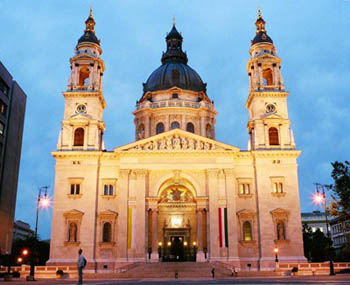 The square is a popular venue for events, like the
the Sweet Days Festival in September.
This is the heart of Pest embraced by two bridges; the Chain Bridge, Liberty Bridge and by Deák tér where 3 out of the 4 metro lines converge.
You'll find many attractions here. Historic Pest was here, you can see remains of the city wall in Kecskeméti utca.
Apart from 5 star hotels, downtown Budapest offers some very nice apartments for rent too, which is a good alternative over staying in a hotel.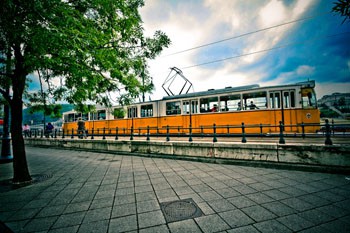 You can get to and travel within the area by several public transport services.
All three Budapest metro lines have stations in the district.
Tram No. 2 runs along the Pest side of the Danube and perfect for a city sightseeing.
Restaurants in the Inner City (District V.)
The city centre of Budapest has many eateries ranging from gourmet places like the Michelin-star Onyx (part of the Gerbeaud House) at Vörösmarty tér.
District VI. – Terézváros
District VI has thriving cultural life.
Andrássy Avenue is Budapest's Broadway with the Opera House, Liszt Ferenc Music Academy, and the Operetta Theater.
Fine places of entertainment, great restaurants, cafés and bars are abound in the neighbourhood.
Terézváros is a place where you can
go for a leisurely walk along the sycamore lined avenue,
view the magnificent architectural masterpieces,
sit in a café on Liszt Ferenc tér and contemplate the busy street life around you.
Restaurants in District VI.
Liszt Ferenc Square and Nagymező utca are a restaurant and cafe hub. Try a traditional Hungarian tapas bar called Első Pesti Disznó at 19. Nagymező utca, or SZÉK restaurant at 41. Andrássy út that offers Transylvanian classics perpared in modern styles.
See more restaurant options in district VI., Terézváros.
Nyugati Train Station and the bustling square in front of it is in the northern corner of District VI.
Public transport services include trams No. 4, and 6 (Oktogon and Nyugati tér stops). M3 metroline has a station at Nyugati tér too.
Continental Europe's first underground, the M1 or yellow metro line, travels along Andrássy Avenue.
See also our guide to Budapest City Center.
District VII. – Former Jewish Quarter – Erzsébetváros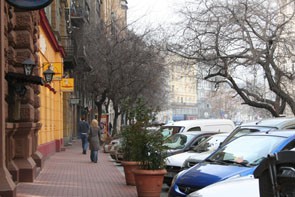 Erzsébetváros is surrounded by Károly körút, Király utca and Rákóczi út.
District VII. is a center of Jewish Budapest.
There are several synagogues here. The Great Synagogue in Dohány utca is the second largest and the most beautiful synagogue in the world.
District VII. is one of the most hip areas of the city, with some very popular ruin bars, bars, garden bars, street food places, design shops, specialty cafes, as well as some famous Budapest landmarks like the New York Palace on Grand Boulevard (Nagykörút).
Kazinczy Street District VII, Budapest

The renovated Kazinczy utca is a trendy cultural, and nightlife hub in Budapest.
It is home to
the city's orthodox synagogue, referred to as Kazinczy Street Synagogue,
the Kazimir Tourist Information Point, and a
range of street food bars (Street Food Karavan at 18. Kazinczy utca a),
ruin and garden pubs (400 Bar, Ellátó Kert, Mika Tivadar Mulató, Szimpla Kert, Kirakat Pub), as well as
kosher shops.
There's even a kosher pizzeria opposite the synagogue.
Best ways to get to District VII:
M2 (red) metro line runs along the boundary of the district. Blaha Lujza tér is an important public transportation hub.
Trams No 4 and No 6 have stops here. Buses No 7 and No 173 connect Pest and Buda.
Trolleys play an important role in the district's transportation too.
Restaurants in District VII.
The neighbourhood offers some good places to dine at: from budget eateries like
the Kádár Étkezde,
or Bock Bistro, a fine Hungarian wine restaurant on Nagykörút.
See more eating out tips in Budapest district VII.
TIP:
You can explore the downtown districts of Budapest by thematic walking tours. See also a list of our favourite Budapest attractions.
District VIII. – Józsefváros
As one of the most densely populated and poorest districts of Budapest; Józsefváros has a distinctive, old-fashioned atmosphere.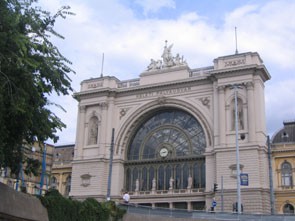 Some areas are still underdeveloped, though there are large scale development plans aiming at modernizing this city part.
The district boasts several libraries, hospitals, universities and museums. Józsfeváros also has two big sport grounds.
This district also functions as the heart of Budapest because the main traffic runs through Baross utca, Rákóczi út and Üllői út.
National Museum and Palaces
The Keleti Train Station is here too. To experience true Józsfeváros and find some hidden treasures, walk in the streets beyond Grand Boulevard and on Rákóczi út.
Crumbling inner courtyards, shabby houses with eclectic facades and old shops dominate this part of Budapest. Because of the great Chinese market you'll meet many Chinese people.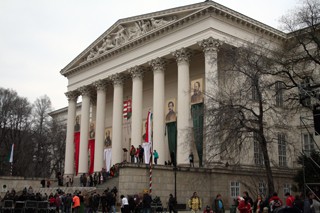 There are some more pleasant attractions in District VIII. It has one of the largest gardens in Budapest, Orczy kert and the National Museum is also here.
The Hungarian Natural History Museum on Ludovika tér houses exciting scientific exhibitions.
Behind Kálvin tér you'll find many great buildings, for example the beautiful Wenckheim Palace that houses the Szabó Ervin Library.
Józsfeváros is unfortunately one of the most criminal-ridden parts of Budapest.
No wonder that its nickname is Chicago.
Avoid walking alone at night in the outer parts of District VII, they aren't the safest area of the district!
Restaurants in District VIII.
District VIII has a wide range of restaurants.
Some of the bests are
Fülemüle (Kőfaragó utca 5.), and
Múzeum Cafe (Múzeum krt. 12.) near the Hungarian National Museum.
Rosenstein (Mosonyi utca 3.) in the vicinity of Keleti Train Station is also a very good choice for tasty food in Budapest.
District IX. – Ferencváros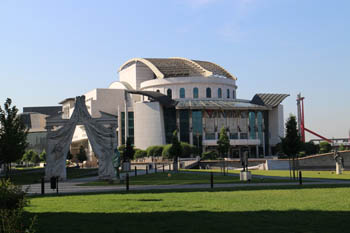 One of the most diverse districts of Budapest. Its atmosphere is much like Józsfeváros', though Ferencváros is a rapidly developing part of the capital.
Despite, the area has to cope with serious social and environmental problems. The district has many monuments that are in need of renovation.
The biggest development project is undergoing on the former Expo 96′ site on the Danube bank.
Cultural Hot Spot – Theathre, Concerts, Museum
The new National Theater on the Pest side of the Danube near Rákóczi Bridge was built a couple of years ago.
Next to the National Theatre, the Palace of Arts was finished in 2005.
It houses the National Concert Hall and the Ludwig Contemporary Arts Museum.
Zwack Unicum Museum & Visitors' Center
You can learn about the history of the famous herb liqueur and the Zwack family in this small but unique museum near Petőfi Bridge.
TIP: Book a guided tour in the Zwack Museum with Unicum tasting for a more in-depth experience!
District IX. has one of the most important Jewish sights of Budapest. Next to the synagogue in Páva Street opened the Holocaust Memorial Center (Holokauszt Emlékközpont) in 2004.
Address: Páva utca 39., district IX., M3 metro, trams 4,6 Ferenc körút stop
Opening hours: Tue-Sun: 10.00 – 18.00, ticket office: 10.00 – 17.00
Admission – Holocauts Memorial Center:
Free to children (the exhibits are recommended for children above 12), student's groups (Advanced registration required), teachers, museologists, and senior citizens (70 and older).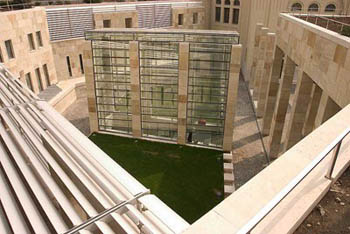 full price ticket: 1 400 HUF (50% discount with Budapest Card).
For citizens of EU between 62-70: 700 HUF
For citizens of EU between 6-26 with international student card: 700 HU
for groups above 10: 1 100 HUF/person[/tie_list]
Tickets are valid for the permanent and temporary exhibitions and for visiting the Páva utca Synagogue on the same day.
The Center's permanent exhibition titled From the Deprivation of Rights to Genocide depicts the persecution, suffering and massacre of Hungarian Jews and Romas committed in the name of Nazi ideology.
Central Market Hall – See Where The Locals Shop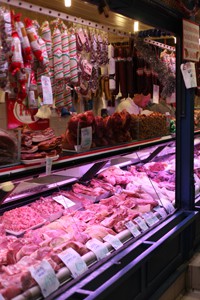 The Central Market Hall is also in district IX.: one of the best places in Budapest to shop for Hungarian food stuff, paprika, wines and souvenirs.
The first floor offers some great fast food Hungarian style. It is housed in a historic building with great architecture.
A wide variety of fruits, vegetables, meat and dairy products are on offer most days of the week.
Restaurants, Cafes in District IX.
Ráday utca is packed with restaurants and cafes. Hungary's first Michelin star restaurant, Costes, is here.
TIP: Borbíróság at Csarnok tér 5., next to the Central Market Hall, is a good-value place offering Hungarian dishes made from fresh ingredients bought in the adjacent market and around 100 fine Hungarian wines.
See more restaurant tips in district IX.
Outer Budapest Districts
District III. – Óbuda-Aquincum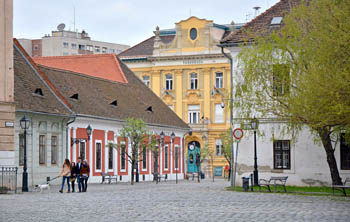 Óbuda (Old Buda) is the oldest and second largest Budapest district.
District III. lies in the northern part of the city in Buda.
Romans had a colony here called Aquincum in the first decades BC. Aquincum served as the northernmost boundary of the Roman Empire.
Archeologists discovered several monuments from the Roman era that you can visit today in the Aquincum Museum.
Main Square – Baroque Palaces
The centre of the district is Fő tér and Flórián tér with administrative and commercial Impressive baroque buildings, like the town hall surround the cobbled Fő tér. The Zichy Plalace stands on this square too.
You'll find a handful of taverns on Fő tér offering traditional Hungarian cuisine.
Békásmegyer is a less attractive part in District III. It consists of huge, characterless high-rise blocks built in the communist era.
There are some green areas on Római Part on the Danube bank, on Csillaghegy and in the hills west of Bécsi út.
Hajógyári-sziget is home to the popular Sziget Festival every summer.
Óbuda's Main Square (Fő tér) hosts a charming Advent Festival each December with concerts, children programs, street food and drinks.
Major transportation hubs:
Mexikói út and Örs vezér tér (M2 metro line terminal),
Bosnyák tér in the centre of the district,
the Gödöllő suburban railway (HÉV) line are also important in the area's public transportation.[
Restaurants in District III., Óbuda
Kisbuda Gyöngye, and Kéhli are the most famous restaurants in Óbuda offering traditional Hungarian dishes.
Kerék Vendéglő (Bécsi út 103., Bp. 1034) is an old-style inn with affordable food.
Fish dishes are the specialty in Új Sípos Halászkert, and you can also have sushi in either Wasabi or the Okuyama no Sushi Japanese Restaurants.
District IV. – Újpest
Mainly a residential and industrial area.
Újpest is rather young; it's started to develop in the second half of the 19th century. Socialist housing estates dominate the city-scape in this district.
M3 metro line has its terminal here (Újpest Városközpont).
The Váci út (do not confuse it with the pedestrianized Váci Street in District V) carries most of the subsurface traffic.
District X. – Kőbánya
District X is mainly an industrial area.
Kőbánya literally means stone quarry, though beer comes to the minds of most Hungarians. Breweries utilize the deserted quarries running under the surface for several kilometers long.
The largest is the Dreher Brewery.
Budapest biggest public park, Népliget is ideal for a walk. The Planetárium and the Laser Theater in the park offer unique experiences.
The coach station is opposite Népliget. M2 and M3 metro lines have their terminals here at Örs vezér tér and Kőbánya-Kispest metro terminal.
District XI. – Újbuda (New Buda)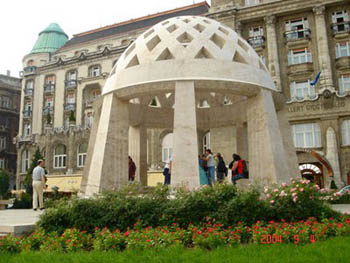 Wealthy citizens lived here before they moved to the Buda Hills. The district embraces Gellért Hill.
Climb up the hill and you can enjoy one of the best panoramic views of Budapest.
The limestone hill towers above the Danube and forms a characteristic part of the city scape.
Móricz Zsigmond körtér is the focal point of everyday life here.
The square is a major public transport hub. Several trams and buses have stops here.
Gellért Square is the other centre of the district's transportation.
Another distinctive feature is the Budapest Technical University (Budapesti Műszaki Egyetem), along the Danube bank between Liberty Bridge and Rákóczi Bridge (formerly called Lágymányosi Bridge).
A modern grocery market (Fehérvári úti Csarnok), and the Allee Shopping Center are adjacent to each other on Október 23 utca at the terminal of tram 4.
Kopaszi-Gát – Green Oasis
The popular recreation area on the Danube bank is a favourite spot for jogging, walking or sitting on one of the cafe terraces and admiring the view.
The city's biggest development project, the BudaPart residential and business complex is being built here too.
District XII. – Hegyvidék, Buda Hills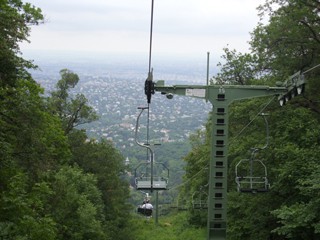 District XII is the lung of Budapest. Despite the increasing construction works, extensive patches of forest cover the Buda Hills.
You'll find it a bit difficult to get to some outer areas in the district due to the hilly terrain.
Several public transport bus services get you to the inner parts of the area.
The hills are ideal for hiking and to get some fresh air and peacefulness after the busy city center.
Enjoy the beautiful view of Budapest from the lookout point on Széchenyi Hill.
You can go up there by the cogwheel railway. People go to ski to Normafa when there is some snow in winter.
In warmer seasons it's perfect for strolling, sitting on the benches and taking in the vista.
District XIII. – Angyalföld
Angyalföld literally means Land of Angels. It has two completely different parts.
The southern part (Újlipótváros) along Grand Boulevard is a continuation of the inner city,
while northern Angyalföld is the most typical working class area in Budapest.
The most popular attraction is the idyllic Margaret Island (Margitsziget). If you want to get away from the bustling city, head for Margitsziget for a walk, or jog along the Danube.
Shopping addicts would also love this district, one of the bigest Budapest shopping malls, Duna Plaza is on Váci út.
The district plays an important role in Budapest's transportation with
Nyugati Train Station and
the coach station at Árpád Bridge.
Since the Danube borders Angyalföld, you can get there by boat operated by the city's public transport company (BKV).
District XIV. – Zugló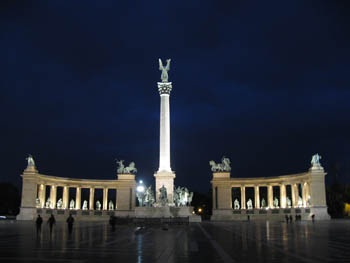 Zugló is Budapest's second greenest district that has recently been undergoing a residential development, because it's become a very popular target for citizens planning to buy an apartment.
You can buy a nice flat in green surroundings here, similar to those in the Buda Hills, for less money.
Attractions include
District XXI. – Csepel
District XXI lies on an island called Csepel sziget.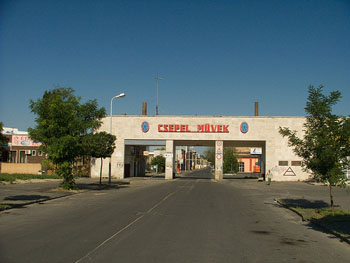 Csepel was the center of the communist heavy industry and it still has some working class atmosphere.
Heavy machinery, trucks and tractors were manufactured here.
Northern Csepel has a large area that is planned to be built in according to current developments.
Some people have dreamt about establishing little Manhattan here, but it's unclear what will be implemented in the area.
Not many attractions are in District XXI, but those who want to get an impression about the communist years, feel free to take a walk in the former Red Csepel Industrial Complex.
TIP: You can explore the World War II. underground bunker in the industrial complex on a guided tour organised by the BudapesScenes team.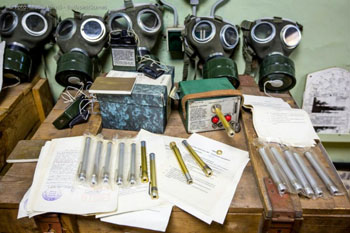 An original war shelter,
escape game rooms with hands-on contemporary tools and
gadgets to try,
on 2 levels on 200 sqm.
Tour dates & times: Fridays at 19.00, Saturdays at 11.00 Price: 4 500 HUF/prs (3 000 HUF under 16 years of age). Duration 4 hours.
For a more pleasant scenery go to the Danube bank on the eastern side.
You'll find a spectacular waterfront there.
You can get to Csepel by the suburban railway from Boráros tér at the Pest end of the Petőfi Bridge, or by car.
Family Photos – On a Walk at the Small Danube in Csepel
TIP: The Budapest 100 event held in mid April each year is a great opportunity to visit unique, historic buildings otherwise closed to the public. A diverse program accompany the event, ranging from
guided walks,
lectures,
exhibitions to
kids' activities, dance,
movie screenings or
wine tastings.
If you're interested in Investment in Budapest click to read our article.
Related:
City Maps – Day Trips from Budapest – Basic Budapest Facts – Weather in Budapest – Cost of Living – Safety in Budapest