Street Food & Light Party Atmosphere On A 85-Min Danube Boat Tour🚢😊
As locals living in Budapest for close to 30 years now we tend to take the city's beauty and grandeur for granted.
We think that we can go for strolling in downtown or on a sightseeing cruise whenever we want to.
Hey, we are not tourist visiting for a couple of days, we don't have to cram every must do activity in a short period of time, we could do all the touristy things all year round.
Of course, the reality is that we rarely take the time to appreciate how striking is our hometown, Budapest.
That's why the 3 of us: my husband, our 12 year old son, and I – decided to take a sightseeing cruise on the Danube on a summer afternoon in July.
We chose to try the cruise with pizza or lángos (pronounced: laan-gosh) and unlimited beer/drinks🍕🍺 operated by Silver Line Cruises.
This tour departs 4 times a day in summer: at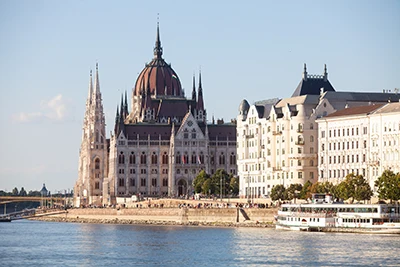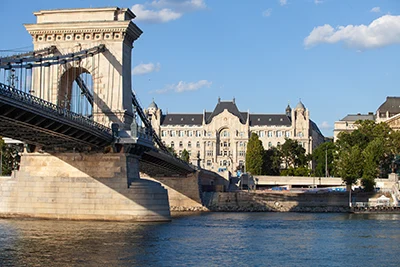 Table of Contents – Cruise with Pizza or Lángos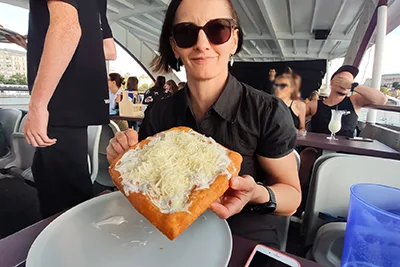 Langosh & Beer Cruise
Departures: 16:00 / 18:00 / 20:00 / 22:00
Duration: 85 min. – Price €32
Why The Pizza/Lángos & Beer Budapest Cruise?
The reasons for selecting this river tour are simple.
✅ We wanted something not too long and late in the afternoon when we can see the sights in daylight,
✅ Our boy loves pizza and
✅ We were curious about the lángos.
To tell you the truth we didn't have high expectations regarding this staple Hungarian street food. But we were surprised in a very good way!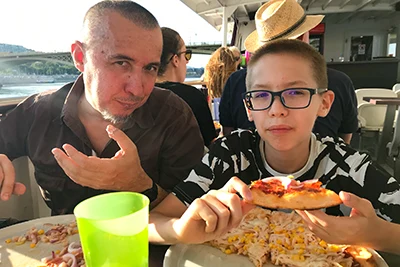 What Is Lángos?
First things first though! You may not know what lángos is although nowadays every travel guide mentions it as a must taste local food.
Lángos is a popular Hungarian street food and you can find it at every beach at Lake Balaton and in Budapest.
This local favourite is a round (cc 30 cm in diameter), savoury pastry – some compare it to flatbread or Yorkshire pudding – made from a simple yeast-based batter that is deep-fried to crispy golden brown in oil.
After letting the oil drip from the fried lángos, it is brushed with a (strange) mixture of garlic oil and water, sprinkled with salt and topped with sour cream and grated cheese.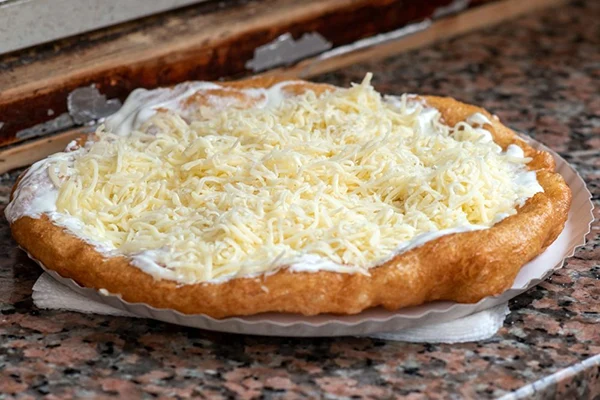 You can of course have it just on its own without the sour cream-cheese combo. Today a wide variety of toppings are added including sweet ones like Nutella spread or jam.
There is even avery filling stuffed lángos at UFO Lángos (see below) and even on the Lángos Cruise as well: it is stuffed with bacon and cheese.
In the Cruise with Lángos you can choose from 4 options (see below) including a sweet one with Nutella.
Prices start at around 1 200 – 1400 HUF for a Sour Cream/Cheese lángos and the more extreme ones can cost up to 3 200 HUF in Budapest.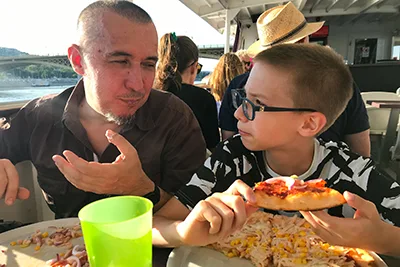 Pizza & Beer Cruise
Departures: 16:00 / 18:00 / 20:00 / 22:00
Duration: 85 min. – Price €32
Where Can You Eat The Best Lángos In Budapest?
In Budapest you can get Lángos at several places and at every Christmas market and festival. We recommend
UFO lángos near Andrássy Avenue and the Opera House (address: Hajós u. 7, Budapest 1065, or
Retro Lángos close to St. Stephen's Basilica (address: Bajcsy-Zsilinszky út 25, Budapest 1065), and
TIP: Believe me or not this cruise serves one of the best lángos I've ever had! The pastry is pefectly crispy not soggy with oil, the amount of sour cream and cheese was just right
Boarding Point/Getting There – Cruise with Pizza or Lángos & Beer
The boarding point for all Silver Line Cruises is very well situated and easily accessible by public transport.
It's on the Pest riverbank, next to the Danube Promenade and the white Elizabeth Bridge.
Hostesses and hosts standing nearby will guide you to the spot.
We took tram 2 from Boráros tér and got off at Márcous 15. tér.
Note: The pavement leading to the ship is a bit narraow and there are some bumps along it but it's manageable (perhaps it's best not to wear high heels)
Boarding Point Address
Jane Haining Rakpart, Dock 11., Budapest 1052, on the Danube Promenade next to Elizabeth bridge (See on Google Maps)
Getting there: Trams 2, 2B, 23 Vigadó tér or Március 15. tér stops, M1, M2, M3 metro at Deák F. tér station (10-15 min walk), M3 metro (blue line) Ferenciek tere station (5-min walk)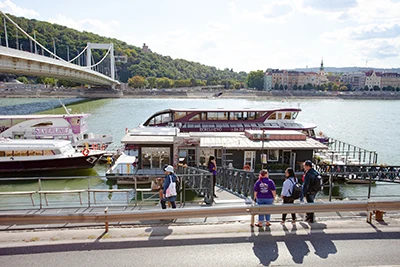 Drinks, Warm Street Food & Light Party Music On The Danube
After boarding the cruise boat – named Nimród – we chose to sit on the upper deck since it wasn't too hot nor too windy. You can also sit in the closed hall on the first level which is air-conditioned (heated in cold weather).
Don't woarry you'll have a perfect view of the panorama through the large panorama windows there.
Upon boarding you receive a plastic coupon / depending on which option you booked:
Pizza & Drinks
Lángos & Drinks
Unlimited booze
But you really don't have to anything with them, just palce them on the table and the wait staff will come and serve you. BTW, the staff was very kind and helpful.
After taking our seats we received our drinks and the boat departed on the cruise on time at 18.00.
There is Music …
Please note that since this is also a party boat – you can choose the unlimited booze option for this 85-minute excursion – there's music, popular dance tunes are blasting from the loudspeakers.
First we found it very loud – to the point that carrying a conversation was pointless – but after some beer and the pizza and lángos we didn't even notice it.
Either the volume was turned down or we relaxed enough to get into the party mood.
In the end we (almost) sang along with the slightly tipsy British tourists.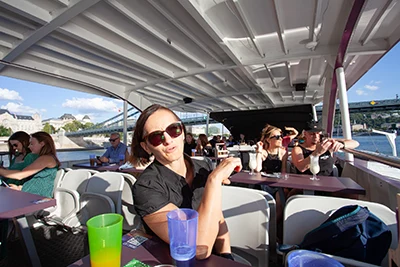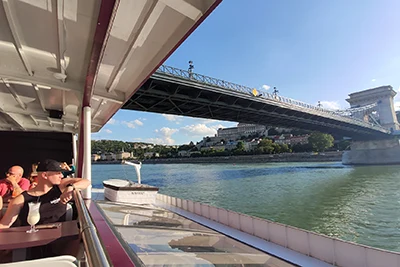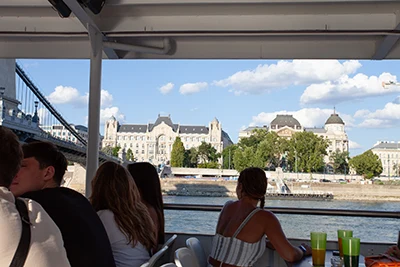 The Route & Sights We Saw During The 85-Min Cruise
After departure the ship headed to its northern end point, Margaret Bridge. Along the way we were treated to the picturesque view of strings many historic buildings and attractions standing on the banks of the Danube.
We passed under the renewed Chain Bridge, and in front of the commanding Parliament building.
The ship turned back at Margaret Bridge and started the downward journey on the Danube as far as Rákóczi Bridge.
We passed under the
Chain Bridge again,
the white suspension Elizabeth Bridge, then the intricately designed
Green Liberty Bridge at Gellért Hill, the
Grey Petőfi Bridge came next, then
at Rákóczi Bridge the ship turned again to return to the dock.
Meanwhile we received our food: pizza for the boys and lángos with sour cream and cheese for me.
We also had our drinks served: beer for the grown ups and Fanta orange for our son.
About The Food: Lángos & Pizza
I was really surprised how good the lángos tasted.
It was perfectly baked to a nice golden brown colour wasn't dripping with oil and turned out to be nicely crunchy (but not dry).
The gralic, sour cream and cheese was just the right amount. To tell you the truth I can't remember a better lángos experience at the moment.
So I can wholeheartedly recommend to go on this street food& drinks river tour and choose the langos.
The two pizzas (one with ham and sweet corn, the other a Hungarian style with salami, sausage, bacon and hot green pepper slices) were good two, but we weren't as impressed as with the lángos.
Nothing special just good, ol' pizza, a perfect street food dinner early in the evening on a scenic boat trip.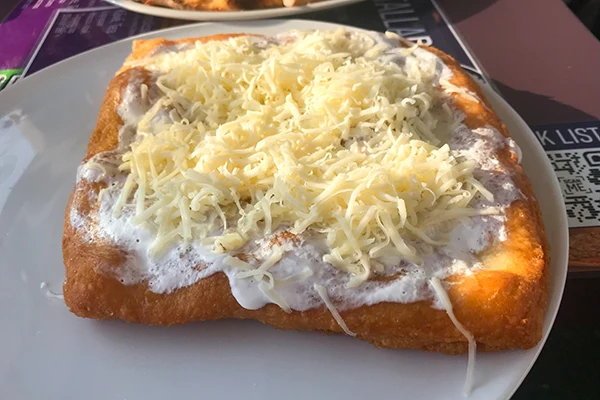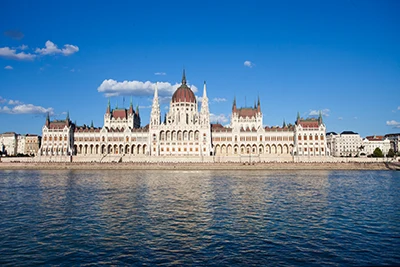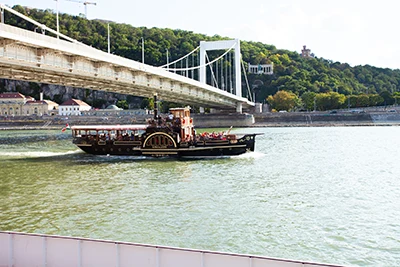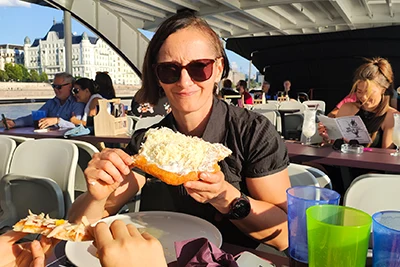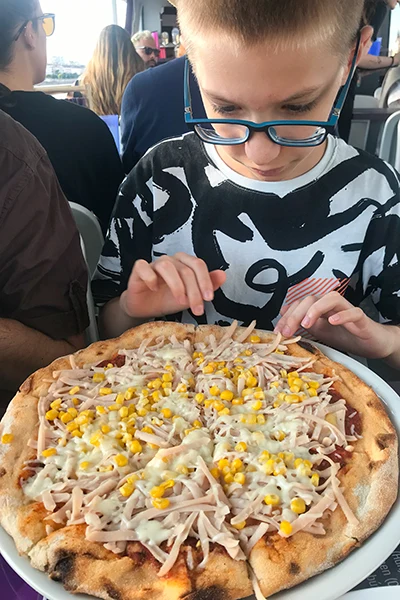 Bridges Of Budapest…
We passed under 4 bridges and marvelled at the complicated yet simple and beautiful steel constructions and engineering.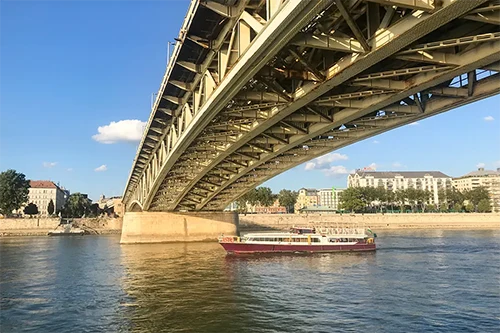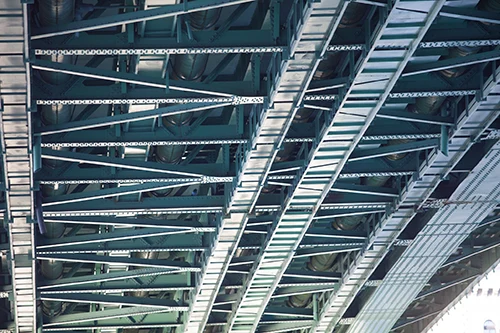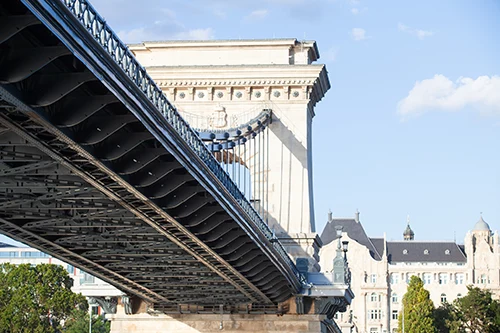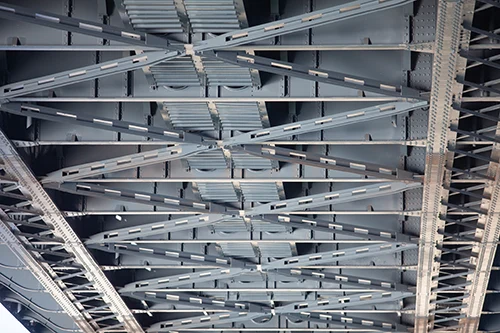 About The Cruise Ship – Nimród
The Pizza/Lángos cruises take place on the Nimród sightseeing ship.
It's a modern catamaran ships with partially open upper deck (there is a roof or textile shade blocking out the direct sunlights and light rain) but overall the space is open allowing you to enjoy a full 360.
The Nimród's closed room downstairs is air-conditioned.
The ship has space for 100 guests. We found it very clean including the toilets.
Note: The budget sightseeing river cruises managed by Silver Line Cruises either take place on the Wiking or the Margitsziget ships.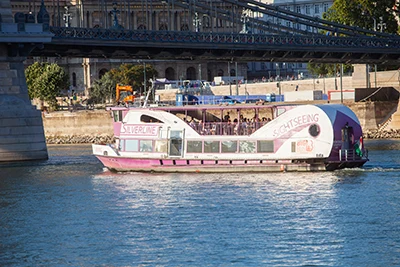 Price Of The Cruise With Pizza or Lángos & Beer
32 EUR – daytime cruises deparing at 16.00 and 18.00
37 EUR – night cruises at 20.00 and 22.00
What's Included In The Price?
✅ 85-minute sightseeing boat tour on the Danube between Margit bridge and Rákóczi Bridge
✅ 1 pizza of your choice (see options below) or 1 lángos (choice of 4 toppings, see below)
✅ Unlimited beer, soft drinks, coffee & tea
Lángos Selection
Classic – with garlic, sour cream/cheese topping
Stuffed – with bacon and cheese
Hungarian – sour cream, cheese, paprika sausage, onion and slices of hot pepper on the top
Sweet – Nutella spread, sprinkled with chopped hazelnuts and strawberry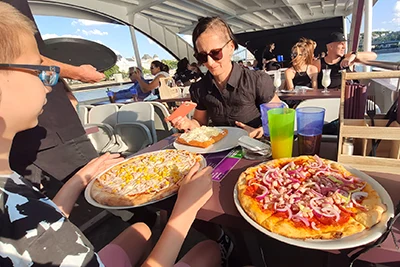 Pizza Selection
Salami Pizza: marinara sauce, salami, cheese
Hungarian-style Pizza: marinara sauce, spicy sausage slices, onion slices, bacon cubes, cheese
Ham & Corn Pizza: marinara sauce, ham, mushroom, sweet corn, cheese)
Cheesy Pizza: marinara sauce, tomato slices and 4 kinds of cheese
Drink Selection
For the 32 EUR price you can drink as much as you want. You can choose for the following drinks:
Beers on tap:
Borsodi (Hungarian)
Staropramen (Czech)
Hoegarden wheat (Belgian)
Soft Drinks
Coca Cola (0.33 L)
Fanta orange (0.33 L)
Sprite (0.33 L)
Fuzetea lemon/peach (0.5 L)
Mineral Water (Szentkirályi) still/sparkling (0.5 L)
Fruit Juices
Happy day: apple, cranberry, peach, pineapple, orange
Coffee, Tea
Espresso
Americano
Cappuccino
Dilmah tea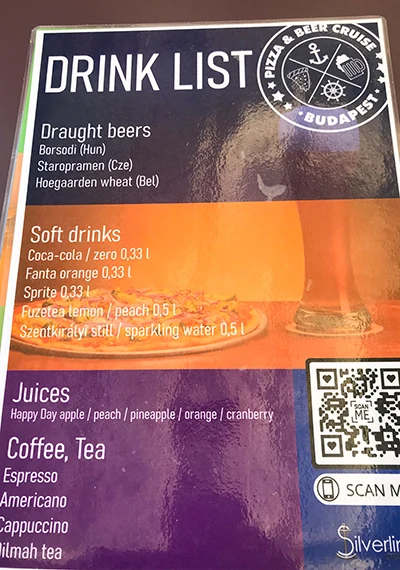 TIP: If you want something that costs less than 32 EUR we recommend to take a look at our post about the best budget cruises in Budapest! They last 60-80 minutes and most of them take you on a full sightseeing circuit on the Danube with or without a drink.
Conclusion – Would I Recommend The Cruise With Pizza or Lángos & Drinks In Budapest?
Yes, I would absolutely recommend that you choose this cruise to cross out the"must go on a Danube boat tour" activity from your "do & see in Budapest" list.
Even as locals we had a terrific time. The lángos was very tasty and definitely one of the best I ever had the chance to taste.
Besides the plesant street food you'll get to drink as much you want: draught beer, soda drinks (Coke, Fanta, Sprite), fruit juices, mineral water, coffee and tea.
OK, the muisc feels overly loud at first, but believe me that you'll humm along the the tourists after a drink or two.
The cruise boat is comfotable and clean and you'll see the most famous attractions and landmarks of Budapest from a unique point, especially if you set on the open deck.
Book Your Spot For The Cruise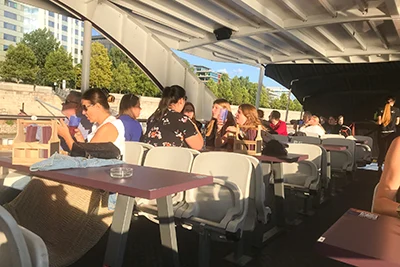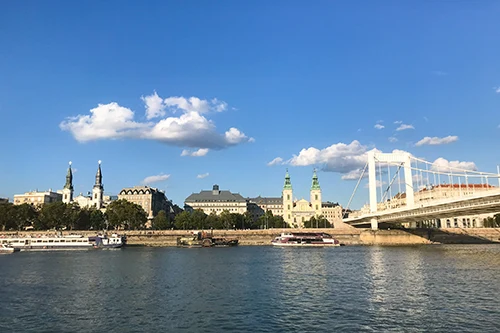 FAQ – Cruise with Pizza or Lángos and Beer In Budapest
Q: Is there student or children discount on the Cruise with Pizza or Lángos & Drinks?
A: Unfortunately the there isn't any price discounts. The cruise costs 32 EUR (daytime) and 37 EUR (nighttime) for everyone (but it has great inclusions!).
Q: What time does the cruise with Pizza or Lángos & Drinks Cruise start?
A: There are 2 daytime cruises departing at 16.00 and 18.00 and 2 nighttime cruises at 20.00* and 22.00*. * Please note that the nighttime tours cost 5 EUR more.
Q: How early do I have to be there for boarding?
A: For the Cruise with Pizza or Lángos & Drinks please be at the boarding point 20 minutes before departure time.
Q: Do you recommend the Cruise with Pizza or Lángos & Drinks Cruise For children?
A: Yes, definitely! The afternoon tours (16.00 and 18.00 departures), I don't recommend taking children on the night tours though (20.00 and 22.00). The daytime tours may not be suitable for children younger than 5-6 yrs (85 minutes might be too long for them, but this depends on your child's personality).
Kids older than that will surely enjoy the trip. Especially if there's pizza🍕. Every kid loves pizza…. and Coke … and Fanta …
Related
Top 5 Dinner Cruises In Budapest – see prices, pros and cons, compare all the important details.
Budapest River Cruises – recoomended boat tours with or without meal, during the day, in the evening or at night. Choose one that's best suits your budget and other preferences!
Evening Cruise With Hungarian Dinner & Folk Dance Show – A good-value river tour on a spacious vintage boat. A great opportunity if you want to taste several local dishes at once. Entertaining dance performance to the tunes of a Gypsy band.
Wine Tasting & Cruise – Sip fine Hungarian wine (7 X 80 cl samples from various wine regions, including Eger and Tokaj).