Public Transport Services From Airport To The City Centre
100E Airport Express Shuttle Bus To The City Center/Deák Ferenc Square
You Need To Purchase A Separate Single Ticket (2 200 HUF)
The 100E Airport Express is a direct bus line that connects the Airport and the City Centre. The journey takes 40 minutes only.
Buses – low-floor, air-conditioned vehicles run every 6-8 minutes during the day and every 10 minutes at night in the tourist season
Ferenc Liszt Airport and
Deák Ferenc tér metro hub (where 3 metro lines – M1, M2, M3 – meet) in district V, downtown Budapest
The bus also stops at Kálvin tér (M3 metro) and Astoria (M2 metro). See the schedule on BKK's website.
The first bus departs at 03:40 AM the last one at 01.20 AM (runs every 20 min).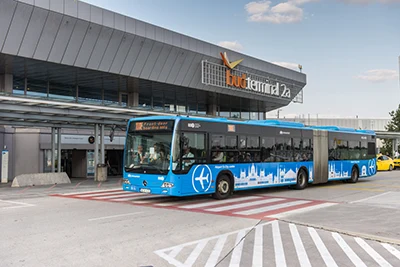 Where To Buy Ticket For The 100E Airport Express Bus?
The new bus service can be used with a special ticket that is valid only for this line. A one-way ride costs 2 200 HUF (cc. 5.5 EUR). (The Budapest Card and other passes aren't valid for this service).
Note: The Airport Shuttle bus ticket can be bought
At the BKK Customer Service Points at the Airport or
From Ticket vending machines located next to the Customer Service (accepts credit card/bank card).
You can also buy it on board the bus in digital form through the yellow and black Budapest Pay & Go devices, with a bankcard or smart watch or phone.
Your ticket purchase also validates your ticket.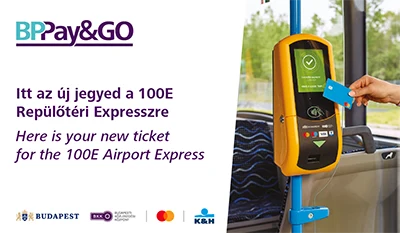 In case a ticket inspector comes and asks for your ticket just touch your bankcard/smartwatch/smartphone you used to pay with to the back of the handheld gadget the controller has with her/him.
See where to buy tickets at the airport!
Other Ways To Get To the City Center/Airport
You can choose from several ways to travel to the centre from Budapest Airport:
Train service from Ferihegy Train Station (accessible by bus 200E during the day, and by bus 900 at night from Liszt Ferenc Airport Terminal 2, the trip is 5 stops, around 10 minutes) to Western Train Station (Nyugati Pályaudvar): this is the simplest way to get to the city centre.
You can get to the city center by the M3 (blue) metro line or trams 4 and 6 from the train station. The train journey takes less than half an hour (cc. 22-25 minutes).
Train tickets (costs cc. 400 HUF) can be purchased at the ticket office at Ferihegy train station (open: 6.00-18.00 every day) or from ticket vending machines.
Travel cards (24-hour, 72-hour) are also valid for the train trip between Ferihegy and Nyugati Train Stations (and for buses 200 E/900). If you don't have a travel card or don't want to buy it then you'll need a single ticket (costs 350 HUF, 450 HUF if bought on board the bus) for the bus trip from Terminal 2 to Ferihegy Train Station.
Bus 200E takes you from Terminal 2 to the M3 (blue) metro terminal called Kőbánya-Kispest Metro Station. The bus operates from 4.00 till 23.00 daily. The journey is about 30 minutes. From there you can travel on by metro. See timetable of Bus200E.
A one-way public transport ticket (single ticket) costs 450 HUF (600 HUF when you buy it from the driver onboard the bus).
Buying Public Transport Tickets/Passes at Budapest Airport
You can buy
100E Airport Express shuttle bus ticket (Bus No. 100E)
Single tickets (350 HUF),
Pack of 10 single tickets (3 000 HUF),
Travel cards (24-hour, 72-hour),
Monthly, yearly etc. passes
at the BKK Customer Points/BKK Ügyfélpont at Terminal 2A and 2B. (BKK is an abbreviation for the Budapest Publc Transport Company in Hungarian).
You can also use the Ticket Vending Machines palced next to the customer service point.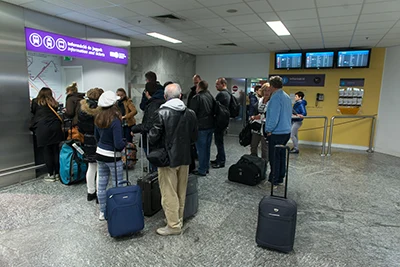 BKK Customer Service at the Airport – Opening Hours
Terminal 2A, Arrivals, Opening Hours: every day: 08.00 – 22.00, on 31. December: 08.00-20.00, on 01. January: 08.00 – 22.00
Terminal 2B, Arrivals, Opening Hours: every day: 09.00 – 21.00, on 31. December: 08.00 – 21.00, on 01. January: 09.00 – 21.00
Ticket Vending Machines – Next to the Customer Service Point
You can buy
tickets,
travel cards and
the airport bus ticket (Bus No. 100E, 900 HUF) from 3 ticket vending machines next to the customer service center (accepts bank card/credit card).
News Agent, Post Office
You can also buy single tickets and pack of 10 single tickets at
the Relay News Agents
and at the post office (closed on weekends and holidays) on the mezzanine level at Terminal 2A. Opening Hours of the Post Office: Monday – Friday: 8.00 – 12.00 and 12.30 – 15.30, closed on weekends and public holidays. 24-hour, 72-hour and 7-day travel cards are also sold at the post office at Terminal 2A.
Relay Newsstands (sell only single tickets/pack of 10 single tickets):
Terminal 2A Arrivals, Relay Newsstand: 08.30 – 00.30 every day
Terminal 2A Departures, Relay Newsstand: 04.15 – 21.00 every day
Terminal 2B Arrivals, Relay Newsstand: 08.00 – 21.30 every day
Terminal 2B Departures, Relay Newsstand: 04.30-21.00 every day
Skycourt, Relay: Mon-Fri: 04.15 – 21.00 every day, Sat: 04.15 – 20.00
Opening hours of the ticket office at the Kőbánya Kispest Metro Termini: every day: 6.00-21.30.
Ticket Vending Machine (Bus 200E Stop)
There's also a ticket vending machine at the stop of Bus 200E. You can buy tickets (all types), travel cards and passes here with cash or bank card.
Remember to validate your ticket, travel cards don't require validation, you just have to show them to the inspector if asked.
Read about other ways of getting to the city centre from Liszt Ferenc Airport.
Budapest Metro Lines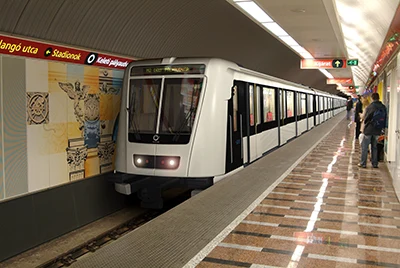 The 4-line metro system is efficient and clean. Trains run from 4.30 am
to 11.10 pm.
The newest, 4th line started operation at end of March in 2014 with automated trains running between Kelenföld Pályaudvar in Buda and Keleti Train Station in Pest with 10 stations along the way.
They run quite often (2-5 minutes) during rush hours.
The older three lines (M1 underground, M2-red line, M3 blue line) meet at Deák Ferenc tér in the city centre.
Note: M3 metro is under construction so please check the BKK website (Public Transport Company of Budapest) for up to date information on replacement bus services.
Read more about Budapest Metro lines!
Trams In Budapest
Budapest has more than 30 tram lines, you can recognize them by their bright-yellow colour.
The Most Important Tram Lines:
Trams No. 4 (between Újbuda Központ-Széll Kálmán tér) and No. 6, (between Móricz Zsigmond körtér and Széll Kálmán tér) the busiest line in Europe: runs along Grand Boulevard, it has stop at Margaret Island (Margitsziget).
TIP: The two trams run at around 5-6 minute frequency from 07.00 till 20. 00. Tram 6 operates all night: you can expect a tram car every 10 minute between 21.00 and 24.00.
Tram No. 2, & 2B – One Of TheMost Scenic Tram Rides In Europe
Tram 2, and 2B run along the Danube, between
Jászai Mari tér (at Margaret Bridge Pest side) and
Közvágóhíd in IX. district. Tram 2 runs at every 3 – 5 minutes from 06.00 till 19.00 on weekdays, then every 9-10 minutes till 23.45 – 24.00. It operates silghtly less frequently on Sundays and bank holidays.
Travelling by tram is slower but more spectacular than by metro, especially if you take tram No. 2. or 2B
These two lines travels along one of the city's most scenic routes, the Danube Promenade.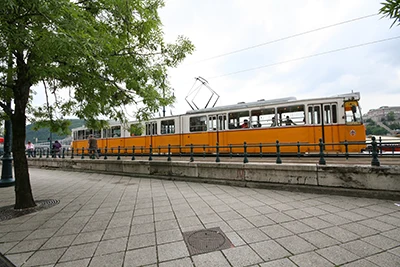 A sightseeing tour by bus doesn't come up to a ride on tram No. 2. You get a very good view of the Gellert Hill, Castle Hill, the Parliament, not to mention the Danube and the graceful bridges (Liberty, Erzsébet and Cain bridges) over it.
You have to buy your ticket in advance and validate it onboard at the start of your journey.
You either find red punch-machines or orange automated machines.
Trams run between 04.30 am until around 22.45 on weekdays. You'd better check the timetables at the stops. You'll also see the route of the tram line there.
Trams No. 47 and 49
, two major lines connecting Pest with Buda:
Tram 47 runs between Deák tér-Budafok Városháza tér,
Tram 49 travels between Deák tér Kelenföldi Train Station.
Bus Services
Budapest has a very extensive bus route system. I personally don't like to travel by bus, but some parts of the city (e.g. Buda Hills) can only be reached by bus.
During rush hours buses are crowded and they often get stuck in traffic jams.
Night Buses
The night services are marked with a three digit number between 900-999, e.g. 906. You can get on a night bus at stops marked with the black-and-white owl symbol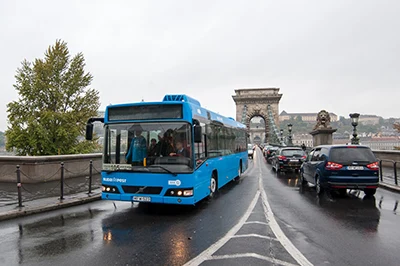 TIP: Tram 6 (between Móricz Zsigmond körtér and Széll Kálmán tér) also operates all night at around 10-minute frequency.
You can buy tickets from the driver but you have to pay a bit more (costs 600 HUF instead of 450 HUF of the single ticket's price).
You have to press a button above the doors to signal that you want to get off at the next stop.
You'll find the stops posted inside the buses, but if no one gets off or on, the vehicle won't stop, so you may lose track of stops.
Your best bet is to ask locals travelling on the bus; they'll be happy to tell you where to get off.
Unfortunately you don't have to queue at the stops, so be prepared that particularly locals tend to thrust, in order to get on the vehicle. (Actually it's true for all kinds of transportation in Hungary.)
See timetable for night services.
Trolley Lines
There are 14 trolley bus lines in Budapest. Trolleys are red coloured.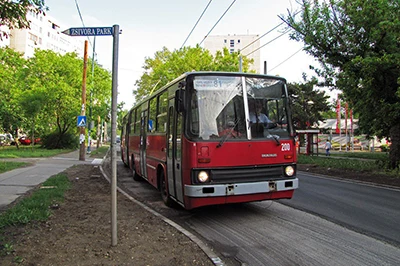 It's interesting that their numbers start from 70, according to the story the first line started operating on Stalin's 70th birthday.
Trolley buses operate until somewhere between 11-12 pm.
You can check the timetables at the stops, they'll provide reliable information. Ticket validation is the same as on buses.
Suburban Railway (HÉV)
You can travel by HÉV (green trains) to the outskirts of Budapest.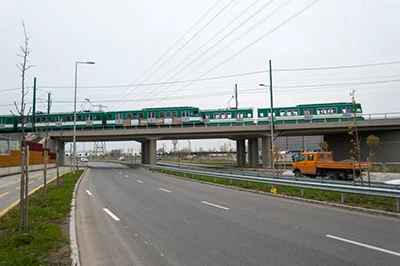 The Szentendre line might be interesting for tourists. It runs between Batthyány tér (it's also on the red metro line) and Szentendre.
Szentendre is a small, charming town right on the Danube bank. Don't miss visiting it if you come to Budapest for a couple of days!
Tickets within the boundary of the city cost the same as discussed above. Outside Budapest you pay according to the distance you'll cover during your trip.
A ticket to Szentendre is about 400 HUF. You can buy it at the station. HÉV trains run every 10 to 30 minutes.
Travelling By Public Boat (2022)
There used to be several scheduled boat services on the Danube between Boráros tér and Római fürdő from mid-March till the winter weather sets in.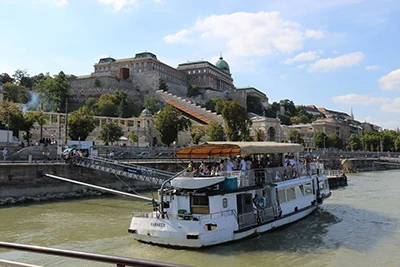 In 2022 only one boat line operates – the rest is temporarily out of service.
Public Boat Lines (Before 2022):
D11 (Haller utca in district IX.-Újpest Árpád út),
D12 (Haller utca in district IX.- Római Fürdő/Lido,
D13 ((Haller utca in district IX.-Római Fürdő), and
D14 (Csepel-Királyerdő/district XXI. – Soroksár Molnár-sziget).
You need to purchase a single ticket for public boat travel –
Public Boat Service Tickets:
The full price of the boat ticket:
1 500 HUF,
Free for children under 7 yrs of age.
You can buy the tickets on board the boats or at major ticket offices in the city.
Try The Special Vehicles!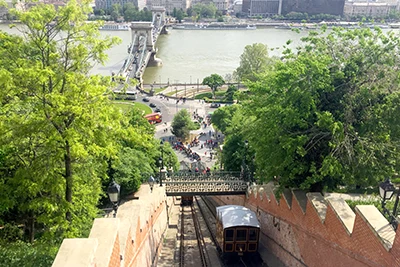 Budapest offers several unique means of transportation some of them dating back to the 19th century.
Funicular (Budavári Sikló)
Takes you up to Buda Castle from Clark Adam Square at the Buda end of Chain Bridge.
Location
Lower Station: Clark Adam tér- , Budapest 1013 Buda end of the Chain Bridge, next to the tunnel
Upper Station: Szent György tér, between Buda Castle and Sándor Palace
Getting to the Lower Station: use bus 16, 105, trams 19, 41, Upper Sttaion: bus 16, 16A, 116 will take you there.
The funicular – that is a UNESCO Wold Heritage Site along with the whole Castle area – has been operating since 1870.
It connects the riverbank with Buda Castle.
You can enjoy the amazing view during the 95 m long ride, the grade of ascension is 50 m.
Operating Hours
The funicular rides all year long, every day between 08.00 – 22.00 (with the exception of maintenance on every odd week's Monday until the works last.
Frequency: every 5 – 10 minutes
Last ticket sold: 21.50
Tickets For The Funicular (Return Tickets Only):
Adults and kids from age 15: 3 000 HUF,
Children ages 3 – 14: 2 000 HUF
Free for children under the age of 3 (Only max. two children under 3 per adult are allowed)
The ticket office closes at 21.50
Please validate your ticket before boarding and also make sure you keep your receipt of the ticket purchase until the end of the journey and you till you leave the station.
Chairlift (Libegő)
Address (Lower Station): Zugligeti út 97., Budapest 1121, Distr. XII.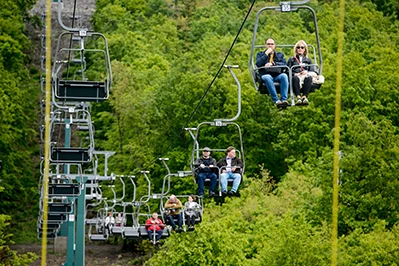 Getting to Zugliget: Take bus 291 from Nyugati Train Station, get off at the termini
Getting To The Upper Station (János Hill): Take bus 21 or 21A from Széll Kálmán tér (trams 4, 6, M2 metro) then walk on the footpath (20-30 minutes)
Travelling on the chairlift lets you admire the wonderful panorama of the Buda Hills.
It will take you from Zugliget up to János Hill – the highest peak of Budapest – or back down.
he 12-minute journey is slightly longer than 1 km (1040 m) while the elevation difference is 261 m. The 2 600 m long cable has 102 double seat chairs hanging from it.
Not recommended if you're scared of heights!
TIP: Climb up the Erzsébet Lookout Tower to get an even more panoramic view.
Operating Hours (Every Day, Exc. Maintenance On Every Even Week's Monday)
January: 10.00 – 15.30
February: 10.00 – 16.00
March: 10.00 – 17.00
April: 10.00 – 18.00
May: 10.00 – 19.00
June: 10.00 – 19.00
July: 10.00 – 19.00
August: 10.00 – 19.00
September: 10.00 – 18.00
October 01 – 30: 10.00 – 17.00 (Oct 31: 10.00 – 17.00
November: 10.00 – 15.30
December: 10.00 – 15.30
Tickets For The Chairlift (Return Tickets Only)
Adults from the age of 19: 2 000 HUF
Children/Young Adult Up To 19 yrs of age: 1 000 HUF.
Children's Railway (Gyermekvasút) – Between Hűvösvölgy – Széchenyi Hegy
Schedule – Operating Hours
The Children's Railway operates all year round. From May till September: every day, September – May: Tuesday – Sunday
Departure times: Hüvősvölgy station: 1st train departs at 08.45, last train: 17.22, Széchenyi Hill station: first train departs at 09.45, last one at. 18.45
Frequency: every 40-45 minutes
Great for excursions in the Buda Hills especially if you are visiting Budapest with kids.
The train journey take 40 – 50 minutes between the 2 terminis, but you can get off at any station t go for hiking and exploring the hills.
Tickets For The Children Railway
Adult single trip ticket (no stopover): 800 HUF, transfer ticket (rebound trip with no stopover or one-way trip with one stopover: 1 400 HUF
Children ages 6 – 18: single trip ticket: 400 HUF, transfer ticket: 700 HUF
Families with kids (2 adults max. 3 children): 4 000 HUF – unlimited number of trips
Free for children under age of 6
TIP: With a Budapest City Card you'll get 50 % discount on the ticket price).

Try riding at least on one of them during your stay especially if you're with kids!
Cogwheel Railway (Fogaskerekű)
Transporting A Bike
If you're adventurous enough you can also go biking in Budapest. You can carry your bike with you on the on several public transport services:
Suburban trains – in the back of a carriage (HÉV)
Tram 60 (cogwheel railway),
Buses 65, 65A and 165,
trams 59 and 59A
public boat
You need to buy and validate a single ticket (350 HUF) for the bicycle if you don't have a bike pass which is 540 HUF (you can buy it as a supplement for most seasonal passes).
Travelling Information For People With Physical Disability
There are low floor buses and trolleybuses on several routes in Budapest, low floor trams on the Nagykörút and the Public Transport Company (BKK) offers a special door-to-door bus service, which they operate in a taxi-like system.
They launched this service on 12th April 2010 with 5 minibuses, type Renault Master 2,5 dCl, which were specially designed to help passengers with reduced mobility to reach one part of the city from the other part.
To make transport for physically challenged passengers as simple and easy as possible, one of the minibuses is equipped with a ramp, and four with hydraulic lifts and there are also special hand-holds in the passenger compartment.
All five vehicles are air-conditioned. The seats are moveable on a so-called rail system, so the passenger compartment can be re-arranged to meet every requirement. There is convenient room for 14 people or for 4 wheelchairs, and 4 or 5 attendants besides them.
People who want to use this service has to call the National Federation of Disabled Persons' Associations (MEOSZ), phone numbers: +36 1 388-55-29, +36 1 388-23-87 or +36 1 388-23-88.