A Classic Recipe, Preparation Tips, History
From the country's varied culinary repertoire Hungarian goulash is the most famous and often cooked dish outside the borders of Hungary.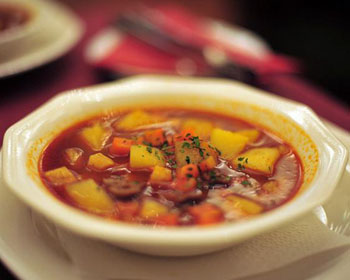 Still many confusions and misconceptions surround its exact preparation method.
Even in Hungary every other housewife or chef has her/his own way of cooking it by
adding or omitting some of the ingredients, or
changing something in the preparation process,
However, they would all call their gulyás the most authentic.
Table of Contents
What's Authentic Hungarian Goulash?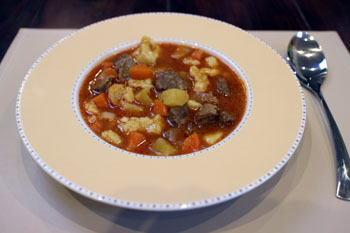 Authentic gulyás is a beef dish cooked with
onions,
tomatoes and
some green pepper.
Potato and noodles (csipetke in Hungarian) are also added according to some recipes. Hungarian goulash is neither a soup nor a stew, it's somewhere in between.
Though in Hungary it's considered rather to be a soup than a stew, so look for it among "Soups" on restaurant menus.
If cooked in the proper way, goulash has a nice and evenly thick consistency, almost like a sauce.
In Hungary gulyás is eaten as a main dish. Noodle or pastry dishes, especially the ones made with cottage cheese (túrós csúsza, túrógombóc, strudel) go down well after the heavy soup.
A Classical Hungarian Goulash Recipe (also called Alföldi Gulyás)
Ingredients (for 4 persons)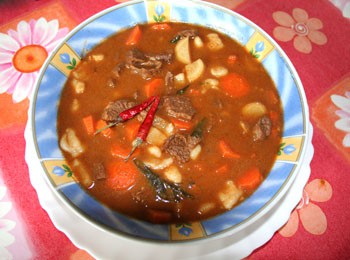 600 g beef shin or shoulder, or any tender part of the beef cut into 2 x 2 cm cubes
2 tablespoons oil or lard
2 medium onions, chopped
2 cloves of garlic
1-2 carrots, diced
1 parsnip, diced
1-2 celery leaves
2 medium tomatoes, peeled and chopped, or 1 tbs. tomato paste
2 fresh green peppers
2-3 medium potatoes, sliced
1 tablespoon Hungarian paprika powder (sweet)
1 teaspoon ground caraway seed
1 bay leaf
ground black pepper and salt according to taste
water
Ingredients For Csipetke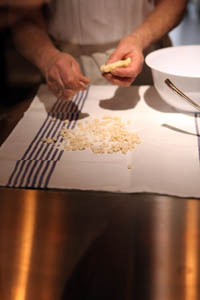 Pinched noodles added to goulash or bean soup in Hungary.
Csipetke comes from the word csípni, meaning pinch in English, referring to the way of making this noodle):
1 small egg,
flour,
a pinch of salt,
cc. 1 teaspoon water
Goulash is hearty enough without csipetke, especially if you eat it with bread, so you can leave csipetke out.
Instructions
1. Heat up the oil or lard in a pot and braise the chopped onions in it until they get a nice golden brown colour.
2. Add the beef cubes and and sauté them till they turn white and get a bit of brownish colour as well.
3. Sprinkle the braised onions and meat with paprika powder while stirring them to avoid getting the red spice burnt.
4. The meat will probably let out its own juice. Let the beef-cubes simmer in it while
adding the grated or crushed and chopped garlic (grated garlic has stronger flavour),
the ground caraway seeds,
some salt
ground black pepper,
the bay lea.
Pour enough water to cover the content of the pan and let it simmer on low heat for a while.
Add the Vegetables
5. When the meat is half-cooked (approx. in 1,5 hour, but it can take longer depending on the type and quality of the beef), add
the diced carrots,
parsnip
the potatoes,
the celery leaf and
some more salt if necessary (vegetables tend to call for more salt).
You'll probably have to pour some more (2-3 cups) water too.
6. When the vegetables and the meat are almost done add
the fresh tomato cubes or paste and
the sliced green peppers.
Let it cook on low heat for another few minutes. You can remove the lid of the pan if you want the soup to thicken.
7. Bring the soup to the boil and add the csipetke noodles.
It needs about 3-5 minutes to get cooked. Add some more water and salt if necessary.
How to Make the Csipetke:
Beat up a small egg
Add a pinch of salt and as much flour as you need to knead a stiff dough (you can add some water if necessary).
Flatten the dough between your palms (to about 1 cm thick) and pinch small, bean-sized pieces from it and add them to the boiling soup. They need about 5 minutes to get cooked.
Learn how to make traditional Hungarian dishes like goulash in a modern cooking school in Budapest's center.

The course is a fun way to learn more about local gastronomy from young, talented chefs. A visit to the famous Great Market Hall can also be included.
Goulash Variations
Many gulyás variations have been created throughout the years and became popular in Hungarian gastronomy:
Alföldi goulash is the name of the classic version I given the recipe above.
babgulyás is cooked with beans,
sauerkraut is added to the székelygulyás,
french beans to the palócgulyás etc.
A bit of Goulash History
This thick, hearty dish was (and still is) a very popular dish among herdsmen in Hungary. They made it in a cast-iron kettle hung above open fire, out in the fields.
Herdsman is gulyás in Hungarian, so that's where the dish's name comes from.
Herdsmen had the best ingredients at hand (most importantly prime quality beef) and the preparation method fitted very well to their work and lifestyle.
They didn't have to stand by the side of the kettle and stir its content all the time, but still had a tasty and hot meal to fill up their stomach.
This peasant dish got on the noblemen's and town folk's table only towards the end of the 19th century, prompted by the raising national awareness throughout the country.
From the Fields to Restaurants
In the second half of the 1800s it became very important to protect treasures of Hungarian culture: the language and the gastronomical delights, as part of the movement to emphasize Hungary's national identity and independence from the Austrian Habsburg dynasty's rule.
Restaurants started to put goulash on their menus too.
By the second half of the 20th century, the soup became the number one dish of Hungary that every tourist coming to the country must try.
In English gulyás became goulash, and in some parts of the world stews and casseroles are called goulash too.
Where to Eat Goulash in Budapest?
In Pest
TIP: Hungarian Dinner with Folk Show: have a 4-course dinner of typical Hungarian dishes, including goulash made from grey cattle beef, in an elegant restaurant accompanied by a 30-minute folk music & dance program. A great combination of good, local food/wines and cultural entertainment: Every Friday at 19.00 in a centrally located restaurant.
Traditional Hungarian restaurants all have goulash on their menus. Browse our list of Hungarian Restaurants in Budapest.
A bowl of Hungarian goulash costs between 800 – 2 000 HUF, depending on the place.
Other recommended restaurants where you can have a bowl of steaming Hungarian goulash:
Pörc & Prézli Restaurant
Address: Lázár u. 1., 1065 Budapest, near the Basilica
Opening Hours: every day: 12.00 – 15.00 and 17.30 – 24.00
This nice place is at just a stone's throw from one of Budapest's top landmarks, St. Stephen's Basilica. Pör & Prézli sevres typical local dishes with a modern flare.
The staff is kind and the food is amazing.
Naturally they have goulash on the menu and it's delicious (price: 2 190). Do leave space for other dihses:
chicken paprikashwith dumplings (4 290 HUF) or
the potato casserole with sausage, bacon and poached egg (4 290 HUF) are worth a try too.
VígVarjú Étterem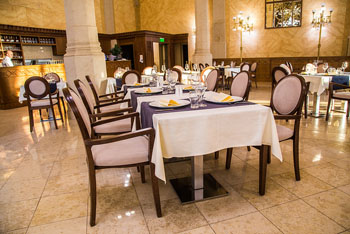 Address: Vigadó tér 2., district V.
Opening Hours: every day: 10.00 – 23.30 (holiday opening hours, especially during Christmas & New Year are different)
The renewed, historic building of the Vigadó Hall is not only a place of cultural entertainment but houses an elegant restaurant with reformed, contemporary local cuisine.
Thely have the
traditional goulash (price: 2090 HUF)
TIP: For dessert try the cottage cheese balls covered in honey gingerbread crumbles or the floating islands, whipped eg white balls swimming in custard (It's called madártej in Hungarian.) Both sweet treats cost 1 890 HUF.
A highly recommended place to savour local dishes in a stylish, historic setting.
A nice thing that they have menu for children. Chiecken soup and a choice form 4 mains for 2 190 HUF.
Gettó Gulyás
Address: Wesselényi utca 18., district VII.
Open: Mon – Thurs: 12.00 – 23.00, Fri – Sat: 12.00 – 24.00, Sun: 12.00-22.00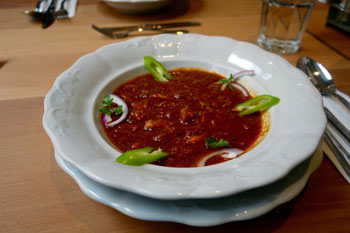 A moderately-priced, homey place with amazing, tasty food.
A 3-course daily menu with a glass of fröccs or fruit syrup with soda is just 1 890 HUF.
They have Alföld-style goulash for 1 440 HUF, but they're mostly known for their stews made from beef, chicken or venison, veal liver, mushroom or bean (prices vary between 2 300 – 3 800 HUF)
See menu here.
Kiskakukk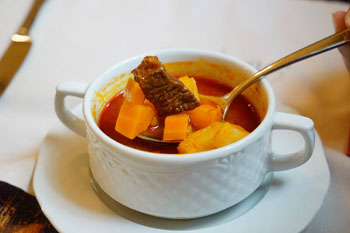 Address: Pozsonyi utca 12., XIII. district, trams 4,6, Jászai Mari tér stop
Opening hours: Mon – Sun: 12.00 – 24.00
Tel: (+36 1) 450 0829
A charming, traditional restaurant in the Lipótváros neighbourhood of Pest, with
friendly, attentive service and
good food
Gulyás is 1 790 HUF in Kiskakukk.
Regős Vendéglő
Address: Szófia utca 33., VI. district,
Openinig Hours: every day: 12.00 – 15.00, 18.00 – 22.00 (kitchen closes at 21.30)
Tel: (+36 1) 321 1921
A very good and inexpensive traditional Hungarian restaurant.
They have classic gulyás as well as babgulyás (goulash with beans) on the menu both for 1 400 HUF. The good thing is that you can have 1/2 portion for 900 HUF if you aren't up to eating a full portion.
Rosenstein Restaurant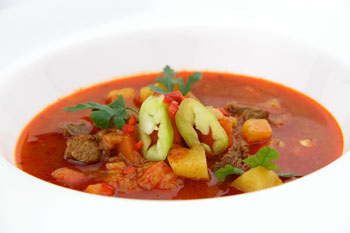 Address: Mosonyi utca 3., VIII. district
Open: Mon-Sat: 12.00 – 23.00
Tel: (+36 1) 333 3492
A popular restaurant with Hungarian-Jewish cuisine near the Keleti Railway Station, a bit pricey though.
Alföld-style goulash in a cup is 1 800 HUF.
Reservation is recommended.
In Buda
Stand25 Bisztró
Address: Attila út 10., Budapets 1013, distr. I.
Opening hours: Lunch: Mon-Sat: 12.00 – 16.00, Dinner: Mon – Sat: 18.00 – 23.00
Note: Reservation is required- unfortunately they're very popular so they take reservations 30 days in advance.
The place belongs to one of Hungary's most talented chefs, Tamás Széll and his equally talented partner Szabina Szuló. They specialize in Hunagarian classics like the goulash, layered potato or veal stew.
Stand25 is definitely one of the best places to sample real local dishes. In good weather you can enjoy your meal on the terrace. Due to the location and the fame of the owners it's a bit pricey though.
A bowl of goulash is 3750 HUF.
Ramazuri Bistronomy
Address: Úri utca 30., 1014 Budapest, Buda Castle District
Opening Hours: every day: 11.00 – 23.00
This relatively new place – opened in 2020 – serves bistro style dishes during lunch time while they await guests with 5-course degustation menu at dinner. They use only seasonal and local ingredients.
Goulash is made of beef cheek here and a bowl costs 3 500 HUF.
Baltazar
A pleasant place with a nice terrace in the historic castle area near Fishermen's Bastion.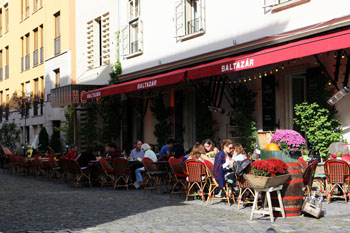 Address: Orzságház utca 31., Buda Castle
Open: Mon-Sun: 07.30 – 23.45
Baltazar is a 11-room luxury boutique hotel in the Castle District with a fine grill restaurant and wine bar.
Goulash is a main dish here, served with homemade bread.
A simple, but tasty and filling dish for 4 360 HUF. Half-portion costs 2 180 HUF.
An ideal place to sample other Hungarian dishes besides gulyás. There are also fantastic grilled food from the Josper grill.
Releated:
Hungarian Cuisine – Popular Local Dishes – Desserts in Hungary – Hungarian Cuisine – Popular Local Dishes –Desserts in Hungary