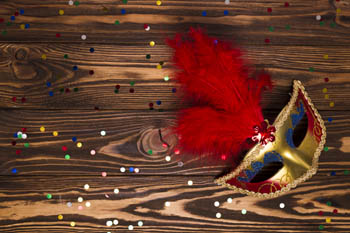 Come and have fun during Farsang (Carnival Season) in Budapest! We listed some places and programs where you can experience this "crazy" time of the year.
The Carnival Season in Hungary (Farsang) starts
on Epiphany (06. January) and lasts
till Ash Wednesday (February 14. in 2018.), that marks the 40-Day lent preceding Easter.
Table of Contents – Carnival Season in Budapest
Fat Thursday (Gluttonous Thursday, Torkos Csütörtök in Hungary) comes right after Ash Wednesday.
It is a day of uninhibited eating and drinking for the last time before the strict fasting of the Lent period.
Hungarians love to carouse, eat and drink well and the Farsang season is a great opportunity for all these.
People go to
masked balls,
dress-up parties,
noisy, costumed parades the aim of which is to ward off evil spirits and the winter cold.
Let's see some programs where you can join the merry crowd!
Where to Celebrate the Carnival Season?
Carnival Whirl in Vajdahunyad Castle, 10. February 2018.
Address: Musuem of Hungarian Agriculture/Vajdahunyad Castle, City Park, distr. XIV.
Opening Hours: 10.00 – 18.00 (10. February)
Admission: Free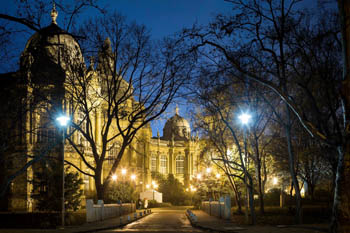 "Come to the Light" is the slogan of the festival indicating that the event will be focusing on awaiting the sunlight of spring.
You can participate in activities on the theme of light:
craft workshops
juggler and artist show
theatre performances, and
folk playhouse.
The fairy-tale like Castle of Vajdahunyad hosts the event, located in the largest green area of Budapest, the City Park (also home to the Zoo and the Grand Circus).
Donut Festival, Allee Shopping Centre, 09 – 11. February
Venue: the promenade next to Allee Mall, Kőrössy József u. district XI., tram 4
Entry: free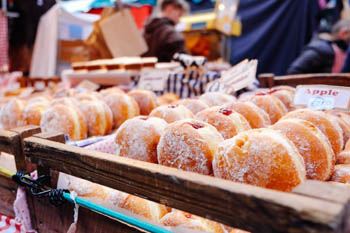 Donut – fánk in Hungarian – is a traditional pastry of the carnival period.
At the festival you can have your fill of the decadent sweet, in all sorts of variations:
stuffed donut
strudel filled with donut
donut hamburger
cream buns
éclair, and so on[
Gastro Weekend in the Downtown Market (Hold Street), 01 – 03. March
Venue: Belvárosi Piac/Downtown Market, Hold utca 13., district V.
Opening Hours:
01 March/Fri: 11.00 – 22.00
02 March/Sat: 10.00 – 22.00
03 March/Sun: 11.00 – 16.00
The Downtown Food Market in Hold utca is known for its quality food court on the gallery. You can find some really great street food bars and restaurants here.
Some of the best are:
Stand 25 – fine bistro food from fresh ingredients under the supervision of a Michelin-star chef, Tamás Széll.
Séf Utcája – traditional local dishes (sausage, cholent, offals prepared in creative ways, seasonal breakfast offer. Really popular among the crowd working in the area
Lakatos Műhely – daily soups and delicious grilled sausages – the place belongs to Márk Lakatos, a local celebrity stylist.
What's more, they regularly organise foodie events, like the Töltött Hold Gastro Weekend usually in the carnival Season.
The name literally means Stuffed Moon after the street the market is located in. Besides regional flavours, this year the event will offer
more of international cuisine
champagne within cool bar atmosphere
music, and
many surprises.
Mangalica Festival, 09 – 11. February
Venue: Szabadság tér, in the city centre (near the Parliament)
A 3-day event focusing on a local specialty, the Mangalica, a rare pig breed indigenuous to Hungary.
You can buy and taste managalica food an other craft food stuff straight fromt he farmers.
A couple of street food trucks will offer quality fast food:
burgers
BBQ
goulash, and of course
drinks: wine, beer, non-alcoholic options.
Concerts and a cooking contest (meals prepared in cauldron over open fire) are the other highlights of the program.
V4 Carnival in Várkert Bazaar, 10. February
Venue: Várkert Bazár, address: Ybl Miklós tér 2-6., at the foot of Castle Hill
Entry: free
V4 stands for the Visegrad Group – aka the Visegrad Four – an association of four Central European nations:
Czechia,
Hungary,
Poland and
Slovakia
Slovakia
The member countires celebrate the V4's founding with a whole-day carnival at the foot of Buda Castle in the Várkert Bazaar.
Join the whirl where live concerts, family programs, carnival traditions, and performances typical of the four nations await visitors.
Fireworks and light painting show
on the Danube Promenade in Pest and
at Várkert in Buda end the program.
Taste the Mardi Gras! – High Note SkyBar (Aria Hotel), 10. Feb.
Venue: High Note SkyBar of the Aria Hotel, Hercegprímás utca 5., near the Basilica
Date: 10. February, Saturday
Opening Hours: 20.00 – 0.00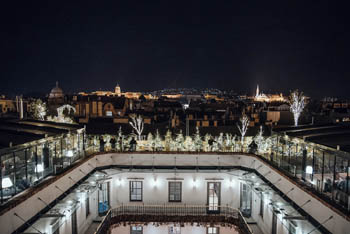 After feasting on tasty food in the Downtown Market, drop by the High Note SkyBar for a drink or two.
The amazing roof top bar of the upscale Aria Budapest Hotel has recently undergone a spectacular makeover.
The place has transformed into a forest with lots of
The forest theme – that will be around till March – also appears in the cocktails and food.
The view is still awesome, you can enjoy nice panoramic vista of the city while sipping an exciting cocktail.
Try:
the Poison (Sloe gin, black rowan berry, rose) – 2 500 HUF or
the Ghost from the Barrel (Unicum Riserva, grapes, Port wine) – 2 800 HUF
L.A. NIGHT – Carnevale di Venezia, 10. February
Venue: Sofitel Budapest Chain Bridge
Date & Time: 10. Feb/Saturday, 22.00 – 03.00
Entry: 4 000 HUF, includes 2 drinks (a top-quality Prosecco and a drink of your choice)
Dress Code: sexy, elegant and masked, men in suits
Attend a Venetian-style masquerade Ball in one of Budapest's top luxury hotel, the Sofitel Chain bridge!
It's kind of a posh party but guests will sure have a terrific time!
Fat Thursday in Nádori Cake Shop, 15. February
50% off of the prices of all cakes, pastries, tortes as well as drinks consumed on the spot or taken away!
Address: Nádori Cukrászda, Ráday utca 53. district IX. (near Boráros tér tram 4, 6 stop)
Opening Hours: 07.30 – 20.00
Moulin Rouge – The Masquerade Ball, 16. February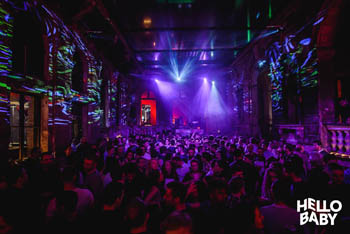 Venue: Hellobaby Bar, Andrássy út 52., Budapest 1062
Date & Time: 16. February/Friday: 22.00 – 05.00
Age Limit: 18+
Tickets: can be bought through the event's FB page.
Dress Code:
ladies: feather headdress
men: black tie
One of the top bars located in a chic villa on the elegant Andrássy Blvd. hosts a decadent masked ball in mid-February.
Dance show,
unbridled hedonism to the latest rhythms – promises to be an unforgettable party!
Find more Budapest events and things to do in February!
Check out alos our post about Gluttonous Thursday programs!
Visit also our Season by Season page for more program and things to do ideas!