Europe's Most Beautiful Advent Fair & Winter Festival
The Christmas Market and Advent Feast by the Basilica of Budapest is one of the most popular holiday-welcoming events in the city.
The most prestigious church of the country lends a fitting backdrop to the festival that starts around 17th November 2023 and welcomes visitors till 1st January 2024.
Besides the holiday fair offering quality handmade goods and food vendors countless programs acompany the city's second most popular winter festivity.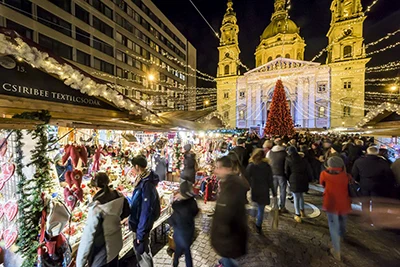 Table of Contents

Table of Contents – Christmas Market By Budapest Basilica
Location, Address:
Szent István tér Budapest 1051
Getting There:
Tram 2 Széchenyi István tér (Chain Bridge),
M1, M2, M3 (replacement buses due to the blue line's recosntruction) metro lines, Deák F. tér station
It's the square sprawling in front of the Basilica right in the centre of Budapest. Cafes and restaurants are abound in the area.
Opening Hours – Christmas Market By Budapest Basilica
Planned Date: 17. November 2023 – 01. January 2024.
Mon – Thurs: 11:00 – 21:00,
Fri – Sat: 11.00 – 23.00
Sundays: 11.00 – 21.00
December 24.: 11:00 – 15:00, TIP: Browse program and things to do tips for 24th December!
December 25. and 26.: 12.00 – 20.00
December 31.: craft vendors: 11.00 – 23.00 Food & Drinks: 11.00 – 03.00
January 01., New Year's Day: 11.00 – 18.00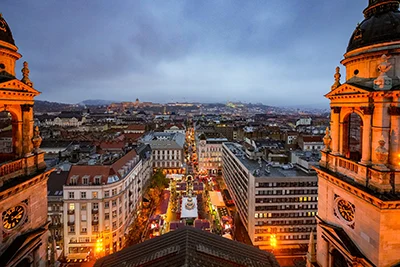 Why Visit The Christmas Market By Budapest Basilica?
Due to the location – right in front of the St. Stephen's Basilica – it is no doubt the most atmospheric of the handful of Advent events in Budapest.
On top of the ample choice of food and drinks,
A nice selection of quality, handmade products
Fine food and drinks, including sugrafree, gluten-free and vegan choices
An ice rink
Light painting on the Basilica's facade in the evenings, and a
Diverse program of concerts, folk show promise a fun time for everyone.
Visitors will be treated to a new, even more spectacular 3D visual show projected on the front of the Basilica every day after sunset.
The speacial glasses with wich you can view the animation are available on the market.
The show can be enjoyed without wearing 3D glasses.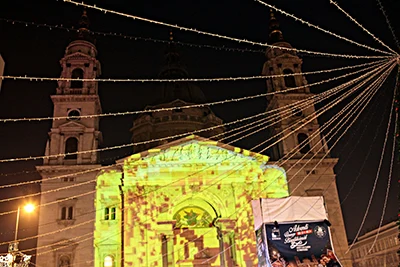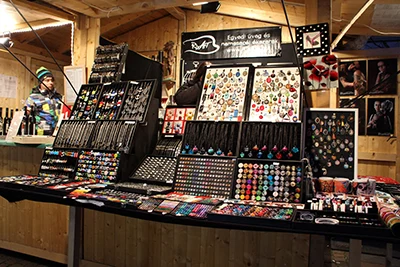 TIP: Christmas Market Tour With Basilica Visit & Mulled Wine
Experience the holiday spirit on a guided tour of two Christmas Fairs!
The 2.5-hour program includes
Professional guiding and introduction to Hungarian Christmas traditions
A guided walk along Andrássy Avenue
Visiting St. Stephen's Basilica and the Holy Right Hand Chapel,
A glass of mulled wine at the Christmas Fair by the Basilica.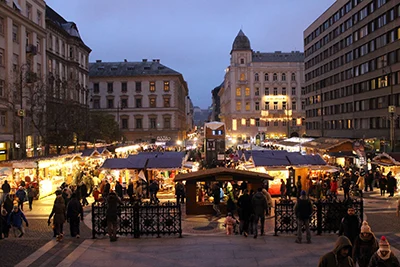 See dates and booking:
Ice Rink -Winter Fun For Everyone
The small – 200 sqm – rink is a source of great fun for all ages. It's free to use for children up to age 14.
Free skate rental is also available for kids.
Free ice skating training for children aged 4 – 14 yr – On Saturdays and Sundays between 14.00 – 18.00.
Opening Hours of the Ice Rink:
Mon – Thurs: 12.00 – 20.00
Fri: 12.000 – 22.00
Sat – Sun: 10.00 – 22.00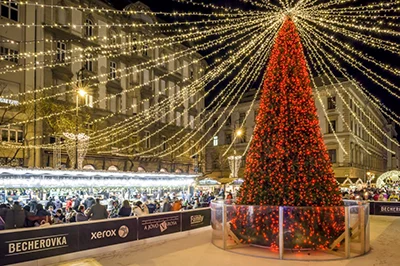 Programs at Christmas Market by Budapest Basilica
This year's detailed program schedule will be published soon.
Visual 3D Painting – The Largest Such Show in Central Europe
3D Light painting on the Basilica with music – daily every half hour between 17.30 – 22.00.
A visual treat to the eye:
Colourful 3D animations,
Festive holiday and religious scenes come alive on the facade of the church.
Can be seen clearly from all points of the square!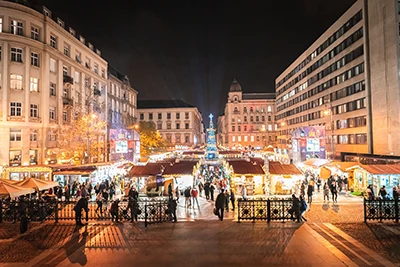 Folk Dance Performances by the Göncöl Ensemble
View the dazzling show of the local folk dance group and join them to learn the traditional dance steps if you feel like.
Hungarian Dances Flash Mob on 01. December and 08. December at 18.00 -19.00 and on 07. December at 16.00 – 17.00
Opening Ceremony of the Advent Fair, Candle Lighting, Sundays at 16.00 – 17.00
The Christmas Crib and the giant Advent Wreath are essentail parts of the Christmas c Advent fair as is the 12 m high uniquely decorated Xmas tree.
As we eagerly await Christmas, each Sunday is graced with the symbolic lighting of candles representing Faith, Hope, Love, and Peace. These moments are complemented by carefully curated programs to enhance the festive spirit.
The 1st candle will be lighted on 02. December between 16.00 – 17.00 during the festive opening ceremony.
Santa Claus At The Fair, 06. December
Meet Santa on 06. December at
12.00 – 16.00 and
17.00 – 18.00
Lentil Day, 01. January, 2024
It is a tradition to eat lentil on the first day of the year because it supposedly brings money.
Food & Drinks At The Christmas Market By Budapest Basilica
The country's best food trucks and street food vendors offer delicious food.
Here's What You Can Eat:
Lángos – a yeast-based dough deep fried in oil – with various toppings (sour cream and cheese is the most popular)
Chimney/Funnel cake/Kürtös kalács – the iconic cylinder shape pastry resembling a chimney can be found at every festival. Here at the Basilica you can taste the salted version on top of the traditional flavours (vanilla, cinnamon, coco flakes, cocoa, walnut)
Donuts,
Roasted sausages, BBQ meats
Stuffed cabbage
Goulash, and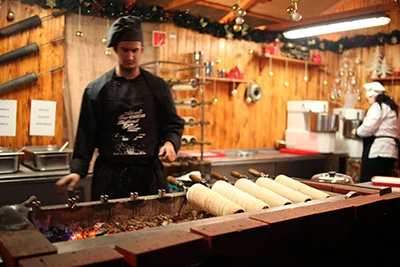 Gluten free dishes and sugar-free drinks will also be available.
You can warm up with a glass of hot mulled wine, tea and coffee.
If you're diabetic or simply do not eat sugar the good news is that sugarfree mulled wine is available.
If you don't mind a cold drink you can choose from
All kinds of spirits (Unicum, Vodka, Whiskey etc.) and of course the local specialty: pálinka – fruit distillate),
Craft beer and
Local wines.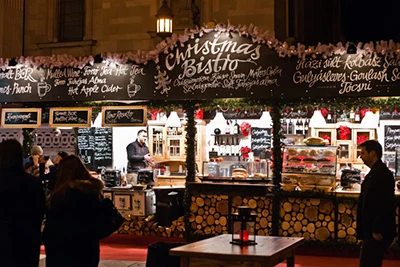 FAQ – Christmas Market By Budapest Basilica
Q: When Does The Christmas fair At The Basilica Starts In 2023?
A: The planned starting day of the fair is November 17, Friday. The event lasts till New Year's Day, meaning that it will be open to visitors on January 01, 2024.
More Christmas Events In Budapest
Christmas Market at Vársoháza Park/Downtown Budapest – Things to Do at Christmas in Budapest – Festive Concerts in Churches – Christmas Eve Cruise with Dinner/Drinks – Christmas Day Cruise with Dinner – Our Facebook Album about Christmas Market Budapest Basilicia