Festivals, Parties, Programs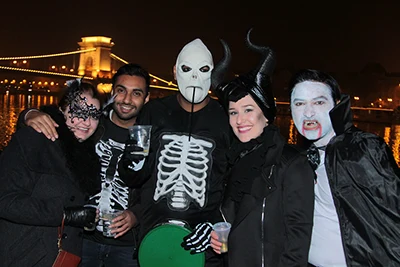 Although it is not a Hungarian holiday, celebrating Halloween is becoming more and more popular in Budapest and other parts of the country.
So if you happen to be here around the end of October-beginning of November and can't live without all things Halloween, here are some tips on parties, festivals and other events.
Table of Contents
Halloween Parties: Halloween Pub Crawl – TIP: Halloween Cruise Party – More Parties
TIP: If you want to celebrate the event like Hungarians do see the background information on All Saints Day/Mindenszentek on 01. November down the page.

Note: 01. November is a public holiday in Hungary. Shops, markets will be closed. Public transport services operate according to holiday schedule.
Halloween in The Zoo, 31. October – Program Is Not Official Yet!
Date & Time: 18.00 – 23.00, 31. Oct, 2022.
Tickets: FREE for kids in Halloween costume, and/or with pumpkin lantern under the age of 14, for anybody else: 2 000 HUF
Tickets are available in the ticket office of the Holnemvolt Castle, from 17.30. The Zoo will be closed during the event.
The awesome, new playground of the Zoo, Holnemvolt Vár awaits everyone with exciting Halloween programs and food on 26. October/Friday.
Family pumpkin carving workshop
Fire juggling show at 20.00
The bright path of lampions
Witchy face painting
Ghost train
Fortune-telling
Zombie rampage at the cellar of Secrets
Pumpkin-inspired food (pumpkin soup, roasted pumpkin, strudel etc.)
Halloween Nightmare Tour, 27 – 31. October
Venue: Underground Fear – Horror Labyrinth, Rákóczi út 30., district VII.
Tickets: 3 500 HUF
For a really scary adventure attend this 30-minute tour in an interactive horror labyrinth: according to the official event page:
"Your experience is guaranteed by our realistic, unique, handmade theatricals and stage-set as well as our creatures of the darkness.
You wish you were dreaming!"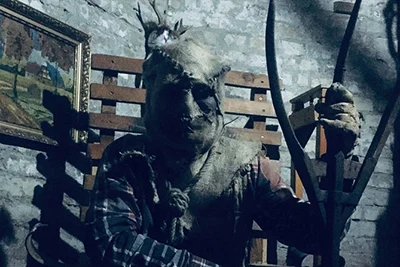 "You will experience your worst fears in this scenic, action packed and adrenaline filled tour where you will meet with diffenerent kind of monsters along the way."
See tour dates and booking here.
Visit Dracula's Prison The Labyrinth Of Buda castle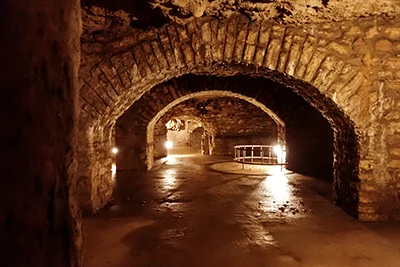 Address/Entrance: Úri utca 9., or Lovas út 4/a, in Buda Castle
Getting There:
Bus No. 16 or 16/A from Deák Square (M1, M2, M3 metro stations) or from Széll Kálmán Square (M2 metro station, tram 6 stop)
Opening Hours:
Every day from 10.00 to 19.00
Night tours by oil lamp start after 18.00
Tickets:
Full price: 3 000 HUF
Students/retirees: 2 500,
Children up to 12 years of age: 1 500 HUF,
Family ticket (2 adults + 2 kids): 6 000 HUF
For a bit of thrill visit the Labyrinth in Buda Castle Hill where Dracula, the legendary Vlad Tepes was kept in prison in the 15th century.
The naturally formed caverns provided shelter for stone age man, then citizens of the castle district connected the caves in the middle ages forming a labyrinthine system.
It functioned as a bunker in World War 2 then it was a top secret military object in the cold war era.
Today it offers some exciting exhibitions that you can view at night by a light of a lantern if you aren't scared of ghosts and other things that go bump in the night.
Pumpkin Lantern Charity Festival, 29. October, 2022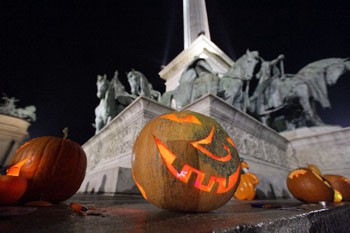 Venue: Heroes' Square
Date & time: 29. October 2022. Saturday: 19.00 – 21.00
A charity event organised for couple of years now.
Get a pumpkin lantern and some canned soups, pasta or other non-perishable food and come together with others on Hősök tere.
The food items go to a non-profit organizations, called Gyermekétkeztetési Alapítvány (Child Nutrition Foundation).
See more on the event's website.
Sweet Treats Halloween-Style In SUGAR! Shop
Address: Paulay Ede utca 48., Budapest 1064, district VI.
Date: 28. October – 01. November 2022
Opening Hours:
Monday – Sunday: 11.00 – 19.00
If you can't imagine the scariest holiday of the year without gorging on chocolates and sweets make sure drop by SUGAR! Shop, one of the most charming confectioneries in Budapest.
The place is centrally located, close to the Opera House in a small street parallel with Andrássy Avenue.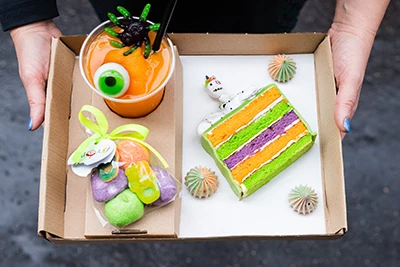 There will be all kinds of Halloween-themed sweets like
Zombies,
Ghosts,
Monsters,
Severed limbs and
Rolling eyeballs
Halloween Parties in Budapest
Clubs and bars prepare with freaking good parties for the holiday. Here are some of the best if you want to have a fantastic night around Halloween in Budapest:
Halloween Pub Crawl, 31. October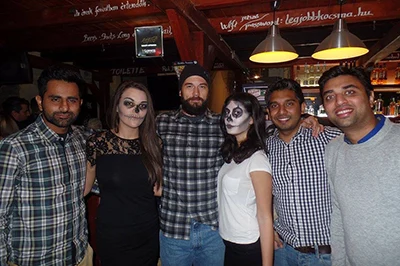 Price: 27 EUR/person
Party away on a special Halloween-themed ruin bar crawl on 31. October.
You will get
3 Free shots, 1-hour FREE drinking (beer, wine, spritzen),
No-queue entry to one of the city's trendiest bars
FREE makeup
Expert guiding, and
a crazy, unforgettable night
Halloween Cruise Party on the Danube, 27. Oct, 2022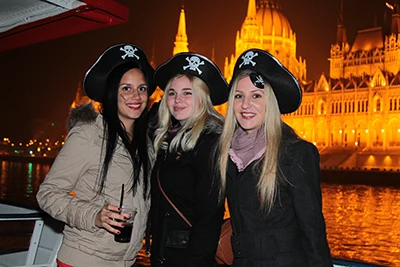 Date & Time: 27. October/Thursday, at 22.00 – 01.00
Price:
26 EUR/prs with welcome drink & after-party in a popular club: VIP Entry (no queuing)
Have Halloween fun on a party on the Danube!
Halloween Theme Decorated Ship With:
Welcome drink: Bloddy Brain shot
Free drink coupon – you will get a vodka-based drink for it!
Party and dancing to live DJ music
Drinks at fair price at the cocktail bar
2-hour cruise on the Danube
Afterparty in a downtown club
The city's night light reflecting off the dark waters of the river lands a mysterious ambience to the event. A two-hour sightseeing tour on the river.
Halloween Party At Neverland Bar & Escape Room, 31. Oct
Address: Dohány utca 22-24., district VII.
Date & Time:
31. Oct: 20.00 – 01. Nov 02.00
A great opportunity to slip into some crazy costume and party all-night!
We'll cater for the garnish: there will be spezial halloween drinks, a Halloween set served by David and the inevitable Neverland vibes!
Have another unforgettable party with us this year!!
BB'z Halloween Night
Address: BB'z Bar & Grill, Király utca 15., distr. VII., 1075 Bp.
Date & Time:
31. Oct 19.00 – 01. Nov 04.00
Join us on Halloween night at the BB'z for an ultimate devilish party!
No entry fee will be collected – BUT! a costume is a must!
In case you are not in the mood for dressing up don't worry: our professional makeup artist will help you to mingle in the crowd.
We also have plenty of hats and masks too.
At 02:00 am we'll pick the scariest costume of all and the winner shall be rewarded and sail through the night in a sea of premium spirits!
If you'd like to eat something before the party book a table right away! Reservation: +36 70 3033254
Halloween UV Party At Fröccsterasz, 31. Oct
Address: Erzsébet tér 13., Bp. 1051, M1, M2, M3 metros, Deák F. tér station
Date & Time:
31. Oct 23.00 – 01. Nov 05.00 2019
Entry:
Age limit: 18+
A blood-curdling night with bloody good hits:
Awesome time on the dance floor illuminated with UV lights!
Halloween In Gozsdu Court, 30. October – 02. November
Address: Király utca 13. – Dob utca 16., district VII.
Entry: free
The party centre of Budapest will have Halloween-themed programs for 7 days:
Man-sized, moving and talking zombies from New York
Coffin with opportunity to take selfies
"Night of the Dead" on 31. October, 18.00 – 24.00
Parties and surprises.
Halloween In Instant Bar, 31. October
Address: Akácfa utca 49-51., district VII.
Date & Time:
31. Oct 16.00 – 01. Nov 06.00 am
Tickets:
In costume: FREE,
Without costume: 22.00 – 03.00: 500 HUF, FREE after 03.00 am
A popular Hungarian electropop band, the JETLAG will give a concert on All hallows Eve in the city's famous ruin bar: Instant.
Día De Muertos en ONE DANCE in Ötkert, 31. October
Address: Zrínyi utca 4., district V. (Basilica neighbourhood)
Date & Time:
31. Oct, 23.00 – 01. Nov 05.00
Entry:
Come and dress up for a Mexican skeleton, join in the Great Feast of the Living and the Dead and participate in the Costume Contest!
Halloween Night In Ötkert, 01. November
Address: Zrínyi utca 4., district V. (Basilica neighbourhood)
Date & Time:
01. November 22.00 – 02. November 05.00
Tickets: 2 000 HUF
The centrally located Ötkert Club nera the Basilica hosts a party on the last day of October with live DJ-s.
If you come in your most scary costume you'll get a free welcome drink.
Happy Halloween In Heaven Club, 31. October
Address: Deák Ferenc utca 5, Bp. 1052, city centre, M1, M2, M3 metros
Date & Time:
31. Oct 23.00 – 01. Nov 05.00
Entry:
You will get a welcome drink if you arrive tilll 00.00!
Latin Halloween Party In Morrisons 2, 02. November
Address: Szent István körút 11., district V., tram 4 and 6 (Jászai Mari tér stop)
Date & Time:
22.00 November 02. – 06.00 Nov 03.

Entry:
Age limit: 18+
Morrisons 2 is an ideal place for a party conveniently located in the city centre: 6 dance floors, karaoke:
R&B
HIP-HOP
Reggaeton
Retro
Nu disco & deep house
House room
This year they welcome guests with
Vampire fangs at the entrance,
A special Halloween cocktail,
terrific decor that guests can try: lie inside Dracula's coffin for a photo.
Dürer Kert – Halloween Parties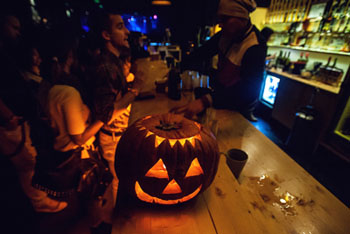 Synthwave Halloween: Magic Sword (US), Quixotic live, Droid Bishop (AUS) – Instant, 29. Oct/Saturday
Address: Ajtósi Dürer sor 19-21., district XIV.
Admission:
Early Bird: 3 000 HUF
In advance: 4 500 HUF
Normal price: 5 000 HUF
Age limit: 16+
See website
This spacious club and garden bar in the vicinity of the City Park offers countless ways to chill out.
The large garden hosts cultural, family and lifestyle programs from spring till autumn.
The place has a large concert hall equipped with state-of-the-art audio visual technology, a smaller concert hall and Room 041 for mid-size concerts and parties.
Dürer Kert awaits you in the grand concert hall with:
10 local DJ-s and
A terrific atmosphere
Halloween in Budapest Cafes and Restaurants
Most restaurants, bistros and cafes are preparing with Halloween inspired dishes.
Expect lots of
Pumpkin,
Pumpkin seed,
Goose and duck prepared in various ways,
Cakes and desserts with poppy seed and walnut.
Some tips where to grab tasty meal:
Kollázs Brasserie "Spirits of the Dead Night", 31. October – 01. November
Address: Széchenyi Itsván tér 5., (Chain bridge) inside the Four Season's Hotel
Time: from 19.00 (31. October – 01. November)
The Trófea Grill Restaurant – an all-you-can-eat place at several spots in town: for example the Király utca 32. restaurant is easily accessible in the city centre offers a special Halloween menu
All Saints Day (01. November: Mindenszentek) and All Souls Day (02. November: Halottak Napja) in Hungary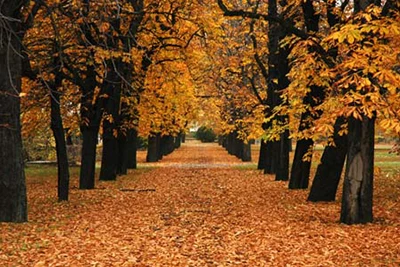 On 1st November Hungarians commemorate all Christian Catholic saints that don't have a designated holiday in the calendar.
The truth is that the early Catholic church had chosen this date (in 835 AD) to be a holiday to oppress the All Hallows day or Samhain celebrated all over the non-Christian Celtic world.
According to Celtic traditions, on Samhain the barrier between the world of the dead and the living gets thinner allow the two parts to communicate with each other.
Hungarian folklore (especially in the countryside) managed to preserve some of the pagan beliefs and traditions:
No fancy costumes,
No pumpkin carving and kids going house by house chanting "Trick or Treat".
Hungarians go to the cemetery to honor and remember their departed family members, relatives and friends.
Cemeteries in Budapest are spectacular this time of the year: beautiful wreaths and bunches of chrysanthemums adorn graves, the light of candles flowing gently in the night breeze can be seen from afar.
TIP: Do visit the Kerepesi Cemetery at Fiumei út 16. in district VIII., the largest cemetery of the city and a resting place for many famous Hungarians,: politicians and other public figures, actors, actresses and so on. On All Saints Day cemeteries have longer opening hours:

Note: It is a public holiday so shops, markets, and most public institutions, restaurants will be closed.
Past Events
Dracula Awaits! Vajdahunyad Castle, 20. October
Address: Vajdahunyad Castle in City Park, 1146 Városliget, Vajdahunyadvár
Getting there: M1 underground (yellow line) Széchenyi fürdő stop, trolley buses. 70, 72, 75, 79
Opening hours: 18.00 – 24.00
Recommended ages: 14 years or older
Admission: 2 400 HUF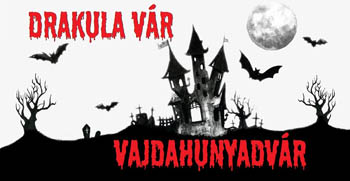 Come and learn about the true story of Count Dracula, the world of scary vampie stories and celebrate the birthday of Béla Lugosi the world famous "Hungarian Dracula" of Hollywood.
Visitors can also wander around and view the exhibitions in the mysterious halls of the castle's Gothic wing.
Watch a spooky performance in the Vampire Theatre by teh Terminal Workhouse team (registration to this program is required at the kozonsegkapcsolat@mmgm.hu email address).
You can also join a torch walk fitting to the theme of the evening.
Pumpkin and Mulled Wine, Ráday Street, 26. October
Venue: restaurants, cafes in Ráday utca (district IX. – the street between Kálvin tér and Boráros tér)
Time: 16.00 – 22.00
Bring a Jack-o-Lantern to the participating restaurants, cafes and you will be rewarded with a glass of mulled wine.
You can also enjoy:
More drinks and
Live music.
Related:
More October Programs – October 23. Hungarian Revolution 1956 – November in Budapest – Christmas in Budapest – Public Holidays in Budapest