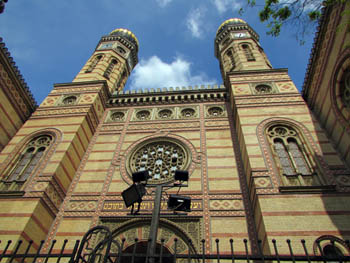 The 2nd Largest, and the Most Beautiful in the World
History, Photos, Kosher Restaurants in the Area
The Great Synagogue of Budapest (also known as the Central Synagogue) in Dohány Street is a good starting point to learn about Jewish Budapest.
Find out about the history and architecture of this wonderful Jewish religious monument.
You can also take one of the Jewish Heritage tours to visit the Dohany Street synagogue and related sights, incluidng the Jewish Museum.
The Jewish Quarter (district VII.) hides many treasures, so devote enough time to explore it.
Quick Links:
Opening Hours 2023 – Guided Tours – History and Architecture – Non-Kosher and Kosher Restaurants near the Synagogue
Location & Getting There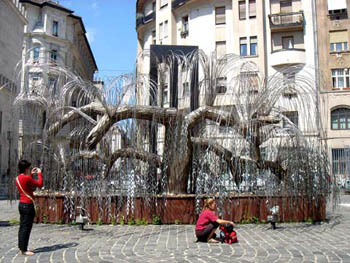 Address: Dohány utca 2-8. in district VII., at an angle to Károly körút, between Deák tér and Astoria
Tel: +36 1 317 2754
Public Transport:
M2 metro line Astoria station, from there the Dohány utca synagogue is just a short walk
bus: No. 7, 7A
tram: No. 47, 49
Opening Hours 2020
(Synagogue and Jewish Museum & Archives):
Spring & Autumn (01. March – 27. April and 01. October – 26. October)
Sunday – Thursday: 10.00 – 18.00
Fridays: 10.00 – 16.00
Closed on Saturdays
Summer (29. April – 30. September)
Sunday – Thursday: 10.00 – 20.00
Fridays: 10.00 – 16.00
Closed on Saturdays
Winter (27. October – 28. February)
Sunday – Thursday: 10.00 – 16.00
Friday: 10.00 – 14.00
Saturday: CLOSED
Closed on Saturdays, 24. and 25. December
Note:
The Ticket Office closes half an hour before the synagogue's closing time.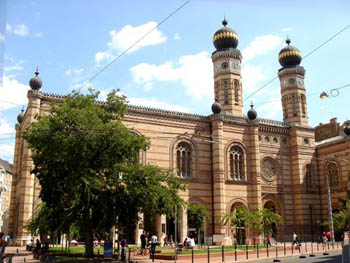 The synagogue is closed on the following days:
March 15.,
April 16., 19, 21., April 25: till 14.00
June 09., 10.
September 29., 30.
October 01., 08., 09., 14., 15., 21., 22., 23. Oct. 13. and 20.: till: 14.00
November 01.,
December 24., 25.
Every Saturday.
Visiting the Great Synagogue and the Jewish Museum
Budapest: Book A Jewish Heritage Tour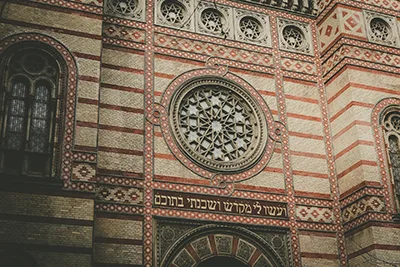 Tours starts: 10:00 / Duration: 120 / 240 min. – From €49
Admission to the Synagogue & the Jewish Museum & Archives:
full price: 5 000 HUF (10% discount with Budapest card)
students: 3 800 HUF (10% discount with Budapest card)
children (ages 6-12): 1 700 HUF
family (2 adults + min. 2 children): 11 300 HUF
free for children under 6 yrs of age
Includes:
guided tour of the synagogue (in English, German, French, Italian, Spanish, Hebrew and Hungarian languages)
visiting the Heroes' temple,
the Raoul Wallenberg Memorial Garden with the Emmanuel Tree of Life
the graveyard in the courtyard of the synagogue
the lapidary
entry to the Jewish Museum & Archives
temporary exhibitions in the cellar
Note: Men cannot enter the synagogue without a hat or cap. You have to wear a small skullcap called kipah or yarmulke. You'll receive one at the entrance after ticket inspection.
Please also wear appropriate clothes: no sleeveless tops, short skirt or shorts.
History and Architecture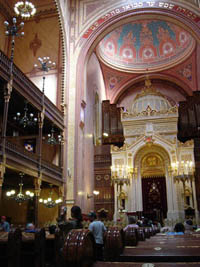 Jews were banned from the city in the 18th century, so they established a Jewish quarter just outside the old city boundary.
Remains of the old Pest city walls run on the opposite side of the road.
The Jews built their main synagogue in a residential area. Theodore Herzl, founder of modern Zionism was born in one of the buildings.
This stunning temple was constructed between 1844-59 according to Ludwig Förster's plans.
The second largest synagogue (the largest stands in New York) in the world can take in 3,000 people.
Its Byzantine-Moorish style will fascinate you and remind you of monuments in the Middle-East.
Two onion-shaped domes sit on the twin towers at 43 m height.
The towers symbolize the two columns of Solomon's Temple.
The spacious interior has equally rich decorations. A single-span cast iron supports the 12-m wide nave.
The seats on the ground-floor are for men, while the upper gallery has seats for women.
Surprisingly, the synagogue has an organ, though this instrument is used in Christian churches. The temple's acoustic make it a popular venue for concerts.
Tree of Life Holocaust Memorial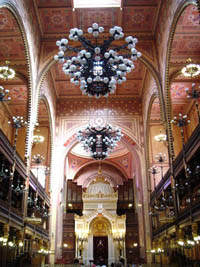 The Dohány Street synagogue witnessed the tragic events of WW II.
The Germans established a ghetto for the Jews in 1944 that served as a gathering place for deportation.
Many people found refugee in the Dohány utca synagogue but thousands died during the bleak winter of 1944/45. Their bodies are buried in the courtyard.
In the cobbled Raoul Wallenberg (Swedish diplomat who saved many Jews during WW II) park stands the Holocaust Memorial by Imre Varga.
It was erected in 1989 above the mass graves in the honour and memory of Hungarian Jewish martyrs.
On each leave of the metal weeping willow tree you can read a name of a martyr.
You can also see a piece of brick from the original ghetto wall in the garden.
Behind the main building stands the Heroes' Temple that was built in 1929-31 to commmemorate the Jews who died in the First World War.
A restoration of Budapest's Great Synagogue was finished a couple yeras ago, funded partly by a foundation set up by Tony Curtis who has Hungarian roots.
The adjacent Jewish Museum (on the left of the synagogue) has
a Holocaust memorial room
and displays about the Jewish culture.
The museum has the same opening hours as the synagogue. Visit the official website for more information.
Read more about Jewish Budapest.
Where to Eat near the Central Synagogue?
You'll find some good eateries nearby including kosher, and non-kosher restaurants with fine Hungarian-Jewish cuisine. The area is literally packed with terraced restaurants and cafes.
TIP: Gozsdu Court, a series of arcades connecting Király utca and Dob utca is a real culinary centre with a couple of good-value pubs, cafes and restaurants:
Klikk Bistro,
Spíler Pub,
2Spaghi (a real Italian Pasta Bar),
BlueBird Cafe with its own coffee roaster,
Léhűtő and Legenda for craft beer lovers.
Osteria Fausto's – first-class Italian Restaurant
Address: Dohany utca 5., district VII.
Open: Mon – Sat: 12.00 – 23.00
Tel: +36 1 269 6806
Fine Italian food in the vicinity of the great synagogue. Tasty pasta dishes, fish soup friendly staff.
Prices are a bit high but so is the quality of food and service.
Spinoza Café and Restaurant
Address: Dob utca 15., district VII.
Open: Mon – Sun: 08.00 – 11.00
Tel: +36 1 413 7488
A cozy restaurant with elegant turn-of- the-20th century decor and good food.
The Spinoza also functions as a theatre, and gallery.
Daily menu at a favorable price, good wine list, and breakfast. Try the 3-course Hungarian menu for 20 EUR.
Klezmer show each Friday evening.
Fröhlich Café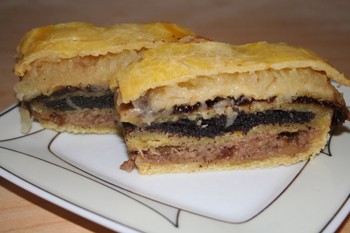 Address: Dob utca 22., district VII.
Open: Mon – Thurs: 09.00 – 18.00, Fri: 09.00 – 14.00,
Sat: closed, Sun: 10.00 – 18.00
Tel: +36 1 266-1733
A bit run-down from the outside, this family-run kosher restaurant has been operating for nearly six decades. Real kosher pastries and sweet treats.
The flódni is a must.
See also our page about Top Restaurants or our recommendation of Hungarian Restaurants in Budapest.
Kosher Restaurants in Budapest
Carmel Glatt Kosher Restaurant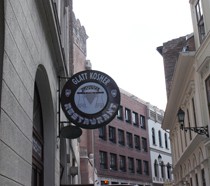 Address: Kazinczy Stret 31.
Open:
Sunday – Thursday: 12.00 – 22.30
Friday (winter): 12.00 – 13.30, Friday (summer): 12.00 – 15.30
A bit touristy (=pricey) but the food is good in Carmel.
It had never been a cheap restaurant, but since its glatt kosher status prices have risen to the sky: soups are 1 400 – 1 800 HUF, mains are cc. 4 000 – 6 000 HUF, a Carmel plate for two is 11 000 HUF.
If you can afford it, try the Jewish specialties Carmel is known for:
meat soup with Matzo balls (1 400 HUF),
cholent with smoked meat (4 000 HUF), and flódni for dessert (1 400 HUF).
They also have Sabbath menu (5 000 – 6 000 HUF).
Hanna Orthodox Kosher Restaurant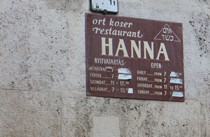 Address: Dob utca 37., district VII.
Open:
Sunday – Thusday: 11.30 – 22.00 08.00 – 22.00
Friday: 11.30 – 14.00 – break – 21.30 – 24.00
Saturday: 12.00 – 15.00
The Hanna Ort Kosher Restaurant is located in the courtyard of the Kazinczy Synagogue, but entrance is from Dob utca, that intersects Kazinczy utca.
Hanna opened at the beginning of the 1960s and it offers traditional Hungarian and Jewish cuisine.
TIP1: Visit the Jewish Summer Festival at the beginning of every September to learn more about Jewish culture.
TIP2: Take a walk along Kazinczy Street, Budapest's trendiest nightlife spot, but also home to the Orthodox Synagogue of the city.