Date is Not Official Yet!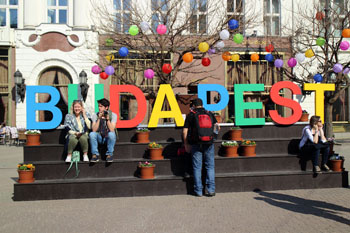 The Budapest Spring Fair organized at around Easter each year follows the tradition and success of the popular Christmas Fair.
Quick Links:
Location – Opening Hours – Programs – Kids' Programs (Városháza Park) – Food/Drink Prices – Photos
Location in 2020
Location: Budapest-Vörösmarty tér, district V.
Getting there: M1 underground/yellow line, Vörösmarty tér station, tram 2
Date & Time: 03 – 26. April, 2020.
Admission: Free
The historic Vörösmarty Square is the home to the event. The square was nicely refurbished in 2019. It received new, modern paving, more seating spots around the statue of poet Mihály Vörösmarty.

The white marble statue had also been cleaned and restored.
Be sure to also check out some of the nearby venues.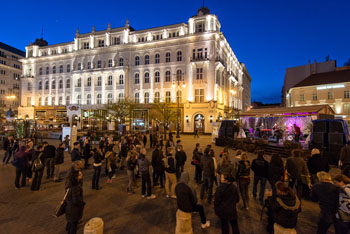 Part of Pest city centre turns into a lovely spring garden for the month-long festival, offering a rich variety of cultural programs:
concerts,
folk music and dance performances,
children programs,
art and craft workshops
egg painting and shoeing.
Date & Time:
Admission: Free
Opening Hours:
Craft Fair: Sun – Fri: 10.00 – 20.00, Sat: 10.00 – 21.00
Food & Drinks: Sun – Fri: 10.00 – 21.00, Sat: 10.00 – 22.00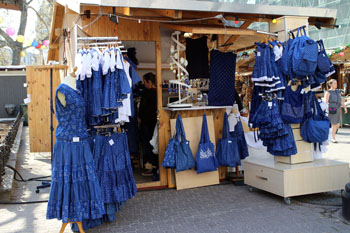 Browse among the wooden stalls and admire
the traditional handmade craft products, modern pieces by young designers,
artisan food products (honey, jam, paprika paste) selected by a jury,
eat tasty local dishes and street food (goulash, paprikash stew, stuffed cababge, roasted goose, sausages, cevap, burger, lángos, oven-baked flat bread and kürtöskalács/Sekler cake) and
sip delightful wines or craft beer (Keserű Méz/Bitter Honey by the Fóti Brewery, or a special brew by the Zirc Abbey) on the wooden benches while basking in the spring sunshine.
TIP: With a Budapest Card you will get a 5 – 10 % discount at art and craft vendors. The card also lets you use public transportation for free. Many other discounts, free services come with it.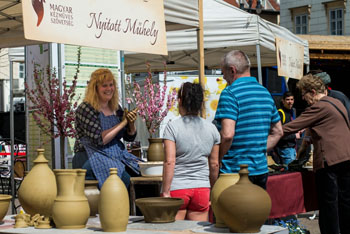 You can watch a real smith during work in his open workshop (it was a well-liked feature of the Christmas fair too).
You can view other crafts in action during the "Open Workshop/Nyitott Műhely" events on weekends between 12.00 – 18.00.
Gastronomy, Wines, Craft Beer
The festival awaits visitors with diferent gastronomy and folk art/craft theme each week.
You can taste
typical Lenten meals,
lamb prepared in various ways,
egg and ham dishes
local wines and craft beers and of course pálinka (fruit distilate).
Folk Craft Shows
Interactive programs based on folk traditions allow visitors to get an insight into forgotten crafts:
felt making
beading
glass blowing
making jewelry, musical instruments or cheese.
Children Programs
Children can get to know various folk arts and crafts in the Craft Playhouse. They can also play in the sand box or on the lawn.
Concerts, puppet show and theatre performances welcome the little ones on weekend mornings from 10.00 till 13.00.
Craft Workshop in the Playhouse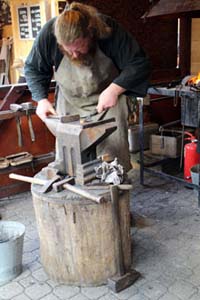 Thursdays – Fridays- Saturdays -Sundays and on Easter Monday 02. April, at
10.00 – 13.00 and
14.00 – 18.00
Kids can participate in spring and Easter craft projects. They can make
little gifts for the sprinklers,
paint eggs with traditional techniques,
weave little baskets,
make postcards,
toys from textiles, paper,
learn the ins and outs of felt making (ball, bracelet, jewelry),
make hand-dipped candles,
prepare door and table decorations from natural materials
Programs (2019)
All programs are free. Concerts/performances on the central stage at Vigadó Square (in front of the Hotel Marriott):
concerts every day from 11.00 till 19.30 – folk music, jazz, soul, crossover and children concerts
Easter Egg Decorating Workshops, 20 – 22. April
Opening Hours: 11.00 – 17.00 each day Learn various traditional Easter egg decorating techniques at the craft workshops on the Easter weekend.
Traditional painting on vaxed eggs – each Hungarian region has its own set of motifs and patterns. here you will find oout about egg decorating motifs of Somogy, Zala, Tolna and Baranya counties as well as Transylvania and Southern Slovakia.
Egg shoeing – decorating with various metal shapes. Egg shoeing is practiced only in Hungary and in the neighbouring countries with Hungarian population.
Carving – it is one of the oldest techniques used for decorating eggs for Easter.
Lace works – texquisite lace designs are carved in the egg using extremely thin lice. The Halasi lace pattern is the most widely used.
Thematic Gastro Weeks – Free Tasting on Wednesdays
The fair is also real culinary treat to visitors. The cafe of the fair will prepare new food specialties each week.
On Wednesdays between 14.00 – 16.00 you can taste various delicacies for free in the cafe. (cheese, lemon lamb mini sausages etc.)
23 – 29. March – A taste of the V4 Nations' Cuisine: tripe soup, dumplings (Knödel), pork knuckle cooked in beer
30. March, Good Friday – Lenten prunes, lenten stuffed cabbage Szabolcs style, csorba soup (piquant soup with vegetables and sour cream).
31. March – 02. April – Easter – Lamb over charcoal, rabbit paprikasch, salty milk laof, ham plate with salad
03 – 08. April – "Lamb week" – sausage, over charcoal
09 – 15. April – "Egg week" – smoked quail eggs preserved in oil, Stefánia meatloaf, cholent with egg
16 – 22. April – Franz Liszt week – highlighting the favourite foods and drinks of the famous composer.
Drinks:
Hungarian craft beers, Czech and Slovak beers,
Polish vodka cocktail,
Quality Hungarian wines
Fruit and rose wines
Eggnog and punch
Hot chocolate
TIP: If you miss any of the fok concerts you can attend a 1,5-hour folk dance show in Danube Palace. Dates in March 2020: 07, 14, 21, 28.

Dates in April: 04, 10, 11, 12, 13, 18, 25.[/box]
Nearby Venues
Vigadó Square and the Danube Promenade (Dunakorzó), easily accessible by tram 2.
TIP: While strolling among the stalls and nibbling on tasty local food, you can enjoy the magnificent panorama of the Danube and the bridges, Gellért Hill and Buda Castle that are part of the UNESCO's World Heritage project.
Fővám Square, Deák Square and Városháza Park will host a slightly smaller fair, but with the same top-quality products and gastronomy.
Vigadó tér – tram 2 stop
Danube Promenade/Dunakorzó – tram 2
Fővám Square (Great Market Hall) – tram 2, M4 metro (green line)
Deák tér & Városháza Park – M1, M2, M3 metros, trams 47, 49
The Main Stage on the Danube Promenade welcomes visitors with concerts, folk dance and music, craft shows.
Food & Drink Prices
A great selection of food is available at the fair: local dishes, quality street food, traditional Easter dishes, pastries, craft beer, coffee from Arabica beans.
The rooster testicle stew is just as popular as it was at the Christmas fair.
Sekler cake/kürtöskalács (various coatings: sugar, cinnamon, walnut) 1 200 – 1500 HUF
Goulash soup: in bun 1 800 – 1 900 HUF, in bowl with bread: 1 550 HUF
"Csorba" soup: 1 990 HUF
stuffed cabbage: in bun with sour cream: 1 950 HUF
roasted goose thigh with braised red cabbage: 2 850 HUF
roasted leg of lamb with rosemary-seasoned polenta: 3 900 HUF
roast sausage: 1 800 – 1 900 HUF
A slice of Gerbeaud pastry (not in the Coffee House under the same name, but at one of the food pavilons) or linzer: 490 HUF.
Easter milk loaf (freshly baked): 750 HUF cc. 250 g
strudel: 600 HUF/piece
lángos (a round-shape dough deep-fried in oil to a golden color): plain: 700 HUF, with cheese: 800 HUF, with sour cream & cheese: 1 000 HUF.
craft beer: Fóti Keserű Méz, Fóti Pils (0,4 L): 0,3 L: 450 – 650 HUF, 0,5 L: 650 – 950 HUF
a glass of wine: 300 – 400 HUF/dl
a bottle of mineral water: 400 HUF
carbonated soft drinks: 500 HUF
lemonade: 1 000 HU/0,5 L
orange juice (freshly squeezed): 1 000 HUF/0,4 L
espresso: 450 HUF, latte: cc. 650 HUF
Photos About the Fair
TIP: Browse or list of hotels closest to Vörösmarty Square – all located within walking distance.
Attractions Nearby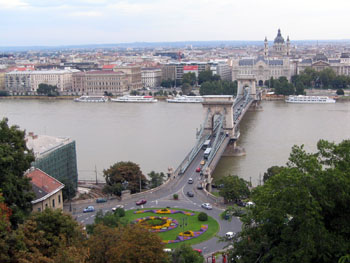 Many of Budapest most popular attractions are located in close vicinity of the square letting you explore them on foot.
Do drop by the Gerbeaud Coffee House standing on the northern edge of the square for a cup of coffee, traditional Hungarian cake and a classic coffee house atmosphere.
You can reach the Danube Promenade, a scenic walkway between the Chain Bridge and Elizabeth Bridge by walking along one of the streets starting at the western side of Vörösmarty tér.
Budapest's largest church, St. Stephen's Basilica on the sprawling plaza called Szent István tér is just a 10-minute stroll.
Related Programs & Activities:
Easter in the Castle Garden Bazaar – Easter Programs/Traditions – Budapest in March – Spring Festival – April Things To Do