A Symbolic Confectionery in Budapest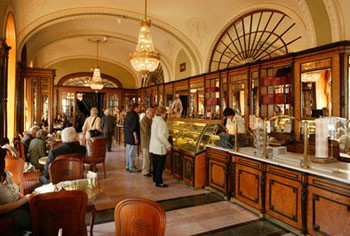 The famous Gerbeaud Cafe on Vörösmarty Square in downtown Budapest looks back to more than 150 years of history.
Christmas Opening Hours: Gerbeaud is open on
December till 14.00, and
it is open on 25. and 26. December 2017 between 09.00 – 21.00.
It's rather touristy, crowded and slightly overpriced but it's worth a visit.
The cakes and desserts, including some Hungarian classics like
the Dobos torte,
Gerbeaud pastry,
Eszterházy torte are delicious, made with care.
History of Gerbeaud Cafe
Henrik Kugler established the coffee house in 1858 on today's Vörösmarty tér in the heart of Pest. Since Kugler didn't have a heir, he sold the cafe to Emil Gerbeaud descendant of a talented Swiss confectioner family.
Gerbeaud expanded the cafe and developed into one of Europe's finest coffee house and pastry shop. He added new cakes to the menu and introduced modern confectionery techniques.
Gerbeaud even founded a small chocolate factory where the legendary pralines and other sweets were made.
Coffee House Culture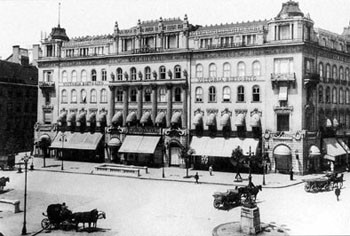 Coffee house culture thrived in 19th-century Budapest, with almost every street having its own cafe. Gerbeaud stood out from them by elegant decor, and by offering a wide choice of delicious cakes.
The silk-carpeted walls, the crystal chandeliers, gilded tables exuded style that drew people from the highest social stratas.
Everyone who counted at that time visited the place, including the Habsburg royal family and many foreigners.
Sissy, wife of Emperor Franz Joseph and Queen of Hungary always dropped in the Gerbeaud cafe when she was in Budapest.
After World War II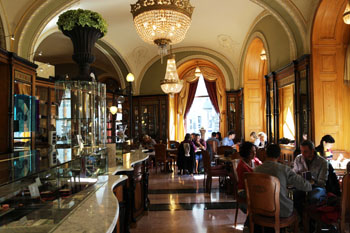 Unfortunately the two world wars ruined the coffee house culture including the Gerbeaud. After Emil Gerbeaud died in 1919, his wife managed the establishment until her death 1940.
The two son-in-laws inherited the business who left the country in 1945.
The state took over the ownership of the cafe during the communist era and renamed it Vörösmarty Cafe after the square where it stands.
After the II. World War the Gerbeaud cafe continued to be the most exclusive coffee house and confectionery in Budapest though lots some of its old grandeur.
In 1984 the Gerbeaud family managed to buy back the cafe and its original name.
By 1990 the Gerbeaud cafe regained its lustre, and it was again the place not to miss by foreign visitors coming to Budapest.
During its renovation in 1997 the cafe received
fine wood panelling,
lavish brocade wall covers,
marble tables that enhance the nostalgia and refined elegance of the place but still managed to maintain a relaxing atmosphere.
Gerbeaud Cafe Today
Opening hours of the cafe: Mon – Sun: 09.00 – 21.00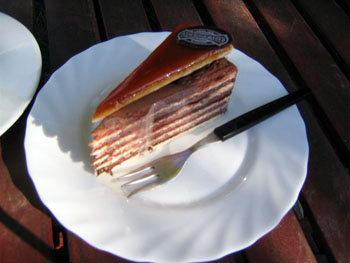 During summer the terrace facing Vörösmarty square and Váci utca is a great place to while away with a cup of coffee and a slice of cake.
Gerbeaud's specialties include famous cakes, such as Esterházy and Dobos cakes, as well as all kinds of cream cakes, extravagant bakery goods (they used to have exquisite ice-cream too offered from a counter outside the cafe, now you can only choose from a menu card).
The wide selection of handmade bonbons in decorative wooden boxes can be wonderful presents to anyone with a sweet tooth.
The cake selection is not too wide but all are prepared from the highest quality, natural ingredients.
Traditional local favorites include:
Dobos cake,
Eszterházy cake,
Gerbeaud pastry and cream cake,
Krémes (similar to the French mille feuille and Gerbeaud's is the best in town) puff pastry layered with rich vanilla cream,
Sacher torte.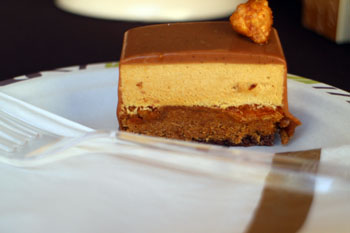 You'll also find international delicacies like cheese cake or carrot cake.
Slices of cakes are availble for take-away at 50 % discount (just like in all other confectioneries in Hungary).
If you decide to eat your cake on the spot prepare to pay between 2 250 – 2 650 HUF for a slice.
There are some scrumptious desserts and sundaes too.
Try the Somló sponge cake (vanilla and chocolate sponge with Valrhona chocolate sauce, whipped cream, walnut linzer crumbles and raisins soaked in Tokaj aszú wine, price: 2 650 HUF).
The coffee is great too (freshly roasted specialty beans are used).
You can have all sorts of concoctions with or without alcohol and they have superb hot chocolates.
Prices:
espresso: 1 050 HUF, or 1 250 from specialty coffee roasted by a locl company (Casino Mocca)
cappuccino: 1 190 HUF,
flat white: 1 590 HUF,
hot chocolate: 1 890 – 2 390 HUF.
They also serve breakfast
croissants (850 HUF), cinnamon roll (750 HUF), brioche (750 HUF) pogácsa (traditional savory scone with cheese on top): 750 HUF
American pancakes (2 890 HUF) with maple syrup, banana slices and berries, coffee/tea, orange juice
French breakfast (2 690 HUF): croissant or brioche with butter and homemade jam, coffee or tea, 100 % orange juice
breakfast for two (6 990 HUF): Ham and cheese scrambled eggs, matured mangalica clod and salami, crystallised bacon, cheese, seasonal vegetable, butter, fresh cottage cheese spread, tapioca muesli with coconut milk, pastry variations, fresh fruits, coffee or tea, 100 % orange juice
chef's favourite breakfast (3 990 HUF): poached eggs, hash browns, matured mangalica clod, tarragon sabayon, dried cocktail cherries, coffee or tea, 100 % orange juice.
some salads and sandwiches.
You can also have wines, sparkling wines by the glass, beer, homemade lemondes and various other soft drinks.
The Bistro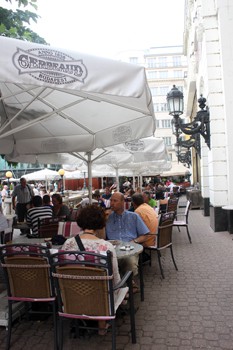 Today the cafe has a bistro (open: Mon-Sun: 12.00-24.00) with a rustic-aristocratic ambience offering classic Hungarian dishes
goulash with csipetke either served in a bowl or a bogrács,
chicken paprika stew, breaded and deep fried pork loin,
pancakes with sweet cottage cheese,
apple strudel.
Nice selection of Hungarian wines, available by the glass.
Onyx – Gourmet Restaurant
The newest addition to Gerbeaud is the sleek Onyx Restaurant that opened its door in April 2007, and earned a Michelin star in 2011 (chefs: Széll Tamás and Szabina Szulló – they left Onyx and opened the Stand 25 Bistro in the Downtown Market in Hold utca in early 2017).
Its hallmarks are the gourmet meals made exclusively from fresh ingredients by first-class chefs and their staff.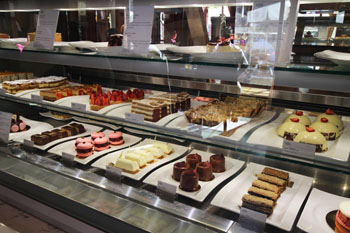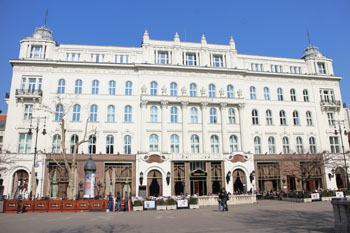 They offer special treats around major holidays, like Christmas or Easter.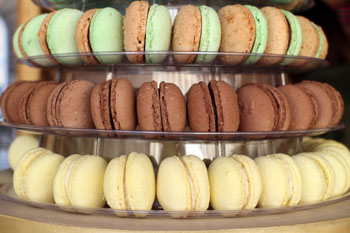 macaron eggs – 4 pieces in paper box, flavours: pistachio, eggnog, chocolate, raspberry, price: 1 790 HUF,
eggnog macarons in paper box, 4 pcs: 1 790 HUF,
carrot cake: 4-slice: 3 260 HUF, 12-slice: 9 780 HUF,
Gerbeaud cream cake: 2 250 HUF
handmade Easter chocolate eggs in paper box: 6 pcs: 1 890 HUF, 8 pcs: 2 290 HUF.
During the Christmas season Vörösmarty square hosts the Budapest Christmas Market that is one of the best of its kind in Europe.
In the Advent period the windows of the Gerbeaud House facing the square turn into a giant Advent calendar counting back the days till Christmas.
TIP: After a coffee & cake in Gerbeaud, take a stroll in the well-known pedestrian shopping street of Budapest, Váci street that starts at Vörösmarty Square.
TIP: Summer concerts: Enjoy harp and violin duo on Saturdays and Sundays at 16.00, 16.30 between June – mid-August 2018 as part of the free summer mini concert series in Budapest.
Related:
Best Cafes in Budapest – our favorite places to sip espresso, cappuccino or other coffee drink with a slice of cake.
Luxury Budapest – Hotels, Restaurants, Entertainment – high-end accommodations, restaurants, and things to do in Budapest.