Some Hungarian desserts became known all over the world because of their unparalleled tastes and creative appearances.
Talented masters like, József C. Dobos (creator of the Dobos torte), Emile Gerbeaud (owner of the legendary Gerbeaud Cafe in downtown Budapest, Vilmos Ruszwurm (founder of Ruszwurm Confectionery in Castle District), Rezső Hauer or József Auguszt laid the foundations of Hungarian confectionery more than a century ago.
They learnt the tricks of the trade from Italian and French confectioners but always kept the Hungarian tastes in mind.
Although I didn't have the opportunity to learn baking from great masters of the trade, I've had my own talented bakery tutors who taught me the basics as well as the subtleties of making Hungarian desserts:
my mom
my mother in law, and
my husband's grandmother
As a Hungarian housewife and mother of two sweet-toothed kids, I make cakes and pastries every week. The numerous family occasions and holidays like Christmas or Easter also provide me a good excuse to try out new dessert recipes.
I collected and written down my favourite Hungarian dessert recipes in this e-book.
How Will You Benefit from Owning the Hungarian Desserts E-book?
Why by this E-book?
Although it's easier to simply summarize and list what will you get in the book, the benefits you can gain by owning this recipe collection are more important.
Can you imagine yourself in any of the following situations?
1. Sense of Achievement and Pride
You want to bake something delicious for weekend. The Hungarian Desserts e-book is in front of you and you'll see some very tempting cake photos and you wonder "Can I make this cake?" Will it look (and taste) so yummy?
You scan the list of ingredients and gather everything you need for baking the cake. You read through the recipe a couple of times to memorize the steps but you can also print it out so that you can glance at it during baking.
You follow the step-by-step instructions in the recipe and you realize that your mind is free from everyday problems and stress, and it's occupied with the sense of completion.
The delicious aroma of the baking cake fills the kitchen. You bring the hot cake out from the oven and you can't wait for it to cool down so that you can taste it.
A sense of satisfaction overwhelms you that you created tempting looking Hungarian dessert yourself, and you can't wait for your family and friends to have a bite from it.
2. Appreciation of Your Family and Friends
You've made Dobos Torte for your Husband's birthday party from the Hungarian Desserts e-book. It's just the perfect dessert for this special occasion because it's simple but still elegant and luscious.
The detailed instructions made it easy for you to prepare the cake. Your family and friends are all praising your baking talents and they ask you for the recipe.
You're filled with pride and contentment that by preparing this famous Hungarian cake you crowned your husband1s birthday dinner perfectly.
3. For ex-Hungarians – Recreating Tastes of the Homeland
Many Hungarians chose to leave their home country but they still long for the taste of beigli, strudels, or krémes.
The Classic Hungarian Desserts e-book helps ex-Hungarians recreating local tastes in their current homes and they can also show their children and friends why Hungarian sweets became well-known all over the world.
Can you realize the benefits by owning and using this recipe e-book? Do you think it'll make your life just a tiny bit more complete and fulfilled?
See Opinions About the E-book:
I found your e-book on Hungarian Desserts… purchased and downloaded it, and we made the Chestnut Cream Torte…all within 5 hours. – Rollin Daniel and his wife, California, USA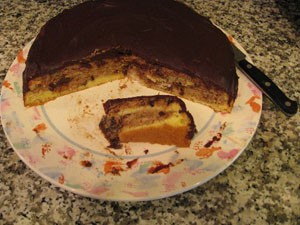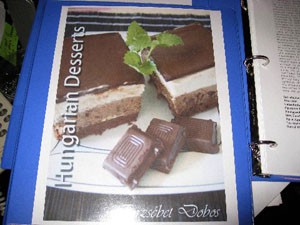 Rollin's wife made another cake from the Hungarian Desserts E-book: Lúdláb Torte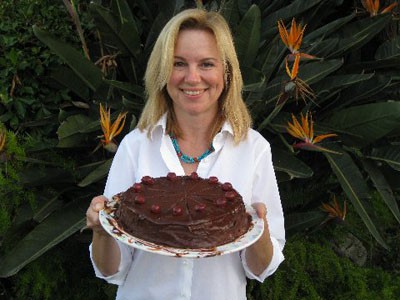 Do you want to pamper yourself and your family with delicious homemade Hungarian cakes like this? If your answer is YES then…..
Download the Hungarian Desserts e-book, and start browsing and making easy-to-prepare,delicious Hungarian cakes & pastries within minutes… no need to search the internet for hours for good, step-by-step dessert recipes, you can have a whole Dessert e-cookbook
What Will You get in the Hungarian Desserts E-book:
35 traditional Hungarian dessert recipes on 100 pages,
included are all-time classics like Dobos torte, Gerbeaud cake, Rigó Jancsi, Krémes (Custard Squares) and many more,
all recipes have detailed lists of ingredients and step-by-step instructions,
the book is loaded with colourful photos, showing the main preparation steps to make preparing the desserts easy for you
useful hints and tips: subtleties you have to pay attention to in order to achieve the right results: a divine looking, yummy dessert.

neat layout and format so that you can browse and follow the recipes easily
delivered in PDF format that enables you

to read it on any computer with the Adobe Reader
print it out easily and carry it to the kitchen
it's searchable
Here's What You Get Inside!
Table of Contents:
View all the recipes below by scrolling on the right.
Classic Hungarian Desserts
3 Introduction
8-Tortes & Cakes
8- 1. Dobos Cake
12- 2. Goose-foot cake (Lúdláb torta)
16 -3. Chestnut Cream Torte
19- 4. Gypsy Johnny (Rigó Jancsi)
22 -5. Custard Squares (Krémes)
26- 6. Custard Buns (Képviselofánk)
29 -7. Apple Creamy (Almás krémes)
32 -8. Coconut Squares (Kókuszkocka)
34 -9. Noi szeszély
37- 10. Rákóczi Cheese Squares (Rákóczi Túrós)
40- 11. Cottage Cheese Pie with Dill (Kapros Túrós lepény)
42 -12. Chocolate Walnut Squares (Csokis-Diós Kocka)
44 -13. Morello Cherry Pie (Meggyes lepény)
47 -14. Gerbeaud
50-Yeast Based Pastries
51- 15. Yeast Based Red Currant and Amond Pie (Kelt Ribizlis-Mandulás Pite)
53- 16. Chocolate Snails (Kakaós csiga)
57- 17. Chocolate Loaf (Csokis kalács)
61- 18. Cottage Cheese Pockets (Túrós táska)
64- 19. Golden Dumplings (Aranygaluska)
67- 20. Kürtös Kalács
07-Short Pastries or Linzers
71- 21. Legényfogó ("Lad-catcher")- butter cookies with jam filling
73- 22. Walnut Honey Crescents (Mézes-Diós Kiflik)
75- 23. Crescents with Chestnut Filling (Gesztenyés Kiflik)
77- 24. Love Letters (Szerelmes levél)
80- 25. Ischler
83- 26. Floating Islands (Madártej)
85- 27. Gundel Pancakes (Gundel palacsinta)
8-8 28. Somló Sponge Cake (Somlói galuska)
92- 29. Poppy Seed Bread and Butter Pudding (Mákos guba)
94- 30. Rice Souffle (Rizsfelfújt)
96- 31. Walnut Brittle Cream Torte (Grillázskérm torta)
99- 32. Rum Balls (Kókuszgolyók)
101- 33. Diós és Mákos Beigli
104- 34.Flódni
107- 35. Honey Cakes for Christmas (Mézeskalács)
Related:
Strudel Tasting – Cronut in Budapest – Best Ice Cream in Budapest – Typical Dishes in Hungary – Easter Dishes in Hungary – Hungarian Christmas Menu – Gerbeaud Cafe