Stay in a Hotel Close to Liszt Ferenc Airport
A roundup of Budapest airport hotels to help you find the best accommodation near Ferenc Liszt Airport.
There are quite a few airport hotels so you sure will find something that suits your budget and needs. Staying in a convenient airport hotel has many advantages:
You'll be near to your point of arrival ensuring that you'll get to your flight on time without having to calculate traffic time from the city centre
You don't have to wake up that early to catch an early flight than if you stayed in a downtown Budapest hotel.
All in all, staying in an airport hotel guarantees a less stressful travel especially if you come to Budapest for 1-2 days.
Table of Contents
Top Airport Hotels
Airport Hotel Budapest ****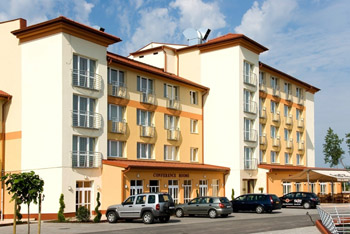 Address: Vecsés, Lőrinci ut 130/a
This is the newest airport hotel in Budapest that opened at the end of July, 2008.
Located 2.5 km both from Budapest Ferenc Liszt Airport and the Vecsés exit of the M0 motorway, Airport Hotel Budapest is an ideal accommodation for business travellers and tourists who want some peace away from the busy city centre.
TIP: Review of Airport Hotel Budapest.
Airport Hotel Stáció ****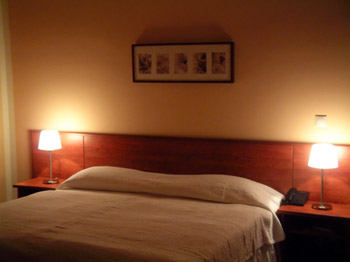 Address: Vecsés, Széchenyi út 20.
Hotel Stáció is good-value 4-star hotel. Ferenc Liszt Airport is only 5 minute drive by car from the hotel.
All of the 31 rooms are air-conditioned offering comfortable accommodation even during the hottest summer days.
Rooms are bright and spacious. All of them have internet connection.
From the outside Hotel Stáció looks like a Mediterranean villa with natural stone walls and bright red roof tiles
A small pond in the garden adds to the relaxing ambience of this nice airport hotel.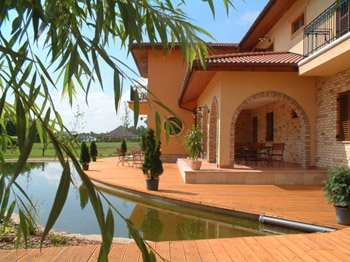 The bar offers draught beers, a selection of Hungarian wines, coffee, tea and soft drinks.
You can also have a meal in the small restaurant.
Two climatized conference rooms can accommodate up to 50 people.
The nice outdoor terrace in front of the rooms is perfect fro coffee breaks during workshops.
There's a private parking lot where you can park your car.
Room prices in Airport Hotel Stáció Budapest:
A standard double room in peak season is around:108 EUR on weekdays, which includes breakfast.
Free airport transfer is included to the hotel from Budapest airport.
TIP: Browse our list of other Four Star Hotels in Budapest.
Hunguest Hotel Millennium (formerly Hotel Tulip Inn)
Address: Üllői út 94-98., VIII. district
The 3-star Hunguest Hotel Millennium is a popular airport hotel in Budapest.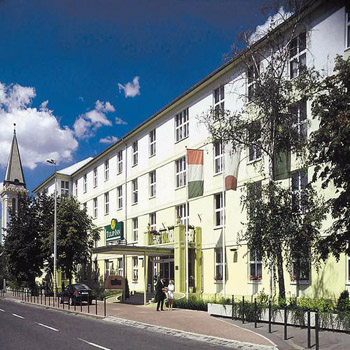 Although the hotel is situated a bit farther from the airport than the other two hotels listed above, but it still has an ideal location between Ferenc Liszt Airport and Budapest city center.
Downtown can be reached by M3 (blue) metro from Nagyvárad tér station.
This is a large hotel with 116 air-conditioned rooms and 6 suites on 3 floors.
A whole floor is dedicated to non-smoking guests and there are also rooms for allergic and disabled guests.
The 2 connecting rooms are perfect for families.
All rooms have TV with satellite channels, direct dial telephones, and internet connection (not included in the room price.
In the hotel's Törley restaurant you can taste Hungarian and international dishes. The lobby area has a drink bar.
A large conference room (for max. 200 people) and two smaller meeting rooms make the Hunguest Hotel Millennium a perfect conference hotel near Budapest airport.
Other Services Include:
Fitness room
Beauty parlour
Safe deposit boxes at the reception
Room rates: double rooms around 90-118 EUR.
Travellers' Opinion
Travellers who stayed in the hotel have rated as an average budget hotel. Some have complained that that the bed mattresses are bit hard and uncomfortable.
Hotel Ibis Budapest City South***
Address: Ferde utca 1-3., district IX.
Tel: (+36 1) 347 9700
Fax: (+36 1) 280 6403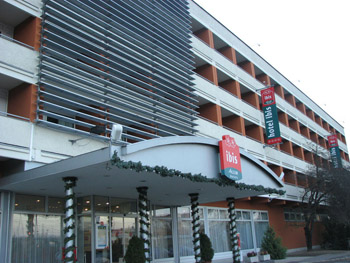 Ibis Budapest City South is a nice 3-star hotel in the vicinity of Budapest Airport and with good public transport connections to the city center (M3 metro station at Határ út is just a minute walk from the hotel).
There's also a big shopping centre opposite the hotel.
The hotel offers 139 rooms. Family rooms and rooms for guests with restricted mobility are also available.
All rooms have large balconies.
Rooms are spacious and clean with en-suite bathrooms.
All rooms are soundproofed though it's better to ask a room that doesn't face the main street because there's a bus stop in front of the hotel.
WiFi in the rooms is included in the price.
There's a small restaurant where breakfast (hot buffet-style breakfast is available for around 10 EUR) is served and where you can have dinner. The bar is open 24 hrs.
There are 3 meeting rooms equipped with audio-visual equipment so it is a good fit for business travellers.
Parking is 8 EUR per night.
Room rates in Hotel Ibis Budapest Aero:
Doubles from cc. 55 EUR.
A standard family room costs around 74 EUR per night.
Travellers' Reviews of Ibis Aero Hotel
The majority of reviewers has given a good rating.
Staff is said to be friendly and helpful.
Rooms are clean, beds are comfortable.
The location is in a nice part of the city.
Hotel Ferihegy ***
Address: Vecsés, Üllői út 809/b
Website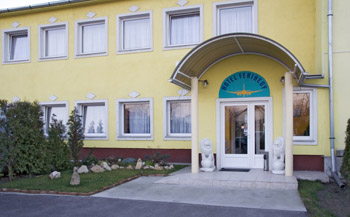 Hotel Ferihegy is a basic, no-frills Airport Hotel in a peaceful environment at only 5 minutes by car from the airport.
The hotel offers accommodation in 24 rooms (single, double, triple and quadruple rooms).
It has a small garden and its own parking area should you come by car.
Free WiFi everywhere in the building. You can use the computer with internet connection free of charge.
There's a small "wellness room" in the basement with Finnish and infra saunas for additional cost: 6 EUR/hour.
The hotel doesn't have a restaurant but there's a decent breakfast included in the room price.
Some good and bad points reported by some travellers who stayed at the hotel:
Pros: near the airport, large, tidy rooms, kind staff
Cons: uncomfortable beds
Room Rates in Hotel Ferihegy:
Doubles are around 49 EUR, a bit higher during the Formula 1 Hungarian Grand Prix and New Year's Eve.
Children under the age of six can stay free of charge.
Hotel Ében ***
Address: Nagy Lajos király utja 15-17., XIV. district
Tel: (+36 1) 383-8418
Website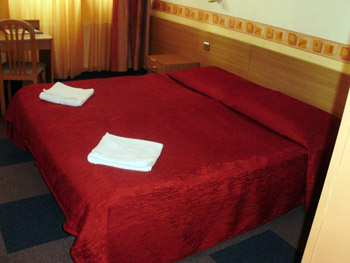 Hotel Ében is a an average budget hotel not too far from Budapest airport and with excellent transportation links.
The M2, red metro line has a station at Örs vezér ter, about 200 m from the hotel, and there are stops for several bus lines too.
Two large shopping centers are situated nearby the Örs vezér Square metro station:
Hotel Ében has 100 Rooms With
Comfortable beds,
Satellite TV,
Minibar and
Free WiFi internet connection.
25 of the rooms have bathtub in he bathroom the rest has shower.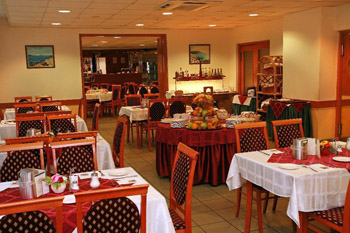 Buffet breakfast offering a wide choice of cereals, yogurts, cold cuts, fresh bread, omelette, fresh fruits is covered by the price.
You can have lunch or dinner in the restaurant (nothing special, but tasty, decent food).
There's a secured parking lot where you can park your car fro free during your stay.
Room prices in Hotel Ében: double rooms from around 70-90 EUR, single rooms: 55-66 EUR.
Travellers' Opinion of Hotel Ében
All in all, tourists rated Hotel Ében a not-so-great but cheap hotel in the suburban area of Budapest.
Rooms are mostly clean with basic furnishings
Some experienced bad smell coming from the bathroom drain.
Staff is polite and helpful.
The highlight of Hotel Ében is the rich breakfast with hot and cold dishes.
Related:
Skycourt Budapest  – Apartment Hotels – Downtown Hotels – Affordable Hotels – Our Facebook page