Comfortable 4-Star Accommodation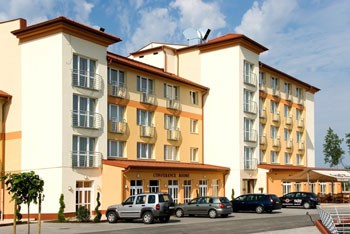 The Airport Hotel Budapest, opened on 28th July 2008,is a 4-star hotel providing convenient accommodation for travellers who want to stay near Liszt Ferenc Airport.
Located 2500 m far both from the Liszt Ferenc airport terminal 2 and the M0 motorway, the brand new Airport Hotel Budapest is an ideal place to stay at for business and leisure travellers alike.
The city centre can be reached in about 20 minutes from the hotel, so if you prefer accommodation in a quite area but still want to access the centrum of Budapest this airport hotel might be the place you are looking for.
Table of Contents
Main Features
The 4-star hotel opposite the Airport Business Park has 112 rooms on four floors. You can choose from double (has a king sized double bed) or twin rooms with two single beds.
The hotel has a safe parking garage should you want to rent a car during your Budapest stay.
You can have a nice meal and drink in the restaurant and cafe that has an outdoor terrace to enjoy in fine weather.
Doubles and Twin Rooms
All rooms have balcony. Rooms are air-conditioned that can be individually controlled.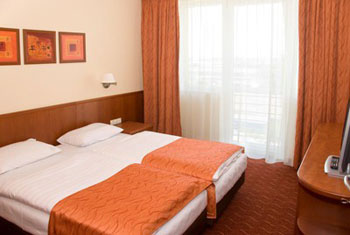 Other features the rooms have are:
TV set with satellite channels,
Telephone
Internet connection (included in the room price)
Safe
Minibar,
Desk,
Wardrobe.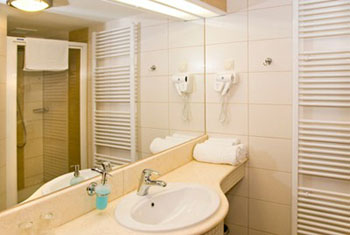 Bathrooms have shower and all necessary items are provided:
Towels
Shower gel
Soap
Shampoo
Body lotion
Hair drier.
Suites
Families with kids might want to sleep in one of the 3 suites to have more space. Besides the bedroom (2 single beds or a double bed) all suites have a living room with sofa and armchairs.
There's of course a TV with satellite channels, a desk, wardrobe, safe, and internet.
The bathroom is the same as in the double or twin rooms. Suites are also climatized and have balcony.
Rooms for Disabled People
The Airport Hotel Budapest offers comfortable rooms for travellers with wheel chairs. The doors of these two rooms can be opened and closed with a remote control, including the bathroom door.
These rooms were designed with the specific needs of the disabled in mind with more space to be able move around with a wheelchair and easy access of wardrobe, and furniture.
There's a hand-rail mounted in the shower cabin and at the toilette to provide support.
Rooms for the disabled are also air-conditioned (can be controlled by the guests) have balcony, internet connection, TV, telephone, safe, and mini bar.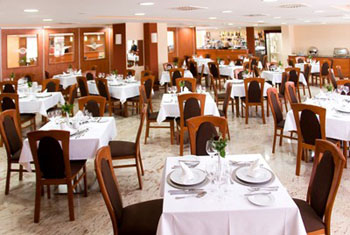 Restaurant & Cafe
The hotel has its own restaurant that is open round the clock.
It can seat 150 people so large groups can dine comfortably.
You can enjoy a light lunch or a late night dinner in the adjoining open terrace during summer.
There's a small cafe and bar in the lobby area offering coffee drinks, cocktails, wines, beer and other beverages.
Conference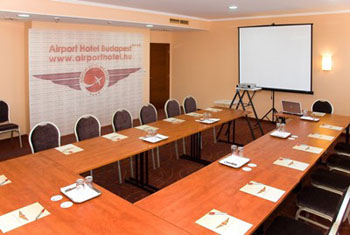 Conference and meeting rooms are equipped with modern facilities that business meetings or workshops require.
The air-conditioned rooms can accommodate 20-200 people so whether it's a workshop for a small group or a large party Airport Hotel Budapest's meeting rooms are perfect for the occasion.
Technical equipment can be arranged upon request including:
Computers,
Internet connection,
Projectors,
Scanner,
Copy machine, and
Secretarial service.
TIP: More for Business travellers visiting Budapest.
Wellness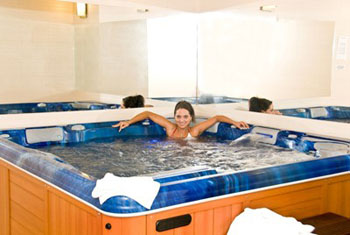 The small wellness center ensures relaxation after long business meetings or exploring the many sights of Hungary's capital.
You can relax in the whirlpool tub, refresh in the sauna or work out in the fitness room.
TIP: More on Budapest Spa & Wellness.
Parking
Airport Hotel Budapest has its own parking garage for 40 cars guarded by closed circuit camera system where you can leave your car in safety.
There's also a large parking lot outside the hotel building (belongs to the hotel) for 500 cars. Parking is free of charge.
Room Prices (2022)
Deluxe for one person: 85 EUR*
Deluxe room for 2 persons: 99 EUR
Family room (suite): 139 EUR
*in the extra high season: during the Formula 1 Hungarian Grand Prix, and during New Year's Eve
Discounts: children up to 4 years of age can stay free of charge (baby cot can be provided upon request), Children between 4-12 receive 50 % discount
Prices include buffet breakfast, unlimited use of the wellness center, and VAT.
All in all Airport Hotel Budapest provides good value accommodation near Budapest airport with all the facilities a modern hotel has to offer.
TIP: See more Airport Hotels in Budapest and browse our list of 4-star hotels in the city centre and the green belt. See also our Facebook page for fresh news.