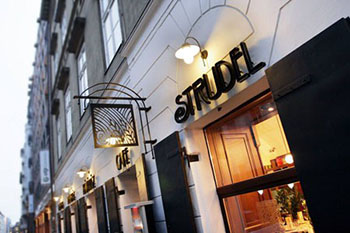 Add strudel tasting to your Budapest travel program and learn about the secrets of traditional strudel making in the First Strudel House of Pest Cafe & Restaurant housed in a historic building in the city center.
You will of course taste strudel with various fillings:
cottage cheese and its variations
plum,
cherry,
apple and
various other fruits,
but savoury and vegetarian strudels are also available.
Quick Links:
Basic Information and Map – About the First Strudel House of Pest – What is Strudel?
Strudel Tasting in Budapest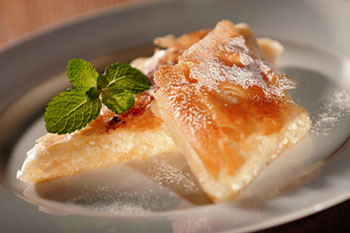 Address: Október 6. utca 22., district V., Budapest 1051
GPS: N 47°29'58.29″E 19°3'8.81″
Getting there: M1, M2 M3 metro lines Deák tér station tram 2 Roosevelt tér stop (a few minutes walk form both stops)
Opening Hours: 9.00-23.00 every day,
Holiday Opening Hours: December 24th: CLOSED, December 25th-26th: 11.00-23.00, 1st January 2013: 11.00-23.00,
About the First Strudel House of Pest – History & Modern Gastronomy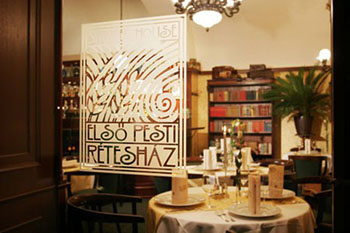 The Első Pesti Rétesház Cafe & Restaurant is a unique place in Budapest housed in a beautiful historical building in the vicinity of the Basilica in the city center.
It opened in 2007 with the concept of offering a wide range of strudels some with unusual fillings (chicken, foie gras, salmon).
Of course the traditional tastes (cottage cheese, apple, sour cherry, poppy seed) are also available.
The spacious interior of the restaurant has three distinctive areas.
First and foremost you'll encounter the strudel making work station in the front, where you can see how this unique pastry is made (see below).
The main dining room, is an an elegant space with arched ceilings and tables dotted with fresh flowers and lit by candlelight.
At its one end is a slightly more casual space with no tablecloths, designed as a café, and beyond that there is a well-lit rustic and traditional dining area with long wooden tables and an authentic communal feel.
Despite the historic ambience, First Strudel House has a very modern vision and gastronomic concept.
They offer
a nice choice of starters, selection of Hungarian delicacies (smoked sausage, ham, cheeses, foie gras, goose cracklings, freshly baked rolls), a vegetarian snack plate, strudel with salmon and asparagus sauce, strudel Hortobágy style ( filled with paprikash similarly to the Hortobágy pancakes)
soups (goulash and Újházy chicken broth, Hungarian fish soup Baja style, a fruit soup ideal for hot summer days) fish, poultry, pork and beef dishes
offers for vegetarians
salads and
some sweet dishes besides the dazzling choice of strudels.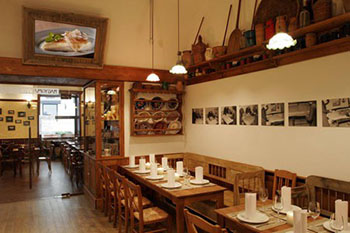 The Chef's offer is changing every month and includes dishes (Hungarian and international) made from seasonal ingredients prepared in inventive ways: some examples from the menu: Gourmet lamb and Foie Gras burger with beetroot salad served with homemade mayonnaise and French fries.
There's also a 3-course weekly menu for 1450 HUF. The wine list is also good with some excellent Hungarian vintages.
The cafe also serves breakfast between 9.00 and 12.00. Try the strudel breakfast that includes two pieces of strudel of your choice, a hot drink and 2 dl orange juice. For a savoury option have an egg dishes prepared as you wish.
Bakery goods (rolls, buns) are made freshly on the spot. If you're in a hurry you can pick up a to-go box with either six or four strudels inside, plus a coffee. There's also free WiFi.
What is Strudel?
Strudel (rétes in Hungarian) is a traditional Hungarian pastry originating from the Habsburg era in 18th-19th centuries.
It is a thin, flaky pastry usually with sweet filling (cottage cheese, apple, plum, apricot, poppy seed, walnut), but there are savoury variations as well (strudel with braised cabbage filling is the best known).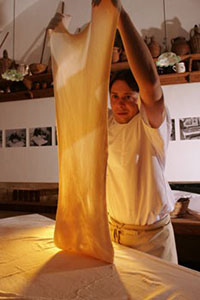 Making the paper-thin pastry requires high-gluten content flour and skills that nowadays are known and practiced only by few elder women in the countryside of Hungary.
According to strudel making experts, the pastry has to be so thin that a newspaper can be read through it.
The traditional Hungarian-style strudel is made from flour with high-gluten content (to be able to make a very elastic batter that can be stretched and pulled to very thin), butter or lard, egg and water.
In the First Strudel House of Pest you have the opportunity to watch how the pastry is made as well as taste 14 various kinds of strudels including savoury ones.
Related:
Wine Tasting in Buda Castle – Hungarian Dishes – Cooking Class in Budapest – Top Budapest Cafes – Classic Coffee Houses – Specialty Cafes in Budapest – Hungarian Food Specialties – Cronut in Budapest