For Shopping Addicts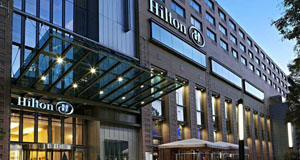 Address: Lázár utca 11-13., Bp, 1065 district VI.
Similarly to the other Hilton establishment in Buda Castle, this hotel too has excellent location.
It's right across the Basilica in small side street just off andrássy Avenue. You will find other two must-see landmarks within walking distance of the hotel:
The Opera House – the renewed historic building opened in spring 2022, and the
Parliament on Kossuth Square – the grandiose building is 10 minute on foot.
Highlights of the hotel:
Excellent transport connections: M3 (blue) metro station, Nyugati (Western) Train Station, Trams 4, 6 stop: you can get to anywhere in the city in no time
large shopping mall (WestEnd City Center) next door
the hip cafe and bar neighborhood at Liszt Ferenc Tér is a short walk from the hotel
typical Hilton-standard service
good size, comfortable rooms
attentive staff
Rooms: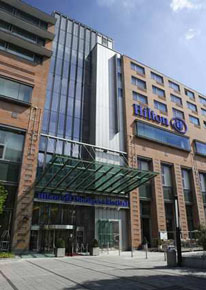 The Hilton City offers the same room types as its sister, the Hilton Budapest in Buda Castle, minus the superb view.
Guest rooms, Excecutive rooms and Suites with Executive Business Lounge access are the choice: comfy bedding in kingsize beds, use of wireless internet is included in the price,.
Other Conveniences
Bar, Sauna, Fitness Center
You can sip wonderful cocktail in the bar. There is a small sauna and you can also lounge on the sundeck.
One of the highlights of Hilton City is the top-of-the-line fitness room on the rooftop where you can enjoy the superb view while excercising on the modern gym equipment, the Lifefitness Elevation cardio machines with touch screen display.
The gym is open all day. Find out more abou the hotel on its official website.
What Travellers' Say?
On the Plus Side
Good, comfortable hotel with central location, lots of stores, shops, not only in the shopping centre directly accessible from the hotel but along Grand Boulevard (Nagykörút)
excellent transport connections
attentive, helpful staff
superb service in all areas
adjacent to a large shopping centre, the WestEnd with loads of shops, a cinema, cafes and fast food restaurants
great for a business or leisure trip – especially you wnat to do lots of shopping
good breakafast with a a wide choice of cold and hot meals
On the Negative Side
a bit faceless, you could be anywhere in the world
Things To Do Suggestions
You can easily explore the Jewish Quarter with its numerous synagogues, including the beuatiful Central Synagogue in Dohány Street.
Kazinczy Street offers some great ruin bars and clubs, as well as some excellent steet food beisdes. Take a walk along Andrássy Avenue for more shops and awesome architecture.
The Il bacio di Stile is one of the newest luxury multibrand stores on the famous avenue.
Visit the Opera for some cultural entertainment as well as its stunning architecture.
Similar Hotels