Date: September 07-10, 2023
Location: Buda Castle
The Budapest Wine Festival is a great opportunity to taste award-winning Hungarian and international wines, champagnes, cavas, local gastronomy, or just relax and admire the fantastic view from the terraces of Buda Castle.
The historic, World Heritage venue, makes the festival one of Europe's most beautiful outdoor wine events.
This year the four-day event will be held at a larger, more spacious area of the renewed castle with more places available to sit down with a glass of wine.
Table of Contents
Why Go To The Wine Festival?
The wine festival in Buda Castle is one of the biggest and most prominent events in the Hungarian capital – organised for the 32nd time in 2023 – so if you happen to be visiting our city at the beginning of September do include it in your program.
It offers countless programs at a must-see, historic location that you would drop by anyway.
Virtually every wine region of Hungary will be presente, and as a special guest, you can get to know the unique wines and stories of South America.
Even if you are not a wine lover you will find something that picks your interest:
Fine food – there's a series of food booths offering quality street food and culinary specialties- do visit the Chef Market Gourmet Food Court
Concerts, and Cultural programs entertain festival visitors
Interactive programs workshops,
Overall a wonderful atmopshere within a historical setting!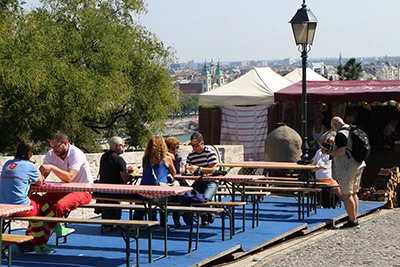 During The Festival You Can:
Taste delightful wines as well as local and international gastronomy specialties
Learn about the history of Hungarian wines and wine growing,
Meet renowned wine makers,
Listen to folk music and other concerts performed on two stages,
Enjoy the scenic view from the terraces of Buda Castle
Meet and/or make friends by a glass of wine.
Every wine maker in Hungary that counts will be there so don't hesitate to go up to the castle and explore the Taste Of Hungary stands.
Wines in Buda Castle – Best Of Hungary & South America
Besides local wines – around 200 wineries from all parts of Hungary – several foreign wine distributors exhibit their products as well.
South American wines and wine makers will be the special guest of this year's festival.
This is also the place to sample the Vinagora Award Winners, a prestigious wine contest for Hungarian wine makers.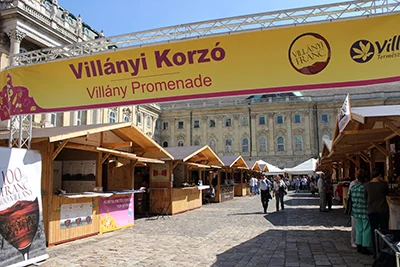 Opening Hours – Budapest Wine Festival
07-08, Sept, Thurs – Fri: 14.00 – 24.00
09. Sept, Sat: 12.00 – 24.00
10. Sept, Sun: 12.00 – 22.00
Cashiers close at 1 hour before closing time!
Venue
Terraces of the Royal Palace in Buda
Address: Budapest 1014
Getting There:
Bus No. 16 from – Note: Pest due to the reconstruction of the Chain Bridge you can get on the bus at Clark Adam Square (buda end of the Chain Bridge/Lánchíd
Buses No. 16. , No. 16A, and No. 116 from Széll Kálmán tér in Buda (M2 metro or tram 6 stop)
Funicular from Clark Adam tér (Buda end of the Chain Bridge).
TIP: Learn more about the Budapest International Wine Festival's main venue, the historic Buda Castle District.
Ticket Prices:
Good To Know: During the festival's opening hours, between September 07-10. you can visit certain areas in the Royal Palace in Buda Castle (Fisherman's Bastion Terrace, Savoy Terrace, Hunyadi Courtyard, Lion Courtyard, Csikós Courtyard) only with a valid ticket.
Daily Ticket Thursday: 7 300 HUF,
Daily Ticket Friday: 7 900 HUF,
Daily Ticket Saturday: 7 900 HUF,
Daily Ticket Sunday: 6 500 HUF.
Note: Entry is free for children under 14 – they will receive a special wristband at the cashier.
Visiting the Hungarian National Gallery During The Festival
If you want to visit the Hungarian National Gallery located in the Palace building hostesses will escort you to the main entrance of the gallery and back in every 15 minutes.
Included Are In The Day Tickets:
Upon validating your ticket at the entrance you'll receive
A crystal tasting glass, a
A tasting coupon – you can taste a glass of wine with it for FREE at the Vinagora booth
Free entry to the permanent exhibitions of the Budapest History Museum.
Ticket holders can visit the permanent exhibits of the Budapest History Museum free of charge (housed in the Royal Palace, building "E").
Tasting Prices:
Depending on the wine maker and the quality of the wine, price of 1 dl wine starts from around 1 500 – 2 500 HUF.
For a pricier glass you will pay around 3 000 – 4 000/dl, or more
Payment At The Festival
The festival is cash-free meaning that you can only pay with:
Contactless Bank Card (Mastercard payPass, Visa Paywave) or with
Festipay card that you top up with as much money as you want at the designated Top-Up Points. There is a minimum balance of 2 000 HUF, and a 500 HUF deposit will be deducted that you will get back upon returning the card back.
You can add more money to the card at any time and as often you want but there is a fee of 200 HUF if you use bank card. No fee is charged if you top up with cash.
The remaining balance will be refunded when you return the Festipay card.
There is a top up fee of 200 HUF when you top up your card with a debit/credit card.
Programs 2023
Wine Exhibition & Fair
Venue: Buda Castle – Palace terraces,
More than 200 wine distributors exhibit their products from Hungarian wine regions and foreign countries as well.
A novelty this year that thematic routes help visitors find their way around the dazzlingly wide selection of local wineries and wines.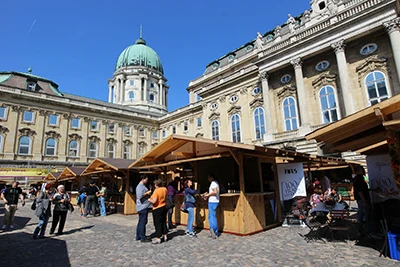 Chef Market Gourmet Food Court Offering Delicacies
A series of top quality restaurants and street food places will be present at the festival.
So if you feel like splurging and tasting fine bistro food or just having burger you have both options.
Grab some tasty street food between two glasses of wine on the gastro promenade
(Click to enlarge the map of the food court, opens in ne window):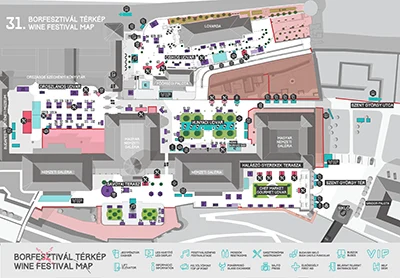 Those who wish to have lighter snacks can choose from
Strudel,
Scones,
Töki pompos (a flat bread-like pastry baked in oven), and
A selection of cheeses.
Bobajka
A newly opened restaurant in Tarcal (Tokaj wine region) – they specialize in Hungarian and international dishes prepared in modern from.
YAMA Restaurant – Asian-Fusion Food
A newcomer in Budapest's restaurant scene YAMA offers Asian-fusion cuisine.
FELIX Kitchen & Bar
FELIX combines fine gastronomy and bar culture with contemporary art.
They are located at Várkert Bazaar, the beautifully restored historic series of buildings at the foot of Buda Castle.
See their website for the menu.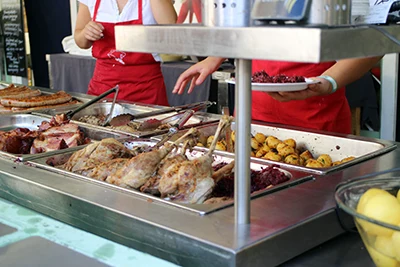 Arany Kaviár Restaurant
Arany Kaviár is one of the top fine dining places of Budapest.
42 Restaurant & Suites
A Michelin star restaurant located in Esztergom city.
Smokey Monkies BBQ
Barbecue meat, burgers.
Bombay Budapest
One of the best Indian restaurants in our city.
Pavillon De Paris
A fine French restaurant in Budapest.
Nemo Fish & Chips & Seafood Truck
Nemo has been operating in Budapest for 10 years, and from the very beginning, it has been welcoming its guests with fresh seafood and specialties.
For the Wine Festival, they are preparing authentic Chilean national seafood dishes such as ceviche, Choritoz com arroz, and pescado frito.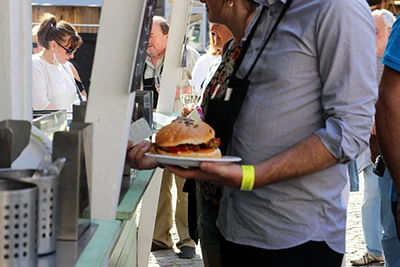 Zing Burger
A variety of tasty hamburgers.
Dr. Ignácz Sausage Manufacture
Pizza Me
True Italian pizza by slice, made from fresh ingredients.

Dziugas – Cheese
High-quality Lithuanian, matured cheeses.
Bolka Chocolates & Desserts
At the booth of this small manufacture you can have delicous chocolate and other sweet creations.
Coffer & HERZ New York Coffee Roasters
If you need a caffeine shot these to specialty coffe roasters will provide you with a nice cuppa. Made from high-quality, freshly roasted small batch origin Arabica beans.
At Coffer you can also quench your thirst with refreshing lemonades and fruit spritzers made from real fruit.
The Gerbeaud Confectionery provides for the desserts usually offering a novelty besides their assortment of cakes, pastries and ice cream.
Come to the Hungarian capital in early September, and enjoy not only the warm and sunny end-of-summer weather but the programs of the Budapest Wine Festival!
TIP: See also recommended places for wine tasting in and outside Budapest! Find more program and things to do recommendations for September 2023.
Here Are Some More Wine Tasting Options In Budapest:
Cruise With 7 Local Wines or Tokaji & Folk Show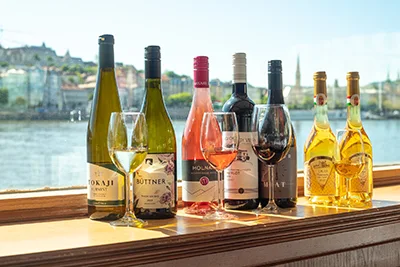 Departure: 18:30 or 21:30 / Duration: 120 min. – From €27
Wine & Dine – Cruise with 5 Local Wines & Hungarian Appetizer/Cheese Plate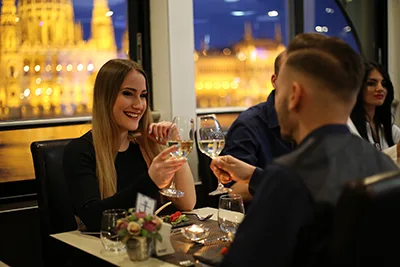 Departure: 19:00 / Duration: 80 min. – From €49
Wine & Dine – Cruise with 5 Local Wines & Hungarian Appetizer/Cheese Plate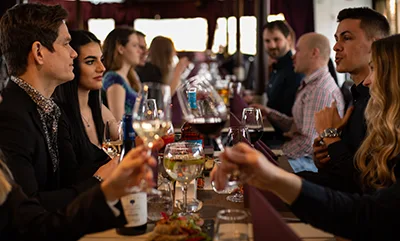 Departure: 20:30 / Duration: 80 min. – From €49
If you miss the wine festival in September but want to taste and learn about Hungarian wines we recommend a 9-tier wine tasting in Budapest city centre.
The 2-hour program is on Saturdays at 20.00/8 pm and showcases some truly exceptional local wines from big producer to small, boutique wineries. For each wine you'll be served locally sourced bites: paprika salami, sausage ham and cheeses. Book your place below!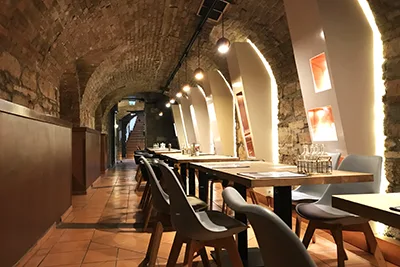 The Wine Tasting Experience in Palinka Museum
Savor the complexity and heritage of Hungarian wines as you explore a curated selection, ranging from the renowned Tokaj to the robust Kadarkas of Villány, guided by our knowledgeable specialists.
9 different wines for tasting / 9 different charcuteries
Duration: 120 min. – Price €57
Visit also some of the top wine bars in Budapest!
FAQ – Budapest Wine Festival
Q: Can children visit the Budapest Wine Festival?
A: Yes, children are welcome to the festival. Entry is free for them up to 14 years of age.
Q. What's included in the entry ticket?

A: Each daily ticket comes with a tasting glass and a coupon for a free tasting at the Vinagora Booth.
More Events & Festivals:
Jewish Summer Festival – Folk Art Festival in Buda Castle – Budapest Summer Festival – Sziget Festival – Beer Festivals in Budapest