Romantic Patio Dining in the City
There are a a good dozen of garden restaurants in Budapest where you can dine within peaceful, green surroundings.
The city offers a great number of outdoor dining places: with a nice garden, patio or terrace section, and great food; a combination that guarantees that you'll have a memorable dining experience.
Browse our selection of the most popular restaurants with garden or terrace where you can have a romantic lunch or dinner on a beautiful sunny day.
Table of Contents
Jardinette Garden Restaurant
Address: Németvölgyi út 136., XI. district
Tel (+36 1) 248-1652
Open:
Tue – Sat: 12.00 – 23.00,
Sunday: 12.00 – 22.00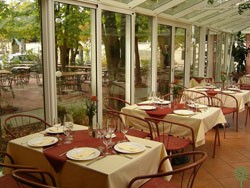 Located in south Buda, the Jardinette is a very versatile place.
According to the quote on their website the restaurant is not specilazing in cuisine, it just wants to be "a restaurant of exquisite tastes".
From May through the summer the barbecue specialties prepared in the garden are the main draw of the place.
The set menu lunch for 990 HUF on weekdays is another temptation to try this restaurant. The stone building boasts an attractive winter garden with large, full-height windows offering a view.
What's more, Jardinette has its own wine cellar which is more than 100 years old. So it's a nice spot for tasting fine Hungarian wines with the a help of a sommelier. See other great places for Wine tasting in Budapest.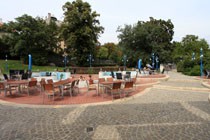 Jardinette is a very kid-friendly restaurant. Every Sunday between 12.00-16.00 a Kid's Corner welcomes the little ones where they can play under the supervision of a qualified English-speaking attendant.
After playing, they can select their favourites from the kids menu (fried chicken breast, fried fish fingers, penne with tomato sauce and cheese, kids' dishes cost: 950-1440 HUF).
Price guide: soups: 480-870 HUF, main dishes: cc. 1500-4000 HUF, desserts: cc. 700-800 HUF.
TIP: View also our selection of top cafes and resturants with terrace for the summer of 2022.
Pavillon de Paris
Address: Fő utca 20., district I., M2 (red) metro, Batthyány tér station, or across Chain Bridge from Pest by walk
Open: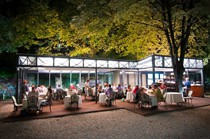 Tue-Sat: 12.00-15.00, 18.00-22.00
Sunday, Monday: closed
A restaurant with French cuisine and a pleasant inner courtyard in Buda. Lovely romantic setting, weekly changing seasonal menu, excellent wines and superb location.
You can admire the scenic vista of the Danube, the Parliament building and other sights in Pest on the way to or back.
Gerlóczy Cafe
Address: Gerlóczy utca 1., district V.
Tel: (+36 1) 240 7165
Open: every day: 07.00 – 23.00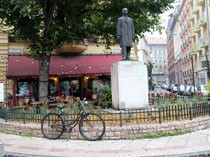 Gerlóczy is a charming cafe and restaurant in a romantic little plaza called Kamermayer Square.
Good bistro menu and a nice choice of breakfast dishes (freshly baked croissant, ham and eggs, frankfurter, omlette, breakfast menus), coffee, tea, juices and other drinks.
Harp music in the evenings. It also offers accommodation in furbished apartment rooms upstairs.
Kőleves Pub & Garden Restaurant
Address: Kazinczy utca 37-41., district VII.
Open:
Mon – Fri: 08.00 – 01.00,
Sat: 09.00-01.00,
Sun: 12.00-24.00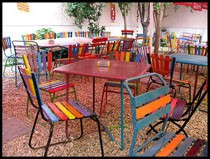 Located in trendy Kazinczy Street – a hub of ruin bars and garden clubs – Kőleves (translates to Stone Soup referring to a Classic Hungarian folk story) is serving international dishes made from fresh, organic, seasonal ingredients.
The inventive decor (check out the lavatory) lends a homey atmosphere.
You can also have breakfast there (weekdays: 8.00-11.00, weekends: 09.00-11.30.
A great choice of gluten-free and dairy free food are also available.
They don't use pork either. The garden is favored by families with kids: swings and other play things in the children's corner to keep them entertained. Kőleves turns into lively pub in the evenings with affordable drinks.
Platán Garden Restaurant
Address: Városligeti fasor 46., VI. district, M1 Hősök tere or Bajza utca stop,- near Heroes' Square
Tel: (+36 1) 322-6615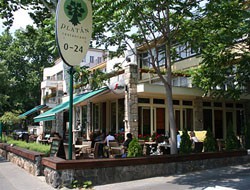 Platán is a family-run garden Restaurant in district VI. The symbol of the restaurant is a stately sycamore tree standing in the garden (sycamore is platán in Hungarian).
The place has two sections: a fast food restaurant offering set weekly menus for those who want a quick tasty lunch.
For those who wish to dine at a more leisurely place the a la carte section offers a wide choice of dishes.
From the garden, under the shades of sycamore trees you can contemplate the street life going by at the corner of Dózsa György út and Városligeti fasor, while sipping a glass of wine
The wine room offers not only the opportunity to taste 24 wines from Hungary's various wine growing districts but a place fro relaxation after a hearty meal. The wine room is also a perfect venue for business meetings.
The whole restaurant is air-conditioned. Platán also houses small art exhibitions and there are literary evenings, as well.
Price Guide:
Soups: 650 – 680 HUF,
Main dishes: 1 700 – 3 600 HUF, a plate for 2: 5 950 HUF (includes fried meats prepared in Hungarian style served with generous garnishings)
Desserts: 700-1450, pancakes with various fillings: 200 HUF/piece.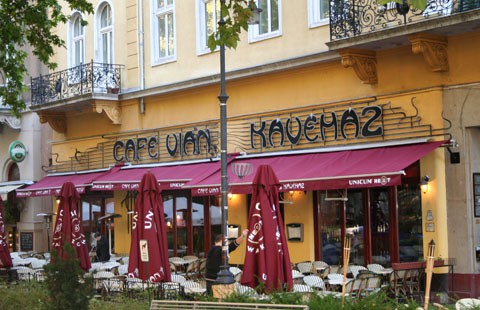 TIP: The elegant Andrássy Avenue offers lots of great cafes & restaurants with outdoor terraces, especially on Liszt Ferenc Square which is a small sidestreet of the avenue.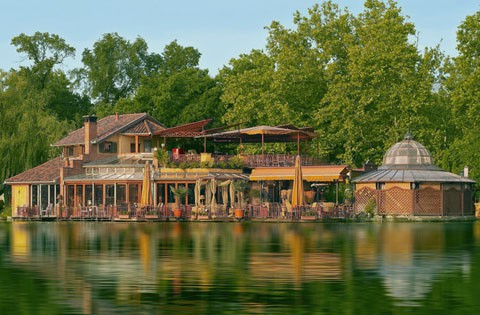 Fészek Restaurant
– cheap garden restaurant in downtown Budapest
Address: Kertész utca 36., district VII.
Tel: (+36 1) 322 6043
Fészek restaurant has a spacious garden where 300 guests can be seated, so it's great for weddings and parties.
If you want to try tasty Hungarian dishes like goulash served in bogrács (iron kettle) at affordable prices within unconventional setting than go to Fészek.
The Le Jardin de Paris is a first-class French restaurant in Budapest that also has a lovely garden.
Robinson Restaurant – On A Small Island In City Park
Address: City Park lake, M1 Hősök tere station
Tel: (+ 36 1) 422 0222
The charm of the place lies in its location on an island on City Park lake (Városligeti tó).
It's a bit pricey, considering that the food is average, but if you appreciate the fine view then perhaps it worths a try.
Náncsi Néni Vendéglője (Aunt Náncsi's Inn) is very fine garden restaurant in Buda that is listed in Michelin Guide as a recommended Hungarian restaurant.
Restaurant Streets & Other Spots Great for Dining Al Fresco
Ráday Utca in District IX.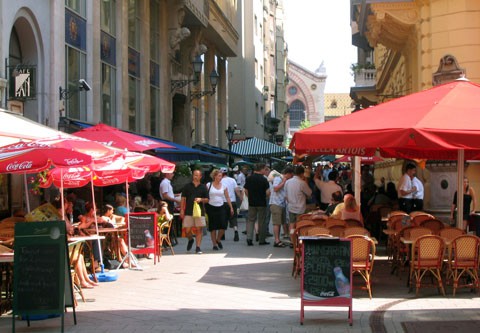 It's in fact a restaurant street similarly to Liszt Ferenc tér in district VI. (already mentioned above). Costes, Budapest's and Hungary's first Michelin-star Restaurant is here too, but the street offers plenty inexpensive eateries as well: Pár Perc Krumpli is a great fast-food place offering hamburgers and fries.
Manga Cowboy is another of our favourite place: with a fusion style kitchen offering great burgers, steaks and Asian dishes.
Szent István Square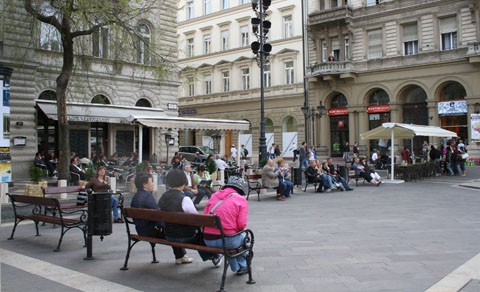 In front of St. Stephen's Basilica and its Environs – the plaza boasts a Starbucks Cafe (one of the many in Budapest).
Other great restaurants nearby:
Váci Street – restaurants, cafes abound in the famous pedestrian shopping street in downtown Budapest.
Gerbeaud Cafe on the north end of the street is a legendary place operating since 1858. It offers a range of plate desserts, cakes, and sundaes.
Their home made ice cream in freshly baked cone is a must-try in summer (offered from a counter at the Dorottya street side of the cafe building).
You can also have breakfast in the cafe or try one of the few dishes offered in the menu. The cafe also houses a pub that you can enter from Dorottya utca.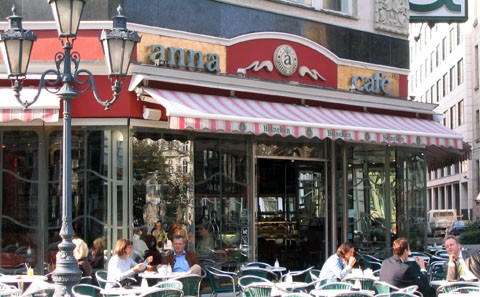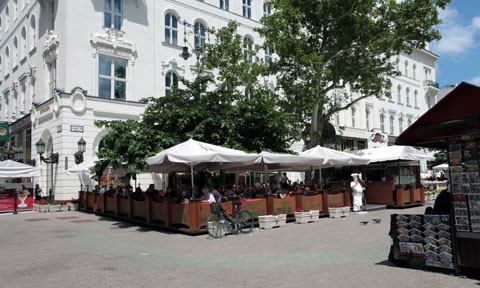 New Main Street – Kecskeméti utca – Egyetem tér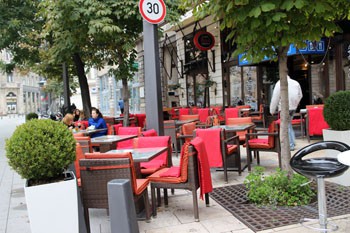 Budapest's Main Street (Fő utca) has evolved into a fabulous restaurant hub, especially in the part from Kálvin Square to Egyetem Square in Kecskeméti utca.
Vén Diák Pub & Restaurant
Address: Egyetem tér 5.,
Open: Mon – Sun: 11.00 – 24.00

A great medium-priced restaurants opposite the church on Egyetem tér.
Tasty food (goulash, meat dishes, cakes and desserts), a goodd choice of drinks and a pleasant out door seating area.
Soups costs 1 890 – 2 490 HUF, you have to pay for a bowl of hearty gulyásleves (goulash soup) 2 490 HUF (cc. 6.2 EUR).
Beef stew Hungarian style served with eggy noodles costs 4 290 HUF (cc. 10.7 EUR).
Daily 2-course menu – spoup and main dish – is available from Monday to Friday between 11.30 15.00 for 2 190 HUF (cc. 5.5 EUR).
From the 4-5 desserts listed on the menu try the cottga e cheese dumplings, a typical local treat that costs 1 890 HUF (cc. 4.7 EUR).
nor/ma Bakery
Address: Kecskeméti utca 11.
Open: Mon – Fri: 07.00 – 19.00, Sat: 08.00 – 18.00 )
A Scandinavian-style bakery that opened in 2019.
This is the place to get freshly baked croissant, leavened bread, cardamom rolls and specialty coffee.
TIP: For Hungarian-style bakery suff drop by Jókenyér Pékség (Kecskeméti utca 5/a) just a short walk from Nor/ma: cocoa snails, walnut snails, pastries filled with fruit, wholewheat bread, rolls and buns, sandwiches are the choice.
Good Bar Burger Bar
Address: Kecskeméti utca 6.
Open: Mon – Sun: 11.00 – 23.00
Gourmet burgers (14), salads, bar food (fried chicken, wraps, quesadilla) for lunch or dinner. price of burges is between 2 300 – 3 500 HUF (cc. 5.75 EUR – 8.7 EUR).
A vegan Beyond burger is 3 050 HUF (cc. 7.6 EUR). A daily menu of soup + main dish is available between 12.00 – 15.00.
You can also choose from a wide range of cocktails (both alcoholic and non-alcoholic) , summer coolers, craft beer, local wines, soft drinks and coffee.
Kopaszi Dam & Park Restaurants
Location: Kopaszi gát, district XI. near the Buda end of Rákóczi Bridge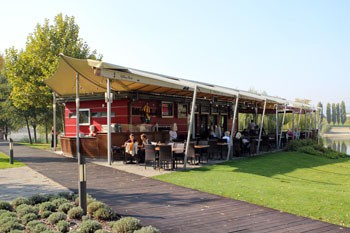 Although the Kopaszi Dam (or Dike) and Park is not in the city centre, it is an ideal excursion spot for anyone who loves an idyllic riverside setting with lots of green.
A couple of restaurants, bistros and cafes, a playground, (and a play house for the winter season or when it's raining), benches
Some of the places to have food at:
Le Bistro (open: every day: 11.00-22.00): soups, salads and other bistro dishes. coffee drinks and ice cream.
Vakvarjú Beach (open: Mon-Sun: 11.30-23.30) their specialty is the oven-baked bread pizza (kenyérlángos) with various toppings (mangalica sausage, sour cream, onion, cheese etc.), a Hungarian classic found in every festival and gastro fair. There are other dishes as well should you want to have something more substantial.
Cafe Ponyvaregény (open: May-Sept: 10.00 – 23.00, exc. Mon: 12.00-23.00, Oct-Apr: 10.00-22.00, Mon: 12.00-22.00) a very kid friendly place with play corner, play mat, all sorts of toys for toddlers and bigger kids, and a changing table. On the food side it too offers bread pizza, roasted pork knuckle, stuffed pancakes, salads, and sandwiches. A wide choice of coffee drinks, milkshakes, hot cocoa, soft drinks, draught beer, and other beverages are also available.
Related:
Hungarian Restaurants – French Restaurants – Italian Restaurants – Japanese Restaurants – Budget Eats – Hungarian Dishes