Uniuqe Accommodation For a Special Holiday
The number of boutique and design hotels in Budapest (also known as fashion hotels) is growing year by year providing a wide choice of modern hotels with character for travellers.
Most of these uniquely designed contemporary hotels are situated in the city centre ensuring easy access to all the major sights and attractions.
If you do not want to stay in a hotel that is just one of the many then book a room in one of the fashion hotels in Budapest listed down below.
Quick Links:
Pest side: Hotel Palazzo Zichy – Aria Hotel – Iberostar Grand Hotel Budapest – Mamaison Hotel Andrássy Budapest – Continental Hotel Budapest**** Superior – Hotel Boutique Zara – Atrium Fashion Hotel **** – SOHO Boutique Hotel ****
Buda side: Buda Castle Fashion Hotel – Baltazar Hotel Buda Castle – Lánchíd 19 Design Hotel
Why Stay in a Boutique Hotel?
Contemporary, hip atmosphere combined with 5-star service: besides offering more intimate personal hotel atmosphere fashion hotels stand out from their competitors by providing unique, personalized services to make guests feel at home.
Most boutique and design hotels – including the ones in Budapest – offer premium services like business centers, executive lounges, conference facilities, spa & wellness treatments, 24-hour room service.
In a boutique hotel you'll feel more at home, the service, the amenities and the look of the hotel ensures a more personal atmosphere than a hotel which is part of large uniformisied chain.
It is a prerequisite for a boutique hotel to have a unique designer look – unlike a large hotel a small fashion hotel (most boutique hotels have 20-50 rooms) has the liberty to have parts of the establishment (lobby, rooms, restaurant) designed in various style and decor.
The decor of a boutique hotel has an important role in creating a laid-back ambience ensuring that guests feel at ease during their stay. Visually spectacular interior design lends special character to these hotels.
Cost-effective – a boutique hotel offers competitive prices over large hotel brands.
A small design hotel is ideal for both business travellers coming to Budapest and leisure travellers who prefer accommodation that has individual style and par excellence service.
Best Boutique and Design Hotels in Budapest
We've hand-picked the best-value fashion hotels to ensure you'll find a nice modern accommodation. The majority of the following lodgings are in the city centre, close to all the major attraction, restaurants and shops.
Search for Hotels, Compare Prices & Read Reviews
Tip:
Take also a look at our collection of hotels nearest the Christmas fair on Vörösmarty Square.
Hotel Palazzo Zichy **** – Modern Hotel, Historic Ambience
Address: Lőrinc pap tér 2., district VIII.
A great little fashion hotel in the former Palace Quarter of Budapest. The hotel is housed in a historic building built in the 19th century.
The palace building once was the home of a famous Hungarian noble man, count Nándor Zichy.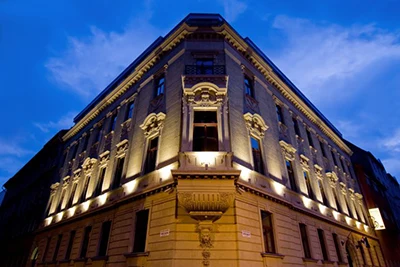 The 80-room hotel provides convenient lodging with excellent public transport connection.
Free internet connection, sumptuous buffet breakfast, fitness center are the highlights of the Hotel Palazzo Zichy fashion hotel.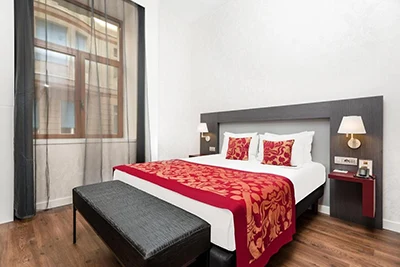 Aria Hotel Budapest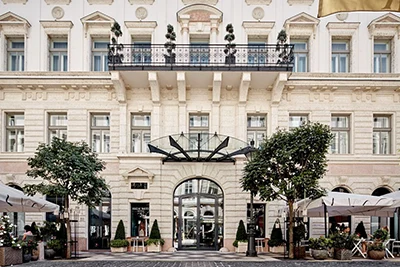 The exterior was meticously restored while the interior is a lush, gorgeous, 21st century contemporary hotel designed along the theme of music; genres, composers, musical symbols.
Each room and suite named after musical genre or a composer has unique lavish design and is equipped with ultra modern amenities: digital music library accessible via iPad, high-end sound system, flat screen smart TV, coffee/tea maker.
Some other extraordinary features of Aria are:
the High Note SkyBar on the rooftop with a 360 degree panorama terrace
an amazing glass-roofed inner courtyard, the Music Garden where you can nibble wine and cheese in the afternoon (inc. in room price).
Stradivari Restaurant – elegantly decorated modern bistro where you can taste Hungarian dishes prepared in healthy, innovative methods using the freshest ingredients supplied by local farmers.
A fine spa with heated pool, massages, sauna and fitness room.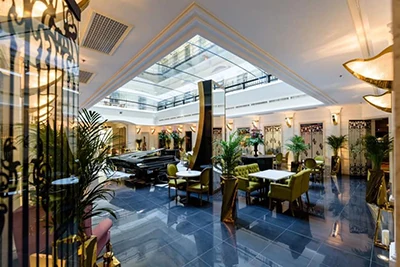 Aria is the place to stay at in Budapest if you're looking for a home away from home with one-of-a-kind design and decor, where you can completely relax fater a city sightseeing and shopping in the city.
Baltazar Hotel Buda Castle
Address: Országház utca 31., district I.
This lovely hotel opened in 2013 at a superb location in the Castle District surrounded with historic sights and monuments.
Each tastefully decorated room features unique design, classic furnishing and modern conveniences.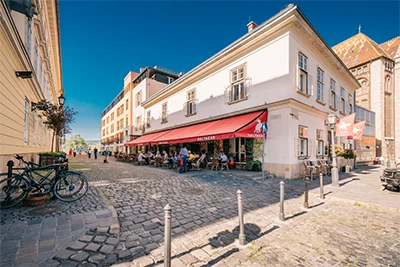 The kitchen of the hotel's restaurant is exceptionally good too: simple but tasty bistro food made from seasonal ingredients, gourmet street food, delicious breakfast options, fine wines and fantastic terrace.
Read more about the Baltazar Hotel.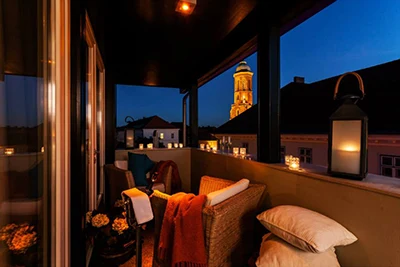 Buda Castle Fashion Hotel **** in the Castle in a Peaceful, Romantic Street
Address: Úri utca 9., district I., Buda Castle
This fairly new 4-star fashion hotel in the Castle District offers convenient, classy accommodation in 25 rooms, and luxury apartments in a refurbished town house. The historic Castle District abounds in sights that you can explore by walk.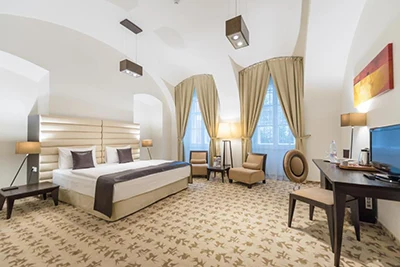 Getting to Pest is also easy either by the funicular (sikló) that runs along the side of Castle Hill (it's quite expensive a one-way ticket costs 840 HUF, a return ticket is 1450 HUF) and takes you to Clark Adam Square at the Buda end of the Chain Bridge (Széchenyi Lánchíd).
A cheaper alternative is to take bus No. 16 from the Castle to Pest city centre (a single ticket costs 320 HUF). The location of the hotel is peaceful ensuring you a quiet, relaxed stay. The friendly, language-speaking staff is very helpful.
Amenities in Buda Castle Fashion Hotel include
comfortable, larger-than-average, air-conditioned rooms
spacious bathroom
free Wi-Fi internet,
TV with 16 satellite channel
private security safe
buffet breakfast (included in the price) in the breakfast & bar lounge
cafe & snack bar between 12.00 – 24.00
24-hour reception.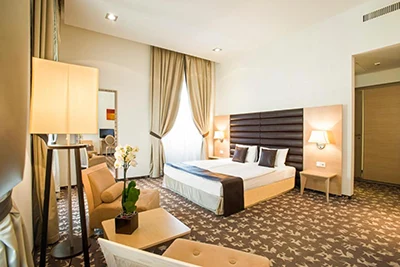 Room Types:
13 superior rooms (cc. 200 EUR/night)
4 duplex rooms (cc. 225 EUR/night)
3 junior suites (cc. 250 EUR/night)
5 suites (cc. 300 EUR /night)[/checklist]
There's lovely inner courtyard too.
The hotel doesn't have an a la carte restaurant (only a snack bar and cafe) there are many eating-out options in the neighbourhood.
Pros:
romantic, relaxed area with historic ambience
large rooms
professional, kind staff
Cons:
a bit far from public transport service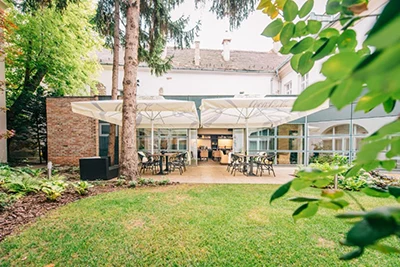 TIP: The St. George Residence All Suites Hotel. It has a quaint yet modern atmosphere, well-sized rooms, a wine cellar Highly recommended for families and honeymooners!
Iberostar Grand Hotel Budapest – a Luxury Boutique Hotel
Address: Október 6. utca 26., next to Szabadság Square
You can enjoy Spanish hospitality in this pleasant high-end boutique hotel in downtown Budapest, located close to many sights.
The green park of Szabadság Square next to the hotel provides great view from most rooms.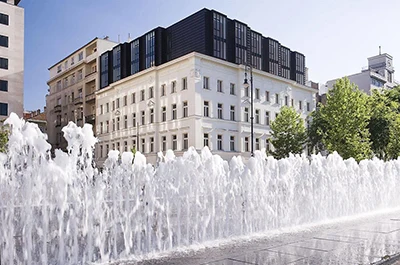 There's a small spa and fitness room, and a romantic restaurant with terrace, rooms are spacious featuring bold, modern decor and furnishings.
A great choice for a romantic city break!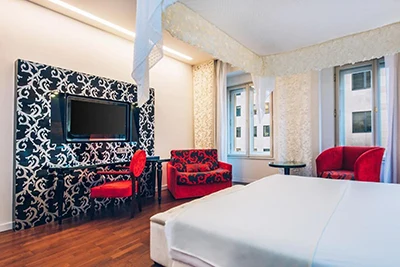 Continental Hotel Budapest**** Superior
Address: Dohány utca 42-44., district VII.
Website
Another fine design hotel by the Zara chain in central Budapest, within the former Jewish District.
The Continental Hotel Budapest is one of the best rated hotels in Budapest with great service, nice rooms, fine restaurant and a fantastic pool.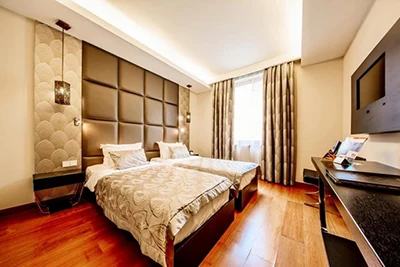 Lánchíd 19 Design Hotel ****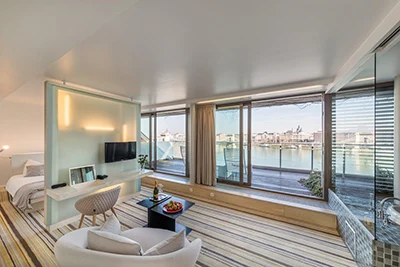 Hotel Boutique Zara ****
Address: Só utca 6., Budapest, district V.
Hotel Zara is a small design hotel in a swanky part of central Budapest: Váci Street. The hotel offers well-equipped accommodation in 74 rooms on 4 floors.
This is a good-value hotel for those who want to be right in the centre of the city, within easy rich of many attractions (Danube Bank, Central Market Hall, restaurants, bars, cafes and shopping.
After strolling in the busy city you'll welcome the relaxing hotel atmosphere.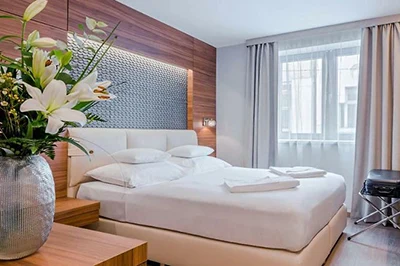 Room Types & Rates:
Check Rates, Read Reviews about the Boutique Hotel Zara.
Hotel Boutique Zara offers standard and superior business rooms equipped with modern conveniences such as:
air-conditioning
queen size or twin beds
direct phone lines
high-speed internet access free of charge
LCD Tv-set with satellite channels
a laptop-size in room safe
bathroom with shower or bathtub,
a variety of toiletries are provided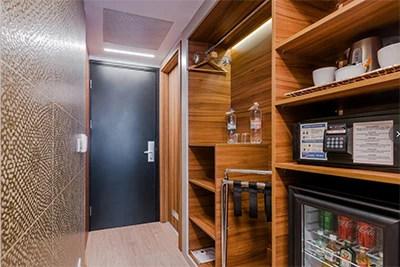 Buffet breakfast (served between 6.30-10.30) with a variety of hot and cold meals and drinks is included in the room price. There's also a Bio Corner offering licensed Hungarian bioproducts: bakeries, cereals, fruit, yogurt etc.
The cozy Zara Cafe & Bar offers a nice selection of light snacks, sandwiches, salads, confectioneries, coffee drinks, cocktails.
For business or formal social meetings you can use the Atrium adjacent to the hotel lobby. The room is equipped with projection system and top-of-the-line lighting ensuring a perfect place for business meetings, workshops, or banquettes.
Rates: a standard double room is around 90 – 100 EUR in Hotel Boutique Zara.
Travellers' Complaints: the main complaints by guests of the hotel are that the walls between rooms are too thin so you can hear conversation and noise made by other guests.
Atrium Fashion Hotel ****
Address: Csokonai utca 14., district VIII.
The location of this fine boutique hotel is also central, in a smalls street just 1 minute by walk from Grand Boulevard (Nagykörút) and Blaha Lujza tér transportation hub (M 2, re, metro station, trams 4,6 stop, several bus stops).
The smallness of the hotel (57 rooms) ensures laid-back atmosphere.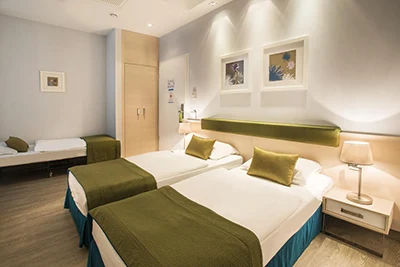 The hotel is decorated in modern style with bright colors of light green, and blue providing a stylish yet homey ambience. Rooms are designed and furnished in wheel chair-friendly way.
All rooms are air-conditioned and have soundproofed windows.
The whole hotel is non-smoking.
Other room facilities include: LCD TV, wireless internet, safe, coffee and tea maker, mini bar. Most room are arranged along the central atrium with a balcony overlooking it.
There's 24/7 reception. A parking garage is 80 m from the hotel.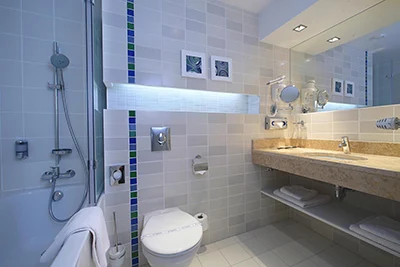 The rectangular, glass-roofed Atrium Cafe & Bar is the centre and the most beautiful part of the hotel where you can enjoy the generous buffet breakfast (included in the price).
The Meeting Room is well-equipped for conducting business meetings or workshops.
Room rates: rooms are around cc. 80 – 120 EUR/night.
SOHO Boutique Hotel ****
Address: Dohány utca 66., district VII.
Although not as central as the other hotels described in this article but SOHO Boutique Hotel is still well located in Dohány utca, nearby the Great Synagogue, and other monuments in Budapest's Jewish quarter.
This contemporary design hotel has 68 conveniently furnished double rooms equipped a range of extras. The spacious suites (6) can accommodate up to 3-4 people and have bath tubs in the bathroom.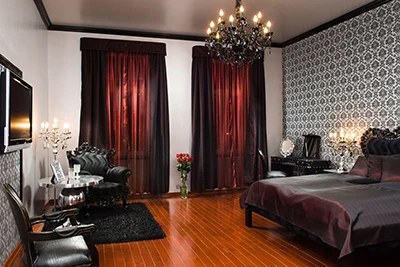 The complimentary buffet breakfast is served in the SOHO 64 Restaurant where you can also dine a la carte.
The hotel's Conference Room and Meeting Room are ideal for larger or smaller-scale conferences, workshops, business meetings.
The neighbourhood abounds in sights, exciting nightlife, and some great restaurants and cafes.
Room rates:
Standard double room: 109 – 220 EUR
Suite: 169 – 295 EUR
Travellers' Opinions
The has received good reviews from tourists who stayed in the hotel. According to most reviewers, the staff is extremely pleasant and helpful.
Many travellers found the rooms to be very small. The bathroom door is transparent which might be uncomfortable if you want privacy.
Some have complained that the breakfast wasn't too good (it was sufficient but a bit blend), another traveller said that the eggs and bacon was cold.
Mamaison Hotel Andrássy Budapest ****
Historic Building, Contemporary Elegance
Address: Andrássy út 111., district VI.
Andrássy Hotel is located in a hip part of Budapest on Andrássy Avenue which is under the protection of the UNESCO World Heritage. The area is home to many embassies and diplomats working in Budapest, Hungary.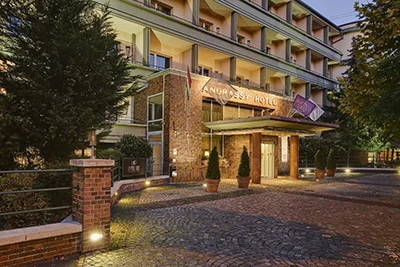 As part of the Mamaison chain the historic mansion was completely renovated The 68 rooms and suites are decorated in understated elegance.
Andrássy út is lined with fine restaurants and cafes. The House of Terror Museum is just a short walk and the Heroes' Square (Hősök tere) flanked by two museums (Museum of Fine Arts, Hall of Arts) is also nearby.
City Park (Városliget) with the Széchenyi Thermal bath lies behind Heroes' Square.
Room Types & Rates:
All rooms are air-conditioned, have TV set with international channels, free Wi-Fi, laptop safe, minibar.
Classic room – 18 sqm or 22 sqm en-suite bathroom with shower
Superior room – 25 sqm, bathroom with bathtub
Deluxe room – 35 sqm with balcony and bathroom with bathtub
Junior Suite – 40 sqm with king size bed, bathroom with jacuzzi
Ambassador & Business Suites – 70 sqm, has separate living room with sofa, large balcony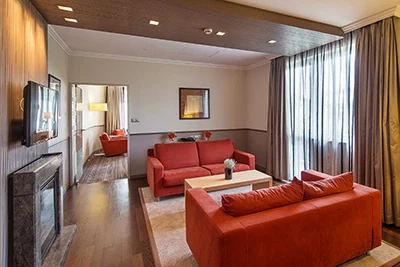 Andrássy Boutique Hotel has an on-site restaurant with terrace garden called Baraka.
There are half a dozen conference and meeting rooms designed for holding large or small meetings, business meetings, and private events.
Rates start from around 80 – 120 EUR/night (st., double room).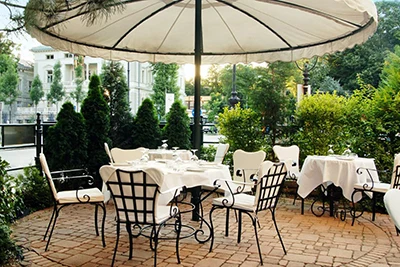 The disadvantage of the hotel compared to other fashion hotels listed on this page is that a buffet breakfast costs an extra 20 EUR, and the charge 16 EUR/car/night for parking in the courtyard of the hotel.
More Boutique & Design Hotels in Budapest
Several new fashion hotels have opened in Budapest in recent years offering more choice for travellers seeking trendy stays during their trips.
La Prima Fashion Hotel: Address: Pesti Barnabás utca 6., district V., in a small side street of Váci utca the vibrant pedestrian street packe dwith shops, cafes and restaurants.
Estillo Fashion Hotel: Address: Váci utca 83., district V., at the south end of the popular shopping street near the Great Market Hall.
So if you're looking for a hotel in Budapest that is trendy and chic not only in its look but the services it offers then stay in a boutique hotel.
Related:
Luxury Budapest – Quick Travel Tips – Wellness Hotels – Romantic Budapest Hotels – High-End Hotels – Luxury Apartments